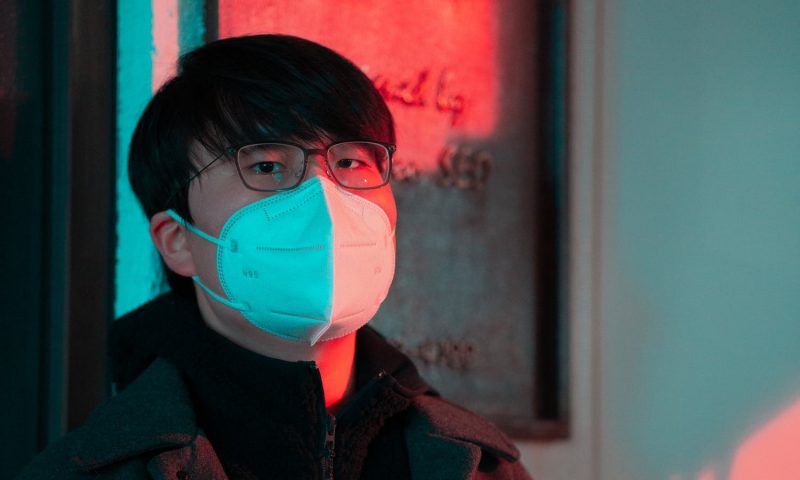 (First published Monday, 27 January. Last updated Thursday, 27 February at 10:30 GMT)
The outbreak of a novel coronavirus in the Chinese city of Wuhan has had major impacts on travel within and from China. Here are the most important facts, responses from international tourism boards, and our advice on travel marketing and working with the Chinese travel industry at this time.
The Facts:
– On Friday, 24 January, the Chinese Ministry of Culture and Tourism called on travel agencies to stop the sale and operation of group travel in China, effective immediately, and to do the same for outbound travel from Monday, 27 January. For outbound travel, this includes all group tours, as well as all package tours (from a minimum of a flight + hotel package) to independent travelers. FIT where the traveler has purchased flight and hotel products separately through an OTA or other travel agent is not affected.
– Anyone traveling out of or into China is now required to undergo a health check. The China Customs Bureau allows travelers to complete the paperwork for this online through a WeChat mini-program, to save time at the airport.
– The Chinese New Year national holiday was extended through 2 February, with work recommencing on Monday, 3 February. Anyone who is able to (including the Dragon Trail team) is still working from home. Schools throughout China have also further delayed or indefinitely suspended classes as a precaution. Some universities are now running all classes online through the end of April.
– In terms of outbound destinations' response to incoming Chinese travel, an increasing number of countries have closed their borders to travelers from China. Russia, North Korea, and the Northern Mariana Islands are refusing entry to Chinese passport holders. From 1 February, Singapore is refusing entry to anyone who has been in China within the past 14 days. On 31 January, the US placed a ban on all foreign travelers from China, and stated that US citizens traveling from China would be placed under quarantine. On 1 and 2 February, respectively, Australia and New Zealand banned incoming foreign travelers from China. Taiwan banned foreign travelers who had been in mainland China in the past 14 days, on 7 February. From 30 January, Israel prohibited the entry of flights from China, and any travelers arriving from China will be placed in solitary confinement for 14 days. Mongolia has shut its borders with China. The Philippines stopped issuing visas to Chinese nationals from 28 January, and from 5 February, passengers on inbound flights to Cebu from mainland China, Hong Kong, and Macau will be quarantined for 14 days. Italy and Vietnam are both closed to flights from China. Japan is refusing entry to travelers who have been to Hubei in the past 14 days or whose passports were issued in Hubei. Malaysia and Hong Kong have both paused entry to residents of Hubei, or those who have visited the province in the last two weeks. Kazakhstan has suspended its 72-hour visa-free transit policy for Chinese citizens and suspended all air, train, and bus traffic from China. As of 26 January, Egypt has banned tourism flights to and from China. Around the world (including in Japan, South Korea, Vietnam, India, Indonesia, France, Myanmar, Malaysia, Sri Lanka, Singapore, Rwanda, and the UAE), airports have set up health screenings for passengers arriving from China, and are asking travelers to report any symptoms that may develop during their travel.
– On 24 February, China's Ministry of Culture and Tourism issued a travel safety warning for the United States. Citing the US response to the coronavirus crisis, the internal situation in the US, and "unfair treatment" of Chinese travelers, Chinese tourists are advised "under no circumstances" to visit the US. The US is alone neither in refusing entry to travelers coming from China, nor in incidents of racism towards Chinese and other people of East Asian ethnicity, so the travel warning stands out as evidence of deteriorating Sino-US relations.
– As of 14 February, China's international air traffic had been cut by 70%. British Airways, Lufthansa, SWISS, Austrian Airlines, Virgin Atlantic, KLM, Finnair, El Al, Air Seoul, Qantas, Air New Zealand, Delta, United, American Airlines, Qatar Airlines, Air France, Kenya Airways and other international carriers have all suspended all flights to and from mainland China. Air Canada has suspended Beijing and Shanghai flights until the end of March. Air India suspended Shanghai-Delhi flights until 14 Februrary. Aeroflot, Cathay Pacific, Jetstar Asia, Korean Air, and Eva Air are all suspending a significant number of flights. Many other airlines are offering free cancellations or ticket-changes, including All Nippon Airways, Singapore Airlines, JAL, El Al, and many more. Many Chinese carriers have also suspended and/or canceled international flights.
– From Monday, 3 February, Russia suspended all railway services between China and Russia – since 31 January, only direct trains that ran between Beijing and Moscow were operational. Hong Kong has suspended high-speed rail services to and from the mainland, as well as cross-border ferry services, from 30 January.
– Wuhan, where the virus started, has been quarantined from the 23rd of January, with no outbound travel allowed. Passport and visa services for the city have been suspended. 16 nearby cities have also been quarantined. According to insider sources, Chinese tour operators were actively contacting clients in Wuhan prior to the quarantine and offering full refunds to cancel their travel plans, further reducing travel out of Wuhan. Leading Chinese OTAs all released free cancellation policies for travel booked by travelers from Hubei Province, where Wuhan is located. Hubei accounts for 2-5% of Chinese outbound tourism, according to WTCF. The province is not one of the top 10 source markets for outbound tourism, although it is listed in the top 10 cities for FIT in Mafengwo and the China Tourism Academy's 2019 report.
– The China Association of Travel Services has released an open letter, asking overseas travel suppliers to refund costs for travel cancellations related to the virus and subsequent travel restrictions.
– On Thursday, 13 February, revised diagnostic testing methods led to a significant spike in the level of infections recorded. As of 27 February, new cases have been declining steadily throughout China. However, the outbreak is now spreading outside of China, and 26 February was the first date on which the number of new diagnosed cases outside China surpassed those within China. The mortality rate has generally fluctuated between 2-3% since late January. On 27 February, the global death count from the virus is 2,808 (3.4%), and 33,183 (40.3%) patients have made full recoveries. The World Health Organization declared a global health emergency on 31 January, while giving credit to China's "unprecedented response". The infection rate is now approaching ten times the official figures from 2003's SARS outbreak, and the death count is more than double that of SARS as well, although the mortality rate of the novel coronavirus is much lower, compared to 10% for SARS.
– In mid- to late February, the spread of the virus has picked up rapidly outside of China, including in South Korea, Iran, and Italy. But as of 27 February, 95.3% of confirmed cases and 97.8% of fatalities have been on the Chinese mainland, and of those, mostly in Hubei Province.
– Trade shows: COTTM in Beijing will be rescheduled from April to September. ITB Shanghai will be rescheduled from mid-May until a later date. ITCM in Shanghai will be rescheduled from March until August. BITE in Beijing in June will be postponed. UTE shows in the first half of 2020 will all be postponed.
– For information on cruise line cancellations, policies, coronavirus-related news, and response, please see our article, Coronavirus, Cruises, and Crisis Communications.
Lessons from SARS
Comparing SARS to the current coronavirus, the crisis management and containment was much faster this year than in 2003. After SARS, the industry saw not only a swift bounce back, but very significant growth. There was a 34.5% growth in Chinese outbound travel in August 2003, compared to the same period in 2002 (Tourism Research Journal, 2004). Despite the SARS crisis, Chinese outbound travel still grew by 22% in 2003, and by 43% in 2004. 2003's National Day holiday in October saw a total of 90 million Chinese traveling, an 11.5% increase compared to the previous year.
According to UNWTO, arrivals to Hong Kong dropped by 2.3 million between April and July 2003, but following the lifting of the WHO travel advisory on 23 May, Hong Kong achieved a major recovery in Q3 and Q4, with only a 6.2% decline in 2003 – a remarkable achievement considering the challenges by SARS. Hotel occupancy also rose to 85% in October and 93%% in November. Japan's arrivals were down by 11% in H1 2003, but virtually all the lost ground was recovered by the 9.1% increase in H2 2003.
According to WTTC, economic losses from health epidemics are avoidable through effective use of crisis preparedness and management procedures. Activating emergency plans during the early days of the outbreak is the most effective management strategy. The coronavirus has been managed more quickly and with more transparency compared to the 2003 SARS outbreak. However, coronavirus has turned out to be much more infectious than SARS, albeit with a lower mortality rate.
The following table attempts to compare the two crises in timeline, containment, and the most current infection data as of 27 February. Note that compared to 2003, crisis management was quicker and more policies are in effect to encourage stay-at-home isolation outside of outbreak areas. With a push for Chinese outside of Hubei to return to work from the end of February, we will continue to observe the outbreak situation within China. In the meantime, stakeholders would benefit from communicating care to people affected by the virus and alleviating psychological tension by building relationships.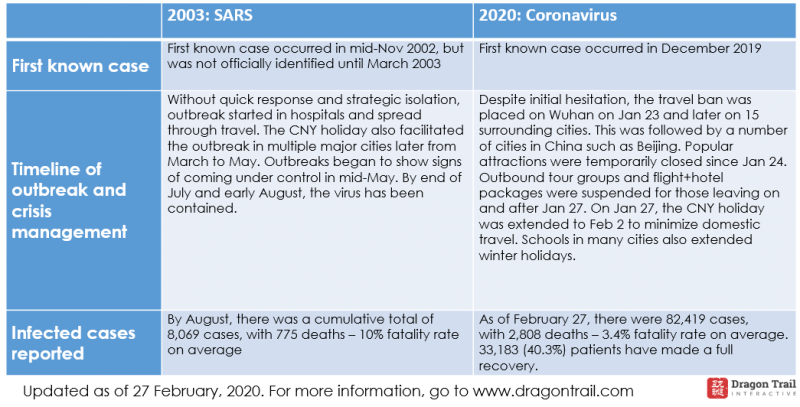 Responses from International Destinations
Sweden, Finland, Ireland, Poland, Austria, Switzerland, and Banff and Lake Louise Tourism have all published articles on WeChat, providing details of medical centers that Chinese visitors can contact if they become unwell. The post from Sweden, in particular, sends a message of concern and support alongside the practical safety information.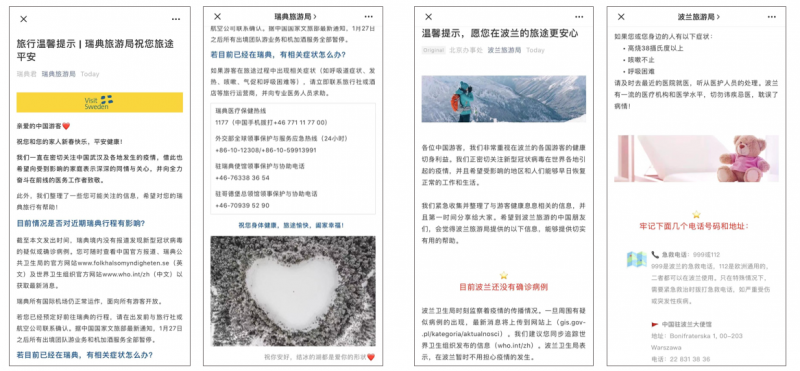 The tourism boards of Sweden (left) and Poland (right) have published articles with practical medical information and resources for Chinese currently traveling in those countries
The Tourism Authority of Thailand has released an official statement, stressing the good relationship between Thailand and China, support and sympathy, and assurances that they are working very closely to monitor the situation together with the governments and public health authorities. Switzerland Tourism has released a similar statement of support. VisitBritain's letter to the Chinese travel trade on 4 February sent a message of support for China, assurances of helping tour operators and travel agents to minimize their losses, and welcome to Chinese visitors. Comments by readers on this and other WeChat posts mentioned above have been overwhelmingly positive.
The Tourism Authority of Thailand has also been very active on Weibo, with health tips for travelers, and a heartfelt video from the tourism office, expressing their support for China. VisitScotland has also put out a statement on Weibo to say they are closely monitoring the situation and able to provide assistance to any Chinese travelers in the country.
New Zealand Tourism has compiled a list of New Zealand businesses and attractions that are unconditionally refunding Chinese travel agencies and travelers who have canceled their trips. This is extremely important information for the Chinese travel industry to have, and will be highly appreciated.
Advice for Tourism Brands and Businesses
– Communications such as Sweden's and Finland's are not only advisable from a public health perspective, but also provide reassurance to Chinese travelers that the situation is being monitored, and that there are resources to help them if needed.
– Chinese travel agencies and tour operators are still very busy dealing with cancellations and refunds. Any assistance you give in managing cancellations will be appreciated and can build trust and gratitude for future business.
– As of early/mid-February, Chinese travel agents are officially back at work but are not going to be selling travel and arranging trips as usual. Generally working from home, they are now looking for training that can help them more effectively sell travel once the recovery begins. As evidence of this, more than 7,000 travel agents have signed up for Dragon Trail's China Travel Academy (CTA) training platform since the start of February, bringing the size of our database up to 49,000 registered travel agents.
– Time-specific, tactical B2C campaigns can be temporarily suspended at this time. With many flight cancellations and travel restrictions around the world, general branding content needs to be carefully considered, as travel is not an option for many Chinese consumers and/or for many destinations. Content that not only sends a message of support but also helps to entertain the majority of Chinese travelers who are spending most of their time indoors at home right now, is getting a positive response. For example, on Weibo, both Edinburgh and the Art Institute of Chicago have posted about books to read during this time. Don't forget that while tourism may be drastically reduced at present, many of those currently at home will want to travel again once this has been resolved – probably at the earliest during extended five-day May holiday period, and into the summer and October holiday.