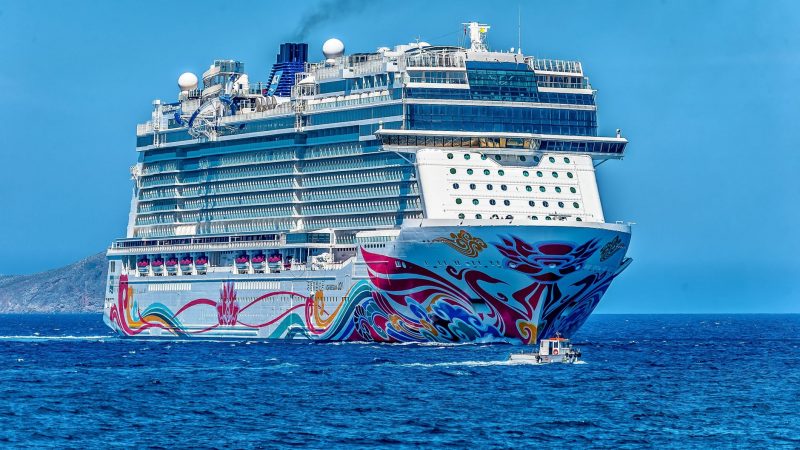 Originally published on 11 February, 2020. Last updated on 19 February, 2020.
The cruise industry is one tourism vertical that's been particularly hard hit by the coronavirus outbreak, with quarantined ships both in and outside of Asia in the news. We've rounded up the biggest news stories and developments in cruise lines' policies, and looked into how cruise lines are communicating with Chinese consumers and the travel trade throughout this crisis.
Policies
From 3 February, CLIA member cruise lines will not allow any passengers or crew who have been in mainland China in the past 14 days to board. CCL (including Princess Cruises, Costa Cruises, and the Holland America Line) is banning anyone who has been in China in the past 14 days. MSC is banning anyone who's been in China in the past 30 days. From 7 February, Royal Caribbean and Norwegian Cruise Line decided to ban all passengers and crew who hold Chinese, Hong Kong, or Macau passports, regardless of when they were last in China or its special administrative regions. Royal Caribbean's restriction was lifted on 10 February amid criticism from civil rights groups. From 20 February, Norwegian Cruise Line is relaxing this policy as well, and only denying boarding to anyone who has been to mainland China, Hong Kong, or Macau in the previous 30 days. Each of these cruise lines is conducting health screenings of all passengers before they allow boarding.
Cancellations
Royal Caribbean's Spectrum of the Seas, which sales from Shanghai, has suspended cruises through 13 March. MSC's Splendida cruises from Shanghai have been suspended, and MSC's Bellissima itinerary from Dubai will no longer stop in Taiwan, Hong Kong, or Shenzhen. Costa Cruises leaving from China have been suspended through mid-March. Norwegian Cruise Lines suspended all stops in China, and later canceled Norwegian Spirit's 2020 Asia program entirely. Viking Cruises has canceled all Chinese cruises through the end of March.
Quarantines and Diversions
On 29 January, the Costa Smeralda, was held for a day off the coast of Italy in quarantine after two passengers became ill. The passengers were tested and diagnosed with "the common flu," not coronavirus.
Princess Cruises' Diamond Princess was quarantined outside of Yokohama, Japan from 5 February. As of 19 February, around 500 passengers who have not tested positive for the virus have disembarked, and several countries had previously arranged evacuations of their citizens from the ship. The cases on board mounted quickly during the quarantine period with 621 cases of the novel coronavirus diagnosed among the 3,711 passengers and crew as of 19 February. Those with the virus were removed from the ship and taken to medical facilities in Japan.
Dream Cruises' World Dream, with 3,600 people on board, was quarantined in Hong Kong after three passengers and one member of staff from a previous cruise on that ship tested positive for coronavirus. As of 9 February, everyone on the ship had passed all health screenings and was allowed to disembark, and given full refunds.
Holland America Line's Westerdam ship, which had stopped in Hong Kong as part of a 14-day East Asia cruise, was denied entry in the Philippines, Japan, and Thailand. The ship, carrying 2,257 passengers and crew, was finally allowed to dock in Cambodia on the 13th of February, and passengers were screened for coronavirus before being allowed to disembark. However, on the 17th of February, one passenger did test positive for coronavirus after traveling onwards to Malaysia.
A family of four passengers on Royal Caribbean's Anthem of the Seas were removed from the ship in New York City and taken to a medical facility for testing, on 7 February. None of them tested positive for coronavirus, though one did test positive for influenza.
Seabourn Cruise Line's Seabourn Ovation's passengers were not allowed to disembark first in the Philippines or later in Vietnam. The 600-person cruise had no reported cases of coronavirus, but it did depart from Hong Kong. The ship was allowed to dock in Phuket, Thailand, on 13 February, and all passengers were screened for coronavirus.
Social Media Responses: B2C
Several cruise lines were very quick to respond to the first announcements about the virus and Wuhan quarantine. On 22 January, Costa Cruises published an article on their B2C WeChat account, offering free refunds or changes to any dates before the end of 2020, to anyone from Wuhan; who didn't pass the health exam at the port; who had coronavirus or contact with someone who did in the previous 14 days; or anyone whose work was affected by coronavirus so that they couldn't travel (e.g., healthcare workers). Dream Cruises, MSC, and Viking Cruises all made similar announcements about the situation on their consumer accounts on 23 January, and Viking Cruises also canceled its February offline marketing events in China at the same time.
Since then, the cruise lines have used social media channels to keep Chinese travelers up to date and informed about what they're doing. On 1 February, Costa Cruises announced on WeChat that they were donating 100,000 medical facemasks to Hubei Province, and published a statement from the cruise line's CEO about working with the Chinese market over the past 14 years. Costa Cruises' 15 February WeChat post reiterated that they were sending 100,000 facemasks sourced in Europe. They also announced that following the end of this crisis, any Chinese medical staff working "on the frontlines" against the coronavirus will be eligible for a free cruise, together with their families. The post ended with information about hygiene precautions on board.
On 3 February, Dream Cruises published an article on hygiene and safety precautions on board, and on 10 February the cruise line published an article and video about what happened during the Hong Kong quarantine, and showing that all passengers had been allowed to disembark. The post included positive interviews with both staff and passengers.
From 29 January, Royal Caribbean International has published a number of articles on WeChat, expressing solidarity through words, pictures, and video content; explaining safety measures that are being taken on board cruises; and even engaging readers by running a contest to win a tote bag by commenting on the post about what they most want to do after the virus situation is resolved. According to WeChat account "Cruise News", Royal Caribbean has also donated 100,000 medical masks and plans to offer free trips to medical staff working to fight the coronavirus after the recovery comes.
From 22 January until 9 February, Princess Cruises was inactive on Chinese social media platforms, but broke the silence on 9 February with a subtitled video of CEO Jan Swartz's English-language update on Diamond Princess published on Weibo. Since then, they have posted updates with information on Diamond Princess, as well as reassurances and compassionate messages, on both WeChat and Weibo.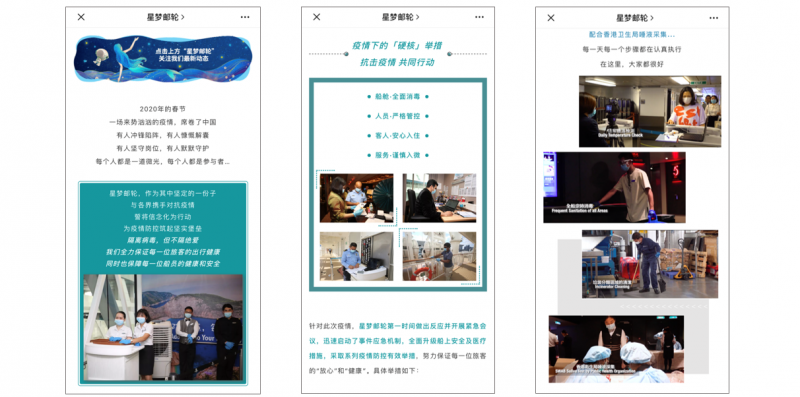 Dream Cruises has publicized its health and hygiene precautions, and kept travelers updated on new developments, through its B2C WeChat account
Costa Cruises, Royal Caribbean International, Dream Cruises, MSC, and Star Cruises have all adjusted their WeChat Official Account menu bars to include a special section for "Important Notices" regarding the crisis. If you click there, you'll see a list of all of the articles regarding cancellations and refunds. This change applies to both the consumer and trade WeChat accounts.
Outside of social media, Dream Cruises and Costa Cruises are both publishing updates on their Chinese websites.
Social Media Responses: B2B
In addition to consumer-facing WeChat accounts, these cruise lines also run WeChat accounts specifically aimed at the Chinese travel trade. Chinese partners are essential for delivering sales and bookings for the cruise industry, and we have seen that trade communications are even more frequent and detailed than consumer posts.
At the end of January, Royal Caribbean, MSC, and Costa Cruises published daily or near-daily updates on their WeChat trade channels, with information on canceled cruises, cancellation policies, and refunds.
On February 6, Costa Cruises' trade account published a letter to their partners. The tone was very personal, referring to trade partners as "brothers and sisters," thanking them for their hard work, and sharing advice on personal health. The letter gave assurances that they would continue to work to recover losses, and that the Costa Cruises team was available to help answer question and solve problems. The letter, signed by the CEO, also stressed how long Costa has been working in the China market. "This is really a responsible attitude," commented one reader.
Posting on WeChat for the first time since 23 January, Princess Cruises published an informational article with subtitled videos from the cruise line's leadership to their trade account, on 12 February. Readers' responses were filled with encouragement and support.
Royal Caribbean International has been offering enticing rebooking policies with its trade partners. As of 14 February, if a passenger wishes to cancel entirely, they will get a full refund. If they rebook for a cruise departing from China in April or May, they will receive vouchers of either US$600 or $400 (depending on the length of the cruise) that can be spent on excursions, dining, or even on-board duty free shopping. Rebooked cruises that leave China between 31 May, 2020 and 31 May, 2021 will receive reduced fees and a US$200 voucher. For clients who can't yet commit to rebook, they will receive, in addition to a full refund, a discount voucher and a US$200 on-board spending voucher for a future cruise. An earlier announcement about this policy was published with dates between March and the end of May 2020, but later revised.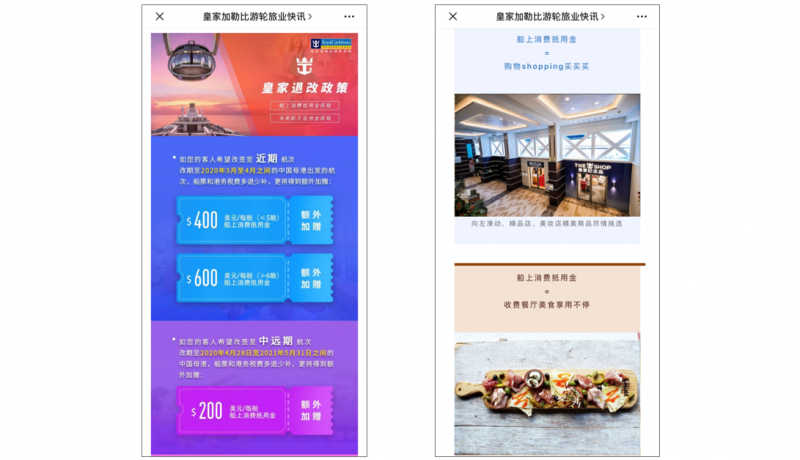 Royal Caribbean International is offering generous vouchers for spending on board, to passengers who choose to rebook their cruises from China. The offer was communicated from the cruise line's B2B WeChat account.
News sources:
Over 40 New Coronavirus Cases Confirmed on Diamond Princess
Coronavirus: Seabourn Ovation turned away by Vietnam authorities
Coronavirus: Cruise Lines Clamp Down on China Carryings
Royal Caribbean and MSC Cancel Sailings Over Coronavirus Fears
4 passengers on a cruise ship docked near New York City are getting further evaluation for coronavirus
Going on a cruise? Here's how the coronavirus will change your trip
NCL Travel Alert: Coronavirus Procedures
Coronavirus: Holland America cruise ship denied entry to Japan
Coronavirus: Royal Caribbean Cruise Bans Chinese Nationals
Coronavirus: 60 More Cases on Cruise Ship as Depression Sets In
Cruise ship passengers quarantined in Italy over coronavirus fears do not have the illness, tests show
Cruise ship quarantined off Japan: More people test positive for coronavirus
Royal Caribbean eases coronavirus restrictions but Norwegian holds firm
Norwegian Spirit's 2020 Asia Program Canceled
Coronavirus: first two patients confirmed in Iran as cruise ship cases rise to 621
Updated Statement Regarding Westerdam
Coronavirus: fears rise as Westerdam cruise passengers return to US, Canada and Europe