This update on the coronavirus situation includes analysis of the projected economic impact, comparisons between SARS and nCoV in terms of tourism industry recovery, and information on the efficacy of China's containment strategy.
For more information on the coronavirus, its impact on international travel, and responses by international tourism destinations, brands, and businesses, please see our daily updated blog post. Please click here to watch a recording of our 5 February webinar on coronavirus and Chinese tourism.
Situation Analysis
By Feb 5, domestically confirmed cases have reached 24,433, with 493 deaths. Globally, the nCoV has spread to 24 countries, with 175 confirmed cases and 1 death (in the Philippines). With Wuhan and 15 surrounding cities quarantined since Jan 23, the 14-day incubation period ends on Feb 6. By now, 68% of global total confirmed cases are contained in Hubei province.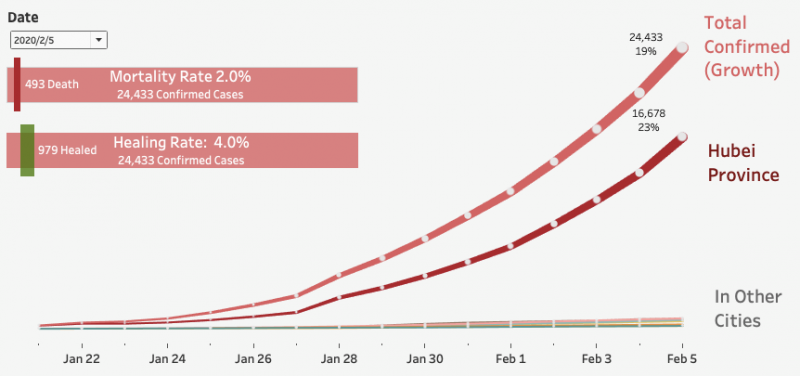 *Data collected from 丁香医生 as of 9pm Beijing time on Feb 5
According to Chinese authorities, those who were infected but initially not showing symptoms should already be detected and isolated. For people carrying the virus who left the region before January 23, they also have shown symptoms by now. Looking at growth rates of total confirmed and suspected cases, there has been less fluctuation since January 29, with a consistent decline. Additionally, we are noticing that new suspected cases have been dropping since January 31, meaning fewer people are showing symptoms, and those infected are being diagnosed. When newly confirmed cases and suspected cases both start to drop consistently, it will be safe to assume the virus have reached its peak.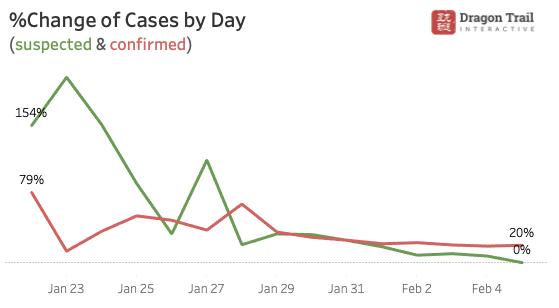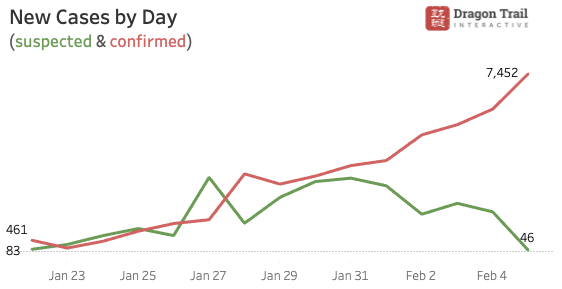 *Data collected from 丁香医生
With 68% of total confirmed cases contained in Hubei, and newly reported cases growing at a decreasing pace, it seems the nation-wide isolation control has taken effect.
Compared to the other health crises, the fatality rate of nCoV has maintained at 2%, smaller than the SARS epidemic at 10%, Mers at 34% and Ebola at 44%.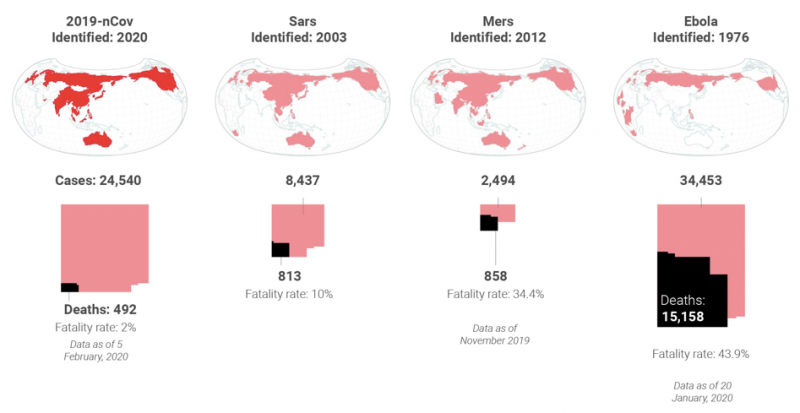 Source: SCMP. Coronavirus Overtakes Sars, Published on Feb 2, 2020
The impact of SARS on economic growth and tourism vs. nCoV

In 2003, China's growth slowed to 9.1% in the second quarter from 11.1% in the first, before rebounding to 10% in June-September, bringing the full-year expansion to 10% (Reuters.com). At that time, China was still experiencing rapid growth, having just joined the World Trade Organization (WTO). Developing Asia recovered at an 11% GDP growth pace after the summer of 2003 (CNBC). For Chinese travelers, the recovery from SARS stimulated travel in 2004, growing faster than the annual rate in 2002 or 2003. According to National Bureau of Statistics, both domestic and outbound travel skyrocketed in 2004, followed by a slower growth in 2005. Note that domestic travel during major holidays in 2004, such as Labor Day, National Day and CNY, did not show signs of significantly higher growth compared to before and after the crisis, meaning that the travel rebound was happening more evenly throughout the year. The impact of nCoV in 2020 will depend on how long the crisis and travel restrictions will last.

The good news is, the Chinese government has taken strict control measure to isolate confirmed cases and building hospitals to house more patients. The government has also planned to take measures to cushion the hit on the economy from the nCoV crisis, such as injecting money into the financial system from the People's Bank of China (Reuters.com).
An important fact to remember is that the scale of China's outbound travel remains large (and still growing) despite the current crisis. China's travel industry contributed to 25% of global travel industry growth in 2018, the highest country in the world, followed by US at 12% (WTTC, Global Economic Impact Trends 2019).
Additionally, with over 80% leisure spending, China's travel and tourism sector should see more flexibility on the road to recovery compared to other industries such as commercial real estate and retail (WTTC, China 2019 Annual Research: Key Highlights, 2019).
However, there has been a world-wide concern over the crisis and its potential to spread from person to person. Judging from the size of China's economy today, the crisis and its impact could be significantly larger than the SARS epidemic.
– Chinese GDP. Back in 2003, China's GDP was estimated at $1.5 trillion, accounting for 4.3% of global GDP. In 2019, despite the trade war with US, Chinese GDP was $14.3 trillion, accounting for 16.9% of global GDP.
– 2020 Q1. According to a JPMorgan analyst, China's growth projections in Q1 will be down from 6.3% to 4.9% (org.uk).
– 2020 Forecast. Oxford Economics forecasted 5.4% growth in 2020, compared with 6% previously (com).
– Global GDP. According to CEBR, the impact of the virus on Chinese economy in 2020 could be 4-6 times more than 2003, which could trigger a world GDP negative impact of 1.8% – 6% (org.uk).
The current economy is highly driven by consumption and services, and the travel ban and stay-home control measures have significantly halted the growth. Upon recovery of the crisis, which will come sooner or later, the travel industry would have a vital role to play in driving domestic and global economy.
Following the travel ban, suspension of air travel and visa restrictions, many countries have already felt the impact.
– The suspension of British Airways flights to China's major cities saw the shares of the group's owner IAG plummet 4.7 per cent last week (co.uk).
– Goldman Sachs predicts that the nCoV will "knock 0.4% from annualized growth in the US" in Q1, driven by the dips in Chinese tourism and exports of American goods to China (org.uk).
– Treasurer of Australia Josh Frydenberg said that China's 200k students and 1.4m tourists accounted for $16bn to the Australian economy. The actual impact will be strong if the severity of the crisis persists (The Australian).
– According to Takahide Kiuchi, executive economist at the Nomura Research Institute said "if Japan experiences a drop in tourism on a par with the outbreak of SARS in 2002 and 2003, it will take a 776 billion yen ($7.1 billion) hit to GDP this year." (Nikkei Asian Review)