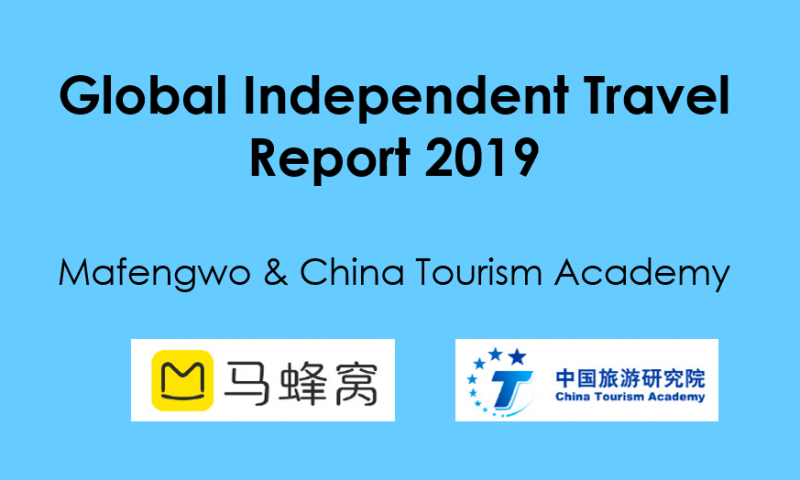 Chinese travel website Mafengwo, together with the China Tourism Academy, released their Global Independent Travel Report 2019 at the start of January 2020. The report focuses primarily on the most popular attractions and activities for Chinese fully independent travelers (FITs) in 2019, drawn from Mafengwo data.
We've translated the findings of the report related to outbound travel and provided some additional interpretation of the results. Click here to download and read the original report in Chinese.
Chinese FIT in 2019
According to the report, with the developments of second- and third-tier cities, more direct flights, and visa relaxation, overseas travel is easier and demand continues to increase. The Belt and Road Initiative is also helping to enhance transportation links and relax visa restrictions as countries around the world form cooperative relationships with China.
In 2019, FIT did not show major differences to FIT in 2018, with the majority of independent travelers still coming from the same group of top-tier cities. However, FIT from lower-tier cities is growing at a faster rate. The top 10 cities for outbound FIT in 2019 were: Beijing, Shanghai, Guangzhou, Shenzhen, Chengdu, Chongqing, Hangzhou, Tianjin, Wuhan, and Nanjing.
Planning and Priorities
What are FITs most concerned with during the planning stage of their trips? Issues around expenses, such as budget and exchange rates, ranked much lower than planning the route and organizing activities.
Interest in shopping has been decreasing, says the report, and the quality of travel experiences is now something that FITs think about over safety issues. This is significantly different to past surveys of Chinese travelers, where safety usually ranked first. Mafengwo users, and FITs in general, are more likely to be experienced, adventurous travelers who have been abroad and consider most of their potential travel destinations to be safe enough already that they can worry more about eating well and taking great photos to share on WeChat Moments.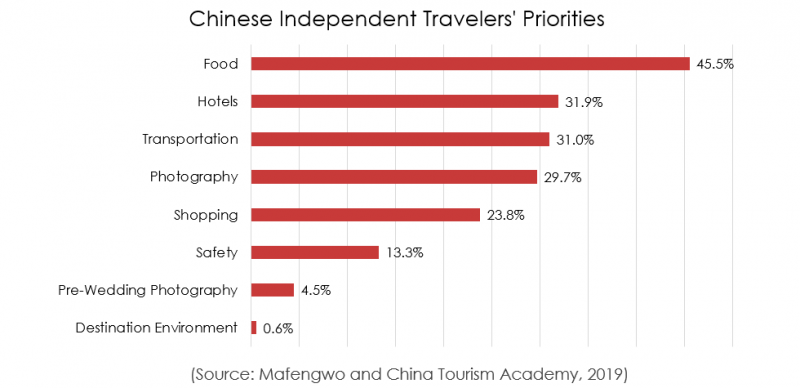 Destinations
The report's list of most popular destinations for FIT reveal a few surprises. For example, Morocco – which attracted 200,000 Chinese tourists in 2018 and sees a majority of group tourists, not FITs – ranks higher on the list than the US, a well-established FIT destination with around 3 million Chinese arrivals each year. Although the report is published together by Mafengwo and the China Tourism Academy, the data likely comes from Mafengwo's website and could be influenced by promotions for certain destinations. The report also just lists the countries as "the hottest FIT destinations," but doesn't explain if the ranking is based on searches, bookings, page views, or any other factors.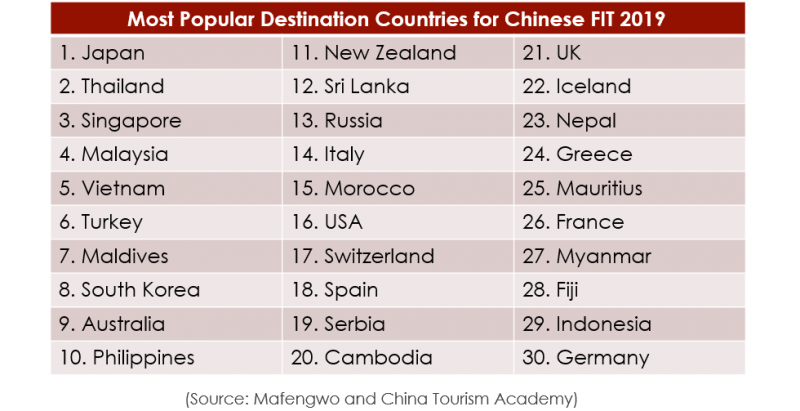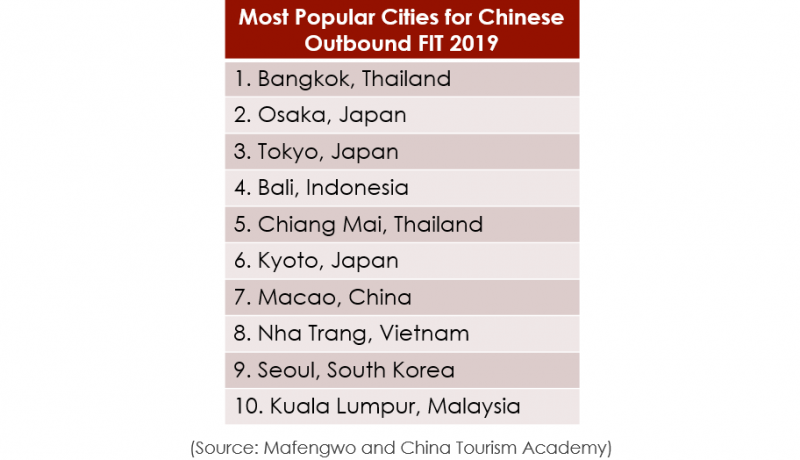 The top five overseas destinations for family travel were all in East and Southeast Asia.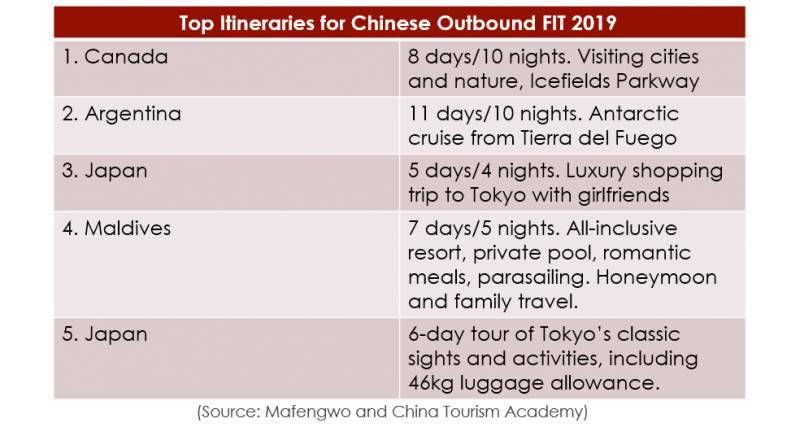 Activities and Attractions
According to the China Tourism Academy, in the first half of 2019, more than 80% of Chinese tourists partook in a cultural experience while traveling. The top overseas performances – presumably based on ticket sales through Mafengwo – shows interest in cultural displays throughout Asia, Europe, and the US.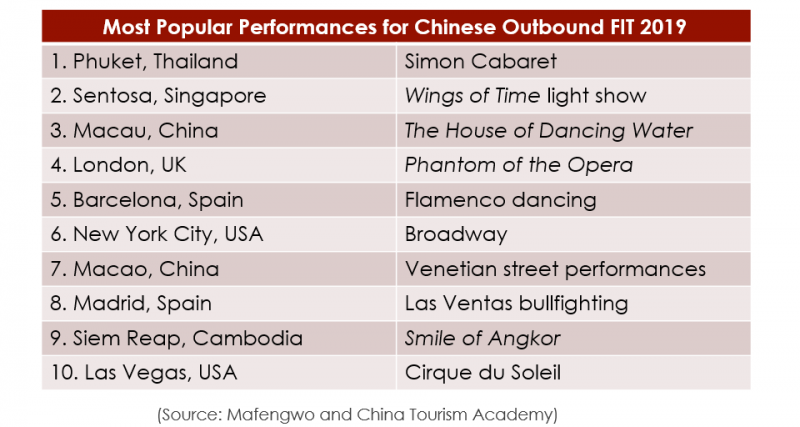 2019's top experiences for Mafengwo users were geographically diverse, showing interest in nature, culture, and adventure.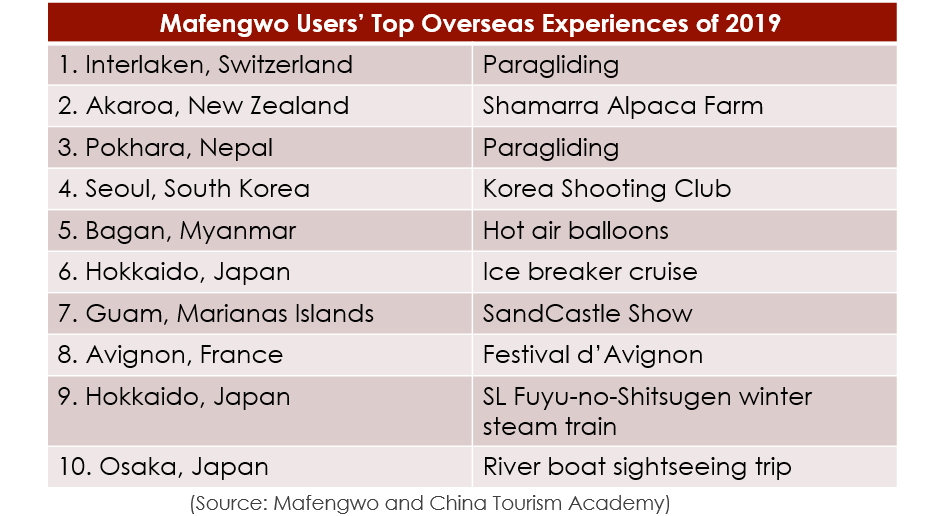 Nighttime activities have become increasingly popular with young people, and are of interest to 19.1% of travelers, according to the report.

Outdoor activities are a popular part of traveling, though what constitutes an "outdoor activity" seems to vary wildly depending on the destination, with the report's top 10 list including not just the hiking and nature experiences that you might expect, but also visits to a city skyscraper and a semi-indoor shooting range.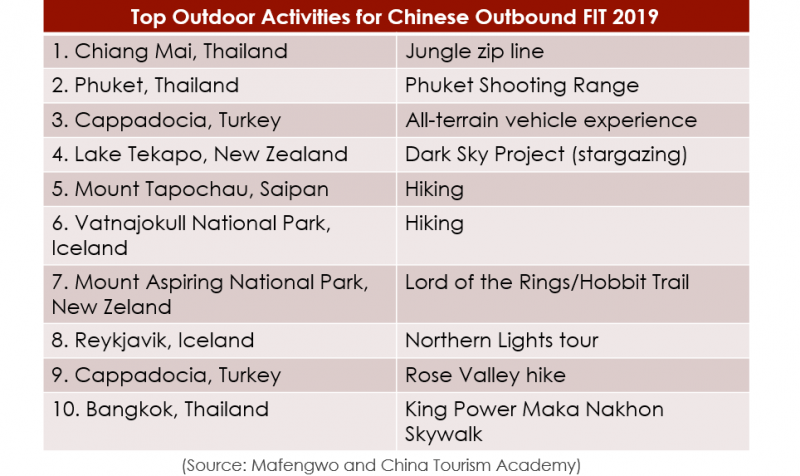 The top five festivals of the year included both domestic and overseas events.

The top cruise lines in the report all sail from China.

All of the top 10 attractions for Mafengwo users in 2019 were located in East and Southeast Asia, with more than half in Japan.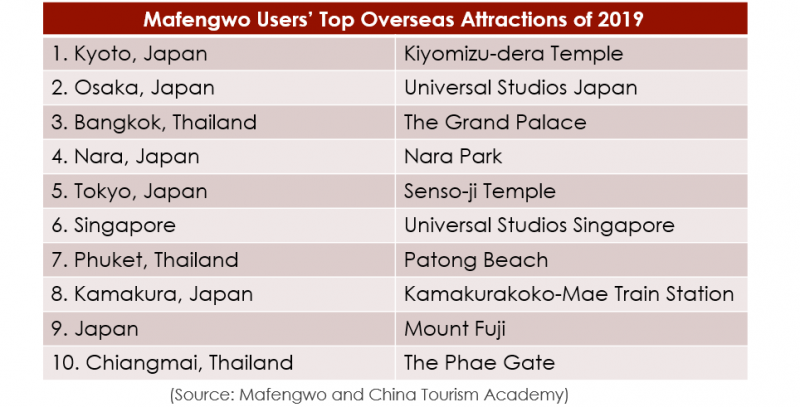 Osaka's Dontonburi ranks as the number one food street for Chinese travelers in both Mafengwo's and rival travel website Qyer's 2019 reports. There are no other streets or street food markets that appear on both lists, although the city of Chiang Mai, Thailand, does feature on both lists.