The Global Independent Traveler Report 2017 includes the biggest trends in Chinese tourism over the last year and predictions for 2018, with information on destinations, shopping, food, accommodation and entertainment, from data gathered from Mafengwo's popular Chinese travel website and app. Mafengwo's Mona Liu introduced some key points from the report in our January 17 webinar, which we've summarized here, alongside additional information from the report.
1) FIT Is on the Rise
It's not exactly ground breaking news to say that independent travel is growing in popularity in China, especially among Mafengwo's audience, 62% of whom are aged 18-35. But the fresh statistics here are useful – 53% of outbound Chinese tourists were FITs in 2017, but almost all (96.5%) of domestic travel booked on Mafengwo was FIT. Independent travelers are most likely to come from 1st and 2nd tier cities, with Beijing in the lead, and this kind of travel is especially popular with the post-80s and post-90s generations. 2017 saw the biggest year on year increases in FIT from Shanghai, Foshan, Shenzhen, Chengdu and Guangzhou.
2) One Belt, One Road Initiative
China's massive new infrastructure development plan aims to strengthen connectivity between China and countries around the world via road, sea and air routes. In addition to being important for trade, there are also implications for tourism. Winter/spring 2017/2018 will see the addition of 95 new international flight routes operated by Chinese airlines, and 18 operated by foreign carriers.
3) Influence of Film and TV on International Tourism
This is another topic we've covered in the past, but Mafengwo provides some fresh statistics and a 2017 case study. According to their research, 25% of Chinese FITs get travel inspiration from watching TV programs or films, including animation. This is even more pronounced for the younger, post-90s generation, 42% of whom are inspired to travel by video content. One good example of the power of television this year was the reality show "Chinese Restaurant". One episode was filmed on Ko Chang in Thailand (aka 'Elephant Island') and broadcast in July – searches for the destination were up 547% the next day.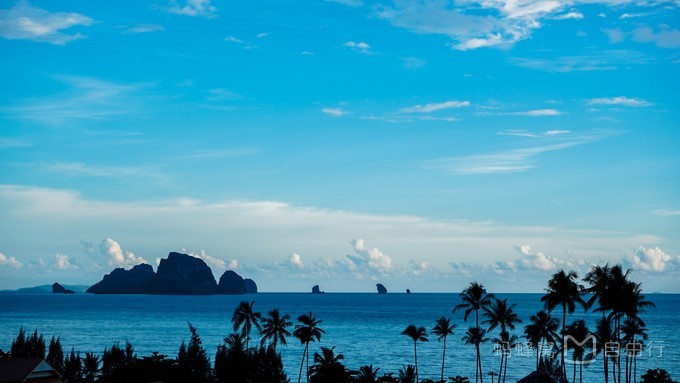 Ko Chang, Thailand (aka 'Elephant Island'). Photo courtesy of Mafengwo.
4) Top International Destinations 2017
Based on Mafengwo's data, the top 10 international destinations for Chinese tourists in 2017 were:
1. Japan
2. Thailand
3. Singapore
4. Vietnam
5. USA
6. Malaysia
7. South Korea
8. Australia
9. Maldives
10. Sri Lanka
The big news here is the drop to 7th place for South Korea. Japan and Thailand remain firmly at the top, and the US and Australia are once again the most popular long-haul destinations. Chinese tourists spend an average of 15 days on a US trip, and 11 days on an Australian trip.
5) Stable Numbers in Europe
The European market stabilized in 2017 after terrorism fears in 2016. The top 5 most popular European countries for Mafengwo users were: Italy, UK, France, Spain and Switzerland, with many travelers combining France, Italy and Switzerland in a 15-day trip.
6) Hotel Bookings
Some quick stats on hotel bookings: 40% of Chinese outbound travelers book their hotels at least one month in advance, and this is after significant research – Mafengwo users look at an average of 19 hotels before making their decision for an overseas trip. Mobile bookings for hotels have also grown a lot, from 53% of Mafengwo's hotel bookings (including domestic and international) in 2016, to 79% in 2017. Second-tier cities had the highest mobile penetration, with 93.6% of hotel bookings made by residents of Harbin done so through a mobile device.
7) Shopping vs. Dining
Overseas shopping is down 37.2%, although Mafengwo points out that it is still an important part of international travel. But Chinese tourists are now finding other things to spend money on, namely food. Spending on food overseas is up 14% this year. The top 10 foods abroad are:
1. Seafood
2. Tom yum goong (Thailand)
3. Ramen (Japan)
4. Desserts
5. Bak kut teh (Singaporean pork rib tea)
6. Indonesian duck
7. Vietnamese rice noodles
8. Tropical fruits
9. Japanese grilled eel
10. French baguette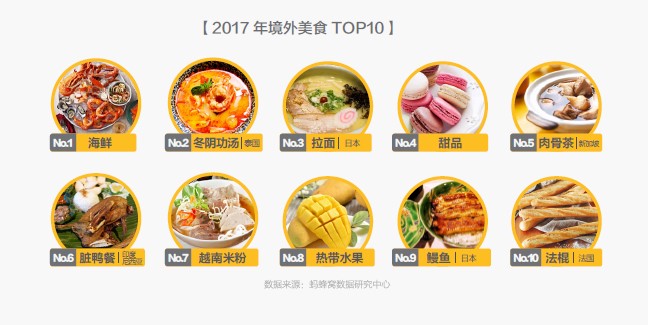 Top 10 foods to eat abroad, from the Mafengwo report.
8) Activities Abroad
Mobile usage is driving same-day bookings for activities, which were up to 13% in 2017, from just 3% in 2016. The most popular activities booked abroad including dressing in kimonos in Japan, trying a mud spa in Vietnam, zip-lining in Thailand, and taking a Seine river cruise in Paris.
9) Questionable Travel
Among the most popular questions asked on Mafengwo's forum in 2017 were:
"How is it to travel alone with someone of the opposite sex that you've just met?";
"What do you recommend for a graduation trip?";
"Can you recommend places in China to see a 'sea of flowers'?";
and "How do you take bikini photos that look good and aren't vulgar?"
10) 2018 Hot Spots
It looks like island travel and central Europe will be trending this year! The 10 overseas destinations that Mafengwo predicts will be popular in 2018 are:
1. Okinawa, Japan
2. Ko Chang, Thailand
3. Prague, Czech Republic
4. Kapalai, Malaysia
5. Budapest, Hungary
6. Chefchaouen, Morocco
7. Uji, Japan
8. Abu Dhabi, UAE
9. Quebec, Canada
10. Luang Prabang, Laos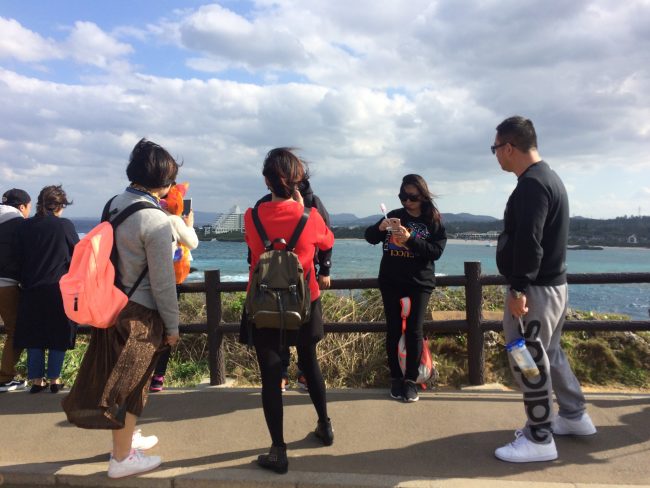 Chinese tourists in Okinawa (photo: Sienna Parulis-Cook)