From 27 January, 2020, all outbound group tours and travel packages from China have been canceled because of the coronavirus outbreak. This, coupled with tens of thousands of flight cancellations and travel restrictions by destinations around the world, creates significant challenges for the global tourism industry and especially for the Chinese travel trade.
While the public health and travel situation are of course still unfolding, tourism brands and businesses need to start thinking about a recovery plan now, in order to support industry partners in China and be ready for the inevitable bounce back. We've put together a guide, with our own recommendations, for how to get this started.
When is the recovery going to happen?
No one can say for certain when the coronavirus crisis will abate and outbound tourism from China will start to recover, especially as changes in diagnostic criteria makes it difficult to assess the size and development of the crisis. However, it looks like the ban on group and package travel could extend until the end of March. The earliest dates for a real re-emergence of the outbound market are the May Labor Day holiday. The national public holiday runs from Friday, 1 May-Tuesday, 5 May, and was extended to five days this year. The extended dates give this period potential for both short-haul and long-haul travel.
Beyond May, and a safer bet for outbound tourism recovery, is the peak summer travel season in July and August. These are the school holiday months in China, and are especially relevant for family and youth travel. Next comes the week-long Chinese National Day holiday at the start of October, which is the biggest holiday period of the year for outbound travel.
What can I do right now?
If you work at all with the Chinese travel trade – including travel agents and tour operators – and you haven't done this already, we strongly recommend supporting them to minimize financial losses from cancellations and booking changes due to the outbound travel restrictions. Destinations should work with their partners to provide assurances to the Chinese travel trade, as well as clear information on who will be able to provide refunds. Businesses should proactively offer as much compensation as possible. The actions you take now will go a long way to building trust and goodwill with the Chinese travel trade for future cooperation, and under so much financial pressure, your Chinese trade partners might not be able to survive at all without your help.
Three-phase recovery plan
Beyond immediate communications and refunds, what are the next steps? With Chinese travel agents and tour operators working from home (and many roadshows and trade shows being canceled or deferred), the best way to engage with and support partners now is online. Online should always be a part of your trade strategy and the current circumstances only enhance its effectiveness. The trade will need extra training and sales enablement support as the crisis recedes to drive a successful summer season and prepare for October, too.
E-learning is being encouraged for both academic institutions and professionals during this period when most Chinese are under self-imposed quarantine, and the Chinese travel trade is actively interested in and requesting it. More than 6,000 travel agents have signed up for Dragon Trail's China Travel Academy (CTA) WeChat-based training platform since the beginning of February, taking our database past 48,000 members.
Phase 1: B2B Training
Use Dragon Trail's CTA Live WeChat webinar system to deliver live, interactive presentations. These webinars allow for immediate engagement, training and support to trade partners, to build awareness and interest. The platform is being used by tourism brands like the Los Angeles Tourism & Convention Board and Switzerland Tourism.

Please click here to watch the video if you cannot see it here due to geographic restrictions
The webinars can be delivered from anywhere using a mobile phone, with a presentation followed by a live Q&A session. They support multi-media presentations with voiceover, and video streaming. Accessed through a WeChat mini-program, the webinars are recorded and saved, so that travel agents can watch them any time after the live session.
These webinars are recommended especially for destinations and require a launch period of only two weeks. We would recommend starting these at any point from now going forward.
Find out more about CTA Live webinars
Phase 2: B2B Online Workshops
Once we start to see signs of market recovery and the Chinese travel trade can begin to put together products for future sales, a B2B online workshop can help them to connect with suppliers and start making plans. With major travel trade shows in China such as CITM, COTTM, UTE, and BITE all postponed until the second half of 2020, this is the best way to meet. The online platform allows travel businesses to give presentations, network, share digital assets with invited industry partners, and attend business matchmaking appointments through a simple chat interface supporting text and file transfer.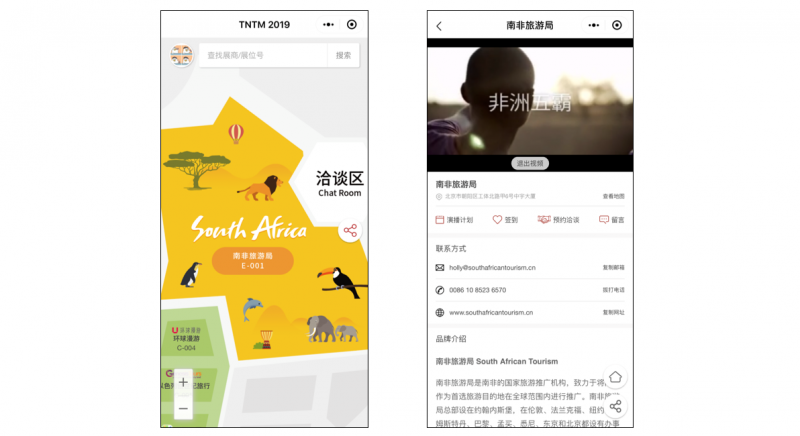 These workshops are suggested for destinations and business consortiums to host together, just like a traditional offline roadshow. This is the approach that South African Tourism has taken using this kind of platform. The workshops take four weeks to launch, and we tentatively recommend starting the three-month workshop period in early April.
Phase 3: B2B2C Pop-Up Stores
Once outbound travel resumes, destinations and their supplier partners can generate leads by running a pop-up store through WeChat. The pop-up store brings together your selection of expert travel agencies, and gives them the chance to promote customized itineraries and give live travel advice through destination consumer WeChat accounts. The pop-up store model has already been successfully used by Promperú and Israel Tourism.
With a four-week lead time, the pop-up store will be promoted through the destination's WeChat account and can also be supported by KOL (key opinion leader) promotion. An online flash sale, the live pop-up store events last for two to three hours. During this time, consumers will have the chance to interact with travel agents to ask questions, request materials, and make bookings.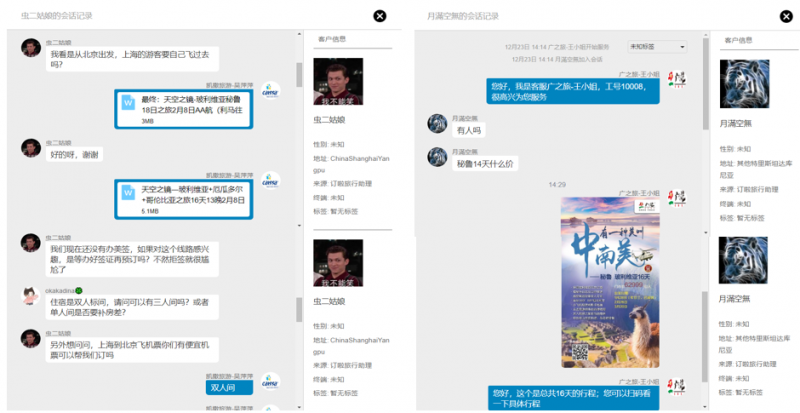 Pictured: Chinese travel agents can chat directly with consumers and send multi-media resources through WeChat pop-up stores
This activity helps your trade partners to build a sales pipeline, and enhances co-marketing relationships. On the consumer side, the pop-up store stimulates interest and engagement, and drives traffic to your 2C WeChat account. You'll also collect extensive data on consumer knowledge and queries regarding the destination.
With the May holiday in mind as the start to the market recovery, we recommend launching a pop-up store in early to mid-April. For summer holidays, plan to launch in early June.
Click here to learn more about WeChat pop-up stores
To speak to us about these services and creating a Chinese tourism recovery plan to fit your organization or business' needs, please contact us directly at info@dragontrail.com.