With 250 million Chinese aged 60 or above, this older demographic is a significant consumer group that shouldn't be overlooked by the tourism industry. This mature travel market is especially important for long-haul destinations, as well as customized and higher-end travel. There is of course diversity within this demographic – someone in their 50s will have grown up in very different circumstances from someone in their 70s – but also some general trends and key facts that can help tourism providers and destinations to better understand, market to, and accommodate China's senior travelers.
This article is based on Dragon Trail's July 2021 webinar. If you're unable to view the video, please click here.
1. They're a key market for long-haul destinations
When we look at the pre-COVID Chinese outbound travel market as a whole, older travelers make up a relatively small proportion compared to millennials and younger travelers. China Tourism Academy found that only 6% of outbound trips in 2018 were made by travelers aged 60 and above. But while younger Chinese might be going overseas more as a whole, older travelers are more likely to have the time, money, and travel experience needed for long-haul trips.
In Europe, in H1 2019, more than half of all Chinese visitors were born in the 1950s and 1960s – aged 50-70 years old. In the first half of 2018, nearly a third of Chinese travelers to Africa were the same age. Again, in South America, Chinese visitors tend to be on the older side, aged 40-65.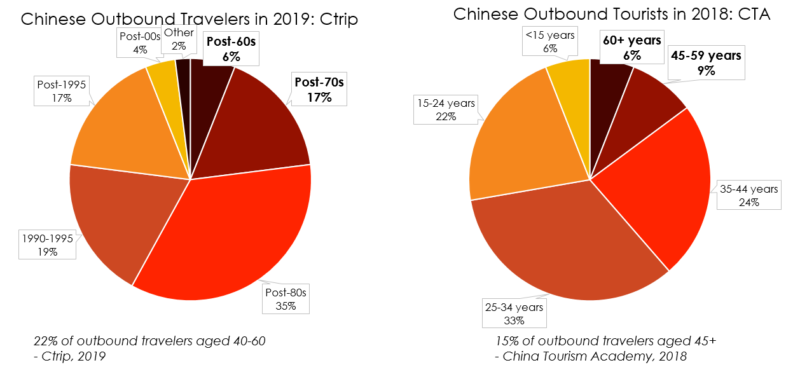 2. They retire earlier than other countries' tourists
Can someone in their early 50s really be considered a "silver traveler"? Perhaps "mature" is a better way to express it, but for the Chinese market, there is one compelling reason to count those aged 50 and up as part of an older demographic. In China, the official retirement age for women is 50 or 55 depending on the job, and it's 60 for men. In the US and the UK, on the other hand, the retirement age is 66. This means that with the Chinese market, especially Chinese women, you have much younger retirees. They are old enough to be out of the workforce, but young enough to still engage in quite active travel.
3. They do need help with foreign languages
While there are some older Chinese who can speak English or another foreign language, it's not common – many would have studied Russian in school rather than English, and were not exposed from a young age to the foreign music, movies and other media that the post-80s and younger generations grew up with. This is one reason that older Chinese are more likely to travel together with a group when they go abroad, allowing tour leaders and guides to help them navigate menus, transportation, and any issues that might arise. For older Chinese who prefer to travel independently, travel advisors could still help to arrange Chinese-speaking translators or guides to make the experience easier, more interesting, and less isolating.
4. They have high expectations for a travel experience
Just because a traveler is older, does not mean that they have lower standards or will be happy to just accept whatever is included on a generic tour. "They want something more touching to their heart, as they have already seen a lot in their life," advises Sylvie Chen, who has facilitated customized travel for Chinese travelers up into their early 80s. Interaction with locals, special and exclusive experiences, and opportunities to learn are all recommended ways to enhance what may well be a once-in-a-lifetime trip. To give a few examples, Viking Cruises takes guests to Esterháza Palace in Hungary for Haydn concerts, or to Highclere Castle (aka Downton Abbey) for a tour with the countess, and offers WSET 1 certification following on-board wine tasting programs and vineyard visits.
5. They're interested to try new things, but less adventurous with food
While it's true that even younger Chinese used to eating international cuisines will still want to have some Chinese meals while traveling abroad, this is even more important for older travelers. "Older Chinese people just can't digest Western food day in, day out," says Brendan Tansey, Managing Director of Viking Cruises. "The staples are very different – the large amounts of meat and bread and dairy just don't land with them well, and they're constantly feeling a little bit off if they have to digest that food." Trying local food is still something Chinese visitors will want to do as part of their travel experience, but this is best done with tasting portions of dishes, or a few special meals at local restaurants, with reliable "comfort food" of Chinese staples available throughout – especially for breakfast.
Learn more about Chinese tourists' dining preferences here
6. They want a slower, more relaxed travel experience
Group and guided travel is more popular for older travelers than younger ones, but that doesn't mean that China's silver travelers are looking for traditional rushed bus tours. When the Trip.com Group (Ctrip) surveyed senior travelers in 2019 about what they were looking for from a tour product, the top priorities were safety, comfortable hotels, a relaxed itinerary, and no scheduled shopping. Travelers overseas will probably still want to shop – just on their own terms and not as part of the official itinerary, so be prepared to offer advice on shops and purchases if asked, but be careful not to push this on guests who will be wary of forced shopping.
7. They're a key market for customization
With the desire for a standout trip alongside special requirements surrounding comfort, pace, cuisine, and potentially other factors such as health or personal interests, older Chinese travelers are a great match for customized tour products. Especially without facing the same time constraints as working-age Chinese, travel agents and tour operators can be more flexible to deliver a travel experience that's the right match for the client. How would a tour operator or DMC get started with this? "It doesn't matter if you work B2C directly with the guest or B2B with travel agencies or travel clubs … [you should] find out more about those guests' type by asking them what they have been done before and try to get clues of what they really like. And based on that, you provide your real suggestions," advises Chen. While some travelers may have clear and specific requests, most won't know what you're able to offer, so getting as much information about them as possible can go a long way to creating a product that will stand out.
8. They're more digitally savvy than westerners – but still book offline
"The older Chinese are much, much more digital than the American traveler, or the British traveler," says Tansey – and there's data to back up this assertion. By 2021, 49.3% of Chinese aged 45 and up were using Douyin (source: MobTech). In contrast, only 7.2% of Brits aged 45 and over used Douyin's international equivalent, TikTok. Most Chinese over 45 are on WeChat, more than 80% watch online short videos, and the Trip.com Group even found that 70% of older Chinese say they're influenced by travel KOLs. Moreover, more than one third of Chinese aged 70 or older say they would go online to look for travel information.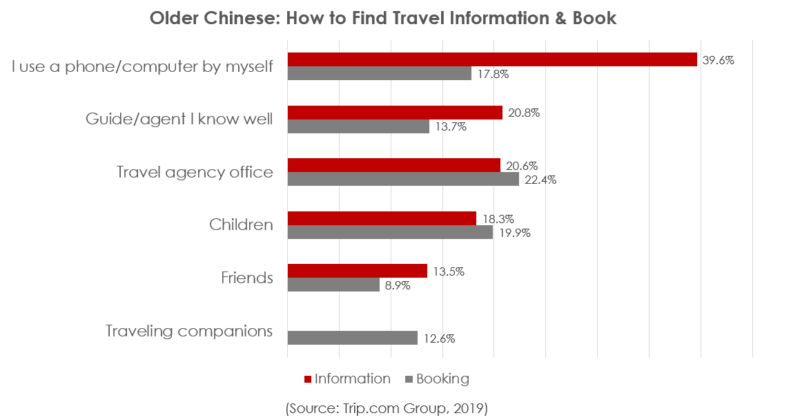 However, booking travel is another story, with less than one-fifth of Chinese over the age of 50 making online bookings. So, how do they book travel? It's quite a mixed picture, with booking at a travel agent's office the most popular, followed by relying on their children to book their travel for them. We also see that guides and agents the traveler knows and trusts are important sources of travel information and make some bookings. All of this enforces the importance of B2B marketing and engagement for travel brands, and the fact that the marketing you do aimed at millennials can also impact their parents' travel.
Dragon Trail has a database of +60,000 Chinese travel agents, and excels in B2B marketing. Learn more about our services here.
9. Safety is a top priority
Safety has always been a top priority for all Chinese travelers, especially the older generations, and this is only going to be more important post-COVID. Safety includes not just virus prevention measures, but the safety of travel and the entire environment. During the "Ghost Month" – the 7th month of the Chinese lunar calendar, usually beginning in August – older Chinese may be especially cautious about any risky activities, particularly those involving water. What can travel providers do to reassure their guests about safety? Chen advises providing as much information about safety, insurance services, and flexible policies before the client asks for it. The more proactive you are, the better.
10. When will older Chinese start traveling abroad again? It depends.
It's younger Chinese travelers who have driven the recovery of the country's domestic tourism industry since the pandemic was controlled in the spring of 2020. But should we expect a similar pattern when it comes to outbound travel? Tansey projects that older Chinese won't start traveling abroad again until late 2022 or 2023, "depending on when the border opens," and that recovery will start with younger generations. Dragon Trail's consumer research also found that older travelers were the most cautious about restarting travel.
There may be an exception to this, however, and that's for the very high-end market. "Most sophisticated travelers already see travel as part of their lifestyle – it could be combined with visiting family, catching up with friends, checking on businesses or investments. Post-COVID, people with time and money are the ones who will be back to travel first," says Chen.
Learn more about silver travelers in this China Outbound Travel Pulse video. If you're unable to view the video, please click here.