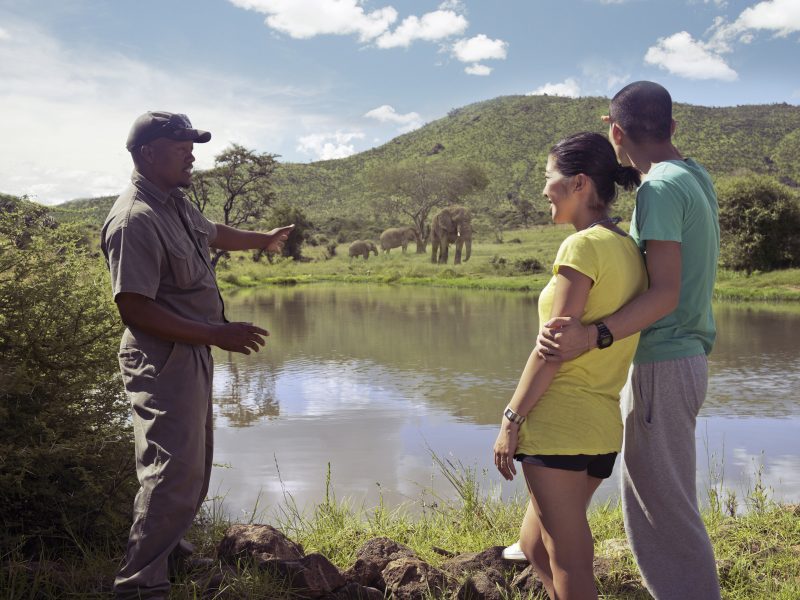 Chinese tourists in South Africa. Image courtesy of South African Tourism.
Africa is a final frontier destination with growing appeal for experienced Chinese travelers seeking in-depth, luxury, personalized travel. In the first part of our blog series on Africa, we look at the overall state of the market, and the Chinese traveler profile to this continent.
According to the China Tourism Academy (CTA), Africa welcomed 797,800 Chinese tourists in 2017. Some countries, like Morocco and Tunisia, have seen huge increases in recent years thanks to new visa policies, and interest in Africa is growing among Chinese travelers looking for new destinations to explore. Chinese OTA Ctrip reported a 70% year-on-year increase in purchases of Africa-related tour products in the first seven months of 2018. Released in November 2018, the Hurun Report's 'Luxury Chinese Traveler 2018 Report' revealed that Africa was the destination with the biggest increase in interest from high net worth (HNW) Chinese travelers, breaking into the top three most popular world regions for travel as it increased from 15% in 2017 to 29% in 2018.
The African countries with the largest Chinese arrival numbers in 2017 were Egypt, Kenya, Morocco, Tunisia, South Africa, Mauritius, and Zimbabwe. Following the success of Morocco and Tunisia in attracting Chinese visitors after they went visa-free in 2016 and 2017, respectively, Zimbabwe, Rwanda, Angola and Benin all started offering visas-upon-arrival to Chinese nationals in 2018.
Who is traveling?
Ctrip data shows that in the first half of 2018, 54% of Chinese travelers visiting Africa were female, in line with the general ratio of female to male Chinese outbound tourists around the world. 64% of Chinese travelers to Africa were born in the 1970s, '80s and '90s, with older "silver travelers" (born in the 1950s and '60s) accounting for 29%. Chinese tourists to Africa tend to come from the first-tier cities of Shanghai, Beijing, and Guangzhou.
In addition to these demographic trends, Chinese who visit Africa are likely to be very experienced travelers who have already been to Asia and likely Europe and/or North America as well, and see Africa – like Latin America – as a 'final frontier' destination. It's also an appealing destination for affluent Chinese who treat travel as a social currency and who are eager to explore parts of the world that their friends and acquaintances have not yet been to. According to Chris Mears, Chief Executive at the African Travel & Tourism Association (ATTA), the rise of HNW travel is the biggest trend in Chinese tourism to Africa right now.
How do they travel?
According to Ctrip, 59% of Chinese travelers to Africa in the first half of 2018 joined package tours, and the other 41% (+12% YoY) chose to travel as FITs or used Ctrip's customized travel service. 29% of Chinese travelers were couples, and 28% visited Africa with family (children or parents). Most Chinese travelers (96%) stayed in Africa for a period of more than seven days.
While these statistics seem to show that Chinese tourists are actually more likely to join a package tour to Europe than they are to Africa, the numbers may obscure a tendency for Chinese to still be traveling in groups, but on customized rather than off-the-shelf tours. Anecdotally, tourism professionals from across the content have all reported that Chinese travelers do come in groups – David Njuguna, General Manager of Kenya-based tour operator African Horizons explained that his Chinese clients travel as families or in small groups, but others from Morocco, Namibia, Uganda and South Africa all said that in their experience, Chinese tourists are more likely to travel in big groups than other nationalities.
Many thanks to COTRI (China Outbound Tourism Research Institute) for their contribution to the data in this article.
Related articles:
5 Challenges for Chinese Tourism to Africa
4 Opportunities for Chinese Tourism to Africa
6 Tips for Attracting Chinese Tourists to Africa
Video: Chinese Tourism to Africa