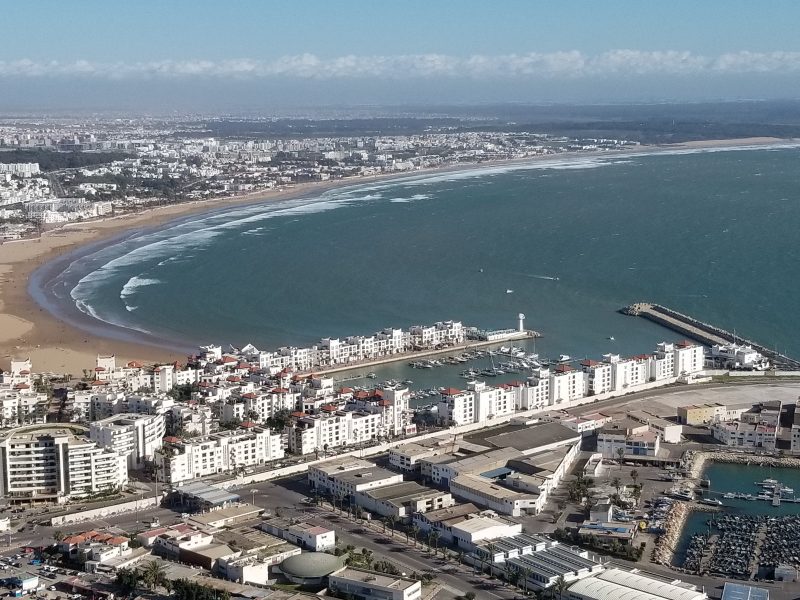 After Morocco waived visas for Chinese passport holders in 2016, Chinese arrivals have surged from 16,000 to 200,000 in two years. Pictured: Morocco's resort city of Agadir.
Africa is a final frontier destination with growing appeal for experienced Chinese travelers seeking in-depth, luxury, personalized travel. In the second part of our blog series on Africa, we look at five challenges for African destinations and tourism businesses in attracting and working with Chinese tourists, with suggestions for handling these challenges.
1) Dealing with demand
In 2016, Morocco welcomed a total of 16,000 Chinese arrivals. Then they waived visas for Chinese tourists, and by 2018, the number had increased to 200,000, with a target of 500,000 by 2020, says Hatim El Gharbi, Director of Operations at the Moroccan National Tourist Office. This increase is positive in many ways, but such a large and rapid change does come with challenges. One of these is not having enough guides who can work with Chinese visitors. While El Gharbi says that many tour operators bring their own guides with them from China, the Moroccan tourism board is also educating hotels and guides to help them meet demand and serve this new influx of visitors.
The size of Chinese tour groups is another issue for African tourism businesses. In the last several years, says Wilmari Pronk of Namibia Tours & Safaris, Namibia has "seen a boom in tourism from all over the world," China included, and the capacity of the lodges is not always sufficient. But "this is a positive problem," she adds. Godfrey Balyesiima from the Uganda Wildlife Authority says that the fact that Chinese travel in large numbers is one challenge they face. "Operators don't prioritize the Chinese market because it's hard to deal with big groups," adds Sisa Ntshona, CEO of South African Tourism, "but this volume is also a huge opportunity."
2) Understanding the Chinese market
As the Chinese tourism market is a relatively new one for Africa, there's still a lot to do in terms of education – even on the very basics like knowing the annual Chinese holiday calendar. Ntshona from South Africa Tourism expressed the need for more operators that specialize in the Chinese market, since it's best to lead all-Chinese groups rather than mixing them with other nationalities who may have different demands and styles of travel. This is one of the many areas in which Africa is similar to Latin America as a final frontier Chinese tourism destination, and lessons could be learned from the kind of domestic travel industry training that Peru has carried out in past years.
3) Language
All over the world, finding Mandarin-speaking guides and service professionals is a challenge, and this is also the case throughout Africa. For the time being, many Chinese groups will bring a guide with them. Demand for Mandarin-speaking services create job opportunities, but training guides and staff is a long-term process. In the meantime, technology can be employed to fill in the gaps, not just through up-and-coming translation/interpretation technology, but more simply through things like WeChat mini-programs, which can provide audio guides and written information, as well as location-based services.
4) Visas
Visas are a challenge that is already being resolved around Africa, with countries from Morocco to Zimbabwe making it much easier for Chinese tourists to visit. They do remain a hurdle to Chinese tourism to South Africa, but even here, reforms are in the works, with a multi-entry visa to be introduced first, and potential for e-visas at a later stage, though parliamentary approval is still needed to really make progress.
5) Getting there
Madagascar, said one tourism professional we spoke to at WTM London 2018, used to have workshops on Chinese tourism, trade activities and fam trips. But then Air Madagascar suspended their flights to and from Guangzhou, and the island nation stopped targeting the Chinese market. However, a twice-weekly service from Guangzhou to Antananarivo via Reunion has actually been available again since early 2017.
The question of accessibility varies widely depending on which African destination you are talking about – for Morocco, direct flights should be available within the next 18 months, says El Gharbi, but for now, a stopover in Dubai or Turkey doesn't seem to be putting visitors off. Morocco even has the potential to be included as an add-on to a European trip. But for South Africa, at the opposite end of the continent, airline connectivity is an issue. Currently, there's only one flight from mainland China – a Beijing-Johannesburg route, though Cathay Pacific just launched a non-stop Hong Kong-Cape Town flight in November 2018.
Click here for our market profile for Chinese tourism to Africa.
Click here for our article on opportunities for Chinese tourism to Africa.
Click here for our article on tips for attracting Chinese tourists to Africa.
Click here for our China Outbound Travel Pulse video about Africa.