Released in August 2019, China Tourism Academy (CTA) and HCG Travel Group's Chinese Tourism to Europe H1 2019 Report covers the major trends in Chinese travel to Europe in the first half of 2019, including top destinations, the effects of favorable exchange rates on travel plans, the rise of customized tours, and MICE travel.
HCG Travel is a Beijing-based outbound tour operator, and Ctrip is its majority shareholder. The report data comes from Ctrip's online platform and physical offices throughout China. Click here for the original report (in Chinese). The English-language edition of the report is provided by Dragon Trail Interactive.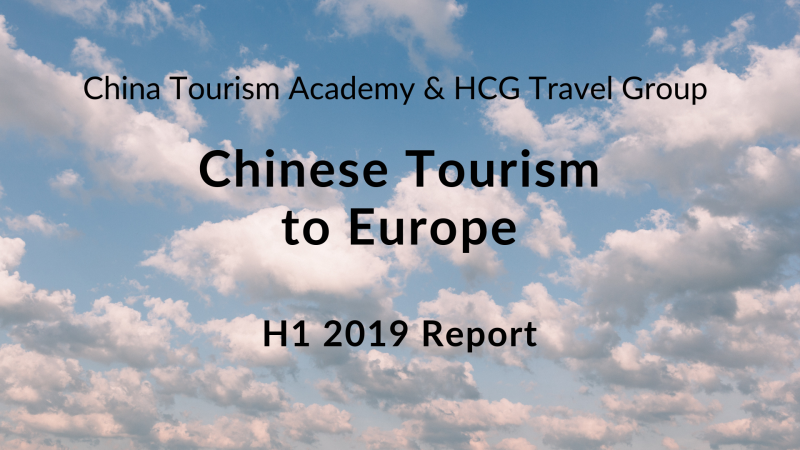 Chinese Tourism to Europe
According to CTA, Chinese tourists made over 6 million trips to Europe in 2018, and a quarter of the top 20 destinations for Chinese tourists were European countries. Eastern Europe, which has the most countries participating in China's Belt and Road Initiative, had the highest number of Chinese arrivals, and a year-on-year growth rate of 20%. The number of Chinese tourists traveling to Europe continues to grow in 2019, thanks to favorable visa policies, new flight routes, exchange rates, and consumer services.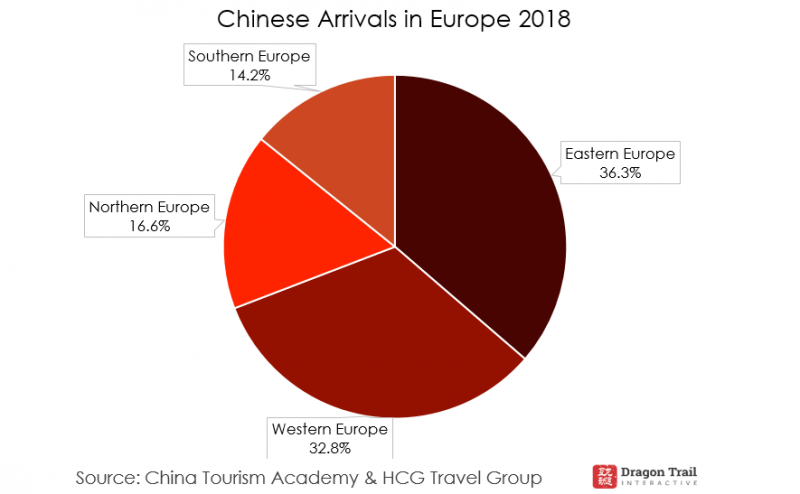 According to CTA, in the first half of 2019, the number of Chinese outbound tourists is expected to reach 81.29 million, an increase of 14% over the previous year, with 3 million trips to Europe, an increase of 7.4%. HCG Travel data reveals that the number of Chinese booking a trip to Europe in the first half of 2019 grew by 12.3% year-on-year. Ctrip data shows that Europe is the second top world region for Chinese tourists, accounting for 10% of outbound trips.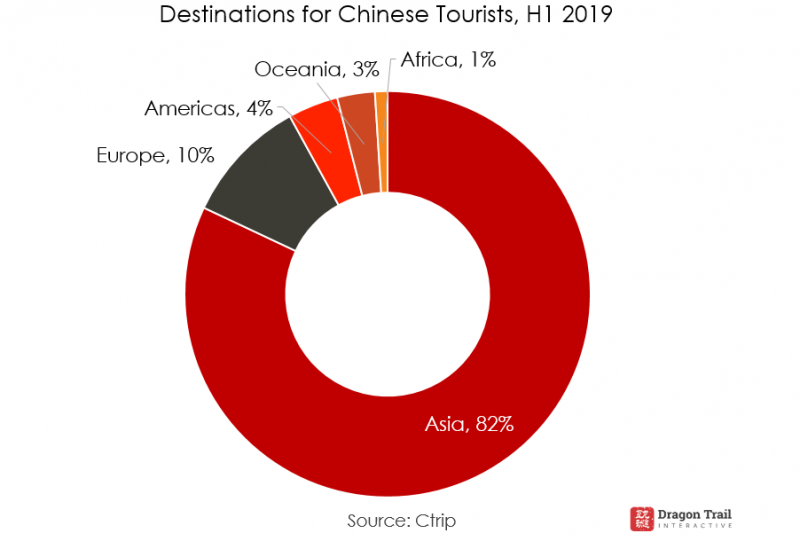 Exchange Rates and Chinese Tourism
As the RMB continues to weaken against the USD, it's the right time for traveling to Europe. The exchange rates of Iceland, Norway, Hungary, Sweden, Russia, and the UK have all fallen to lower levels this summer than during last year's summer holiday period, making them more cost-effective overseas destinations.
These favorable exchange rates have attracted more Chinese tourists to European countries. According to Ctrip, the number of bookings for group tours, independent travel, customized tours, and other products, to Norway and Iceland increased by 84% and 60% year-on-year, respectively, for the summer holiday period. The number of visitors to Russia and the UK increased by 34%. Thanks to exchange rate fluctuations, per capita travel costs to Sweden and Hungary decreased by 23% and 12%, respectively.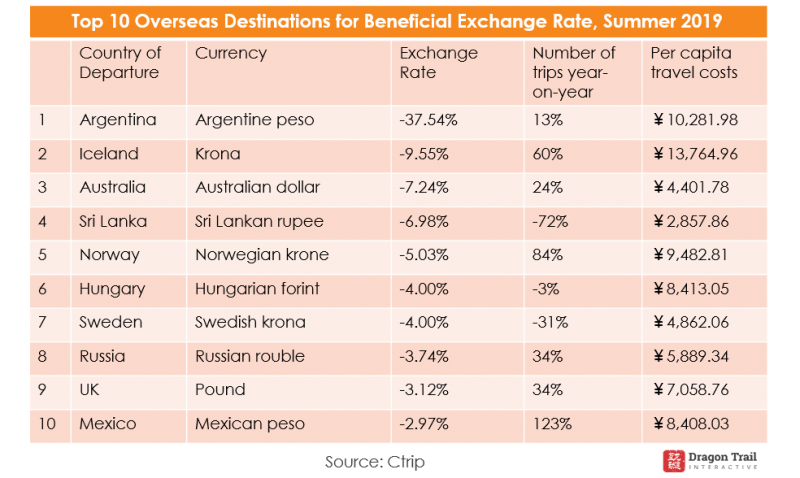 Destinations and Source Cities
In the first half of 2019, a number of new flight routes to Europe were opened, with direct flights from Shanghai to Budapest, Shenzhen to Budapest, Beijing to Oslo, Shenzhen to Rome, Hangzhou to Rome, Chengdu to Rome, and Guangzhou-Urumqi-Vienna, making it more convenient for Chinese tourists to travel to Europe.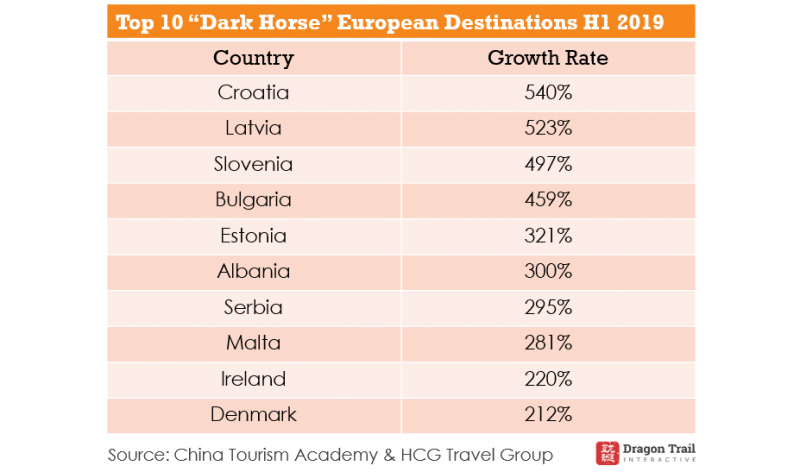 The top 10 source cities for Chinese tourism to Europe are mostly all first-tier and "new first-tier" cities, with just one second-tier city (Kunming).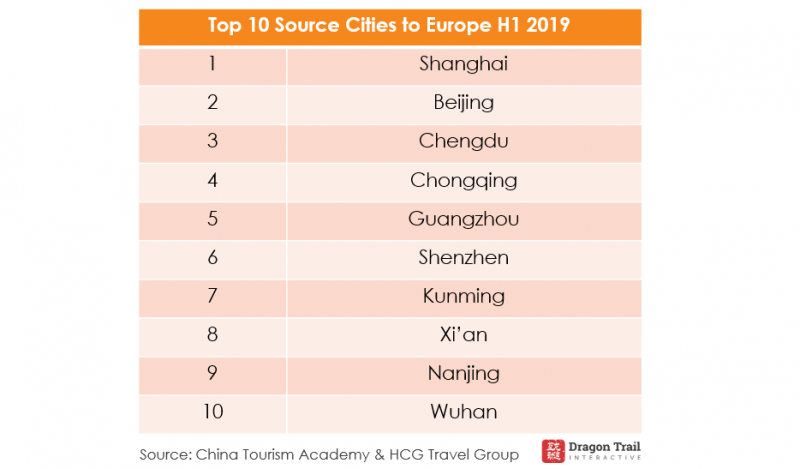 However, smaller cities have the fastest growth rates for outbound tourism to Europe. The number of tourists from Guiyang (a second-tier city in Guizhou Province, southwest China) to Europe in the first half of this year dramatically increased by 526% year-on-year. The top-10 list of cities with the fastest growth rate in travel to Europe are all "new first-tier" and second-tier cities.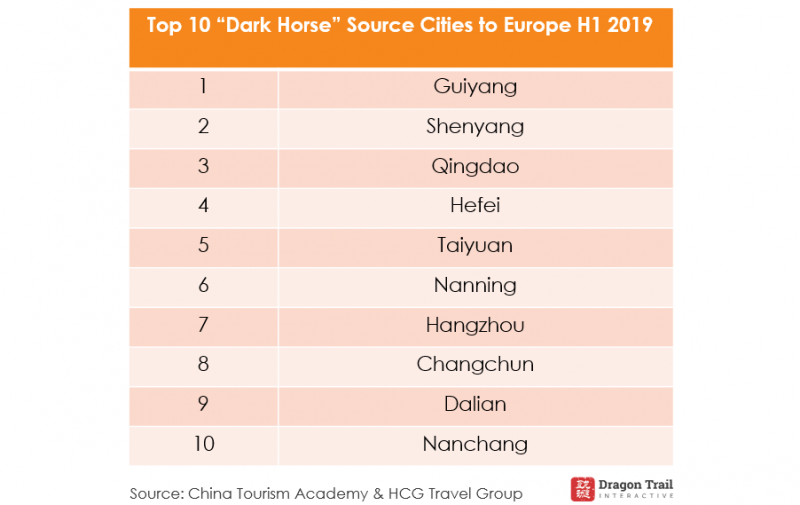 Demographics
In the first half of 2019, 62.9% of trips from China to Europe were made by women, and 37.1% by men. The age of outbound tourist was fairly high, with over half born in the 1950s and 1960s, and 12.7% born in the 1970s.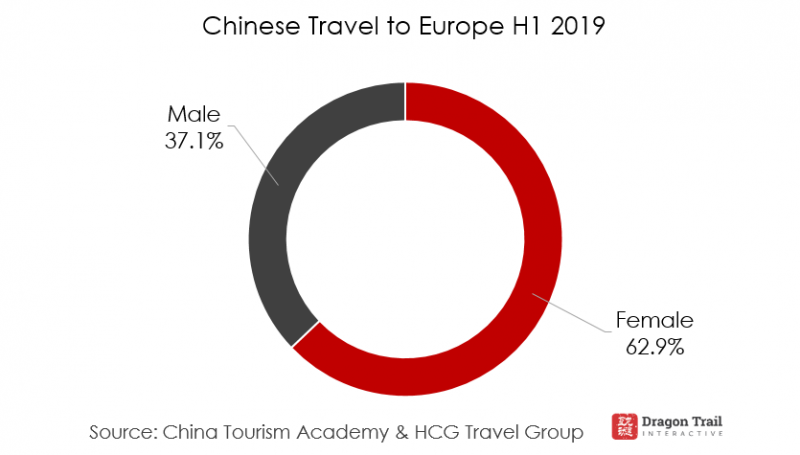 The Rise of Customized Tours

Because of language barriers, visa application, cultural differences, and other factors, 70% of Ctrip bookings to Europe are still for group tours. The per capita travel costs for Chinese tourists who joined a group tour to Europe in H1 2019 was RMB11,920.7, a slight increase compared to 2018.
But the age of low-cost, low-quality, rushed coach tours with forced shopping and poor quality food and accommodation is coming to an end, as the quality of tour products to Europe improves. At the same time, there is a noticeable shift to smaller and more personalized tours. The number of Chinese traveling to Europe on a customized private tour is still just 5% of the total number of Chinese travelers to Europe, but it has grown by 120% since last year. These tours are generally for just 3 to 4 people.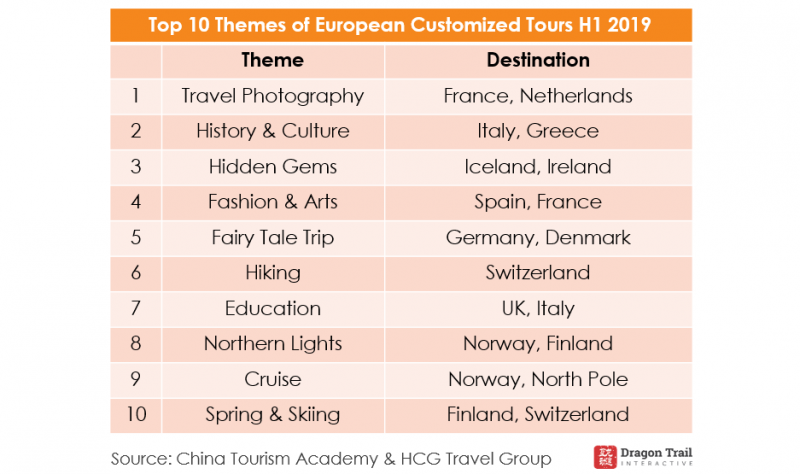 While Chinese tourists to Europe tend to be older, as we have seen in the previous section, those booking customized tours are younger, with over half born in the 1980s, '90s, or 2000s.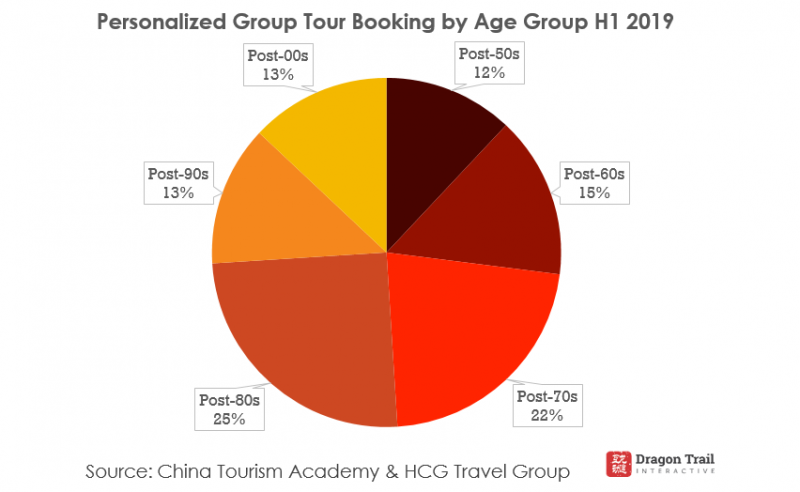 MICE Travel
The number of MICE trips to Europe increased 400% in the first half of 2019. France remains the leading destination for MICE travel from China to Europe, with a significant increase this year. This can be understood as a result of the increase in flights from China to Paris. In H1 2019, the number of Chinese cities with flights to Paris increased to 12. In addition to the existing Beijing, Shanghai, and Guangzhou routes, passengers can now fly directly to Paris from Fuzhou (Xiamen Airlines), Qingdao (China Eastern Airlines), Shenzhen, Chongqing, Guiyang (Hainan Airlines), and Jinan (XL Airways France).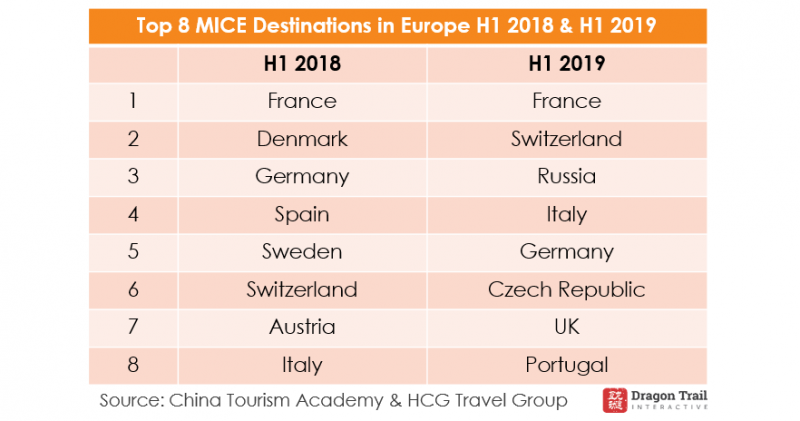 The country with by far the highest growth rate for MICE travel was Switzerland. In March 2019, Switzerland received a group of 12,000 Chinese on the largest incentive trip in the European country's history.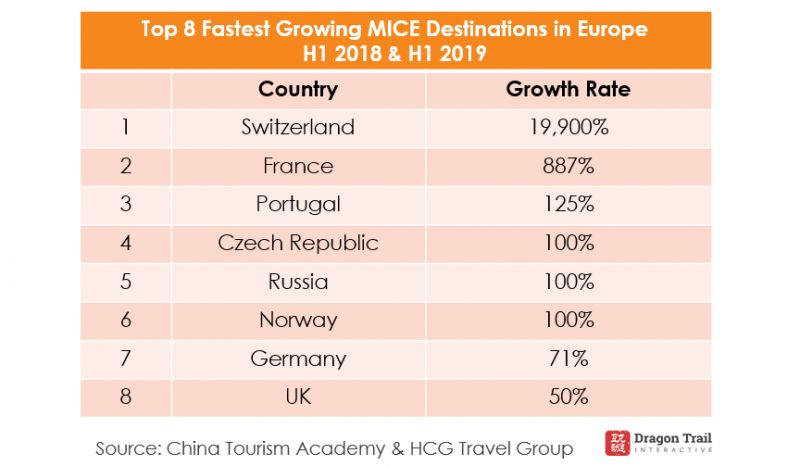 Chinese outbound tourism-focused digital marketing agency Dragon Trail Interactive provides tourism brands around the world with services and solutions to reach Chinese consumers and the Chinese travel trade. Learn more about our services and examples of our work.
Stay up to date with the latest Chinese outbound tourism and digital news by following us on Twitter and LinkedIn, and subscribing to our monthly newsletter.