2018 has so far been the best-ever year for Chinese outbound tourism numbers, with 42 million border crossings outside of Greater China in H1 2018 alone. These five trends have defined the biggest developments in Chinese travel and digital marketing this year.
1. Younger generations (and their apps) have arrived
The generation of Chinese born in the 1980s (aka "post-80s") are still the biggest demographic and biggest spenders when it comes to Chinese outbound tourism, but post-90s and even post-00s have arrived, and will be the generations to watch in coming years. According to the Ctrip 2018 Chinese Cross-border Travel Consumption Report, from January to September 2018, the generations born in the 1990s and 2000s accounted for more than 30% of the total number of outbound travelers, surpassing post-80s for the first time. Post-90s Chinese – for whom 'traveling' was their top life priority according to a 2015 survey – have been featured in reports by OTAs Tuniu and Fliggy this year. At the same time, Tencent released the first research report on the post-00s generation, revealing that Chinese born from 2000-2009 are already better traveled than the post-90s generation.
Apps that are most popular with the post-90s generation have also been the biggest stories in Chinese digital media in 2018. The penetration rate of micro-video app Douyin aka TikTok surged 52% between March and August 2018, and now claims 400 monthly active users. Read our article on how Douyin can be used for travel marketing here.
Popular among wealthier, mostly female post-90s is Xiaohongshu aka Little Red Book, a shopping-focused social media platform that is also increasingly travel-related. Read more about Xiaohongshu and travel here.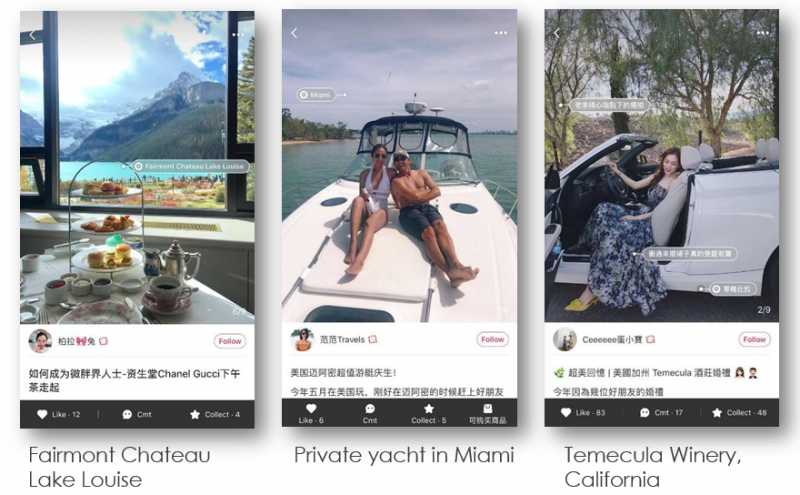 Xiaohongshu/Little Red Book has become an increasingly important social media platform for showing off luxury travel experiences
2. Mobile payments are everywhere
Chinese mobile payments WeChat Pay and Alipay started to make international in-roads in 2017, but the pace of expansion in 2018 has been stunning, starting with a huge surge in the lead-up to Chinese New Year. Since then, development has continued to be steady and significant, with Moscow subway stations getting Alipay-ready for the World Cup, WeChat Pay partnering with Japan's Line Pay to facilitate easy adoption by SMEs, and Canadian 7-Elevens starting to accept both WeChat Pay and Alipay, among many other notable stories.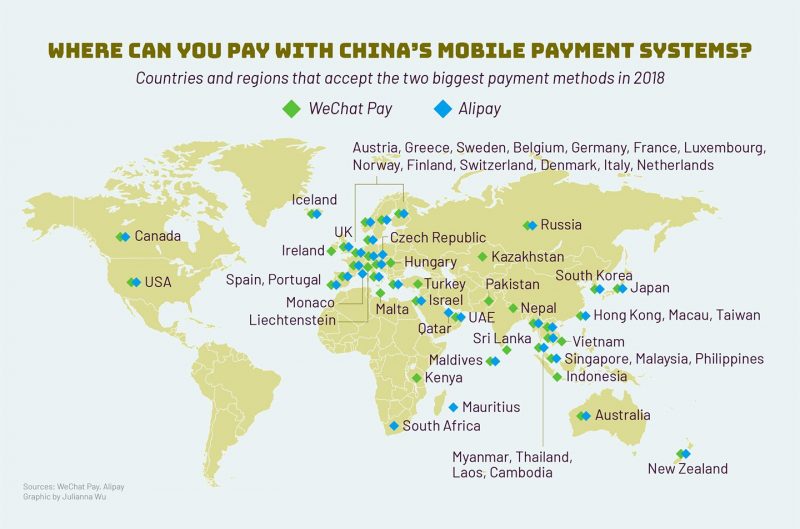 Chinese mobile payments are now accepted on nearly every continent (image from Abacus)
3. Travel is about experiences
As Chinese overseas shopping declines, report after report tells us that experiences – not things – are now what Chinese travelers covet the most. One of these experiences is food, which was one of the winning themes on WeChat for destinations this year. "Local cuisine" got as many votes as "safety" as a factor that influenced choice of travel destination in the 2018 Chinese International Travel Monitor, with each chosen by 61% of travelers. And during 2018's 11/11 Singles' Day sales, Chinese travelers made 11,000 bookings at overseas Michelin-starred restaurants, as well as 100,000 reservations at five-star hotel buffets. Read more on Chinese travelers' dining preferences here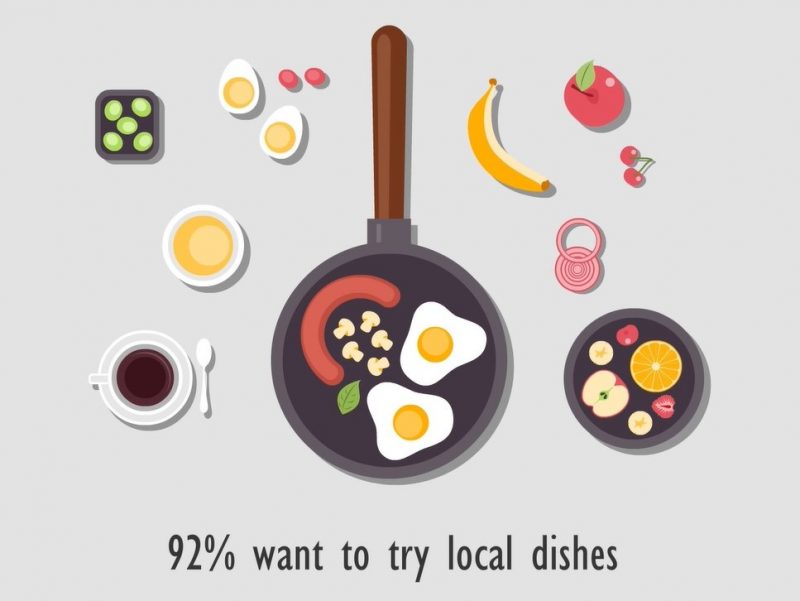 Experiences that make for good photo ops are also important for Chinese tourists, 60% of whom post on social media 3-5 times a day while traveling, and use these photos and their travel experiences as social currency. Activities such as attending sporting events, flower tourism, hot air ballooning, safari, or seeing the northern lights all have major appeal.
4. Culture is a selling point
Cultural experiences are also popular. According to Chinese travel website Qyer, 97% of Chinese travelers to Paris are interested in museums, monuments and other cultural attractions, compared to just 55% who go to shop. This enthusiasm for Parisian cultural attractions matches up with how well they have done on WeChat in 2018 – the Louvre, Versailles and the Musee d'Orsay all made the top 10 list for museums and attractions on WeChat in Q2 2018. Beyond museums, Chinese tourists' interest in culture also creates opportunities for music and other performing arts events, as well as local festivals.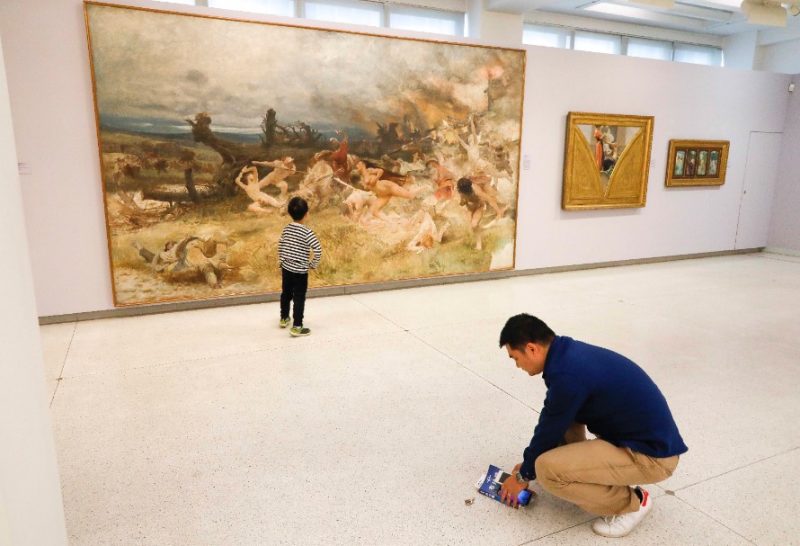 Cultural activities like visiting museums are popular among Chinese tourists. Photo by Gene Parulis
5. WeChat mini-programs have taken off
As of July 2018, there were over one million WeChat mini-programs, up from 580,000 in January. Travel is one area in which WeChat mini-programs are taking off, and being used to facilitate the booking and in-destination customer experience. In 2018, cities like Edinburgh, Helsinki and Seattle all launched city guides, with functions like maps, recommended attractions and businesses, and event calendars.
Hotels are another industry vertical that's embraced mini-programs. In March 2018, Martim Hotels became the first overseas hotels to launch a mini-program, available at 47 properties in 7 countries. The mini-program not only gives guests information about hotel services through scanning QR codes around the properties, but also offers in-destination guides – for example, the Berlin mini-program has a number of suggested walking routes mapped out around the city. Hilton and Club Med also launched WeChat mini-programs this spring.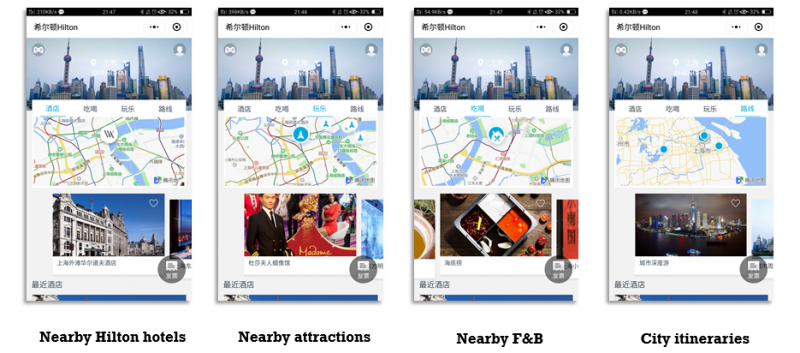 Hilton's WeChat mini-program launched in May 2018
There's potential for other kinds of travel brands, too, especially as mini-programs suit the rise of independent travel and experience-based tourism so well. In October, Qyer announced a partnership with Tiqets on a mini-program for overseas museums and attractions. Viking Cruises just launched a mini-program at the end of November, 2018. In 2019, we expect to see further development in this space, with more mini-programs used by cities, travel businesses, museums and other attractions.