Ironically sharing a name with the famous volume of Chairman Mao quotations, 'Little Red Book' aka Xiaohongshu (小红书) is a Chinese social media platform and app that started in 2013 as a way of sharing shopping recommendations for luxury goods abroad, then veered towards pure e-commerce, and has slowly started to become popular for outbound travel inspiration as well.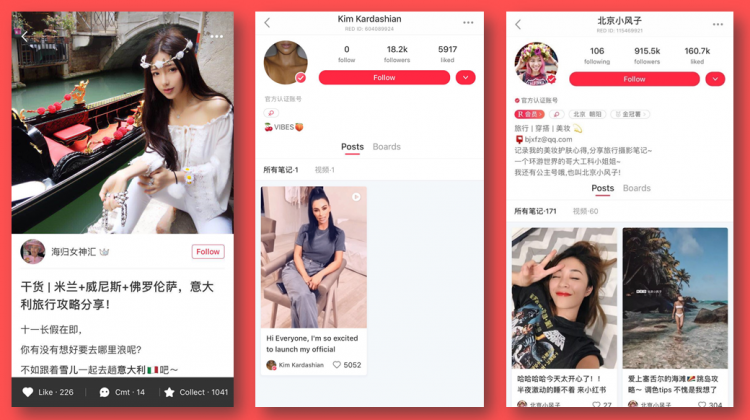 A recent article put Xiaohongshu – and micro video platform Douyin – ahead of WeChat for travel marketing with KOLs. Xiaohongshu has 30 million users as of April 2018, and it's become so popular recently that Kim Kardashian launched an account and online store on the platform on October 1, 2018. But should travel marketers make Xiaohongshu part of their digital strategy for China? And if so, what's the most effective way of using it?
Xiaohongshu for travel
To be clear, Xiaohongshu is and always has been a shopping app, with e-commerce sellers galore and billions of user reviews of clothing, cosmetics and other items. At the start, Xiaohongshu focused on overseas products, with tips on buying those products online in China, as well as shopping abroad.
The focus of Xiaohongshu is still product recommendations and shopping, especially for cosmetics. But now, travel bloggers have also joined the platform, and users may post photos of themselves traveling abroad, or recommendations for restaurants and hotels. A lifestyle app as well as an e-commerce one, it's a good place for users show off their travels, as well as their purchases.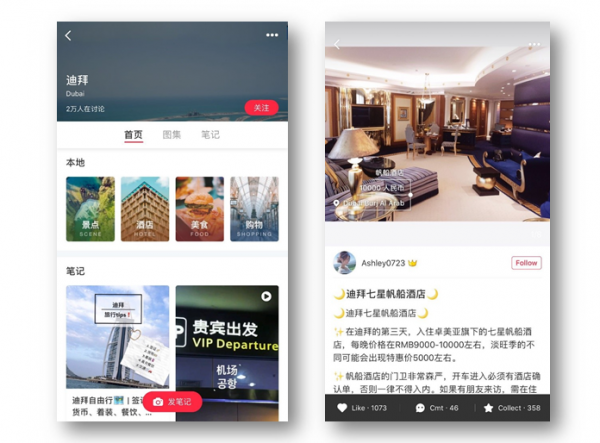 Xiaohongshu posts on travel to Dubai
Who is it for?
In terms of users, Xiaohongshu is nearly 90% female, and the majority of users were born in the 1990s. Unlike Douyin or e-commerce platform Pinduoduo, Xiaohongshu's users are more likely to live in first-tier cities. This demographic is the ideal target for many travel destinations, as millennial women from first-tier cities drive outbound travel consumption.
With shopping its core theme, destinations with good shopping opportunities are at an advantage when it comes to using Xiaohongshu for travel marketing. While shopping for clothes or cosmetics in a destination like Milan, Seoul or Los Angeles, users are likely to also want to show off photos of themselves looking stylish in an international setting, enjoying lunch while taking a break from shopping, recommending certain stores, or flaunting their new purchases.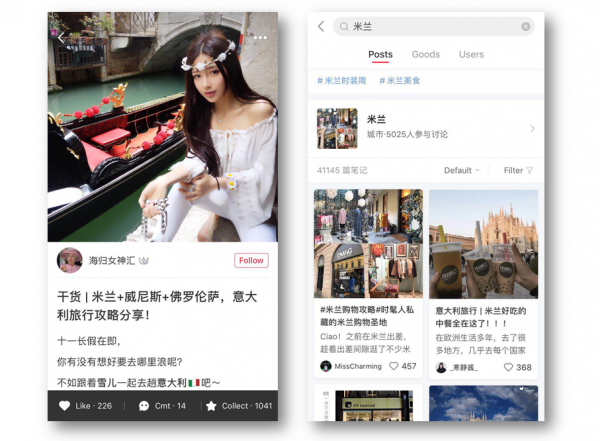 Posts about traveling in Italy
So far, most travel-related posts on the app are for domestic Chinese or Asian destinations. This means that, similar to Douyin, the space for long-haul destinations is still relatively uncrowded. This provides promising opportunities for exposure, but the ROI for overseas travel marketing is still unknown.
Who is it not for?
Xiaohongshu is quite specific in terms of demographics and type of lifestyle content, and it's definitely not as universally usable as broader social media platforms like Weibo and WeChat. If your brand is mainly targeting older travelers, family travel or adventure travel, it's not worth worrying about a Xiaohongshu strategy. The app's users do not use the platform to find hiking or bird-watching recommendations, and if your destination isn't strong for shopping or Instagrammable luxury experiences, it's probably not a good fit for Xiaohongshu.
How do you use it?
If Xiaohongshu does sound like a good platform to showcase your offerings – let's say, for example, you're a glamorous destination with upscale outlets – then do you need to open an account? If you're not planning to use it as an e-commerce platform like Kim Kardashian is, we would say no. We did not find any overseas travel brands with accounts on the app, and for travel marketing, Xiaohongshu is better suited to influencer marketing than officially created content. While the platform is used for direct selling, this is for things like shoes and skin cream, not museum tickets or cruise ship reservations; travel brands should see Xiaohongshu as an inspirational marketing channel rather than a sales platform.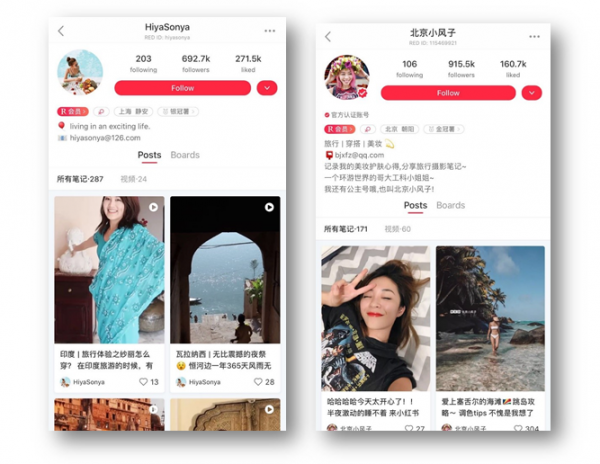 Travel bloggers HiyaSonya and Beijing Xiaofengzi on Xiaohongshu
Xiaohongshu should ideally become part of your KOL marketing strategy, as this offers the best potential for exposure, and there are already Chinese travel KOLs who are active on the platform. We wouldn't forgo bigger platforms like Weibo for influencer marketing, but when choosing a KOL to work with, you might find influencers who also have a presence on Xiaohongshu, and ask them about promoting your brand over several different platforms for maximum exposure.
This platform, with all of its honest, user-generated reviews, is also a great resource for reputation monitoring and social listening. Keeping tabs on mentions of your brand will let you know what Xiaohongshu users think and like about your destination or business, and if you are being visited by any top influencers or celebrities who have a following on the platform. All of this can then feed into your understanding of your appeal with Chinese tourists (or, specifically, affluent Chinese women under 30) and your marketing position and content strategy.