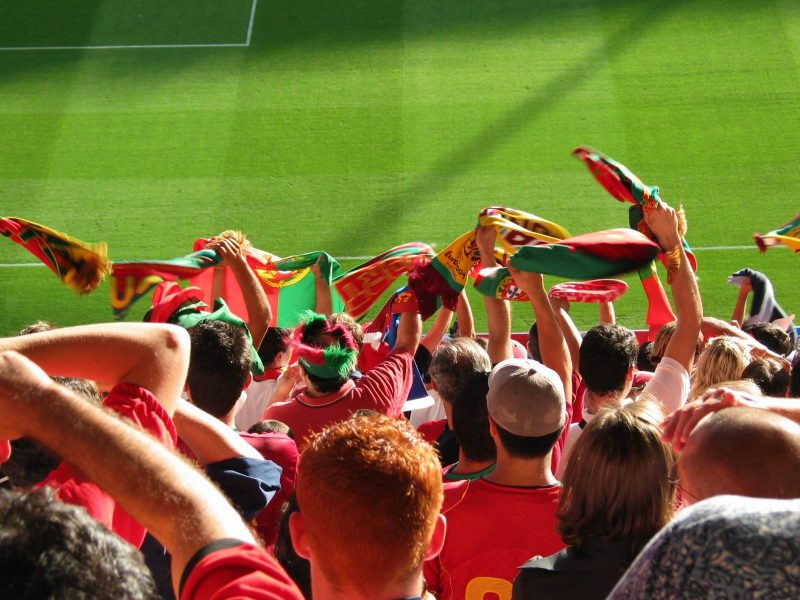 Photo courtesy of Sports Events 365
The 2018 FIFA World Cup kicks off in Russia on June 14th, and while China won't be represented on the pitch, it certainly will be in the stands. In April, it was reported that 38,841 ticket sales had been made to Chinese spectators. The event also has a noticeable effect on travel and tourism: According to data from ForwardKeys at the beginning of May, forward bookings for travel from China to Russia in June and July were 16.5% ahead from 2017. The travel boost is most visible in June, with forward bookings ahead by 60.3% when compared to the previous year, and Chinese arrivals starting to peak on June 12th.
This is part of a growing trend for Chinese travelers to attend sporting events around the world, usually paired together with more typical tourist itineraries. In this article, we've chosen to look at three of China's most popular spectator sports: soccer, basketball and tennis. All are well promoted in China, and can be used as an effective selling point for destinations and tour operators.
Soccer
China has a huge number of avid European soccer league followers, and "The World Cup is very high profile and is attracting a lot of interest," says Sefi Donner, CEO of ticketing platform Sports Events 365. European teams regularly play exhibition games in Chinese cities, some receive sponsorship from Chinese companies, and Chinese pitch-side advertising is a common sight during televised English Premier League and Spanish La Liga matches.
In 2014, 5,000 Chinese fans traveled to the World Cup in Brazil, a 30-hour flight around the world – 2,000 more than would attend the Rio Olympics two years later. But the Euro 2016 in France proved even more popular, as it was closer to China, and there was a special visa scheme offered for ticket holders. Dominant Chinese OTA Ctrip reported that five times as many Chinese tourists went to Euro 2016 than to the 2014 World Cup.
Russia, which is also offering visa-free travel with World Cup tickets, may receive bigger numbers still this June and July. And Chinese soccer fans traveling to Russia to see the World Cup are not only going to attend the game or games that they have tickets for and then spend the rest of the time in their hotel rooms – it's a major opportunity for other kinds of tourism as well. There are numerous tours on Ctrip's dedicated 'sports event' page. One all-inclusive package, which costs RMB 51,000 (US$8,035) includes 8 nights and 10 days in Russia, with tours of St. Petersburg and Moscow, and ends with stadium seats for the World Cup final. A 9-day, 7-night Russian tour for RMB 67,966 (US$10,707) does not even include tickets to the World Cup, although travelers will be in Moscow during the semi-finals and finals, and time is allotted to watch the games – presumably on TV. Other World Cup packages, scheduled for the beginning of the tournament, include tickets to see certain teams, especially Argentina, with some providing access to VIP areas.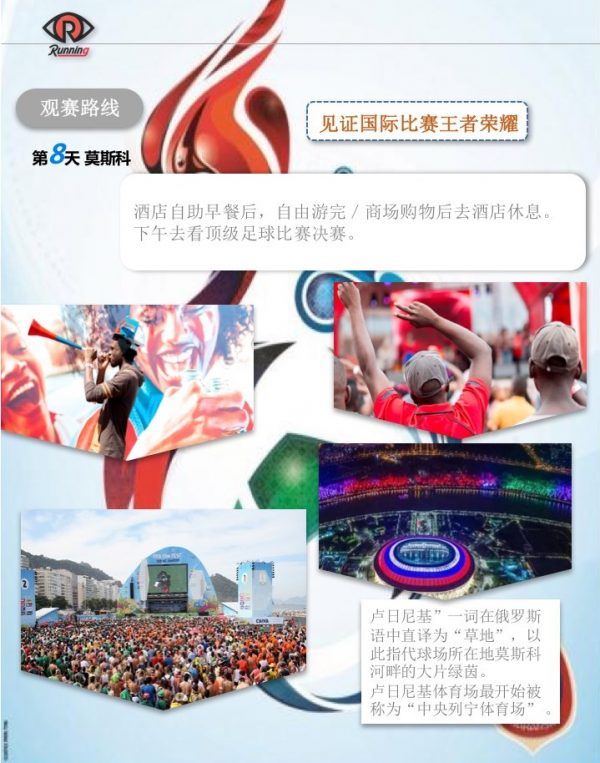 Promotional materials on Ctrip for a tour package to Russia during the World Cup

While the official 2018 FIFA World Cup WeChat account, limited by the event's one-month timespan, only gets several hundred views per article, Manchester United's account is more likely to gets tens of thousands of views. Of course, there are travel packages created to cater to this fan base. "Do you like Beckham? Are you a Rooney fan?" asks the promotional materials on Ctrip for a 10-night, RMB 29,103 (US$4,858) all-inclusive package tour of England, centered around attending a Manchester United vs. Chelsea game, and a visit to the National Football Museum in Manchester. The tour visits dozens of other English tourist sites as well, including the London Eye, Stonehenge, Oxford, Cambridge and Bath. There are also smaller English Premier League packages for semi-independent travelers, which do not include travel from China, with several-day trips to see teams like Arsenal and Tottenham Hotspur.
Continental Europe has similar offerings: The Real Madrid tour takes travelers to see a game, visit the stadium and training grounds, go to a football museum, and enjoy a tour of Madrid and Barcelona. There's also a 3-day, 2-night Milan trip that combines an AC Milan game with a city tour, and packages to see FC Bayern in Germany and Paris St. Germain in France.
Basketball
As important as soccer is, the NBA is actually six times more popular in China than the three largest European soccer leagues combined. The NBA is the most-followed sports account on WeChat, where posts regularly surpass 100,000 views (the maximum amount displayed), and it has 33 million followers on Weibo. Basketball has been popular for a very long time in China, and the NBA really took off from 2004, when it increased broadcasting and started playing exhibition games in China. Of course, Yao Ming becoming the first Chinese NBA player in 2002 didn't hurt, either.
In 2016, the Los Angeles Times reported that Chinese fans had paid $10,000 for packages to see Kobe Bryant's last game with the LA Lakers. Bryant had become one of the most popular athletes in China, running a training camp and going on regular fan engagement tours there, and even learning some basic Mandarin, according to the article. Jing Travel has also more recently written about how the Chicago Bulls play to their Chinese fan base with Chinese cultural content – such as Chinese New Year performances – at games, and how the team works together with Choose Chicago to promote Chicago tourism.
Tennis
Tennis is another of the most popular sports in China, both for participation and spectatorship, and major tennis competitions have received more attention after Chinese tennis player Li Na became the first-ever tennis player from China – or any other Asian country – to win a Grand Slam singles event when she won the French Open in 2011, and later made history again by winning the Australian Open in 2014.
It's not a huge surprise, therefore, that of the four Grand Slam events, the French Open and Australian Open get the most attention from Chinese fans. The Australian Open has also been the most active in promoting itself to a Chinese audience, and this has helped the event to grow its attendance to record-breaking levels. The Australian Open has an official WeChat account with very regular posts throughout the year, and often gets up to 1,000 views per article. Also significant is Tennis Australia's partnership with Ctrip, announced in December 2017. Chinese tennis fans can now buy Australian Open tickets directly through the Chinese OTA, which helps to promote sales and to cut down on language and payment barriers that might have impeded sales in the past.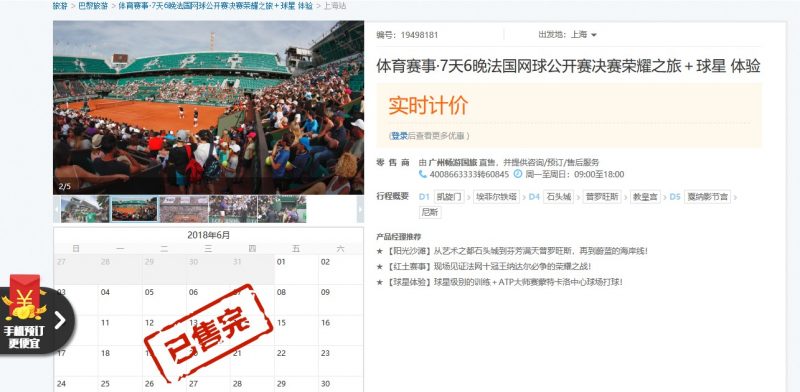 This sold-out French Open package includes tickets to see the French Open, a tour of France and Monaco, and a chance to play tennis in Monte-Carlo
The French Open has no WeChat account, but the event is still popular with Chinese fans, and the selling point for several tour packages on Ctrip. A RMB 41,256 (US$6,515), 7-day package includes tickets to both the men's and women's finals, plus travel to Nice and Monaco, as well as Paris and its surrounding areas. Much cheaper at RMB 22,158 (US$3,499), the "French Open for Nadal Fans" package doesn't actually include tickets to enter the stadium, but rather brings Chinese tennis fans to the grounds of the event during the semi-finals and finals to enjoy the atmosphere and watch the matches on outside screens. The package also includes a visit to the Eiffel Tower and other Parisian site-seeing, shopping, and a trip to a lavender farm.
Booking
Traditional Chinese travel agencies and OTAs both offer many kinds of travel packages that include sporting events. "Now people go regularly to Europe, so they are looking for new things to do. For travel agencies, it's important to have new services to offer, particularly to differentiate themselves from competitors as well as to drive more sales dollars, not only for sports tickets, but for flights and hotels as well," explains Sports Events 365's Sefi Donner.
Sports Events 365, which recently signed a cooperation agreement with Ctrip, originally started as a search engine and now sells tickets for over 65,000 sporting events around the world, focusing mainly on soccer. The company started selling in China two and a half years ago and has operated primarily through travel agents. So far, the growth in China has been 20% per year, says Donner, but he's now planning to scale up their operations significantly. With burgeoning interest in sports tourism, and the lack of price consciousness that he finds in the market, there is huge potential for further growth. The company currently has one dedicated staff to take customer service queries, which Donner says "is really important as clients might like to have customized requests for their tickets." They are about to start accepting Alipay, with WeChat Pay planned for a later stage.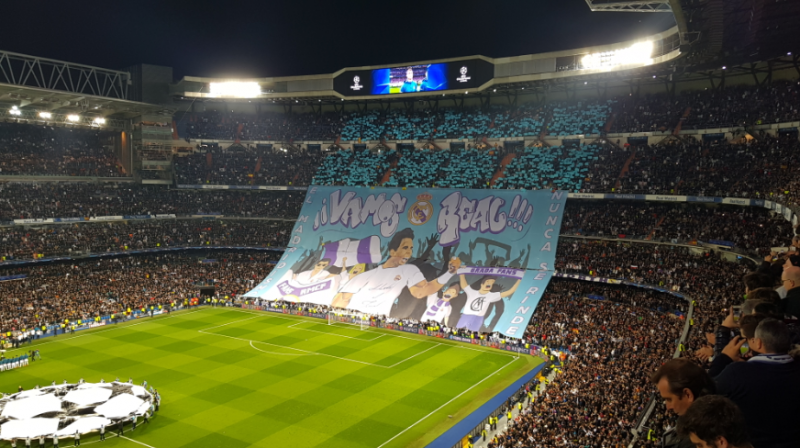 Soccer is particularly popular with Sports Events 365's Chinese clients (photo courtesy of Sports Events 365)

Thanks to their direct ties to 55 sports clubs, Sports Events 365 is able to provide VIP tickets to Chinese travelers, and while their customers comprise both leisure and business travelers, Donner says it is quite common for business people to watch a game after a meeting. Unlike the group tours on Ctrip that anyone can sign up for, Sports Events 365 generally caters to small, private groups of around 2-6 travelers. Chinese travel agents are needed to help customers throughout the whole process, says Donner, and normally the agents will also help arrange private transportation for their clients.
Travel goals
Sports tourism represents a major opportunity for the Chinese outbound travel market in several ways. First, there is already a massive audience and fan base for several major sports in China, so as more of China's population begins to travel abroad, there will be an increasing number of potential ticket-buyers. Second, the Chinese tourism market is becoming more sophisticated and experienced, and this makes it harder for agencies to compete with typical "greatest hits" style site-seeing packages – adding a sporting event to the itinerary, as we've seen for both the World Cup and French Open this month, provides a unique selling point, although there is also the challenge of having a limited timeframe. But this limitation adds an element of exclusivity, and as so many sports fans are incredibly passionate about the teams or players they support, there are excellent opportunities to upsell them high-value packages, especially when it comes to VIP clients after a special experience.