With the majority of Chinese outbound tourists living in large, congested cities, it's no secret that unspoiled nature holds massive appeal. We've consistently seen excellent results for WeChat posts by overseas destinations focusing on natural landscapes; searches for overseas travel on Ctrip spike during periods of intense pollution; and there are even popular nature-themed overseas tour itineraries such as the "Banff Fresh Air" package.
Flower tourism is one aspect of this interest in beautiful natural scenery that is also enjoying great attention in China. In 2017, "What places in China can you recommend for roaming through a sea of flowers?" was the second-most popular question posted on leading Chinese travel review site Mafengwo's forum. But the interest is not just domestic, and flower tourism for Chinese is blooming around the world.
Floral Attractions
A great early example of the popularity of flowers for Chinese tourists is the famous case of the lavender teddy bear purchased by Chinese model and actress Zhang Xinyu at a Tasmanian lavender farm in 2013. After she posted about her new teddy bear on Chinese social media platform Weibo, the producer was subsequently overwhelmed with busloads of Chinese tourists wanting a bear for themselves, as well as online and phone orders. At the same time, lavender farms became a major selling-point for Chinese tourists to Provence, France.
The UK also has its fair share of lavender farms, which are popular with Chinese visitors. In May 2017, Honglingjin, an online platform aimed at Chinese who are studying and living in the UK, published an article about the country's best lavender farms. This list included Cotswold Lavender in Worcestershire. While the farm doesn't have exact numbers of the nationalities of their visitors, they estimate that "visitors from the Far East make up around 30-40% of our visitor numbers."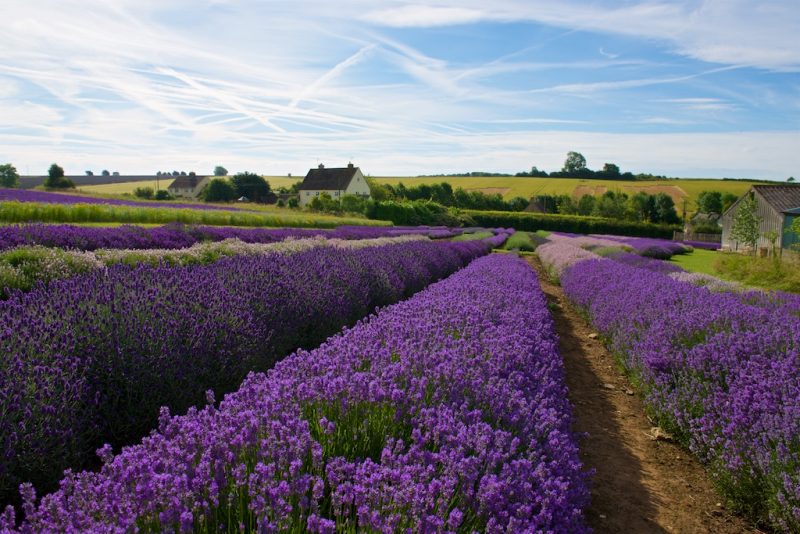 Image courtesy of Cotswold Lavender
Cotswold Lavender's Charlie Byrd adds: "The lavender really seems to capture the imagination of our Chinese visitors. The stunning scenery along with traditional English tea seems to provide a huge attraction." Although he credits word of mouth and social media as helping spread the word about the farm – which does not have its own Chinese social media or website – he says that "guided tours are becoming much more common," with operators including Titicaca and Yutravel, which both specifically service the Chinese market. Independent travelers are common as well, and the lavender farm is also a popular destination for both Chinese pre-wedding photo shoots, as well as Western engagement and wedding photography.
Although Keukenhof tulip garden is only open for two months every year, it is the Netherlands' second most popular tourist attraction on Chinese travel review site Mafengwo, topped only by Zaanse Schans windmill village. The 258 reviews are overwhelmingly positive. "Too beautiful! I saw so many different kinds of tulips, I was overjoyed," enthused 'bluesmile_2011'. Another user, named 'Scottyyao20' even advised: "If you're going to Western Europe between the end of March and mid-May, then this is a must-go attraction. If you're not going during this time period, you should change your travel dates to make sure you go to Keukenhof."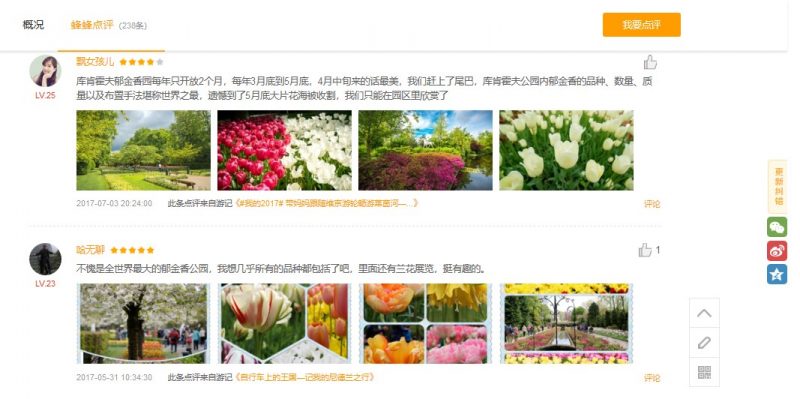 Keukenhof tulip garden is the second-highest rated attraction in the Netherlands on Mafengwo.cn
Flowers in Social Media
Although the examples of Cotswold Lavender and Keukenhof show us that flower tourism can take off without the garden itself having to do targeted promotion to the Chinese audience, flowery imagery is a sure-fire way to stand out on Chinese social media when it comes to promoting a destination.
In February 2017, the Japan National Tourism Board published the year's third most-popular WeChat article by a national tourism organization, called "The Best Places to Watch Cherry Blossoms in Japan." The article, filled with stunning photos of trees dripping with Japan's famous sakura, as well as suggested itineraries for visiting the best locations for cherry blossoms, got over 50,000 views, and 138 likes.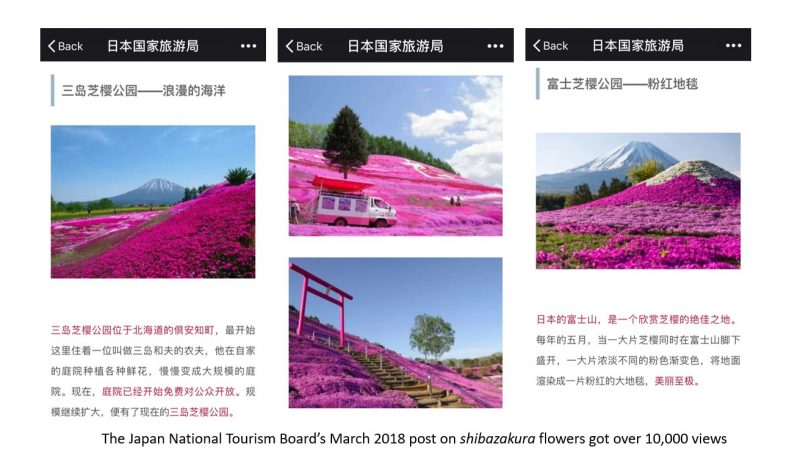 Then in March 2018, the Japan National Tourism Board had another hit with its article on shibazakura, also known as "lawn cherry" or "pink moss". The cherry blossom season is over too soon, lamented the post, but this pink/purple flower, which covers large swathes of land, peaks in late May – giving followers of Japan's WeChat account plenty of time to plan a trip. Like the cherry blossom article from the previous year, this post recommended a number of gardens and other top spots to see shibazakura, as well as suggested routes. Japan topped the WeChat rankings for NTOs that week, and the article got over 10,000 views.
On the other side of the world, Texas Tourism topped the WeChat rankings for DMOs the week of January 29-February 4 thanks to its two-part article series on flowers in Texas, ranging from rose gardens to fields of wild cornflowers. The articles, posted on January 30 and February 1, got over 6,000 views, and elicited comments like "Texas looks like a magnificent painted scroll" and "on a cold day, this made me feel warm for a moment."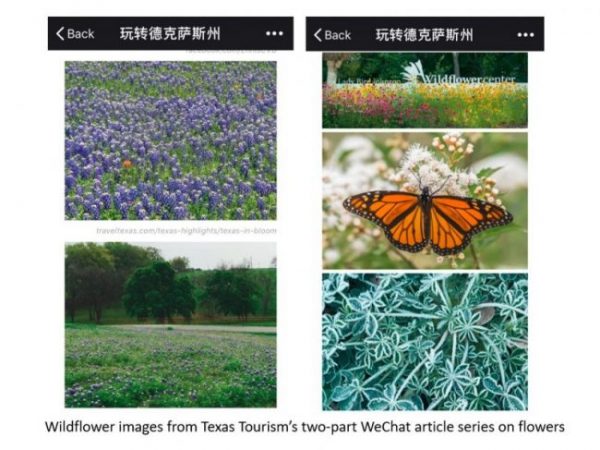 Flower Power
Destinations and attractions with plentiful flowers can expect to attract interest from Chinese tourists thanks to their unquenchable appetite for natural beauty, and their propensity to share their travel experiences and inspire friends to travel on social media. But actively promoting these floral attractions can help spread the word fast, and destinations around the world would do well to publish photos of and guides to gardens and wildflowers in order to attract the attention of Chinese tourists.
This article was originally published on Jing Travel.