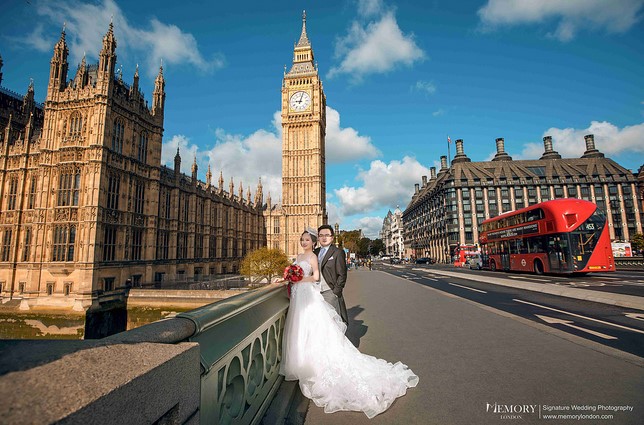 Photo courtesy of MEMORY LONDON

Love is in the air – and around the world – for Chinese tourists, who are traveling the globe in search of romantic experiences, from honeymoons abroad to visiting overseas destinations where their favorite celebrities tied the knot. In this article, we'll look at the top romantic reasons for Chinese outbound tourism, and how to use love to market your destination.
Wedding tourism
As a recent Jing Travel article explains, Chinese wedding tourism is often different to the conception of 'destination weddings' in the West. There is much less stress on a personal, intimate event, with the focus instead placed on photographically documenting one's marriage in an exotic location to gain coveted social status – even if it means sharing the experience with dozens of other couples. Hence the trend of Chinese mass weddings and wedding-related ceremonies from Sri Lanka to Turkey. Of course, these mass wedding events also bring great publicity to the destination and help position it as a romantic location.
Another way that destinations create romantic appeal with Chinese tourists is by hosting the weddings of Chinese celebrities. When actress Yao Chen got married in Queenstown, New Zealand, in 2012, she shared the experience with all 66 million of her Weibo followers. The wedding was held there in cooperation with the New Zealand tourism board, which was then able to leverage the event to promote the country as a romantic destination. Taiwanese pop star Jay Chou put Yorkshire, England on the map for Chinese tourists when he got married in Selby in 2015. There are now so many Chinese couples who want to have their pre-wedding photos taken in the same church where Chou got married, the church charges £100 per couple, according to UK-based wedding photographers MEMORY LONDON.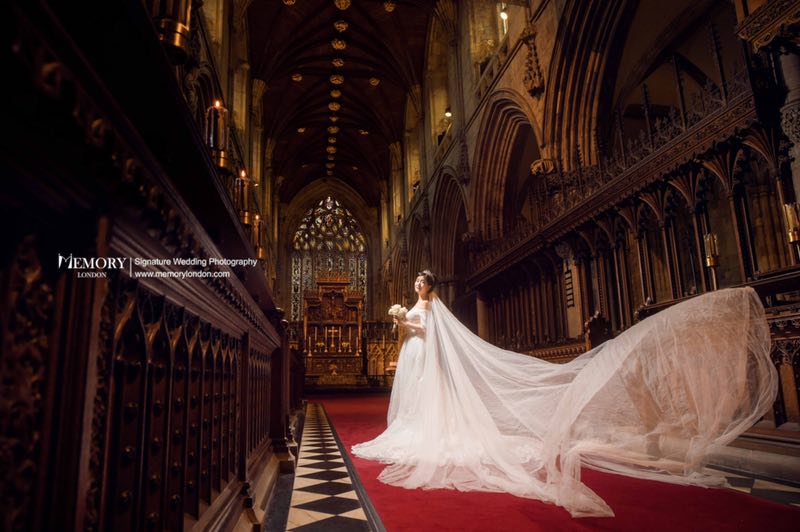 The church in Selby, Yorkshire where Taiwanese pop star Jay Chou got married in 2015 has been a hotspot for Chinese pre-wedding photography ever since (photo courtesy of MEMORY LONDON)
In 2017, the Hawaii Tourism Board partnered with Taiwanese celebrity Ady An and fiancé, Chen Ronglian, to showcase their luxurious destination wedding. This resulted in over 8,000 WeChat page views for Hawaii's Official Account, as well as 333 million page views on Weibo and a PR value of US$7.2 million, shared across 185 broadcasts, in print, and social media channels in Mainland China, Hong Kong, Taiwan and Singapore.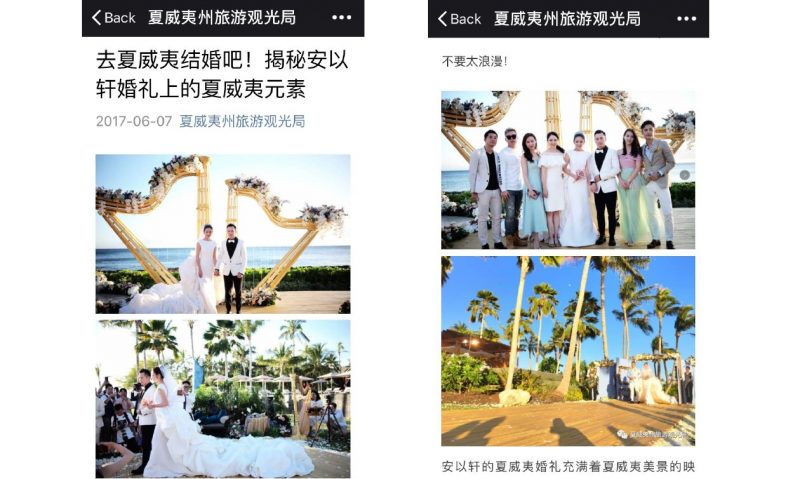 'Get Married in Hawaii!' is the headline of the Hawaii Tourism Board's WeChat post about celebrity Ady An's wedding, with recommendations for wedding venues and entertainment in Hawaii. The post got over 8,000 page views.
Wedding photography tourism
Pre-wedding photography, where couples get professional hair and makeup and rent wedding attire for a day of studio or location shooting, is a major cultural phenomenon in China. "In China nowadays, you absolutely need to have your wedding photos taken before the wedding. This way, you can share them at the wedding, or display them at the ceremony," says Cathy from the UK-based wedding photography studio, MEMORY LONDON.
Most days walking along the iconic Bund in Shanghai, you'll see at least one couple having professional photographs taken. Beijing's World Park is another Chinese hotspot for pre-wedding photography, where couples pose in Western wedding dress in front of the theme park's models of the Eiffel Tower, Red Square, the Acropolis and other international landmarks. But some affluent Chinese couples are now traveling abroad for the real thing, instead.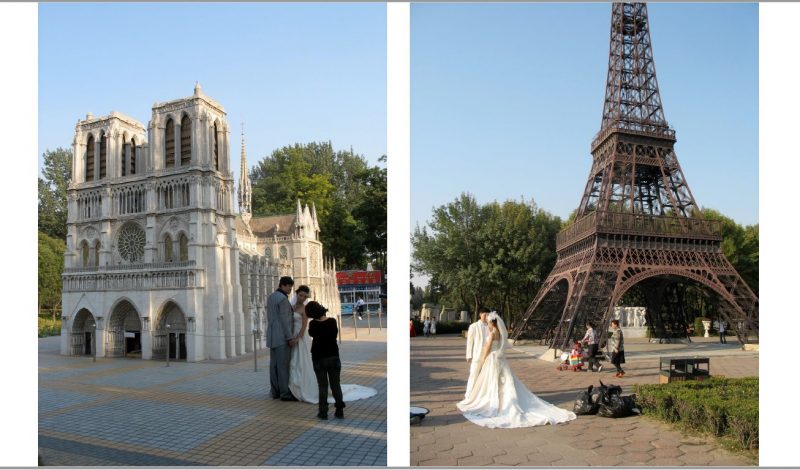 Wedding photography at Beijing's World Park (Photos: Sienna Parulis-Cook)

Managed in the UK, MEMORY LONDON was founded in 2016 by Chinese investors. At the start, their clients were Chinese living in the UK, or those who had studied or worked in the UK in the past. But thanks to the internet – and the stunning photographs on MEMORY LONDON's website – they now get queries from Mainland China, Hong Kong, Singapore and even Myanmar. "One of the reasons our clients decide to take their wedding photographs in the UK is because they've worked or studied in the UK, or are living here now, so they have a deep connection to this place, and want to return and record that happiness. Another reason is that the UK has a long history and culture, beautifully detailed European architecture, and very traditional British villages," says Cathy, explaining that "Chinese wedding photography stresses bringing together scenery and people. The couple has to be photographed beautifully, and the background scenery also adds a lot to the atmosphere and feeling of the photographs."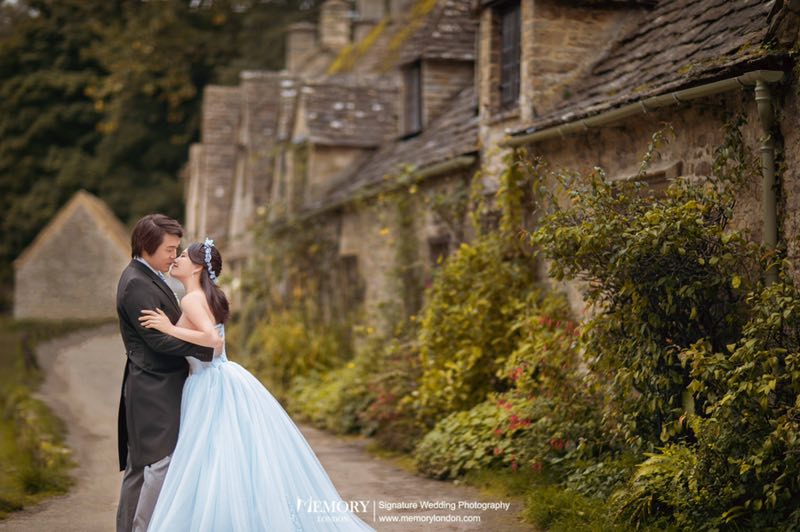 MEMORY LONDON shoots Chinese pre-wedding photographs all around the UK, encouraging clients to consider small villages and natural landscapes as well as London landmarks (Photo courtesy of MEMORY LONDON)
Starting from £1,400, MEMORY LONDON provides full-day photography packages not just in London, but all around the UK, including Oxford, Cambridge, Bath and Brighton in England, as well as Scotland and Wales. The packages include professional styling, chauffeur service, and gowns and suits for the bride and groom. The most popular locations include Big Ben, St. Paul's Cathedral and Tower Bridge, and many photos feature iconic British details like double decker buses and red phone booths. Aside from well-known landmarks, MEMORY LONDON also recommends alternative locations with a traditional British environment, such as small villages outside of London or scenic spots in the Scottish countryside.
In an extreme example of luxury international wedding photography tourism, China recently made its first-ever charter flight to Antarctica, where several couples brought along wedding gowns and tuxedos to pose for photos with a backdrop of penguins and polar ice.
Honeymoon travel
While Chinese tourists are generally time-poor, due to the very limited annual holiday allowance that most receive, couples that have just been married are by law entitled to at least three extra days of holiday. The length of time varies depending on the city or province in China where the couple lives, with newlyweds in Beijing and Shanghai entitled to 10 extra days of annual leave. In Shanxi and Gansu provinces, couples get a maximum of 30 days. This creates an excellent opportunity for a once-in-a-lifetime outbound trip, so it's no wonder that places like the Maldives, Sri Lanka and even Turkey are making efforts to market themselves as romantic destinations for couples.
Romance on social media
Based on Dragon Trail's WeChat rankings for the travel industry in 2017, we can also see that romantically-themed posts by Official Accounts did particularly well around Valentine's Day last year. Thailand's most popular posts during February 2017 centered on the country as a wedding destination. One week, their most popular post showed nine different couples' weddings in Thailand, and the next week they published an article on underwater weddings. Dubai also reached the top ranking for DMOs in early February 2017 by posting about activities for couples. For airlines, British Airways rose to second place in terms of post views, and got a whopping 511 likes, for its video about a long-distance relationship.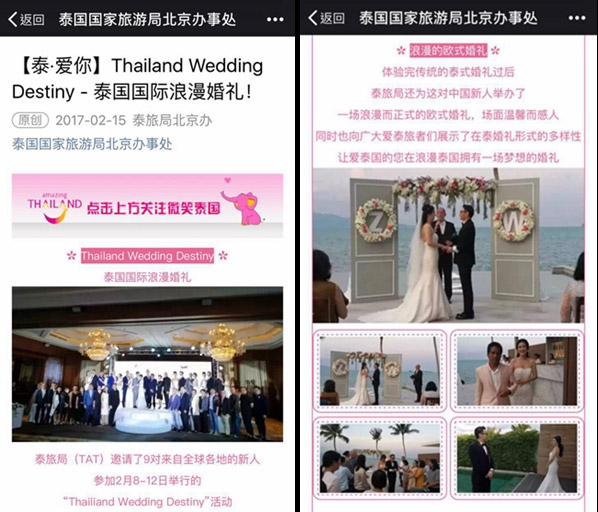 Wedding-themed WeChat posts by the Tourism Authority of Thailand, February 2017
Perhaps because Valentine's Day is just one day before Chinese New Year's Eve in 2018, we haven't seen as many high-ranking WeChat posts with a romantic theme this year so far from NTOs and DMOs, but both cruise lines and airlines have promoted Valentine's Day deals.
In addition to Western Valentine's Day on February 14, China also has its own 'Valentine's Day,' called Qi Xi, which is held in August. Although this holiday wasn't quite as popular for travel accounts on WeChat in 2017, Tourism Australia did get over 15,000 views for its Qi Xi travel guide, published during the last week of August.
Romantic adventures
Finally, there is also plenty of interest from China's large single population about romantic tourism. A recent Ctrip study found that 25% of respondents said one of their motivations for traveling abroad was to find either short-term or long-lasting love. And in 2017, the number 1 most popular question on Chinese travel review website Mafengwo's forum was: "What's it like to travel with someone of the opposite sex whom you've only just met?". Marketers should keep this in mind, too – the promise of potential romance could be one more way to attract Chinese travelers to your destination.