Despite a reputation for group tourism, busy site-seeing itineraries and extravagant shopping sprees, the Chinese outbound travel market offers significant opportunities for rural tourism destinations around the world. But to tap into this market, rural tourism suppliers must first understand the appeal of this kind of tourism for Chinese travelers, how rural tourism in China differs from that outside it, and how to reach the right market segments. Following the 6th European Congress on Rural Tourism (ECRT) in October 2018 – which had a special focus on the Chinese market – we've created a guide to get started.
The Potential – What Chinese Want from Rural Tourism
Most Chinese outbound travelers live in sprawling cities with millions of inhabitants, traffic congestion, a concrete landscape and chronic air pollution. This makes rural tourism all the more appealing, and "fresh air tourism" is an actual trend, with spikes in online searches for outbound travel during periods of particularly severe pollution. In 2017, leading OTA Ctrip even sold a "Fresh Air Package" to visit Canadian national park Banff & Lake Louise.
"Chinese are looking for the beauty of the countryside when they travel," says founder and CEO of Chinese travel media Tripvivid, Liu Zhaohui, and this is certainly supported by Dragon Trail's data on the top WeChat articles from national and regional tourism boards over the past two years. Images of pristine, empty, natural landscapes were the keys to success for countries like Canada and New Zealand in 2017, and posts about flowers have helped destinations from Japan to Edinburgh to Vancouver climb up the WeChat rankings in 2018. Read more about flower tourism for the Chinese travel market here.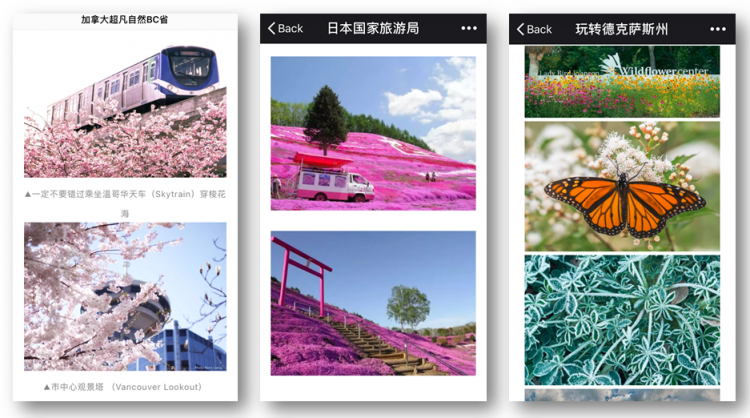 Flower tourism was one of the most popular travel-related topics on WeChat in H1 2018.
At the same time, there is a human and psychological element to Chinese travelers' interest in rural areas. "Urban people feel disconnected with nature, with themselves, and with their communities. They want to feel home, wellness, and to connect with people and nature," says Xu Lin, the China Chief Advisor to the 2018 ECRT. This connection can come from touching trees or animals, experiencing solitude, and in human interactions with local people, she says.
Rural Tourism in China – Understanding the Differences
Rural tourism is also on the rise within China, helped along by an official push for rural revitalization. However, many domestic rural tourism spots are actually abandoned villages that have been rebuilt to be more like theme parks than living villages with local residents in them. The air may be fresher, but the experience may not be as transformative as rural tourism outside of China. "Chinese come to Europe for a different setting, for the culture, to interact with locals, and to experience different nature and activities from that place," says Xu, explaining the exotic appeal of European rural areas.
Market Segments to Target
Rural areas are unlikely to be able to cope with large coachloads of Chinese group tourists, but this isn't the market segment they will appeal to or should be targeting anyway. Instead, destinations should focus on adventurous millennials and experienced middle-aged travelers. Both of these groups are especially interested in getting off the beaten track – they're likely to have already seen major city destinations and now want a unique experience. According to Airbnb's 2016 survey, Chinese millennials were more interested in interacting with locals and experiencing local culture when traveling than American and British millennials were. Plus, this kind of intrepid, independent Chinese traveler is more likely to speak English, more likely to opt for self-driving tourism – which gives them the freedom to access rural areas more easily – and they also spend more money than other market segments.
Reaching the Chinese Traveler
But how does a B&B in rural Austria or an eco-lodge in Costa Rica put itself on the radar of these affluent, adventurous, independent Chinese travelers? It's important to understand that FITs are even more likely than other travelers to do online research, but that the Chinese digital ecosystem is totally different than the Western one, with different social media, travel websites, OTAs, search engines and more.
Chinese travel review sites Mafengwo and Qyer are both important resources for independent, millennial tourists, and often used to help plan self-driving trips. These websites not only have venue reviews and professionally written destination guides to download, but they also have thousands of travel diaries submitted by users and travel bloggers, as well as Q&A forums. Looking up your destination is a good place to get started (use online translation tools such as Google Translate if you don't have a Chinese speaker to help you read the content you find).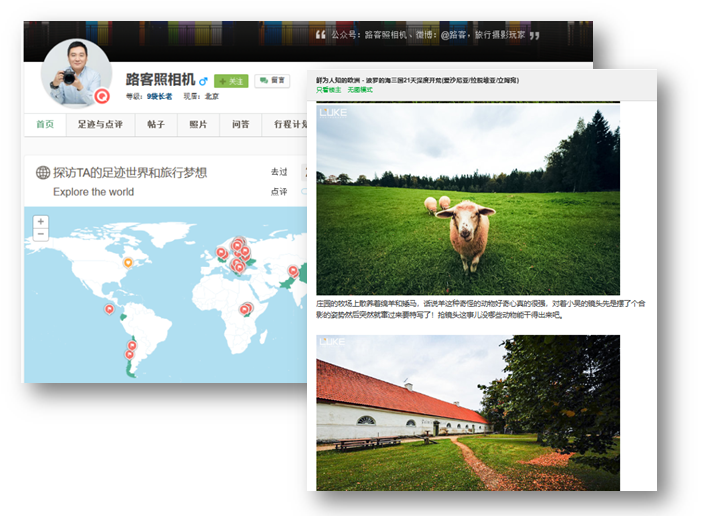 Official Qyer blogger Luke Zhaoxiangji's travel diary about his 21-day self driving trip through the Baltic countries has nearly 55,000 views
To increase the likelihood of travelers finding you, ask any Chinese visitors that you have to leave you a review and/or post photos online to start building your online reputation. You may also want to work with a Chinese speaker to help answer relevant questions posted in online forums. Providing basic information on how to get to your destination, and any relevant visa information is very helpful as well.
Another important step is to download social media app WeChat. Small rural tourism providers may not have the time, money or human resources to create an official WeChat account, but even just having a personal account opens up an excellent avenue of communication with Chinese guests – who probably won't have Whatsapp or Facebook – as well as with the Chinese travel trade. Younger tourists are likely to make their own travel arrangements, but older and wealthier travelers, especially to niche destinations like South America, may work with a Chinese travel agent to build a customized trip. Read our beginner's guide to WeChat here.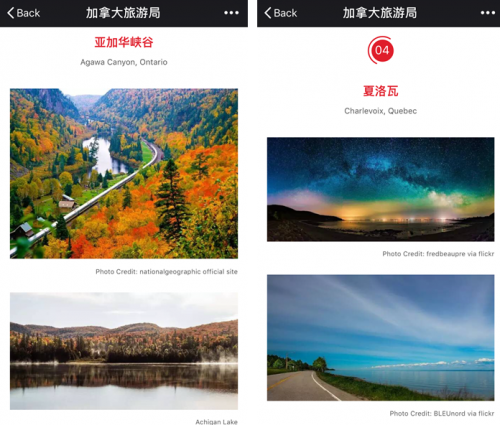 Destination Canada's official WeChat account highlights natural landscapes and self-driving tourism
Partnerships are also vital for smaller destinations and businesses, who will have a hard time trying to go it alone. National tourism boards can provide crucial support here – for example, the German National Tourism Board worked with Dragon Trail to create a WeChat-based app that offered a self-driving guide to Germany with recommendations for smaller towns and lesser visited destinations.
Across the world in South America, Peru has supported its own tourism suppliers with training on Chinese consumers and the Chinese travel industry. PromPeru also worked with Dragon Trail to create a digital product catalogue for its partners, which can be easily used by Chinese travel agents to find and book accommodation, tour providers and activities for their clients. Furthermore, in April 2018, Peru hosted two Chinese KOLs for a two-week trip around the country – including to rural areas – which has been used to create a documentary and short videos for Peru's Chinese tourism marketing.
Adapting for the Chinese Traveler
Generally speaking, the kind of Chinese traveler who ventures into a rural area is much more likely than other Chinese tourists to speak English or the local language, or to more confidently communicate through translation apps or other means. Therefore, rural destinations don't need to worry so much about learning Mandarin – though even learning a few basic phrases will help you to stand out as especially welcoming. These kinds of Chinese travelers will also be more adaptable to foreign cultures and cuisines, but they probably still will want an electric kettle or other hot water facilities. If you do find yourself attracting a significant number of Chinese visitors, accepting Chinese payments, including China UnionPay cards and mobile payments, will make it much more convenient for them. Watch our 'Introduction to Hotel Trends' webinar for more information on what Chinese travelers expect from their accommodation.
Unlike some western tourists to rural areas, Chinese are not looking for a digital detox, and they will want Wi-Fi to stay in touch with family and friends in China, as well as to post photos from their trip – which is very much to your advantage as a tourism provider when it comes to generating that key word of mouth marketing.
The Positive Potential for Rural Tourism
Tourism in general – and especially rural tourism – can have a profound and transformative effect on travelers, and this is the kind of experience that is most appealing to the adventurous Chinese market. "Traveling through Peru has not only changed my perception of this country, it's also changed my perspective on life and work in the future. And these feelings may affect my life decisions for the next years," said astronomy photographer Ye Ziyi, one of the two KOLs who visited Peru in April 2018.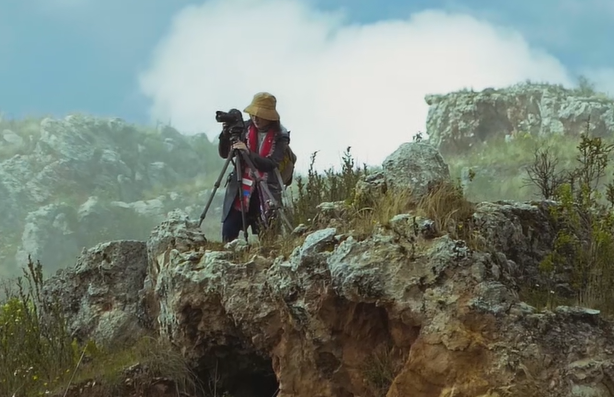 Photographer Ye Ziyi in Peru
This experienced, independent outbound market is already on the rise, and offers great potential for off-the-beaten-track destinations to start benefiting economically from Chinese tourism, without being overwhelmed by the crowds that flood urban areas like Venice. Moreover, the opportunities for finding connections to people and nature can create lasting positive impacts for both local communities and Chinese visitors to improve their lives and wellbeing.