With more than one billion active users, WeChat is China's most popular and most important social media platform. Since its launch in 2011, WeChat has added many new functions, evolving from a simple messaging app to a 'Swiss Army knife' platform with microblogging, location-based services, mobile payment system and much more. There so many ways to use this free platform, and each has applications for the travel industry. Whether you're a new user or just trying to keep up with the latest functions, we've created this guide to all things WeChat – and how they pertain to outbound travel.
1. Communication Layer – Chat
As the name suggests, WeChat's messaging platform is its primary and most important function. In addition to written messages, you can also send voice messages, images, photos, itineraries and more, and make voice and video calls. Group chats can have up to 100 people. With 90% of WeChat users saying that it's a major communication tool for work, this is an excellent way to communicate with business partners and contacts in China, and adding someone on WeChat is now more important than the traditional exchange of business cards.
If you're a small company and your primary need is to maintain contact with partners in China, you can create a group on your personal WeChat account. If you need to communicate with more than 100 people at once, then you can create different groups for different cities or around specific projects.
Also worth noting is that if you're on WeChat, you can use small group chats to keep in touch with tour guides, and deal with things that come up in real time. This helps with the time difference and can save the hassle of making numerous phone calls.
2. Social Layer – Moments
'Moments' is the WeChat microblogging platform. Unlike Weibo or Twitter, on WeChat, you can only see posts and comments by people who are already in your contacts. This limits the reach of your posts, but if you have a large following, you can share videos or photos with your contacts on your Moments feed to promote your destination or travel product.
WeChat Moments are also hugely important for young Chinese to share their travel experience and look for travel inspiration. 97% of Chinese millennial travelers say that they share their travel experiences online, and they are liable to post to WeChat Moments about their travels at least once a day while they are abroad. Moreover, according to the 2016 Hurun Millennial Report, 47% of affluent young travelers said they relied on WeChat Moments shared by friends as a source of travel. The number was even higher for female travelers (who make up 56% of Chinese outbound travelers) – 50% said they got travel information from their friends' WeChat Moments.
3. Marketing Layer – Official Accounts & Campaigns
Big companies can also get a WeChat brand account. These official accounts are used to promote brand awareness, provide customer service and in many ways function like a website, with sub-pages on FAQs, customer service contact forms and more within the app, as well as links to external pages, and coupons for special offers which are saved within the app. For the travel industry, official accounts can include buttons linking to destination training, latest products, itineraries and road shows, and also include a regular newsletter to communicate with followers. To promote an official account, a company can include a QR code in marketing materials, at an event or location, or in advertisements, which users can scan to add the account.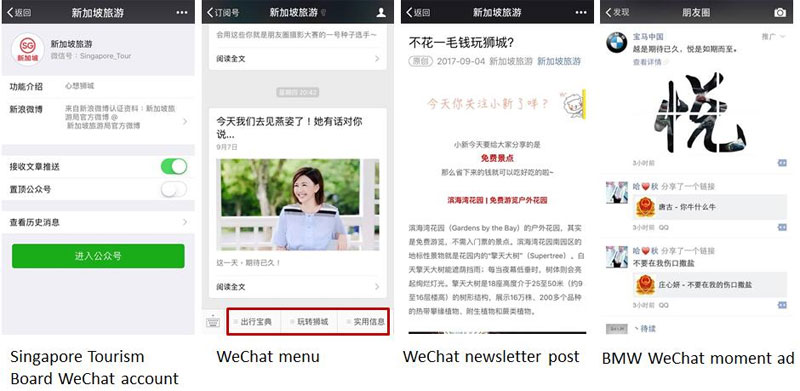 Subscription Accounts
Official subscription accounts can post once a day, with links to up to eight different articles, and these posts can be seen within WeChat users' Subscriptions folder, within the chat interface. In this way, WeChat has replaced email newsletters in China.
Previously, National Tourism Organizations and Destination Management Organizations all tended to have subscription accounts. But as of 2018, overseas Official Accounts can now only be service accounts. This does restrict the frequency of your posts, but service accounts have advantages, too.
Service Accounts
In contrast to subscription accounts, service accounts have more functions for users, but only allow a maximum of four content posts every month – companies with service accounts tend to publish a weekly newsletter with links to four or five different articles. This content will show up at the top of users' chat feeds, with an 'unread' notification, instead of going into the Subscriptions folder, so they are more visible.
Service accounts were always more likely to be used by airlines, cruise lines and hotels, which can offer booking services, customer service functions, online check-in, payment and more through their accounts.
Publishing content on WeChat through either a subscription or a service account is an excellent way of promoting marketing campaigns or even sending out press releases, and followers can then share content that they like in their Moments feed.
4. Service Layer
a. WeChat Pay
With over 600 million active users, WeChat Pay is one of the two big mobile payment systems – together with Alipay – that have revolutionized monetary transactions in China over the last several years.
There are a number of ways to pay through WeChat. The WeChat Wallet section of the app allows users to top up mobile phones, pay utilities bills, pay for parking or gas, pay for taxis, transfer money to contacts' accounts and more. Users can put money on their accounts, and then pay at a shop by having the vendor scan the user's barcode or QR code, but likewise, a vendor can provide a QR code that a user scans in order to pay. Third parties such as OTAs Elong and LY.com also allow users to search for and pay for hotels, flights and other travel services without ever having to leave the app. Users can also link their payment card information to their WeChat accounts so that they can use debit or credit cards through WeChat without having to carry these cards with them.
As of 2019, WeChat Pay is accepted in 49 countries around the world. Businesses that accept these payments include retailers, taxis, hotels, restaurants, and even public transportation systems.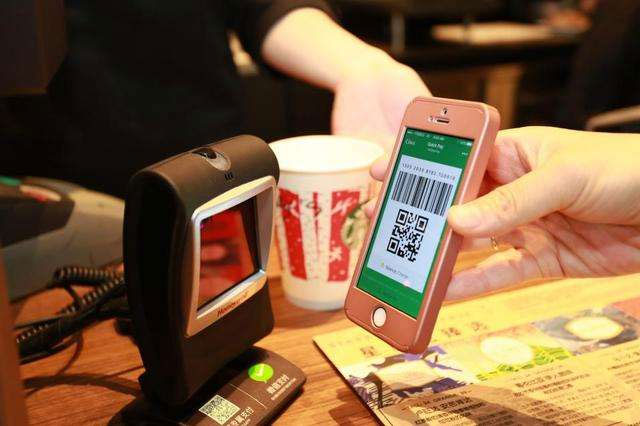 b. Mini-Programs
Mini-programs are WeChat's newest function, launched in January 2017. They have similar functions as native apps, but they are hosted on and accessed through WeChat.
Mini-programs run faster than apps and take up much less room on a user's phone. They're also easy to find directly through WeChat, or by simply scanning a QR code, and do not need to be downloaded through an app store, and they work on any kind of smart phone. For developers, mini-programs take less money and time to create.
WeChat mini-programs can provide a good complement to subscription accounts, as they can be used to sell products directly. Like mobile apps, mini-programs can also support bookings, check in and other travel services.
Canadian national park, Banff & Lake Louise Tourism's WeChat mini-program serves as an interactive, digital brochure to help visitors keep up to date with the park's activities, and users have access to a directory with quick links to activities, restaurants, accommodation, shopping, attractions and more useful information, and they can also create and save itineraries. An LBS function provides location-based recommendations for visitors at the destination, which helps local providers to reach a Chinese audience. A map function and photos of attractions, restaurants and other destinations allows visitors to visualize and plan their time at Banff and Lake Louise most effectively.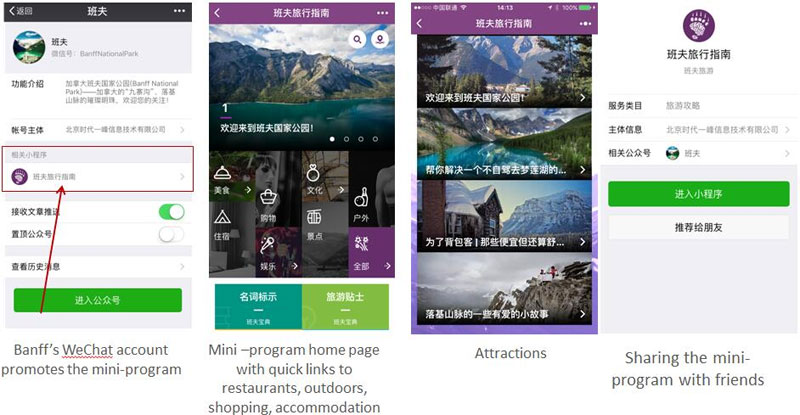 c. Location-Based Services
Within the chat function, users can send each other locations – in terms of travel, a guide could use this to confirm a meeting point for a tour – and send real-time locations to help two people to find each other. WeChat's location-based services can also be used by companies for targeted advertising, and they are very helpful within mini programs – for example, recommending the closest branch of a shop or nearby recommendations as mentioned above for Banff & Lake Louise.
WeChat statistics, at a glance
– More than 1 billion active users, as of 2019
– Used by 90% of users as a major work communication tool
– 60% of WeChat users in China are aged between 16 and 35 years of age
– WeChat has been the most-used app in Chinese netizens' mobile phones since 2015
– As of the end of 2016, 33% of WeChat users spend more than 4 hours on the platform on a daily basis and 45% of users have more than 200 contacts
– As of February 2019, 900 million WeChat users had WeChat Payment
– WeChat counts 12 million official individual and brand accounts posting over 700,000 daily posts. 80% of users follow WeChat accounts
– According to the World Tourism Cities Federation, WeChat is the second-most used channel for travelers to research information about destination cities, consulted by 45.1% of users, just behind official Chinese websites (60.4%).
– According to iResearch in 2016 62.9% of travelers shared their travel experiences through WeChat – this goes up to 97% for millennials.
Editor's note: Numbers and information in this article were last updated in November 2019,