As Chinese outbound tourism continues to transition from traditional large groups to independent travel, online presence and marketing are increasingly important for destinations, hotels, airlines and other travel providers and services. Chinese travelers turn to online sources to find practical travel information on destinations and visas, create itineraries, book their trips and share their own experiences. According to Hotels.com's "Chinese International Travel Monitor 2016" report, travel review sites ranked as the fourth most popular source of travel information, chosen by 43 percent of survey respondents.
Nurturing and maintaining a positive online reputation brings tremendous opportunities to attract Chinese travelers, who may put even more trust in online peer reviews than official DMO sites, as this information is provided by fellow Chinese citizens who will be aware of specific cultural issues and tastes. But how does one go about creating and encouraging this kind of web presence?
1) Know the sources 
First, you'll need to know where information is being shared. The most important places are Online Travel Agencies (OTAs) and travel social networks. China's biggest OTA is Ctrip, which offers flight and hotel booking services, among other products, and lots of user reviews. Dianping大众点评is primarily a domestic Chinese website and app, with reviews of restaurants, hotels and other attractions, alongside products like group-buy coupons and booking services. TripAdvisor, branded as Mao Tu Ying 猫途鹰 in China, offers both Chinese-language reviews posted by Chinese travelers or translated from TripAdvisor's main site.
Other OTAs used for travel research by Chinese netizens include Chinese sites like Lvmama.com, as well as websites that are well known outside of China, including Booking.com, which has nearly 120 million of its own user reviews, and Hotels.com, which links to TripAdvisor ratings and reviews. There are also very important Chinese travel review websites that started out as social networks and travel blogs and have since grown to include booking services, downloadable guides and other travel products. Mafengwo 蚂蜂窝 and Qyer 穷游 are both highly popular among affluent and educated Chinese millennials. These two sites are primarily consulted for their destination travel guides and semiprofessional traveler bloggers' diaries, and are heavily used during the inspirational and planning phases of one's trip. These platforms empower the online community to share their travel diaries, reviews, and to participate in forums, as well as find travel partners for small group travel.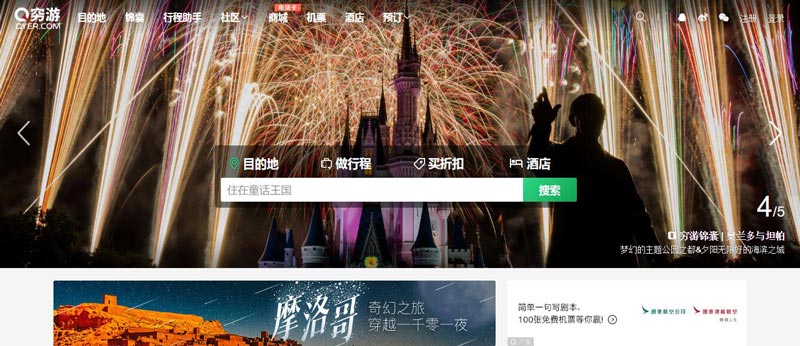 2) Ask for reviews
Even with no official marketing activities, online reviews can have a major impact on business. One example of this is the Hotel Markazi in Tehran, which receives 50-80% of its guests from China. Although the hotel has done no advertising or marketing campaigns, it has been lucky enough to get a good reputation on Qyer. Although in this case, the reviews came in without the hotel doing anything to encourage them, it's well worth asking Chinese guests to review your travel product, the same way businesses in the west might encourage guests to leave a review on Facebook or TripAdvisor. A brief mention at the end of a tour, a notice on a door, or a note on a menu or a hotel handbook could go a long way.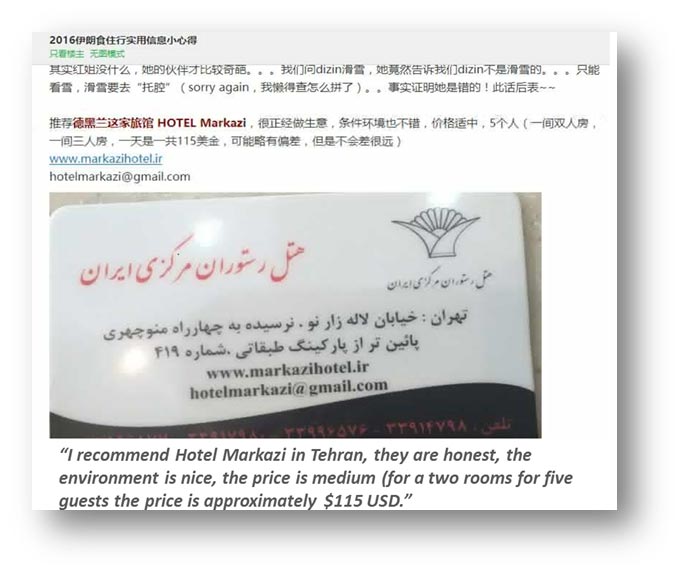 3) Engage Key Opinion Leaders
Apart from traditional advertising and campaigns run directly with travel websites, Mafengwo and Qyer can also help clients get promoted by the sites' very own Key Opinion Leaders (KOLs). Mafengwo's leading contributors are called 蜂首 "Feng shou", and their reviews are featured on the site's homepage. Qyer also has a number of well-known contributors, and both sites can arrange for their KOLs to provide content to be included in travel guides, as well as on other online resources. For example, in 2016, Japanese ticket seller Pia partnered with Mafengwo to get influential Chinese travel bloggers to write about selected Japanese brands and destinations.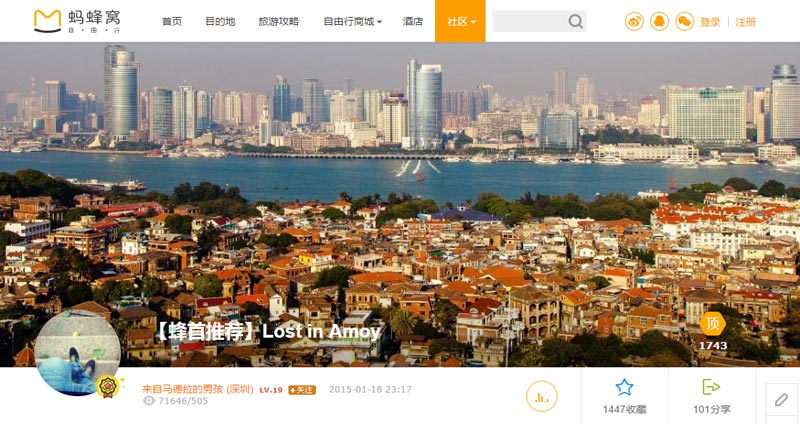 4) Monitor and promote your reviews
Keeping up to date on reviews of your service by Chinese travelers will help you receive valuable feedback, and tailor and improve the experience for Chinese clients. Make sure that positive reviews are getting the most exposure possible by taking quotes from them or reprinting them in full on your own website and/or social media account, as well as providing links to review websites where prospective customers can read more about you in the words of their peers.