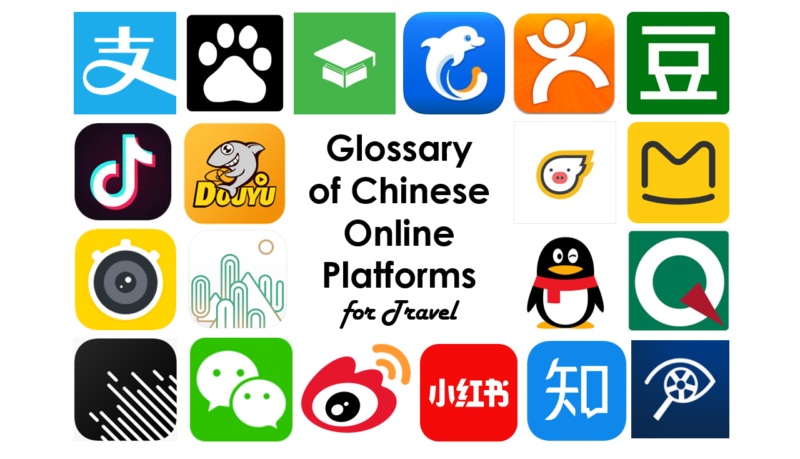 The Chinese online landscape is totally different to that in the West, and this includes apps and websites used to research, book, navigate, and share travel experiences. We've created a glossary to the must-know OTAs, social media, and other platforms you need to know to understand China's online travel market.
We'll keep adding to and updating this glossary, and please get in touch if you think we've missed anything!
Alibaba: One of China's "internet giants," comprising e-commerce platforms Taobao and Tmall; travel marketplace Fliggy; and leading mobile payment provider Alipay.
Alipay: Launched in 2004 as a payment method for e-commerce site Taobao, this is the Chinese mobile payment platform with the biggest market share (Around 55%), accepted in more than 55 countries. Users pay for goods and services by scanning a QR code in the Alipay app, which also provides nearby business information and push notification marketing. Learn more about Chinese mobile payments
Baidu: China's leading search engine, and another one of the three Chinese "internet giants." Baidu's popularity and revenue have declined recently, as new competitors emerge and Chinese consumers turn to in-app searches.
Bilibili: A video-sharing platform that also offers live streaming, as well as subtitling and commentary functions for videos.
ByteDance: An up-and-coming internet company. The most well-known platforms include news-reading app and website Jinri Toutiao ("Today's Headline"), short-video platform Douyin, and its international version, TikTok.
CTA: China Travel Academy is a WeChat-enabled online training platform developed in 2015 by Dragon Trail Interactive to train Chinese travel agents. It has been used by more than 20 international travel destinations and companies. Learn more about CTA
CTA Live: Launched in 2018, this online webinar platform is a complement to China Travel Academy (CTA). It allows international travel brands to deliver live training to Chinese travel agents through WeChat. The platform supports video and slide sharing, and interactive Q&A, and recorded sessions are available for travel agents to play back any time. Learn more about CTA Live
Ctrip: Officially known as the Trip.com Group since late 2019, this is China's largest OTA (online travel agency), and the second-largest OTA in the world.
Dianping: An online review platform that's especially popular in China for restaurants, but includes all kinds of venues. It has become increasingly international in recent years, and the website and/or app can be used to find Chinese-language information and reviews for restaurants, attractions, hotels, and other businesses in cities around the world. The full Chinese name is Dazhong Dianping.
Douban: A well-established culture-focused online forum. Content includes reviews and discussions of books, movies, and music, but some users share travel experiences as well.
Douyin: A short-video and live streaming platform that is the Chinese – and original – version of TikTok. Douyin has taken off in recent years, and allows videos of up to one minute. Establishing an official account or broadcasting live streams from overseas are both difficult to do. Please note that Douyin and TikTok are not the same thing, even though they have the same logo and interface – videos posted on TikTok are not visible to Douyin users, and vice versa. Learn more about Douyin
Douyu: One of China's 200+ live streaming platform, particularly popular with younger users. Learn more about live streaming for tourism
eLong: Founded in 1999, this OTA was once a rival to Ctrip. Between 2004 and 2015, it was owned partially by Expedia. It is now partly owned by both Ctrip and Tencent, and merged with OTA Tongcheng in 2018. Learn more about the history of Chinese OTAs
Fliggy: The travel arm of Chinese internet giant Alibaba. It is more of a "travel marketplace" than a traditional OTA, with travel brands, such as airlines and hotels, running their own "shops," in the style of an e-commerce platform.
Jinri Toutiao: China's most prominent news reading app, developed by ByteDance. Today's Headline, or Jinri Toutiao, allows users to select specific people, topics, and news sources to create a customized list of headlines to scan.
Kuaishou: China's second-most popular short video platform after Douyin, with 341 million monthly active users as of June 2019. The app is particularly popular with younger users in lower-tier cities.
Lvmama: A long-standing Chinese OTA.
Meituan-Dianping: Another rising internet company in China, comprising a variety of different apps and services, including food delivery, cinema ticket booking, and review platform Dazhong Dianping. Meituan Travel has become China's leading platform for hotel bookings and is especially popular with younger users, but the focus is still on domestic travel.
Miaopai: A short video app integrated into Sina Weibo.
Mafengwo: A travel review website popular with millennial FITs, providing city and destination pages, venue listings and reviews, travel diaries, a Q&A forum, self-driving route recommendations, and a live streaming platform.
Oasis: Known as Lüzhou in Chinese, this is Sina Weibo's answer to Instagram, an aspirational photo-sharing app that's integrated into Weibo.
QQ: Tencent's original instant messaging platform, before WeChat was launched. Rather than fading into obscurity like AIM or ICQ, QQ is still used in China and has seen a revival among younger generations. It is used primarily for chatting with friends and for transferring large files.
Qunar: China's second-largest OTA. It's partially owned by Ctrip, and focuses slightly more on domestic and discount travel.
Qyer: Founded by Chinese students and backpackers in Germany in 2004 to find travel companions and share tips, this travel review website now has 88 million users, with a young demographic, and a number of features, including reviews, travel diaries, a forum, professionally written guidebooks, and some OTA services, offered in partnership with Booking.com.
Tencent: China's first "internet giant," founded in 1998 (Alibaba was founded in 1999, and Baidu in 2000). Parent company of QQ and WeChat.
Tuniu: A Chinese OTA with a long history and investment from both Ctrip and Tencent.
Vue Vlog: A video-focused social media platform, with built-in video editing functions.
WeChat: China's leading social media platform and mobile app, with more than 1.2 billion monthly active users as of Q1 2020. Nicknamed the "Swiss Army Knife app" because of its wide range of functions, including chat, voice and video calls, social sharing on WeChat Moments, official accounts, WeChat Pay mobile payments, utilities payments, travel booking, WeChat mini-programs – light apps within the WeChat interface, and more. WeChat is a vital platform for work communications in China, as well as personal ones. Learn more about WeChat
Weibo: A micro-blogging platform that's in some ways similar to Twitter in its layout, but allows for more photos and text, with a larger and younger user base than Twitter, and a higher market value. Owned by the Sina internet company, Weibo is especially popular with influencers and for following celebrities and luxury brands. Learn more about Weibo for tourism marketing
Xiaohongshu: Also known as Little Red Book, or RED, this aspirational photo sharing app was originally focused on shopping tips and e-commerce, but has become more of a lifestyle platform, including travel. It's especially popular with affluent young women in first-tier cities. Learn more about Xiaohongshu
Youku: China's version of YouTube, this video platform includes longer videos, with streaming services and a focus on professionally produced content.
Zhihu: A Q&A platform similar to Quora. Brands can open their own accounts and use Zhihu for marketing activities, or to raise awareness and share knowledge.
Zuzuche: China's leading online car rental company. Learn more about Chinese self-driving tourism