Car rental, or self-driving tourism, is a growing trend in Chinese outbound tourism that offers significant opportunities to attract Chinese travelers to more off-the-beaten track destinations. Find out who these kinds of Chinese travelers are, their motivations for renting a car, where they're most likely to go, the biggest challenges they face, and how to attract them to your destination and help them to have the best possible experience.
What is the appeal of self-driving tourism for Chinese outbound travelers?
Self-driving tourism is favored by Chinese who want greater freedom and independence in their travels, and is especially popular for visiting places of natural beauty. It's also appealing for Chinese who like to drive and want to enjoy the driving experience in countries that are well known for their high-quality and open roads. In Germany, for example, Chinese consumers have long admired the sophisticated design and acclaimed engineering of German cars, and they are also fascinated by the idea of highways with no speed limits.
Who is the self-driving Chinese tourist?
Most self-driving tourists are aged between 30-49, and travel either with family or as a group of friends. As with many other areas of Chinese outbound travel, self-driving tourists are most likely to come from first-tier cities, but the growth rates from second- and third-tier cities are much higher.
Both destination choice and length of self-driving trip differs based on the age segment, according to research from Analysys and car rental company Zuzuche, using data from 2017. Their report revealed that the older the travelers are, the longer their trips will be, with those aged over 41 years traveling for 35 days, compared to just 18 days for a self-driving trip by travelers under the age of 24. This youngest segment was most likely to rent a car in Thailand, with all other age groups opting for long-haul destinations like the US, Germany, and New Zealand.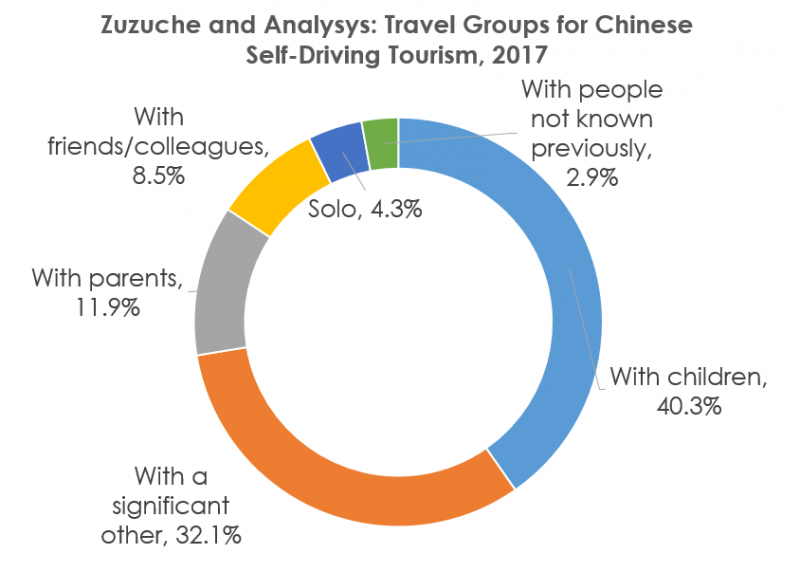 Source: Analysys and Zuzuche, 2018. For more information on Chinese traveling in groups of companions they did not know prior to the trip, please see our article on backpacker tourism
Where is self-driving most popular?
The US, Australia, and New Zealand are the three most popular countries for self-driving tourism by Chinese travelers, with the US strongly in the lead, according to several different reports. Within the US, the most popular route is California's Highway 1, and self-driving tourists also like to visit national parks including the Grand Canyon and Yellowstone. In Australia, trips along the Great Ocean Road from Melbourne are the most popular. Other leading countries for self-driving include Canada, Germany, Thailand, the UK, and other parts of Europe.
Destination choice is also seasonal, with summer travelers favoring North America and Europe, and Chinese New Year travelers preferring Oceania and Southeast Asia.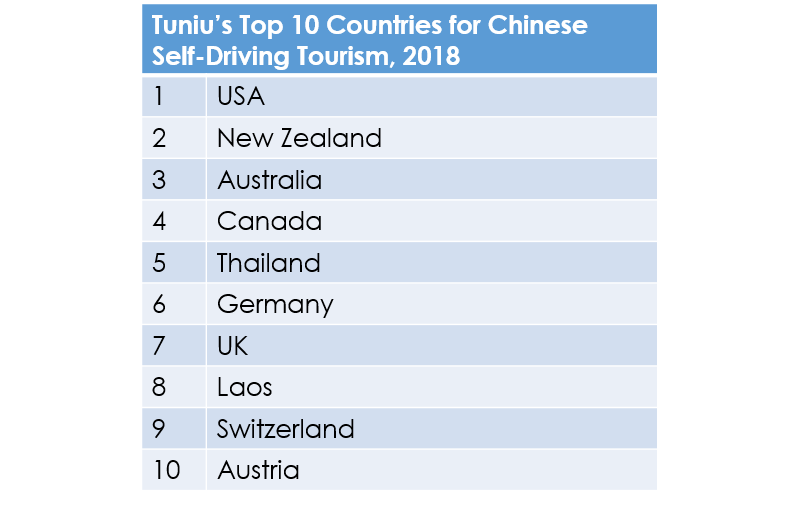 Source: Tuniu, 2018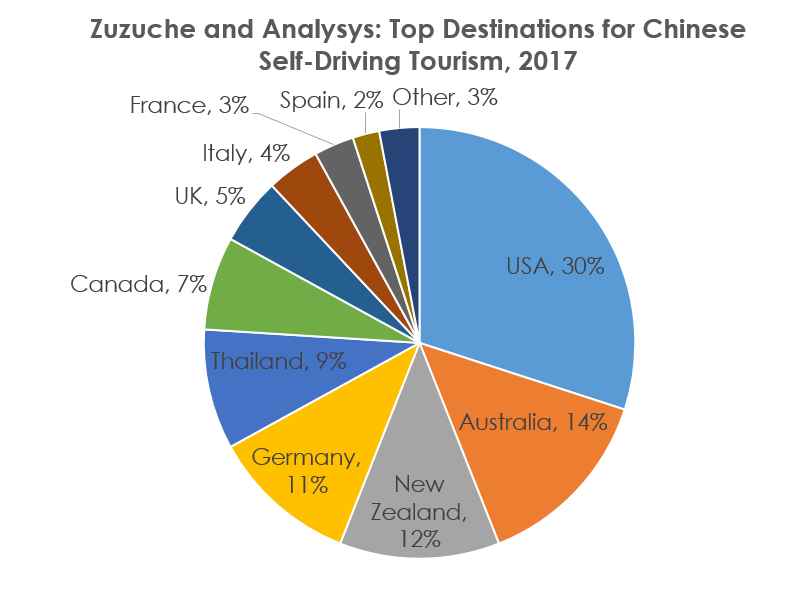 Source: Analysys and Zuzuche, 2018
What are the challenges for self-driving Chinese travelers?
Chinese driver's licenses are accepted overseas in most countries, but they do require an officially certified translation into English. Tuniu and car rental company Zuzuche both provide clients with a free translation service. However, China does not issue international driver's licenses, and even within the US, not all states have clear rules in place about whether or not Chinese driver's licenses can be accepted, which can become complicated and confusing for would-be self-driving tourists.
There are a number of user-created guides online in Chinese to help drivers who are renting a car abroad to understand international driving rules, including things like speed limits on highways, and paying tolls. According to information from these guides and online forums, some of the rules that Chinese drivers find most surprising are that everyone in the car is legally required to wear a seat belt, that small children must have child seats and you can be fined for not having them, and understanding the rules of letting pedestrians cross the street. Another area where Chinese drivers have been surprised by fines is parking fees – for example, not understanding that after pre-paying for parking, the ticket needs to be left visibly on the dashboard.
Ctrip offers car rentals that specifically come with Chinese GPS. Chinese drivers often find that using the GPS that comes with rental cars in foreign countries can be confusing, and they prefer buying a mobile data package and using Google maps, set to Chinese language.
On Chinese travel review website Qyer, we found many complaints written by Chinese self-driving tourists about being charged fees they weren't expecting by car rental agencies, especially regarding needing to return the car already filled with gas/petrol. People also complained that in France, all the information regarding rules like this was in French, and the service staff did not speak good English. Better communication about these rules would help avoid such issues, at least providing English information if not Chinese.
How do Chinese self-driving tourists rent their cars?
Many Chinese OTAs such as Ctrip and Tuniu, and car rental services Zuzuche and Huizuche, allow Chinese travelers to rent cars internationally through online platforms and in Chinese, both on their websites, apps, and even directly through their WeChat accounts. Zuzuche's WeChat account, for example, provides free self-driving guides to many countries around the world, including information on traffic rules, as well as suggested itineraries. These companies connect Chinese consumers to global car rental platforms such as Hertz, and Chinese tourists can of course also rent cars directly through these companies, as some do offer comprehensive Chinese websites and booking portals.
What kinds of vehicles are self-driving tourists renting?
By and large, self-driving tourism will be done by car, but some leading self-driving countries like Australia and Canada also have a growing number of Chinese who travel by caravan/RV.
What are the advantages of attracting self-driving Chinese tourists?
Dispersal can be a major challenge for any tourism destination that would like to draw visitors away from only visiting the most well-known cities and attractions, and instead help them to spend time and money in other areas. At the same time, Chinese travelers themselves are also increasingly interested in seeking out new destinations beyond the typical tourist itineraries that they could see on a bus tour. Self-driving tourism thus benefits both the destinations and the Chinese travelers. By attracting visitors off the beaten track and helping them to discover new destinations, these same visitors are likely to take lots of photos and share their positive experiences on social media and travel review websites, thus creating valuable word-of-mouth marketing that will help bring more travelers down the line. Travel review websites like Mafengwo and Qyer, for example, have many self-driving trips chronicled in their travel diary section, from road trips around the Baltic States to those across South America.
How can you attract Chinese self-driving tourists?
Last year, Visit Florida ran a KOL campaign to position Florida as the USA's best road trip destination, sending five travel influencers around the state, in cars sponsored by Hertz. The influencers posted about their itineraries and their favorite attractions along the way on their own social media channels, and Dragon Trail also helped Visit Florida to create a mini site (scan the QR code in WeChat to enter) with guides to different parts of Florida, including video content, photos, and descriptions of recommended venues. In the end, the campaign received over 57 million views of the KOLs' content and a big boost to consumer interest in self-driving tourism in Florida.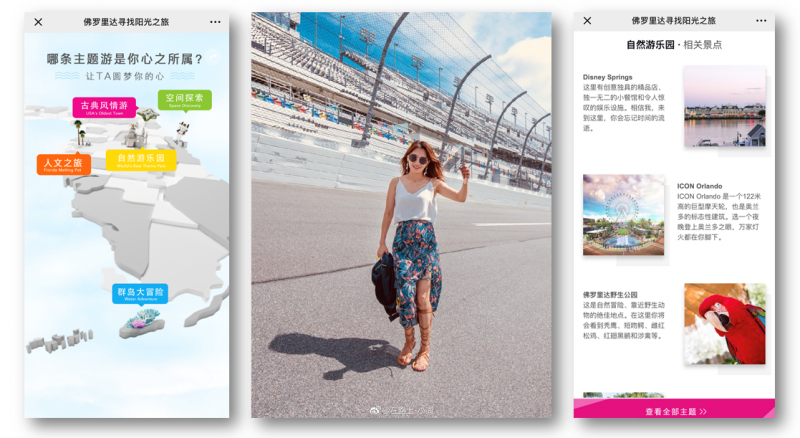 Visit Florida's 2018 KOL FAM trip promoted Florida as a self-driving tourism destination to Chinese travelers
Destination Canada has used the country's popularity with self-driving tourists as part of its WeChat content strategy. The most-viewed WeChat post by any national tourism board in Q3 2017 was Destination Canada's article on seeing maple trees in Canada, with a recommended driving route for the best fall foliage, with 23,764 views. Destination Canada also got nearly 21,500 views for its August 2017 article on traveling around Canada by RV, and over 22,500 views for its July 2017 article on the top 10 self-driving routes around Canada.
In 2016, the German National Tourist Board (GNTB) wanted to do more to encourage Chinese visitors to self-drive in Germany, in order to discover less well-known destinations and smaller towns, and to improve the visitor experience. To help them, Dragon Trail created an app for GNTB and national airline Lufthansa, integrating flights, accommodation and car rental booking facilities to provide a convenient one-stop shop for holiday makers. The app included recommended itineraries, with information about the major, as well as lesser known, German cities. Users were free to design their own itinerary based on their interests or to take inspiration from other users' recommendations and comments. Travelers could look up practical information about shopping locations, gas stations, and car rental facilities, and visualize them on destination maps. There was also a dedicated section with information about road safety to alleviate Chinese tourists' concerns about renting a car overseas. In order to promote the app, Dragon Trail created an HTML5-based car racing game, which was distributed through GNTB's WeChat account and third party app stores.