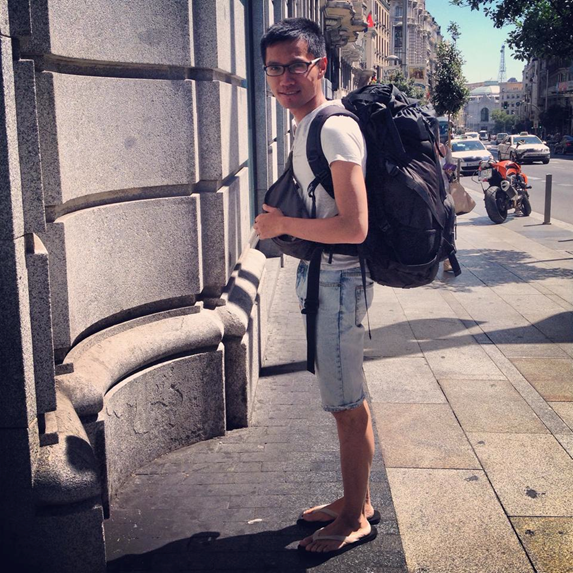 University of Greenwich lecturer Dr Wenjie Cai, backpacking in Europe as part of his research
Between August and November 2014, University of Greenwich lecturer Dr Wenjie Cai joined up with three groups of Chinese backpackers, accompanying them on trips around Spain and Portugal, the UK, and Poland. As part of his mobile ethnographic research, Dr Cai studied how these backpackers used digital tools before, during and after their trips.
Cai's research has been published in two new academic articles: "Harmony rules in Chinese backpacker groups" (Wenjie Cai, Scott Cohen, and John Tribe. Download for free before February 26, 2019), and "Technology Enabled Information Services Use in Tourism: An Ethnographic Study of Chinese Backpackers" (Brad McKenna, Wenjie Cai, and Tuure Tuunanen. Download/view for free here). His research was also published in the 2018 book Asian Youth Travellers.
These papers reveal pertinent information about how Chinese backpackers travel and use digital resources during every stage of their trip, with findings that can be applied to Chinese outbound tourists – especially independent tourists – more generally.
Here are 7 things we learned from the reports:
1) FIT can mean self-organized group travel
In recent years, there has been a steady shift from Chinese tourists traveling as part of package groups to fully independent travel (FIT). However, these FITs may actually be traveling in self-organized groups, allowing them "more control of who they travel with than afforded by package tours", but reducing cultural and safety risks, avoiding loneliness, and helping cut down on travel expenses. The group is very important to Chinese backpackers, who emphasize socializing with their new travel companions, rather than traveling independently and seeking to meet new people along the way.
Cai met his traveling companions on Chinese travel website Qyer, a popular online platform for Chinese backpackers to meet and make travel arrangements with other Chinese that they do not know personally. Qyer was actually founded by Chinese backpackers in Germany, and the characters of the company's name translate directly to "poor travel", a reference to the website's budget travel roots. As of June 2018, there were 110,394 Chinese backpackers seeking to form travel groups on Qyer.com.
2) Chinese backpackers are older than Western backpackers
While backpacking in the west is largely the domain of young people – perhaps on a gap year before university – Chinese backpackers tend to have a larger range of ages, and be on the older side. This has to do with cultural factors, including the fact that the concept of a 'gap year' is "not acceptable in either the Chinese educational system or the Chinese moral code." The effects of this demographic difference are that Chinese backpackers have less time for their travels, but they also have more money and expect better quality facilities such as accommodation.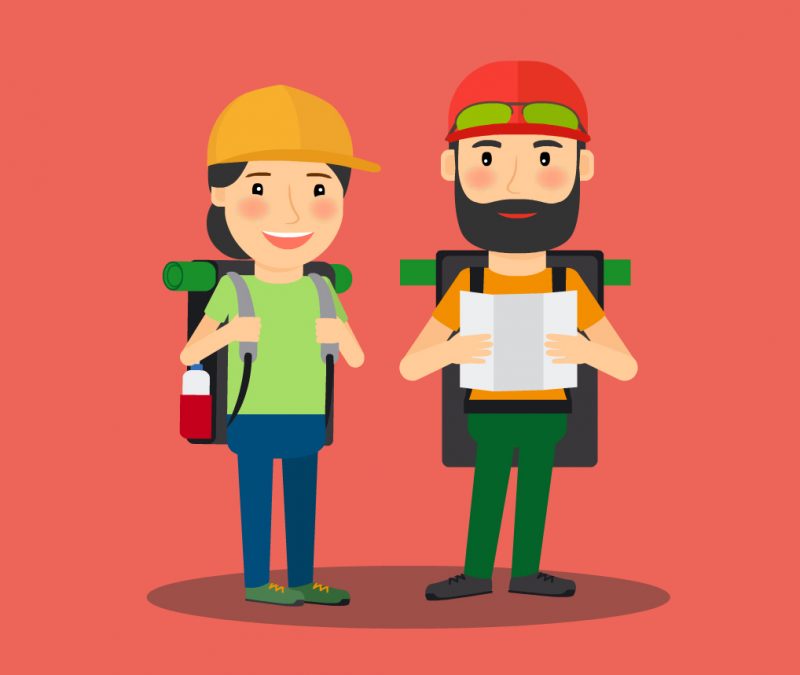 Chinese backpackers tend to be older than their Western counterparts, with an average age range of 25-35

3) Digital tools are used throughout the travel experience
In addition to finding travel companions online, Chinese backpackers will use digital tools before leaving home to research and plan. During the trip, travelers use WeChat to stay in touch with friends and family – both directly and through social media posts to WeChat Moments. They also use word-of-mouth digital tools such as TripAdvisor to look up restaurants, bars and attractions while traveling – Cai's companions on some instances were more trusting of recommendations they found online than those given to them in person by locals, and the McKenna et al. paper explains that Chinese are "more likely to use IT for decision making" than other nationalities are. Furthermore, several of the backpackers admitted to and even lamented their strong dependence on technology to navigate the travel experience.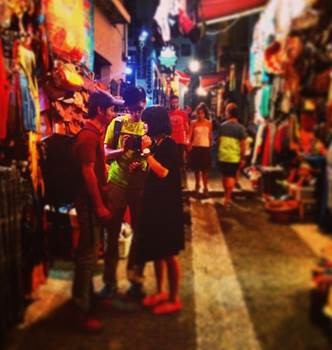 Chinese backpacker group using mobile tools to find a restaurant, Granada, Spain
4) There is pressure to use social media
The Chinese backpackers in Cai's study felt pressure to stay in touch regularly with their families by using WeChat throughout their trips, to post photos to WeChat Moments and even learn to use new WeChat functions to share more online. On the other side of this, the backpackers also discussed that there is a fine balance between posting enough to satisfy friends and family in China, but not posting too much to avoid annoying their contacts. Although Hotels.com's Chinese International Travel Monitor 2018 found that 60% of survey respondents said they posted on social media 3-5 times a day while traveling, the consensus of Cai's backpacker companions was that once per day or every two days was the 'right' amount.
5) Digital resources encourage Chinese to travel more
Chinese tourists are strongly risk averse, with safety one of the most important factors when making travel decisions. As well as avoiding risk by traveling as part of a group, being connected to the internet can make these travelers feel safer and more in control of their experience. Before the trip even begins, having access to online resources such as reviews and forums helped a number of the study informants feel empowered to travel, and travel more. Here, we can see how the internet and Chinese-language online travel resources may significantly impact the ever-increasing number of Chinese tourists overseas. Finally, the tendency of Chinese backpackers to socialize in online forums has led to "many backpackers becoming celebrities within Chinese social media, attracting millions of viewers and encouraging more young Chinese to undertake their own backpacker journeys."
6) Chinese travelers find it hard to complain
There were some conflicts between group members on Cai's travels, and he observed that because of cultural reasons, Chinese are reluctant to speak out and may often hide their disappointments in the travel experience. This is not just an issue for self-organized backpacking groups, but for tourism providers in general, from tour operators to the hospitality industry. While it can be difficult to get the information you need to remedy the situation in time, Dragon Trail advises posing more open-ended questions such as "what can we do better?" rather than "Is everything alright?" to make sure that Chinese clients are having their expectations met and to encourage them to communicate any changes or improvements they would like to see.
7) There are gaps in the market for digital tools
Based on his experiences, Cai has identified several opportunities to create new digital tools to serve Chinese backpackers. First, he recommends that online forums improve their search features so that travelers can find companions with whom they share interests and will have a better travel experience. He also recommends the development of in-destination tools with location-based services, to help Chinese travelers find new companions should their itinerary or group dynamics not turn out as expected. In some ways, Ctrip has already ventured into this area, with a social function on their Virtual Tour Manager app that allows independent travelers to chat with other VTM users in the area and even arrange to meet up.
References:
Cai, W., Cohen, S. A., & Tribe, J. (2019). Harmony rules in Chinese backpacker groups. Annals of Tourism Research, 75, 120-130.
McKenna, B., Cai, W., & Tuunanen, T. (2018). Technology enabled information services use in tourism: an ethnographic study of Chinese backpackers. Pacific Asia Journal of the Association for Information Systems, 10(4).
Cai, W. (2018). Donkey friends in Europe: A mobile ethnographic study in group orientation of Chinese outbound backpackers. In Asian Youth Travellers (pp. 79-95). Springer, Singapore.