Sina Weibo was China's leading social media platform for years until WeChat took over in 2015. But following a brief period of decline, the micro-blogging platform has made a notable comeback in the past several years, with strong revenue and follower growth. "China's Twitter" surpassed Twitter in market value in 2016 and in users in 2017. As of December 2018, Weibo had 462 million monthly active users, 194 million of whom express an interest in travel.
Weibo and WeChat each have their own advantages, and ideally, both should be part of a multi-platform marketing strategy for China. Getting started with Weibo is also a lot easier – anyone with a mobile phone number can sign up for an account, and there is no different on Weibo between a personal and official account like there is on WeChat. We would, however, recommend that brands get verified on Weibo – a process that still takes less time, and in many cases less money, than it does on WeChat.
Once you've got your Weibo account up and running, what do you need to know and do to make it successful?
1) Hashtags
Hashtags are very important on Weibo for a number of reasons. You should identify good existing hashtags as well as create your own hashtags that you can use consistently on your regular content and campaigns, which will help you to find user-generated content (UGC) and define your brand. Hashtags will also help you to keep up with and take advantage of trending topics on Weibo. Please note that hashtags in China both start and end with the # sign.
2) Frequent and Timely Content
Weibo is a faster platform than WeChat, where you can always find trending topics, content can much more easily go viral, and Chinese web users are more likely to look for the latest news. One thing that both contributes to this and helps you as a brand to take advantage of it, is that there are no restrictions on the number of posts you can publish on Weibo. To compare, subscription accounts on WeChat can only post once per day, and service accounts can only post four times a month. On Weibo, we recommend around three or four posts per day, and a minimum of one per day. Think about trending topics – the World Cup, for example, or a Chinese celebrity wedding in your country – and post about these. Check the "Hot Topics" section on Weibo to find out what's trending, making sure you use the associated hashtag.
3) Super Topics
There's a special kind of hashtag on Weibo called a 'super topic' (超话). It's indicated with a small diamond or Superman-logo shaped icon instead of the normal hash sign, and each post using it will also have an icon, information about, and link to the super topic's landing page, at the bottom of the post. Unlike a normal hashtag, a super topic has a dedicated landing page where you can see all of the posts, and who else is following the topic, creating a community of interest. The landing page is customizable by the admin/owner of the topic, who also has the right to delete posts using the super topic if desired. Anyone can create a super topic, in the interest of promoting a specific subject on Weibo and creating an involved community around it. The super topic will not override the regular hashtag for the same term, if that exists already, so accounts may consider using both in their posts. To apply to create a super topic, click the 'Discover' icon at the bottom of Weibo, then select 'Group'. On the 'Group' page, there's a button that says 'Super topic recommendation' in Chinese (超话推荐). Select that, then tap the plus sign at the top of the next page, which takes you to a form to fill in the super topic of your choice and apply.


The "Peru Travel" super topic landing page on Weibo
4) User-Generated Content (UGC)
Consumers will naturally trust recommendations from their peers – other Chinese travelers – over official content, so you want to encourage and repost good user-generated content on Weibo whenever you can. This is one of the reasons that hashtags are so important on Weibo, as they will help you to find this UGC. Encouraging followers to @ you, or use location tagging, will help as well. Stimulating good UGC and interacting with followers goes hand in hand, and you should aim to create a dialogue with followers by asking and answering questions, responding to comments, and rewarding the best UGC with a like and/or repost.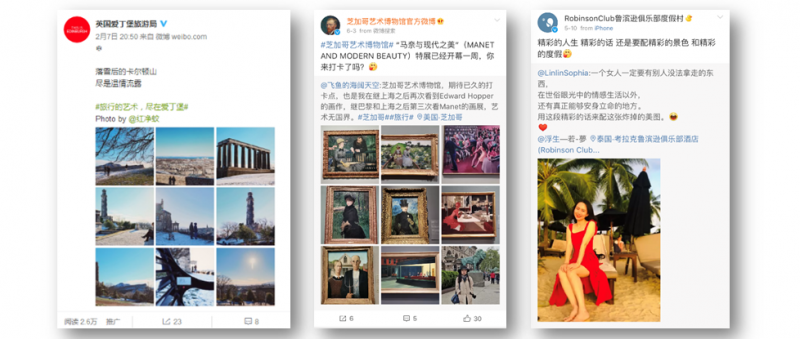 User-generated content on Weibo, reposted by (left to right) Edinburgh tourism board, the Chicago Art Institute, and Robinson Club resorts
5) Key Opinion Leaders (KOLs)
Generally speaking, Chinese KOLs prefer Weibo as a social media platform, as the openness of the platform allows them to reach more people, and they tend to have much higher follower numbers on Weibo than on other platforms. Brands that are serious about Weibo need to make KOL engagement a key part of their strategy, as engagement with a wider audience is key to this platform, and relying solely on brand content is not enough.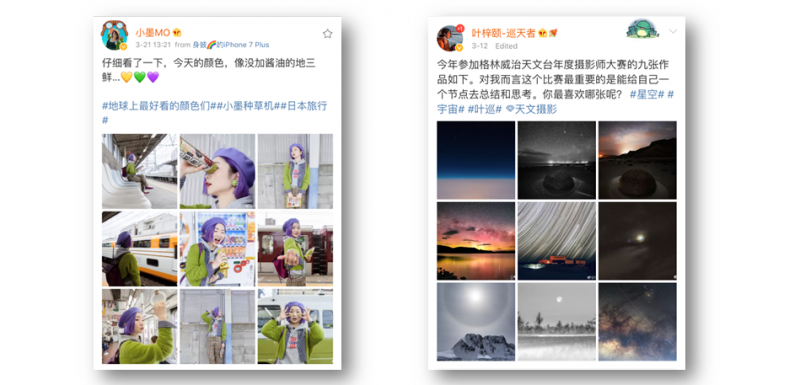 Travel KOL content on Weibo
6) Short Videos
Short video content has been the key to Weibo's recent renaissance, and there are four billion short video views each day on the platform. Weibo allows users to post videos in three ways – Weibo Stories, which is intended for short, user-created videos; Miaopai, a short video app that's integrated into the Weibo platform; and Kuran, a professional video platform for which accounts need a special license. Miaopai is by far the most popular of these three, and used regularly for professionally edited videos as well as those created and posted by regular Weibo users. Brand accounts should definitely make short video a key component of their content strategy, since the format is not only so popular, but it also allows you to provide much more information and a deeper impression than by just using text and photos.


Miaopai short videos posted by a travel KOL (center) and Chinese tourists in Europe
7) Photos
Although short videos are important, photos are still the key form of imagery on Weibo, and there are ways to optimize their impact. Weibo allows for up to nine photos to be displayed in any post, and this layout can be used to create one large image. Even if you are posting nine different photos, you should consider which one will be at the center in order to grab attention – you only have around three seconds on Weibo to catch a user's eye, so any and all ways to do that should be considered. Long images, which users need to click on to expand, as well as gifs, tend to increase engagement and interaction as well.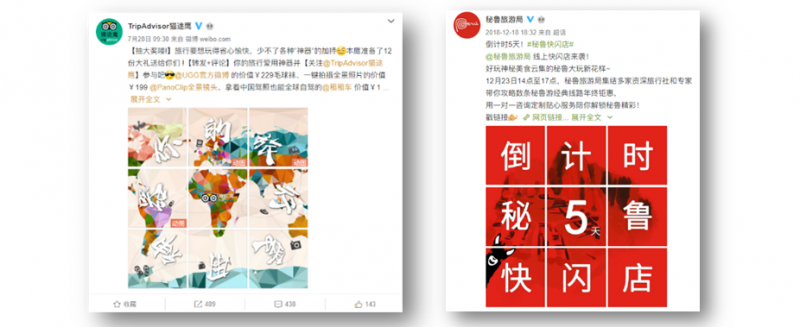 Creative ways of using Weibo's nine-photo display
8) Emojis
Although Weibo doesn't have a character limit, you still want to avoid having dense blocks of text in your posts, and express yourself as concisely as possible. A nice way to break up text into fragmented sections and add interest and expression to your posts is with emojis. Emojis are also popular for Weibo users to provide visual illustrations for activities and destinations (with flags), as well as feelings, so using emojis helps you to match their communication style and make your content more relatable to your audience.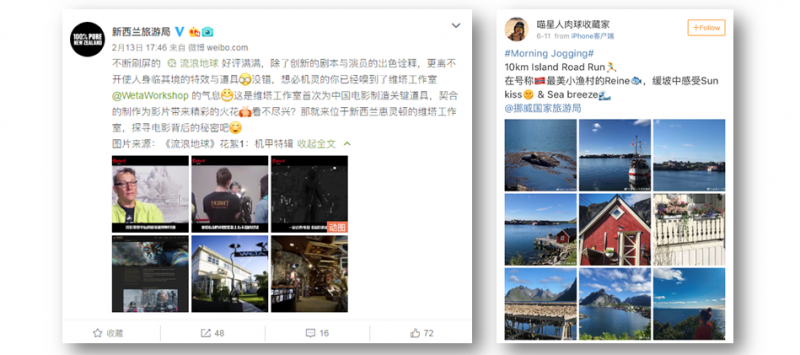 Emojis used in Weibo posts by the New Zealand tourism board (left) and a Chinese traveler in Norway (right)
9) Reputation Management
One great tool that Weibo provides for free – whether or not you have an account – is a keyword tracker that can be used for reputation management and competitor analysis. At wrd.cn, you can type in any keyword and see up to seven days of data on the frequency of that keyword on Weibo, as well as a word cloud of related keywords. Since Weibo offers lots of opportunities for interaction, brands with accounts should also track and monitor all of the comments on their own posts, and third-party posts about the brand/destination to evaluate consumer sentiment.
Dragon Trail provides reputation monitoring as a professional service, using an online monitoring tool that tracks longer periods of time, additional data, and a number of platforms and websites include Ctrip, Mafengwo, Xiaohongshu, and WeChat, as well as Weibo. We can also create monthly reports and respond to online comments and questions on your behalf.


Weibo keyword cloud for the search term "New York tourism", June 2019
10) Working with Sina Weibo
Weibo parent company, Chinese internet portal Sina has its own travel media brand, Sina Travel. Sina Travel's Weibo account (@新浪旅游) has 3 million followers, and it can help support travel brands on Weibo with both free and paid promotions. Brands can cooperate with Sina Weibo to create bespoke imagery, campaigns, and hashtags, run competitions together, and be featured during Sina Weibo's annual brand campaigns, including Travel with Weibo.


Promotional travel posters for Weibo, created by Sina Travel for destinations
Watch our free webinar to learn more about using Sina Weibo for travel marketing, and email communications@dragontrail.com to request a PDF of the presentation slides or learn more about how Dragon Trail can assist with your Weibo marketing.