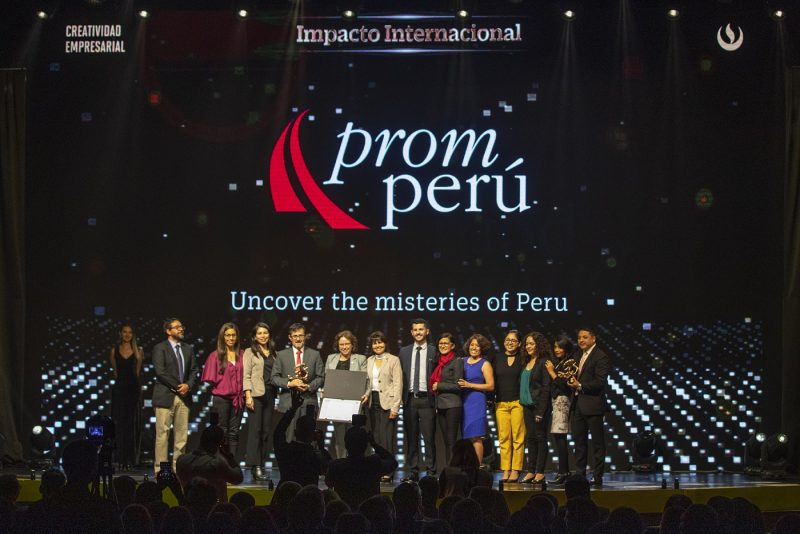 On November 21, 2019, PromPerú received the International Impact prize at the Creatividad Empresarial (Business Creativity) awards. The award is given to a Peruvian brand for the promotion of its products and services on an international scale. The Peruvian national tourism organization was awarded the prize for the 2018-2019 video series, "Uncover the Mysteries of Peru," created together with Dragon Trail Interactive to promote Peru as a travel destination to Chinese audiences.
The Creatividad Empresarial awards were founded in 1995 to support the development of creativity and innovation by businesses and brands in Peru, covering sectors including tourism, health, gastronomy, marketing, education, and finance.
"Uncover the Mysteries of Peru" is a collection of 28 videos, which were filmed, produced and distributed with the help of Dragon Trail Interactive, based on two weeks of travel around Peru in 2018 with Chinese travel KOLs Ye Ziyi and J-Fever. PromPerú recognized that China has a distinct digital landscape, and cultural differences that necessitate a localized strategy for the best results. They chose short video because this medium is increasingly popular in China today and therefore had a high potential to inspire visitors. The localization of the campaign also encompasses the fact that the videos were shot with Chinese KOLs, by a Chinese team, specifically for the Chinese market, and distributed on China's most-used digital platforms: WeChat and Weibo.
As a result of the campaign, the videos received more than 3.3 million views online, and spread awareness of destinations and attractions throughout the South American country, from the floating villages of Lake Titicaca to wildlife of the Ballestas Islands. "Uncover the Mysteries of Peru" complemented Peru's overall marketing for China, using innovative digital tools to connect to Chinese travel agents and empower them to sell the South American destination.
Additionally, PromPerú also won 2019's Creatividad Empresarial award in the Gastronomy category. "These recognitions support our intense and effective work in international promotion in China, and the continued drive for the promotion of gastronomy as a motivator for travel," said the Executive President of PromPerú, Luis Torres.
The recognition at the Creatividad Empresarial awards follows PromPerú's China Tourist Welcome (CTW) 2019 Gold Award for marketing in May, and its "Most Promising Destination" award at the Sina Weibo V-Influence Summit in August of this year.
To learn more about Peru's marketing efforts directed at Chinese outbound tourists, please read our articles on their B2C strategy and B2B initiatives, and watch the promotional film and travel documentary created for Peru by Dragon Trail.