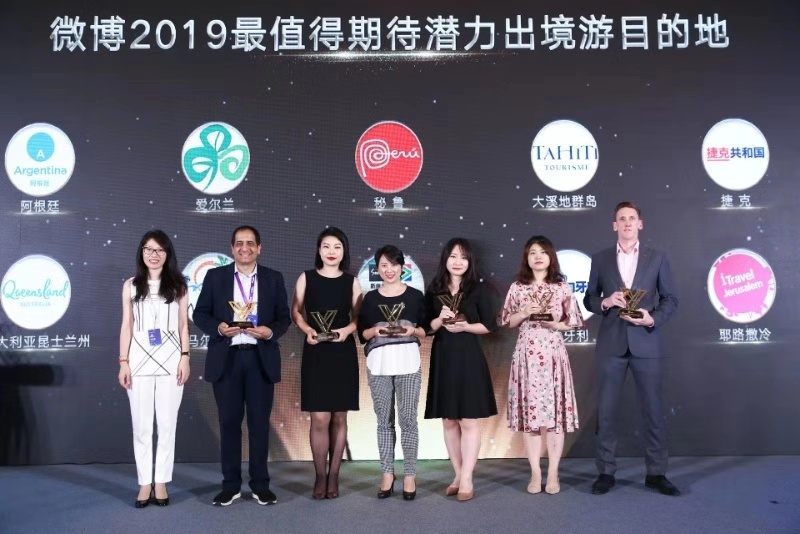 On 4 August, 2019, Dragon Trail Interactive attended Sina Weibo's V-Influence Summit in Chengdu. Awards were given to China's top online travel influencers, as well as leading domestic and international travel destinations.
The 2019 Weibo Top 10 Hottest Destinations:
Fiji
France
Singapore
Switzerland
Thailand
UK
Italy
Australia
Dubai
Germany
The 2019 Weibo Top 10 Most Promising Destinations:
Peru
Argentina
Queensland, Australia
Jerusalem, Israel
Tahiti
Maldives
Ireland
South Africa
Czech Republic
Hungary
In 2019 so far, leading Chinese micro-blogging platform Sina Weibo has seen a noticeable increase in the amount and impact of travel content connected to culture, experiences, rural tourism, guesthouses, ecology, study tours, art, self-driving, and museums. Keywords relating to cultural travel have been posted over 500 million times, an increase of 14%. Content with these keywords was read 1.6 billion times, an increase of 28%.
At the summit, Sina Travel also announced that in the second half of 2019, they would be starting a new travel column together with Chinese media Global Times, called "Rock the Whole World".
Read more about the Sina Weibo V-Influence Summit from Sina Travel (in Chinese)