As the world's largest outbound tourism market, China cannot be overlooked in the efforts to promote responsible and sustainable global travel and to reduce the negative impact of tourism on local communities and natural environments. While much work is needed to raise awareness and change behaviors, we believe that Chinese consumers do have an interest in sustainability and a willingness to adopt responsible habits. Moreover, in the case of combating overtourism and distributing the benefits of tourism more widely within a destination, China can play a central role.
Thanks to the importance of word of mouth in Chinese travel decision making, as well as the prevalence of sharing one's travel experience on social media, educating Chinese tourists about environmentally and socially responsible tourism can have a knock-on impact, influencing other Chinese travelers in their understanding and behavior, as well as setting a positive example for conservation, animal welfare and other issues at home.
In the first of a four-part blog series based on Dragon Trail's report, "Responsible Tourism from China," we outline the three key focus areas relating to responsible and sustainable tourism from China.
Please contact us at communications@dragontrail.com to request the full report. Click here to watch our October 2019 webinar on responsible tourism from China.

Overtourism
In Europe, Chinese have been singled out as the nationality to blame for overtourism in destinations like Venice and Cambridge. In reality, these destinations have growing numbers of visitors from all over the world, and increased tourism from China is only part of the equation.
"The Chinese are very often the target because they're so visible. So people say 'The Chinese are to blame for overtourism' when really they're not the only tourists coming, but they're singled out," says Dr. Prof. Wolfgang Arlt, director of the China Outbound Tourism Research Institute (COTRI).
A legitimate concern about the impacts of Chinese tourism and their contribution to overtourism, and one that is central to Cambridge's problems, is the tendency of Chinese to travel together in large numbers. Historic European cities with small streets cannot comfortably accommodate 50-person tour groups. But throughout the world, the Chinese tourism market is moving away from this style of tourism and towards either smaller, customized groups, or FIT. Restricting group size is one answer, but the evidence shows that the Chinese market is already changing towards smaller group sizes. Destinations can help this process by providing accessible resources for self-planning by Chinese FITs.
Another issue is that Chinese outbound tourism continues to grow, and with sustained growth of 8-9% over the next 10 years, we wind up with 400 million outbound trips per year according to COTRI estimates. Passport ownership could double to 240 million by the end of 2020, with first-time travelers wanting to visit the same "must-see" destinations as the travelers who came before them.
But there's one important way in which Chinese actually contribute less to overtourism than other nationalities: seasonality. The Chinese market is much less seasonal than the European one and much less concentrated in the summertime peak. The fact that China has a unique national holiday schedule is a major contributor to this – there are week-long vacations for the whole country at the start of October and at Chinese New Year in the middle of winter, as well as a series of long weekends throughout the spring and early summer, which means that Chinese can fill in the gaps in the low seasons. Click here for our guide to the Chinese holiday calendar.
Environmental Responsibility
Chinese tourists don't have a stellar reputation for environmental responsibility. At home, there are stories like the Sichuan eco park that had to shut in 2019 after tourists picked all of the lotus flowers. In Boracay, which previously closed to tourism for six months in order to clean up and relieve the overstrained ecosystem, Chinese tourists have been accused of "breaking rules all over the place" in regards to things like littering and smoking on the beach. In August 2019, a section of the beach had to be shut for three days after a tourist – claimed by many sources to be Chinese – buried a used diaper in the sand.
Still, there are reasons for optimism. According to Booking.com's 2019 Sustainable Tourism Development Report, 87% of Chinese travelers believe that people need to take action and choose sustainable tourism, compared to 72% of overall global travelers. 94% of Chinese travelers said they planned to choose environmentally friendly accommodation in 2020, compared to 73% of global travelers. 80% of Chinese respondents said they thought travel companies should provide more sustainable travel products. Looking to the future, Chinese Gen-Z, or post-95s and post-00s, are more focused than older generations on environmentally friendly consumption.
While over half (64%) of Chinese travelers in the Booking.com survey said that they are unaware of any "green" signage or certification for hotels, 82% said they would be more likely to stay at hotels with this kind of certification. A survey by Chinese OTA Ctrip also showed that more than 80% of clients would support hotels that do not provide disposable daily necessities, and from July 2019, China's Ministry of Culture and Tourism published a regulation stating that hotels in Shanghai will no longer proactively provide disposable daily necessities such as toothbrushes, combs, or razors.
However, Booking.com's report also showed some barriers to consumers actually partaking in more sustainable travel. 24% said they could not afford responsible travel (down from 35% in 2018), and 67% said they were unaware of how to make trips more sustainable.
There is huge potential for education, and – at least on WeChat – Chinese consumers seem very receptive. At the end of 2018, Tourism New Zealand got 17,249 views (45% more than New Zealand's average views per post for the quarter) and many positive comments for its WeChat post on the Tiaki Pledge, a responsible tourism pledge modeled on Palau's. The same week, Cebu Pacific airlines got 11,793 views (84% higher than average) for an article on Boracay's reopening and new rules about litter and recycling, again with very positive comments. In June 2019, Emirates Airline broke into the top three WeChat accounts for the week, with 21,559 views for an article on reducing single-use plastics – the airline's most-read article by far since we started tracking WeChat accounts at the start of 2017. AirAsia's posts about its socially and environmentally responsible +ME program have also received over 100,000 views on several occasions in 2019.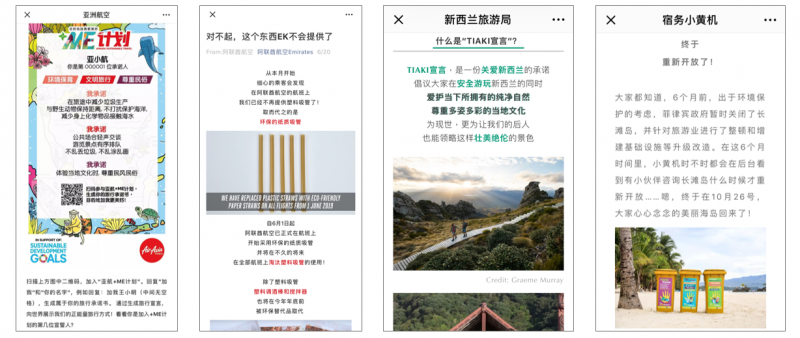 Sustainable tourism-themed WeChat posts by (left to right) AirAsia, Emirates Airlines, Tourism New Zealand, and Cebu Pacific have all received positive responses in 2018 and 2019
Of course, it's easy to be cynical about promoting environmental sustainability at the same time as promoting cheap airfares, especially those to fragile and overburdened ecosystems like Boracay's. The South China Morning Post has argued that AirAsia's initiative is nothing more than lip service to a new tourism buzzword, "sustainability".
Response to this WeChat content, however, provides some insights about consumer attitudes. Emirates Airline averaged 3,300 views per post in 2018, with a historic high of 14,410 views for a post before they wrote about getting rid of plastic swizzle sticks and packaging on board. This and other examples show us that Chinese outbound travelers are interested in this information and supportive of environmentally friendly initiatives.

In 2018, Ctrip worked together with Tourism Toronto and China Southern Airlines to distribute reusable, foldable plastic cups to travelers
From 2017, China's leading OTA, Ctrip has been involved in a number of partnerships and initiatives to reduce waste, and encourage more environmentally sustainable tourism. They have partnered with WWF and the UNDP, and with travel brands including tourism boards, airlines, and hotels. In 2018, Ctrip worked together with Tourism Toronto and China Southern Airlines to distribute reusable, foldable plastic cups to travelers. Also in 2018, Ctrip launched a "plogging" event, where participants jog and pick up litter, with more than 200 participants from 10 cities in China, Japan, and Thailand. Participants could sign up via the Ctrip app and the Ctrip Virtual Tour Manager mini-program. Ctrip is also part of the new global sustainable travel initiative, Travelyst.
Animal Welfare
Animal welfare and conservation is perhaps the area where the most amount of work has been done on educating the Chinese public, and here we can see some of the biggest results. Between 2011 and 2016, shark's fin consumption in mainland China dropped by more than 80%, with a dramatic impact from a long-term WildAid awareness campaign featuring Yao Ming.
From the start of 2018, China banned the import of ivory. Nine months later, the percentage of Chinese who said they would not buy ivory jumped from 50% to 72%, according to a survey by GlobeScan and the WWF. Unfortunately, within that same time frame, Chinese who frequently travel abroad became more likely to buy ivory, with Thailand one of the biggest markets.
Public education campaigns against the purchase of ivory are ongoing. The International Fund for Animal Welfare (IFAW) created one such campaign starting several years ago, with a series of ads featuring Chinese celebrities saying no to ivory. The ads have been displayed in Beijing, Tianjin, Shanghai, Chongqing, Nanjing, Wuhan, Suzhou, Ningbo, Guangzhou, Hong Kong, and many other cities, as well as promoted online, and are still running in 2019. Comments about the campaign on Weibo are generally supportive and positive, such as "Great campaign", "I say no to ivory products", and "I hope more and more celebrities and opinion leaders join the cause of protecting elephants". The success of the celebrity-led shark conservation campaign shows potential for the same impact on ivory sales, but it seems that work is needed to specifically target outbound travelers.
There has been good news for elephants as of 2019, though – a survey by World Animal Protection China found that the numbers of Chinese tourists who ride elephants and watch elephant shows in Thailand have dropped by 13% and 26% since 2016, respectively, with 81% agreeing that tour agencies should avoid activities that cause the suffering of animals. Contributing to awareness is Chinese director Zhang Chaodao's documentary on elephant tourism in Thailand, Black Elephant, which has been viewed millions of times online since its 2017 release. In 2018, he released a follow-up film (Black Elephant 2, viewable below with English subtitles) exposing the mistreatment of elephants in Sri Lanka, and recommending alternative ways of seeing elephants as a tourist that do not harm the animals.
World Animal Protection's 2019 China Outbound Wildlife Tourism Consumption Report also found that up to 91% of respondents expressed direct and indirect concerns about whether wildlife tourism negatively affects animals. 61% said they will not participate in activities that have a negative impact on animals even if there are no alternative activities, and over 70% of respondents said they were willing to participate in more expensive or time-consuming activities if no harm comes to the animal or if the activities contribute to animal welfare.
An earlier World Animal Protection survey in 2017 showed that 85% of Chinese millennial travelers opposed tourism activities that will bring harm to animals, and would avoid or minimize participation in those activities. 88% of millennials said they would support organizations that avoid creating tourism products that cause harm to animals.
There are also some notable examples of KOLs promoting responsible tourism and wildlife protection in Africa. Jiang Yiyan is a Chinese actress, singer and photographer who has become very involved in environmental issues, particularly animal conservation in Africa. She filmed a documentary with WildAid about Sudan, the last male white rhino, who died in Kenya in 2018. In June 2019, Jiang delivered a moving talk about Sudan, animal conservation, and global environmental protection at TEDx Suzhou (click here to watch).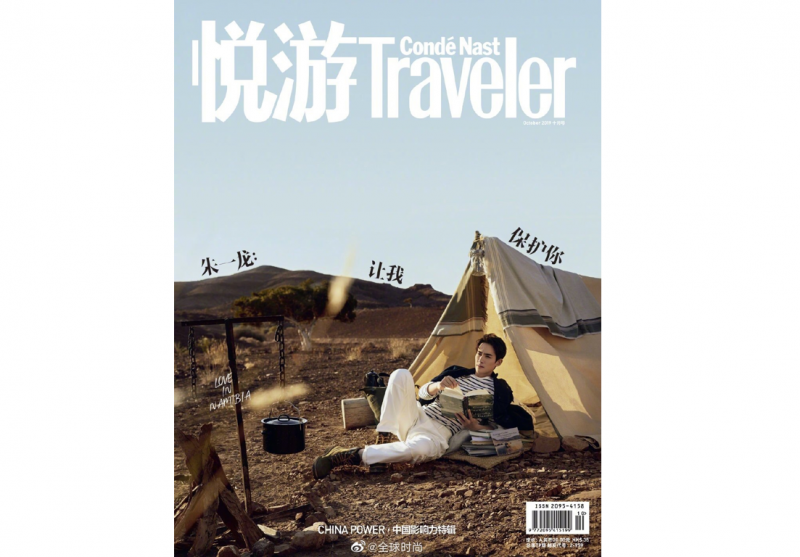 Zhu Yilong traveled to Namibia, promoting rhino protection and responsible tourism with Condé Nast Traveler
Chinese actor Zhu Yilong is featured on the cover of the October 2019 issue of Condé Nast Traveler in China, with a photo shoot and story about his trip to Namibia to raise awareness for rhino protection. Condé Nast Traveler's WeChat Story on the trip got more than 52,800 views. Weibo posts featuring photos and short videos of the actor viewing Namibian wildlife and interacting with local people, featuring the hashtag #TravelTogetherResponsibly (#和责任感相伴的旅行#), got tens of thousands of shares, comments, and likes.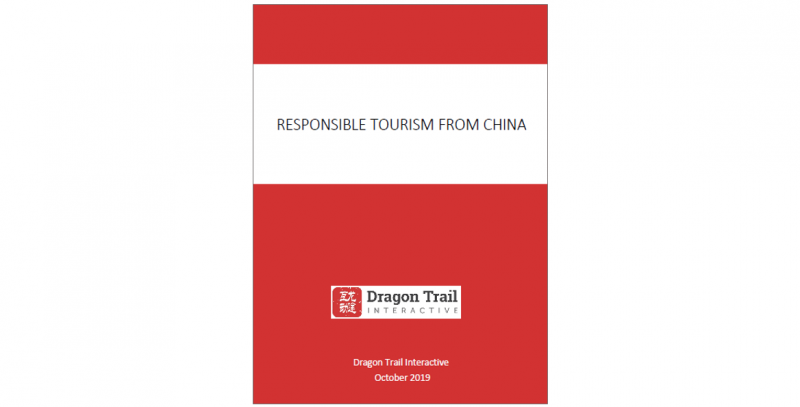 For a free PDF copy of Dragon Trail Interactive's full Responsible Tourism from China 2019 report, please email us at communications@dragontrail.com.