There's a lot of work needed to raise awareness in China about sustainable travel, but also many opportunities. We've compiled eight actionable tips for tourism destinations and businesses, based on information and suggestions shared at Dragon Trail's 2019 summit, China: The Future of Travel.
This is the second of a four-part blog series based on Dragon Trail's report, "Responsible Tourism from China." Please contact us at communications@dragontrail.com to request the full report. Click here to watch our October 2019 webinar on responsible tourism from China.
1) B2B Training
Travel agents still have a significant influence on Chinese tourists, especially those who are either inexperienced travelers who may need education about environmental responsibility, or those traveling to destinations where knowing how to respect local wildlife and natural resources are paramount, such as the Amazon or the Antarctic. "When [travel agents] sell a safari, they just want to get the commission or money from the guest; they don't even know that they have to focus on sustainable tourism, so doing lots of B2B training is important," advised travel consultant and tour leader Sylvie Chen.
2) Promote the Off-Season
Chinese tourists are less seasonal than traditional western tourism source markets anyway, but destinations can actively promote off-seasons to the Chinese market in order to regulate tourist flows throughout the year and avoid over-tourism. This could be achieved by introducing a peak season surcharge or tax to even out the peaks, or conversely, discounts or offers for the low season. Click here to read our article about marketing Christmas tourism to a Chinese audience.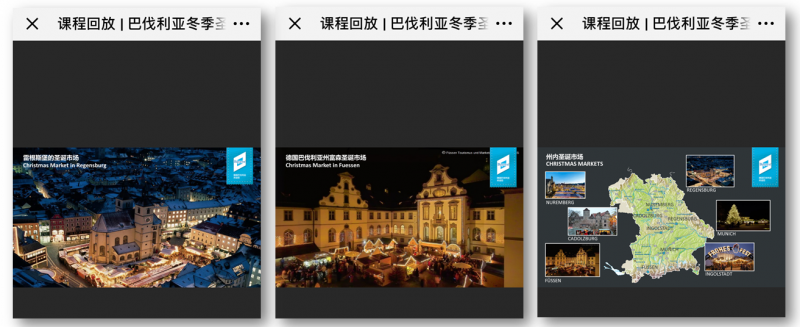 The German National Tourism Board ran a webinar about Bavarian Christmas markets using Dragon Trail's CTA Live WeChat webinar platform
3) Develop Products for the Right Target Market
There is interest in nature tourism and eco-tourism from China, and opportunities to attract Chinese travelers with the right products focused on these areas. Understanding the most receptive markets will help make these successful. One core market is family travelers. At Dragon Trail's 2019 summit, several expert speakers noted that Chinese families want their children to learn about environmental responsibility as part of the travel experience. "Right now, lots of families like to take their kids on safari. They're thinking, it's better to educate our kids, so when we take them abroad to see all of this wildlife, we also try to educate them that you have to be more respectful to nature," said Sylvie Chen. Vice President of leading Chinese travel agency Caissa Travel, Ge Mu shared that ocean protection is one of the company's family travel themes, especially recommended for children aged 6-12, and that she has also noticed that parents want their children to learn about conservation.
Another target market – and one that may overlap with family travel – is luxury travel. While the concept of eco-tourism is new to most Chinese consumers, it has most potential in the luxury market, according to Jing Travel. Focusing on the luxury market also helps a destination or business to stress quality over quantity. "We can't keep inviting more and more tourists to bring up the numbers; we really need to think about the quality of the visits and what they do at the destination. Rather than measure success in numbers, measure it in the investment and benefit to the local community," advised Dragon Trail's Managing Director – EMEA, Roy Graff.
 4) Encourage Dispersal
"If they all continue to go to Barcelona, New York, Venice, Sydney, and Santorini – these places are already full, so this will simply not work," said COTRI founder and director Prof. Dr. Wolfgang Arlt. Instead, we need to think about how to promote niche destinations like Africa and South America, as well as smaller destinations within the major regions. Customization and personalization of travel will help with this dispersal and the diversity of activities that tourists do abroad, so that everyone isn't trying to have the same experiences in the same places. Helping to develop personalized travel plans thus not only meets the demands of the market, but it helps tourism to become more manageable and sustainable as well. On the suppliers' side, there is a need for more training and product development to be able to accommodate Chinese travelers who are interested in rural tourism, nature tourism, and "living like a local". Bringing tourists into contact with local people and smaller communities can also help to benefit individuals and small businesses more directly.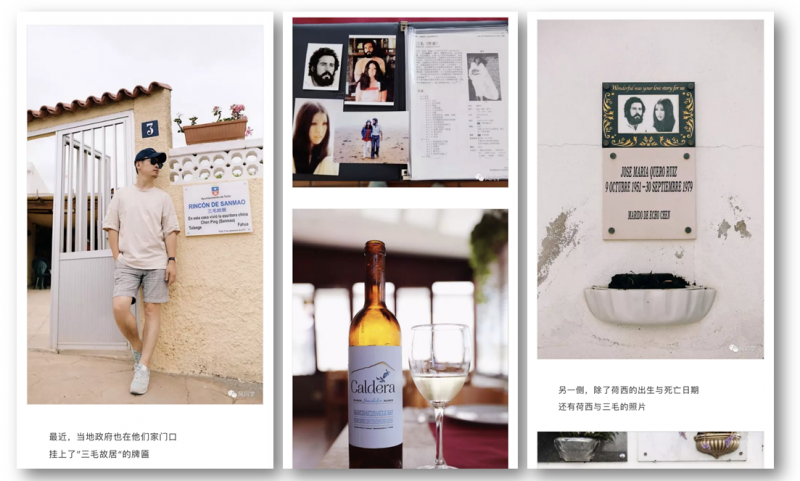 In 2017, the Spanish Tourism Board published a three-part guide on WeChat to a route through the Canary Islands to visit locations related to Taiwanese writer Sanmao, who lived there in the 1970s. Read more about the Sanmao-themed route in our article on Chinese literary tourism.

5) Work with KOLs and Travel Media
"Digital media such as us, we need to tell people what they need. We can tell them 'if you want to see this in the future, or you want your child or grandchild to see it, here's what you've got to do, or what you cannot do,'" suggested Maggie Yang, Associate Director of Chinese travel website Mafengwo. She also noted the significant power of KOLs in China and their ability to easily influence their followers. Digital media can be very powerful in showing people how to enjoy off-the-beaten-track destinations and introduce new places and new types of travel, though this requires ongoing and integrated efforts, not just a one-off campaign. When working with Chinese influencers or preparing marketing materials such as WeChat and Weibo content, you can regularly give suggestions on how to be a responsible traveler, as well as promoting geographic and seasonal dispersal.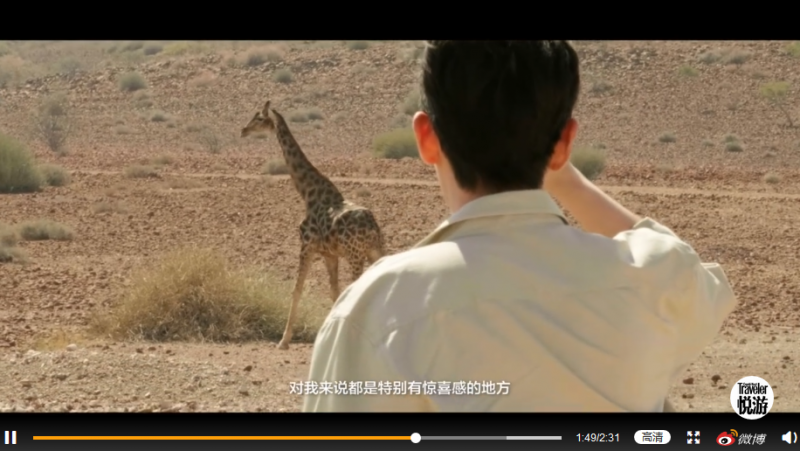 Chinese actor Zhu Yilong traveled to Namibia in 2019, promoting rhino protection and responsible tourism with Condé Nast Traveler
6) Use Travel as an Educational Opportunity
Tour operators and other suppliers can integrate education about the local environment as part of the product that they offer to Chinese and other guests. For example, all visitors to Antarctica (where China is the no. 2 market) are required by the IAATO (International Association of Antarctica Tour Operators) to undergo some mandatory training on how to respect local flora and fauna, and many activities on cruises educate passengers about environmental responsibility.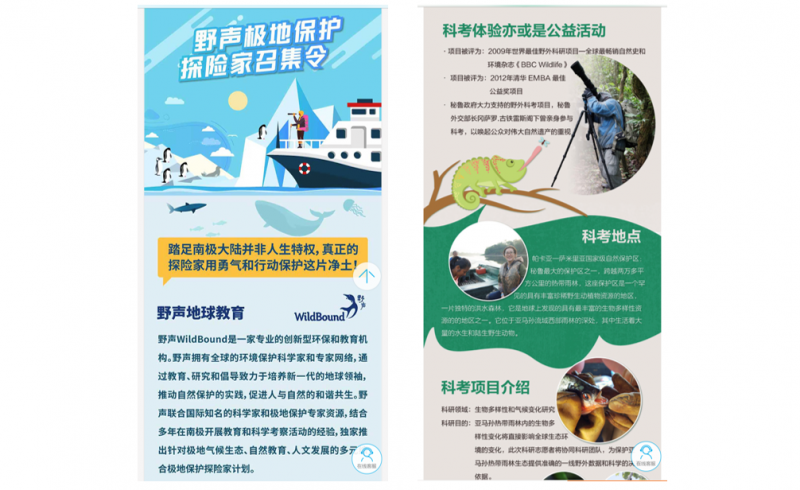 Chinese travel agency Caissa offers Antarctic trips to learn about ecology and environmental protection from conservation experts, and promotes the Peruvian Amazon as a leading destination for scientific investigation
7) Reward and Encourage Word of Mouth
Encouraging word of mouth recommendations is an essential part of any Chinese tourism marketing strategy, and it's a great way to spread environmental awareness and encourage sustainable and responsible tourism practices, too. Sylvie Chen, who has brought travelers to the Galapagos, Rwanda, and Antarctica, among many other destinations, strongly recommends issuing certificates, such as the 'Gorilla Trekking Certificate' issued at the Volcanoes National Park in Rwanda, as part of an initiative with the Rwandan Development Board. "When you promote your country for wildlife, or outdoor activities, please prepare certificates. Now, more and more Chinese people like to donate money to help to keep tourism more sustainable and healthy. If they can contribute something, and get this certificate, once they take the certificate home to China, it's like they're an ambassador," she explained. As for general tourism marketing, encouraging UGC by interacting with, reposting, and repurposing good content, and running contests that encourage followers to share and get friends involved, can help spread the message of sustainability as well.

'Gorilla Trekking Certificate' issued at the Volcanoes National Park in Rwanda, as part of an initiative with the Rwandan Development Board
8) Form Partnerships
Partnerships, especially those with environmental organizations, can help you increase the scale, budget, and potential impact of any campaigns or efforts. There are already many international organizations working in China to promote conservation and environmental responsibility, such as WildAid and the World Wildlife Foundation. Even China's leading OTA, Ctrip, is starting to get involved with world organizations – they have worked with the UNDP and WWF since 2018, and are part of the new global travel sustainability pact, Travelyst, launched in September 2019. Global tourism bodies like the UNWTO, or China-based WTCF can also help with the promotion of sustainable travel practices.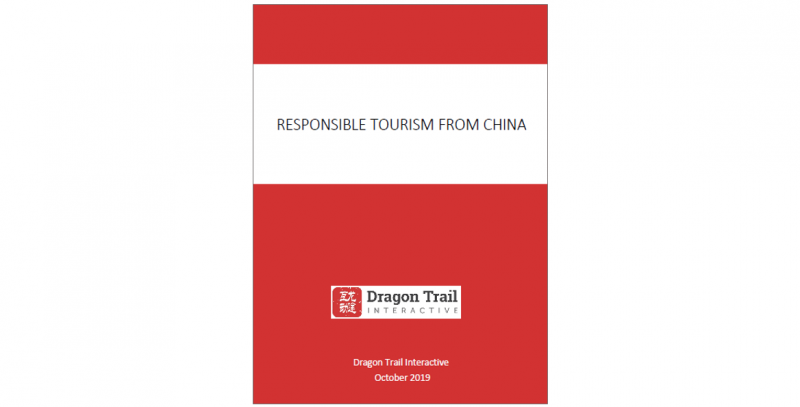 For a free PDF copy of Dragon Trail Interactive's full Responsible Tourism from China 2019 report, please email us at communications@dragontrail.com.