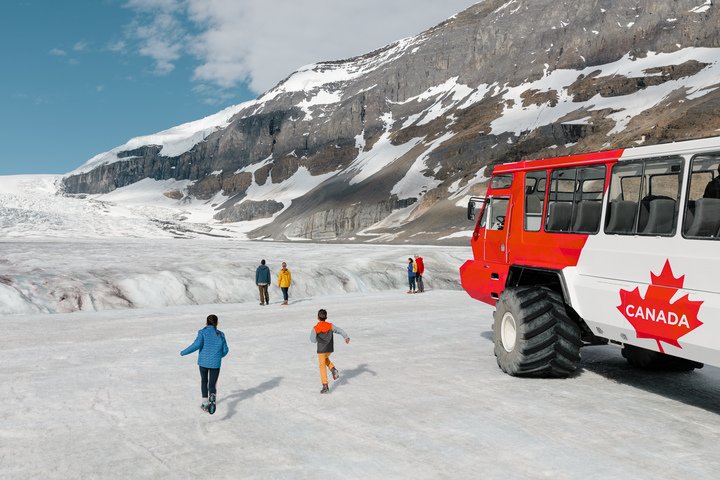 The Columbia Icefield Adventure at Jasper National Park is Pursuit's most popular product (Photo courtesy of Pursuit)
Adventure travel is an area with high potential to attract experienced and wealthy Chinese travelers who want to get off the beaten track. But what does "adventure" mean in the context of Chinese tourism? We spoke to tourism professionals from around the world to discover which kinds of adventure activities are most appealing to the Chinese market.
What does "adventure tourism" mean for the Chinese market?
The kinds of experiences that most Chinese tourists are looking for will generally fall into the "soft adventure" category, giving them a taste of wilderness or a new activity, without being too extreme, strenuous, or dangerous. "People want to feel that they're doing something adventurous, but they don't want to go on a four-hour snowshoeing trip up a mountain," says Violet Thumlert, Director of Sales at Pursuit, which runs "soft adventure" experiences in North America. Pursuit's "must do" product is the Columbia Icefield Adventure, where visitors get out onto a glacier at Jasper National Park in a special Ice Explorer vehicle. Apart from visiting the glacier, there's also an educational component with information about the glacier's history and effects of climate change. It's not an experience with any strenuous physical activity, but visiting a Canadian glacier is a real adventure for tourists from large Chinese cities.
What kinds of activities are most popular?
What's most popular in adventure tourism for the Chinese market? An opportunity to try something new, with good photo opportunities. In Nepal, Sudarshan Nepal, Managing Director of tour operator Travel Big Mountain, says that rather than serious trekking, Chinese tourists would prefer "normal hiking" with the opportunity to take photos of themselves for social media.
This echoes Rowena Phillips, director of the Matterhorn Diamonds ski school in Switzerland, who explains, "The clients we have taught so far love being in the mountains and being able to see the Matterhorn, and have enjoyed the feeling of getting skis on for the first time and learning the basics. They just want the sensation of skiing, and we ensure we help them get some great pictures."
In Australia, it's been reported that a photo on a surfboard is even more sought after than a photo with a koala, for Chinese tourists. In New Zealand, bungee jumping operators who provide video and photos of the jump have proved popular with young Chinese. "Because Chinese like proof of their activities for prestige purposes, it's an absolute winner," says Zane Smith, who has worked for decades in adventure sports tourism, ecotourism, and tourism marketing in New Zealand.
Pursuit's new winter sightseeing tour, which launches this year, fits into this perfectly, by offering visitors the chance to try a short snowshoe on flat ground: a taster of an activity, with good photo opportunities.
Glass-bottomed walkways like the Columbia Icefield Skywalk are popular with Chinese tourists (Photo courtesy of Pursuit)
Glass-bottomed walkways have proliferated at domestic tourism attractions in China in recent years, and there's an appetite for these overseas, too. Columbia Icefield's glass-bottomed Skywalk is popular with Chinese visitors, says Thumlert, as is the Banff Gondola, and seeing the stars. Safaris are a leading activity for Chinese travelers to Africa, and hot air balloon rides have attracted tourists' attention worldwide. Nepal reports that in his experience, paragliding is popular with Chinese tourists of all ages, from 15 to 70.
For any activity, from skiing to diving, it's important to be able to offer beginner-level instruction, and make sure to make the experience feel as safe as possible. Not many Chinese tourists are well experienced in adventure activities, and this market is especially risk averse.
How does adventure differ among market segments?
As might be expected, younger travelers do have a larger appetite for adventure. Older Chinese visitors are more interested in culture, says Nepal, while younger ones are interested in trekking. In New Zealand, adventure activities like rafting or bungee jumping are undertaken by younger Chinese – while their parents prefer to watch. "The younger generation is very adventurous … they want to learn how to surf and skydive," says Benjamin Garcia Cantolla, Managing Director of South American luxury tour operator Nomade Unique Experiences.
Another demographic difference to keep in mind is where the traveler comes from in China. As those from first-tier cities like Beijing and Shanghai are likely to have more prior travel experience, and be seeking an escape from a large city environment, they're more interested in getting out into nature, says Nepal. In contrast, Chinese tourists from lower-tier cities "are looking for luxury," he explains, including high-end hotels and cars.
With China now the world's second-largest tourism market to Antarctica, it's clear than some Chinese want more than just a short hike or a selfie on skis. These tend to be the highest end of the market, who are experienced travelers with the appetite and money to go for more extreme and thrilling experiences. Sylvie Chen, who designs and leads tours around the world for high-end clients, says that while previously, mainland Chinese tourists would only want to do a few hours of hiking, now she is starting to see some who are interested in multi-day treks. Mountaineering has also become a status symbol for the super-rich.
Key takeaways for adventure tourism providers:
– Low-risk, "soft adventure" activities have the widest appeal for the Chinese market
– Photographic evidence is essential
– Most Chinese will not have much experience with adventure travel, so you should offer beginner-level courses and activities
– Younger travelers from first-tier cities are the key market for adventure travel
– HNWI travelers will have the money, experience, and interest for more extreme destinations and activities