Winter sports is a new frontier for Chinese tourism. This development is strongly supported by the government, which has said it wants to create 300 million new winter sports enthusiasts by the time Beijing hosts the Winter Olympics in 2022. And according to a recent Economist article, overseas ski resorts are counting on the growth of Chinese skiing to keep them afloat. So far, however, the new skiing boom has been mostly contained domestically, with only a few international destinations beginning to successfully attract this emerging market. We talked to top skiing destinations in Europe and North America to learn more about how to catch the attention of Chinese tourists and help them get the international skiing experience they're looking for.
Challenges
According to the 2016 China Ski Industry White Paper, the number of ski resorts in China grew at a rate of 140% between 2010 and 2016, with a total of 646 by the end of 2016. The development of ski resorts has been especially pronounced in Northeast China, with huge expansion in the Chongli area outside Beijing, which will host many of the 2022 Olympic events. With so many new places to try at home, and with most of China's approximately 11 million skiers having just started practicing the sport, enticing them to travel around the world to ski is a hard sell – except potentially with luxury travelers looking for unique and exclusive experiences.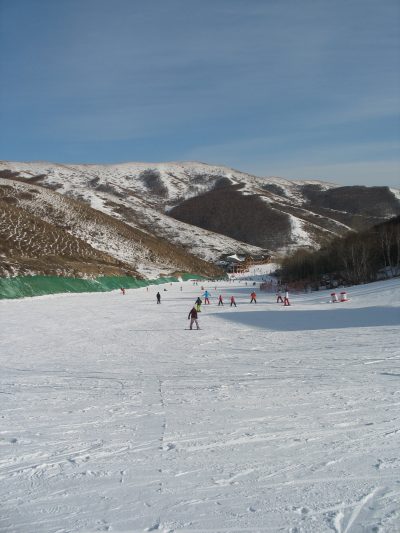 Beginner slope at Genting Secret Garden resort in Chongli, China (Photo: Sienna Parulis-Cook)
Skiing areas in Western Europe and the US that we spoke to all voiced an interest in attracting Chinese skiers, but admitted that they didn't get many – if any at all. Antoine Colson, Sales Manager Tours Operator for a group of small resorts in France called La Belle Montagne, said he didn't expect to see a lot of Chinese skiers in the next 5 years – but thinks things will change in the next 10-20.
There are many reasons that skiing has yet to take off for Chinese tourists in the West, and one of these is that South Korea and Japan both offer big resorts and an international ski experience much closer to home. Moreover, as Zermatt, Switzerland-based Matterhorn Diamonds ski school director Rowena Phillips explains, "It's not part of [Chinese travelers'] traditional heritage to have these skiing holidays in the way we do in Europe." This makes it especially important that winter sports destinations abroad are marketing not just their skiing facilities, but also other factors that would attract Chinese visitors.
Who is skiing?
Much of what we might assume about the Chinese skiing market doesn't accurately reflect the reality of the situation. Winter sports areas that we spoke with in Europe expressed a strong desire to attract Chinese families for skiing lessons. But for Matterhorn Diamonds, which offers instruction for all ages, a large majority of their Chinese clients are groups of adults – Phillips says that only around 20% of their Chinese students are children. While most Chinese skiers at resorts around Banff and Lake Louise in Canada are also adults, they have received inquiries about a children's ski camp, and they see future potential in working with schools and other educational organizations.
One might also assume that independent travelers are more likely to be visiting the kinds of places that have ski resorts, have an interest in sports tourism, and have the money to ski. A recent Jing Travel article also suggested that the rise of FIT tourism will bolster the Chinese outbound skiing market. But in reality, groups are leading the way. Phillips explains that most of their Chinese bookings come through tour operators, which help their clients to book the full skiing package, including lift passes, equipment and instruction. FITs at Matterhorn Diamonds are more likely to be from Hong Kong, rather than from Mainland China, says Phillips.
Colson, who previously worked with Club Med in France, said that their first winter sports tourists from China came in groups, and that last year one of La Belle Montagne's resorts received a group of 30 Chinese, in a trip organized by a Paris-based travel agency.
Another important thing to understand about Chinese skiers is that they are by and large beginners. "Some of the older generation may have skied in Korea or in China, but the majority have never put a ski boot on before," says Phillips. According to the China Ski Industry White Paper, 75% of ski slopes in China are "one-time experience facilities", suitable only for complete beginners. In recent interviews Dragon Trail conducted in Beijing, we learned that there is a fear that ski resorts abroad will be too challenging. Having easier slopes and good instruction would therefore be attractive to the majority of Chinese winter sports tourists, so it's important to publicize the fact that a resort is suitable for beginners.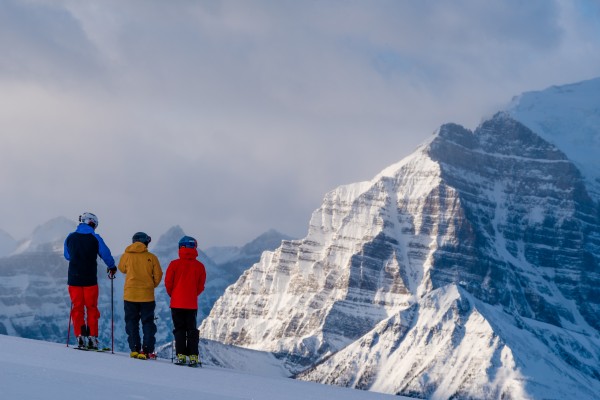 Banff and Lake Louise ski resorts in the Canadian Rockies attract both beginners and advanced ski groups from China (Photo: Reuben Krabbe)
Although the resorts around Banff and Lake Louise also note that most of their Chinese clients are beginners, there are exceptions: "Based on information gathered by a local Chinese receptive tour operator, there have been several groups of advanced Chinese skiers in Banff and Lake Louise ski resorts in the past several years. They are usually members of ski clubs in China, ski all over the world and come with their own ski equipment," explains Lukas Prochazka, Business Development Manager – Asia, for Banff and Lake Louise Tourism.
Instruction
Providing Chinese-language ski instruction can be a big draw for beginners. Since the 2013/2014 season, Switzerland Tourism has regularly invited Chinese ski instructors to train in Switzerland and then spend a season working at a Swiss ski resort. Switzerland now has 13 ski resorts that offer ski lessons in Chinese by request, and these are all listed on the Chinese-language section of Switzerland Tourism's website.
Whistler Blackcomb, outside Vancouver, Canada, "hires instructors and staff that cover off many of the languages spoken in Whistler among our visitors, [and] Chinese is one of them. We do have some of our tour operator partners who would include Chinese speaking guides and drivers should someone want that sort of tour," explains Shawna Lang, Director – Market Development at Tourism Whistler.
But for private ski schools, issues of visa-sponsorship for Chinese nationals can be a problem. Moreover, there is as yet no governing body for ski instruction in China, so Chinese ski instructors need to undergo training in Europe to become certified to teach there. Phillips says that in lieu of a Chinese-speaking instructor, many things can be communicated well through ski instructor demonstrations and body language, and that Chinese groups at Matterhorn Diamonds often bring their tour guide along with them for translation needs.
Apart from language barriers, there are also different cultural behaviors to be aware of. "They're very keen to learn, very interested. But often unless you say to them to take a break, they will continue on, even if they become quite tired. We run workshops with the instructors on these cultural differences, and discuss the importance of ensuring the instructors offer breaks at frequent intervals, especially for beginners," says Phillips. This contrasts strongly with the more intense Chinese approach to ski instruction mentioned in the recent Outside Online article.
Why travel abroad to ski?
Generally speaking, Chinese are not traveling to long-haul destinations just to ski. Firstly, they have an ever-expanding and improving number of facilities available domestically. And even if they are serious skiers who want to experience natural snow, more challenging runs and different slopes to the ones in China, South Korea and Japan are much closer.
"A lot of the time we have clients who are only in Zermatt for a very short period of time and therefore only take a half day or couple of half days. The clients we have taught so far love being in the mountains and being able to see the Matterhorn, and have enjoyed the feeling of getting skis on for the first time and learning the basics. They just want the sensation of skiing, and we ensure we help them get some great pictures, especially of course, with the Matterhorn in the background," says Phillips, explaining that after a few days, Chinese visitors generally move on to explore other parts of Switzerland.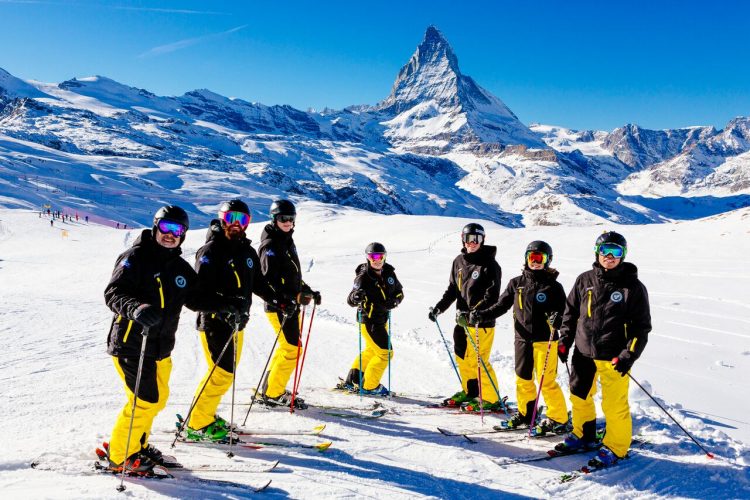 Matterhorn Diamonds in Zermatt offers ski instruction with picture-perfect views (Photo: Matterhorn Diamonds)
Rather than focusing entirely on the ski slopes and facilities, marketing to potential Chinese visitors should include information on what other things there are to see and do in the area, including site seeing, local foods and other special experiences, such as hot springs.
"For Chinese travelers, their ski holidays typically include two or three days of skiing, but also non-ski winter adventures, shopping, spa, fine local dining experiences etc. And our destination offers those exciting adventures – guided snowshoe trips and snow tubing offered right in the ski resorts; and ice walking, dog sledding, sleigh rides, ice skating, hot springs, helicopter sightseeing tours and other adventures in other parts of Banff National Park," says Prochazka. "All our marketing campaigns and activities in China reflect that – we showcase our ski experiences together with our non-ski adventures, dining, shopping, and entertainment options."
Promoting the appeal of cold destinations in winter isn't easy, but the recent rise in Chinese tourists' interest in Arctic and Northern Lights tourism should help. "One of the main challenges is to change the perception that Canada and the Canadian Rockies are a cold place with little to see and do in winter. Our goal is to show our destination as a place that is not cold, but cool," says Prochazka. "It's also important for us to share the message that since winter is our off-season, it's much easier to book hotel rooms, and at lower rates. Winter is also a great time to enjoy our mountains at a quieter time, and enjoy a different kind of scenery, with lakes frozen and mountains covered with snow."
One of the ways that Banff and Lake Louise is educating Chinese visitors about the range of activities on offer is through their WeChat mini-program, which launched in 2017. The location-based program helps users to discover attractions, activities, dining, shopping and more, with real-time updates on weather conditions and other news. This kind of mini-program is also valuable for sharing updated safety information with Chinese visitors about conditions on the slopes, which is of paramount importance for Chinese because of both their concerns about safety and relative inexperience in skiing.
Case study: Switzerland
Of all of the long-haul skiing destinations we talked to, Switzerland seems to be the most active in terms of marketing to Chinese skiers and the most successful in attracting them, so it's worth taking a closer look at what they've done.
The Swiss national tourism office has been promoting Switzerland to Chinese tourists as a winter destination since the 2012/2013 season, explains Simon Bosshart, Director China for Switzerland Tourism. These efforts have included both marketing – in terms of media cooperation, working with tour operators, and participating in promotional activities such as presenting at Beijing's World Winter Sports Expo – as well as creating winter tourism products to suit the Chinese market.
Swiss ski destination St. Moritz has undertaken activities of its own to court the Chinese market, and the area now gets more Chinese visitors in the winter than in the summer. According to Stéphanie Elmer, Senior Public Relation Manager at St. Moritz, they've actively promoted the resort in China since 2009, including B2B and B2C activities. There are no better influencers when it comes to the Chinese ski market than the Chinese national ski team, which was invited to train at St. Moritz for a week in 2016 as part of the FIS World Cup. St. Moritz has also offered a Chinese website since 2013, informational materials in Chinese, and has Weibo and WeChat accounts.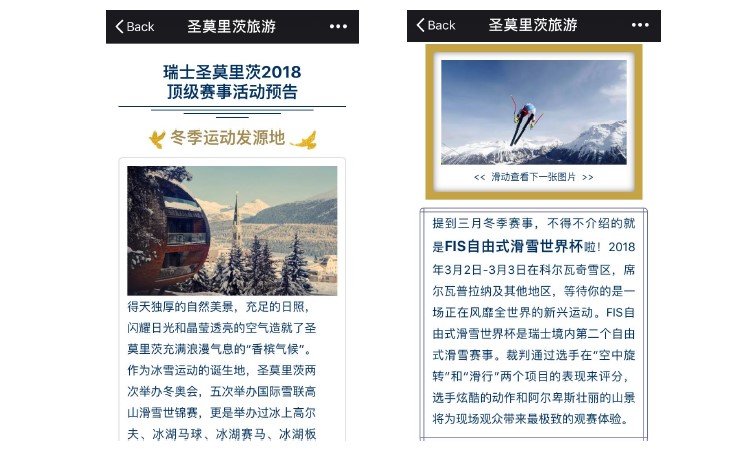 A post from St. Moritz's Official Account on WeChat

The resort is well suited to Chinese skiers, as 20% of the slopes are for beginners. Another selling point for these new skiers is that St. Moritz has had a Chinese ski instructor for over three years. To court the family market, St. Moritz ran an art competition in China in 2016, asking children to create artwork to reflect how they imagined St. Moritz – the winner got a free trip, together with their whole family. Another tourism professional we spoke to from the area said he's noticed an increase in Chinese restaurants over the last several years.
Matterhorn Diamonds' Phillips says she has also noticed local businesses starting to entice the Chinese market, with supermarkets offering a variety of products specifically for the Chinese market, restaurant menus written in Chinese, as well as announcements in Chinese at train stations and lift stations on the mountain. "We have been aware of the potential of the Chinese tourism market for over 10 years now, but we've really only noticed a larger influx in the last several years. We do have a lot more Chinese visitors in Zermatt now, and it's definitely increasing, but they also do visit Switzerland for the shopping, not necessarily just for the skiing," she says.
The future of Chinese skiing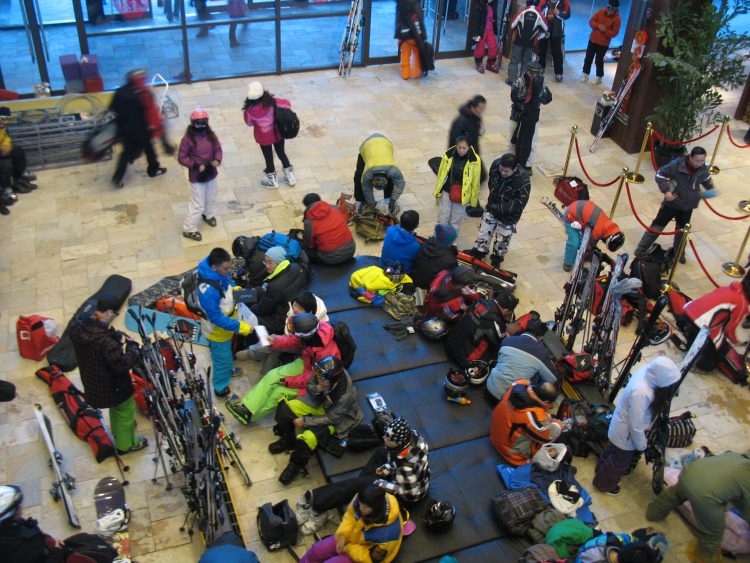 Getting ready to hit the slopes at Genting Secret Garden, Chongli, China (Photo: Sienna Parulis-Cook)
Although interest and participation in winter sports is starting to take off in China and should only grow in the next four years leading up to the Beijing Winter Olympics, a sudden surge in Chinese skiing in long-haul destinations like North America and Europe is very unlikely. However, getting a clear understanding of what Chinese tourists are looking to get out of an overseas skiing experience and laying the groundwork early will help a lot later on – Whistler has been researching the Chinese market since even before Canada received ADS status to allow the country to receive Chinese tourists back in 2009. And while the market is still small, Lang says: "We anticipate once Chinese skiers try skiing at home and feel comfortable, perhaps they will travel to Japan or Korea to try skiing, and then will be ready for North America – we [then] want Whistler to be top of mind."
Watch our China Outbound Travel Pulse video on winter sports tourism for interviews with Chinese travelers and more insights into skiing in China.