Dragon Trail attended WTM London from 4-6 November, 2019. In addition to giving a keynote and running a panel on customization and personalization in Chinese outbound tourism as part of PATA's annual WTM session, we also talked to tourism professionals from around the world about their experiences with the Chinese outbound travel market. Here are seven takeaways.
1) Photos Are Essential
"There is no one 'Chinese tourist', but there is one thing they're looking for, and it's taking a photo for social," said CEO of OTA Lulutrip, Jon Jiang, during Dragon Trail's panel. The importance that Chinese travelers place on taking photos to show off their travel experiences on social media was also brought up in separate conversations with tourism providers from Croatia, Nepal, and Tanzania. For tourism marketers, this means that Chinese travelers can provide you with a rich source of user-generated content, and that you should offer free Wi-Fi wherever possible.
2) Stars Are a Selling Point
Celebrities can be important for Chinese tourism marketing, but here we're talking about the actual stars in the sky. Air and light pollution means that China's urban-dwelling travelers very rarely get to see any stars at all. "The Chinese tour operators were blown away by photos of stars in the sky," said CEO of Tourism Nova Scotia, Michele Saran. This was a surprise for the tourism board, and seeing the stars is a free experience for anyone who visits the province. But once Nova Scotia tourism providers understood this interest from the Chinese market, they were able to build a product around it, combining a lobster dinner with a stargazing experience.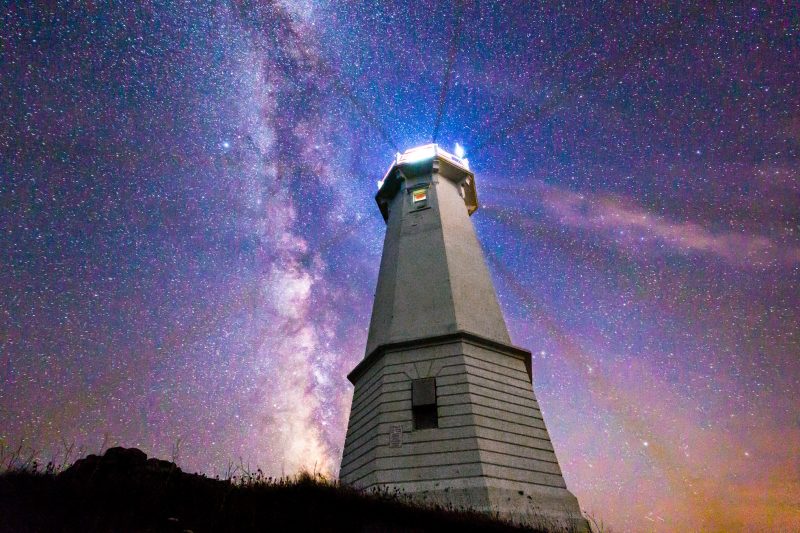 Stargazing is especially attractive to Chinese tourists in destinations like Nova Scotia (pictured). Photo courtesy of Tourism Nova Scotia / Photographer: Acorn Art Photography
Pursuit Collection operates a number of tourism attractions in Canada, including the Banff Gondola and Columbia Icefield Adventure in Jasper Park. Pursuit's Director of Sales, Violet Thumlert, also noted that stargazing and the aurora were particularly popular with Chinese travelers. This phenomenon certainly isn't limited to Canada – in the past several months, we've also noticed above-average views for Tourism Australia's WeChat post on stargazing, and for CairnsDive's article about a visiting Chinese astronomy photographer. Ye Ziyi, another astronomy photographer, worked with Dragon Trail as part of our KOL filming in Peru in 2018, and in 2019 she was named Travel Influencer of the Year by travel website Qyer.
3) Chinese Tourism Is Still Fast
At the beginning, Chinese visitors to Milan were "very quick tourists," who would just visit the Duomo and go shopping, said Roberta Guaineri, Milan's Deputy Mayor for Tourism, Sport & Quality of Life. But in recent years, she said, they're "coming to visit Italy" rather than the whole of Europe, and spending two to five nights in the city. The situation is still quite different in other countries: In Croatia, Chinese visitors will just spend one night in Zagreb or the Plitvička Jezera National Park before moving on to the next destination or country. For the Montenegro Tourist Service, which has worked with nearly 150 Chinese groups in 2019, the pace of travel was their greatest surprise at the start of working with the Chinese market. They first intended to run five- to seven-day tours of Montenegro, but found that Chinese tourists wanted to see a minimum of three countries in 10 days. "There's no time to explore or understand," observed Razvan Prunea, General Manager, Active Holidays Romania. Chinese visitors to Romania usually stay just two or three days, he said, adding that he hoped this was just the first wave of travelers. Taking Milan and other well-established Western European destinations as an example, it probably is – but this will also depend on the growth of independent tourism, as FITs are likely to do more in-depth travel, or use one location as a base for day trips to the surrounding area.
4) Yugoslav Films Drive Tourism to the Balkans
Southeastern Europe is experiencing some of the highest growth rates for Chinese tourism in the world. There are several reasons for this, including visa reforms in Serbia and Montenegro. Yet it turns out that Yugoslav cinema from the 1960s and '70s is also part of the appeal, especially for older Chinese. In Montenegro, the Đurđevića Tara Bridge is a must-see destination, we learned from the Montenegro Tourist Service. The bridge spans Tara Canyon, the deepest canyon in Europe and the second deepest in the world. But the real appeal is that this was featured in a 1969 Yugoslav movie called Bridge about a true story from WWII. The film was "shown every week in China" and "everyone over 40" has seen it, says Montenegro Tourist Service's Sales Director Miloš Bukilič.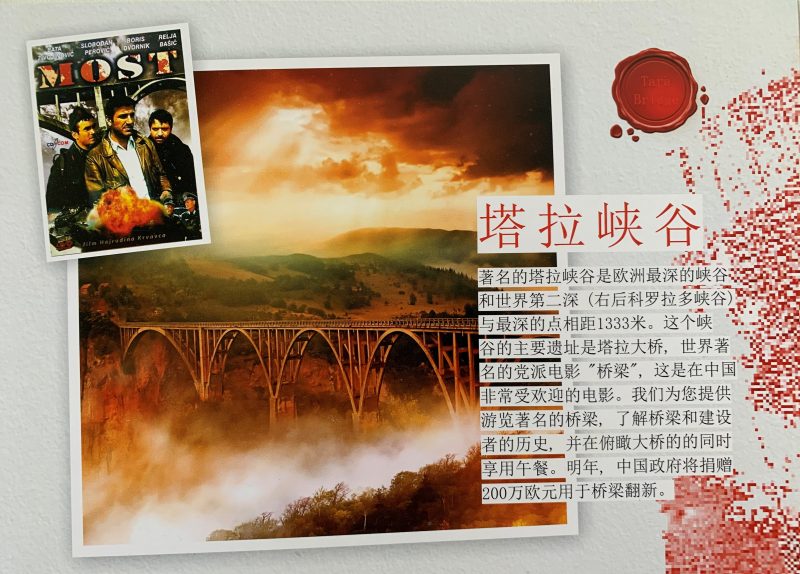 Montenegro Tourist Service's Chinese-language brochure highlights the Đurđevića Tara Bridge, made famous in China by the 1969 Yugoslav film, Bridge
A second Yugoslav WWII film, 1972's Walter Defends Sarajevo was another a massive hit in China. It was also the cinematic debut of Serbian actor and filmmaker Emir Kusturica. More recently in his career, Kusturica built a traditional village called Drvengrad, which is an established stop on the Chinese tourist itinerary for Serbia, says Miloš Grče from the Tourist Organization of Belgrade. The takeaway? It's well known that film and TV have a major impact on Chinese tourism, but don't think this is limited to Hollywood or even contemporary cinema.
5) Food Is Important – But Some of It Needs to be Chinese
We've said this before in our article about how Chinese eat abroad, but it was iterated over and over again at WTM: Chinese travelers definitely want to try local cuisines abroad, and they aren't afraid of eating new things, but they will still want to eat Chinese food. This isn't easy for every destination to provide, but there are some alternative solutions: In Split, Croatia, there aren't many Chinese restaurants, but there is a lot of seafood, so Chinese visitors enjoy the local cuisine, and the local fish market is a popular attraction, says Nevenka Mariani from the city's tourism board. Self-catering is another option, and Kate Xiong-Britton, Director of UK, France, Ireland & Nordics Accommodation Business Unit, Ctrip, noted that serviced apartments are increasingly popular for Chinese families, as well as millennials.
6) Mandarin Speakers Are in Demand
From South Asia to South America, the number of Chinese-speaking tour guides cannot keep up with the growth in Chinese outbound tourism. There are technological solutions to help address this – Pursuit offers Chinese-language audio tours and is adding QR codes to attractions that Chinese visitors can scan for additional written information. But there are also significant job opportunities for Chinese speakers who want to work in tourism. There are only around 40-50 Chinese-speaking guides in the Balkans, and Montenegro Tourist Service works with 15 of them – they are all Europeans, mostly Bosnian, recruited at job fairs in Beijing. Sudarshan Nepal, Managing Director of Nepal Big Mountain, studied in China, speaks fluent Mandarin, and organizes tours for thousands of Chinese visitors to Nepal, including celebrities and government officials. While Chinese tourism to Romania is still in its early stages, Prunea has been taking weekly Mandarin classes for the last year. Although it's more common to see Chinese tour groups led by a Chinese guide, the growth of Chinese tourism is creating job opportunities for locals who have studied Chinese, too.
Mandarin-speaker Sudarshan Nepal hosts thousands of Chinese visitors through tour operator Nepal Big Mountain (大山旅游), including celebrities and officials
7) The New Chinese Tourist Is Mobile-First
Traditionally, Chinese tourists followed the group. But now, "consumers want to take control, even if they're traveling with a guide," said Renee Hartmann, co-founder of China Luxury Advisors in Los Angeles. Technology can help them to navigate the places they are visiting, and immerse them in the travel experience. Hartmann explained how WeChat mini-programs can increase engagement at museums, for example. Although most Chinese visitors to Belgrade travel as part of a group, Grče still noted that they use mobile apps to find information. This trend extends tourism marketing into the in-destination stage of travel – the rise of mobile technology means that travelers are making decisions on the road, and marketers can leverage data to deliver recommendations that are both personalized and location-based, explained Jiang.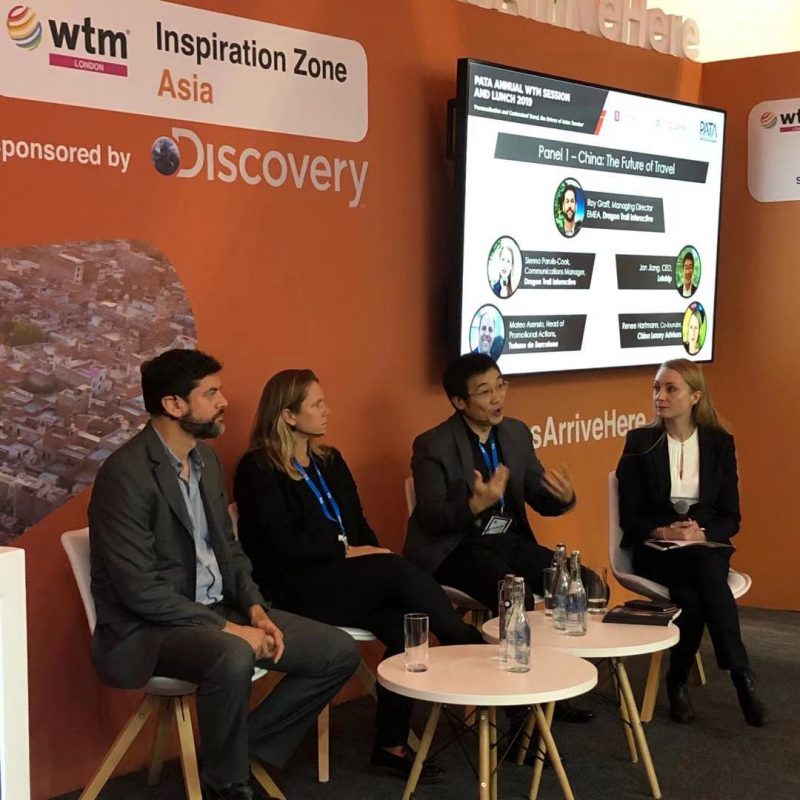 Dragon Trail's panel on customization and personalization in Chinese outbound tourism. (Left to right) Roy Graff, Managing Director – EMEA, Dragon Trail Interactive; Renee Hartmann, co-founder, China Luxury Advisors; Jon Jiang, CEO, Lulutrip; Sienna Parulis-Cook, Associate Director of Communications, Dragon Trail Interactive