Travel KOL Ye Ziyi, aka Star Ranger, is an astronomy photographer with 836,000 followers on Weibo (@叶梓颐-巡天者). She was named "Travel Influencer of the Year" in Qyer's and ITB Shanghai's 2019 It's My World travel awards. Dragon Trail worked together with Ye Ziyi send her on a two-week trip to Peru at the end of 2017, footage of which was used as the basis of PromPeru's Chinese video marketing in 2018.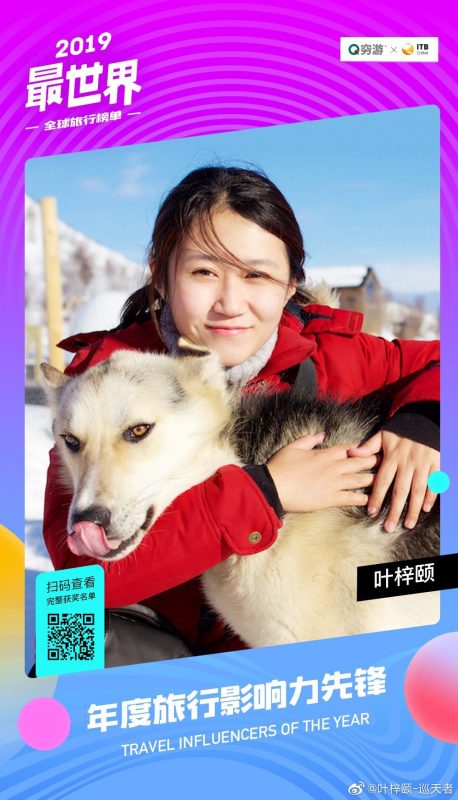 How did you become a travel influencer?
I was first interested in astronomy and then photography. Then after doing photography for some time, I started traveling. In the process of looking for the best celestial views, I couldn't believe I'd become a travel blogger. For me, traveling is not just about getting to see the world, but it's also a process of getting to see yourself. I don't really like traveling just to see a destination – it's more about going there for personal reasons. For example, I went to Peru to resolve some internal confusion.
Which social media/online platforms work the best for your travel content, and why?
I'm most active on Weibo, because Weibo is very immediate, and it's like a big public square, so everyone can see.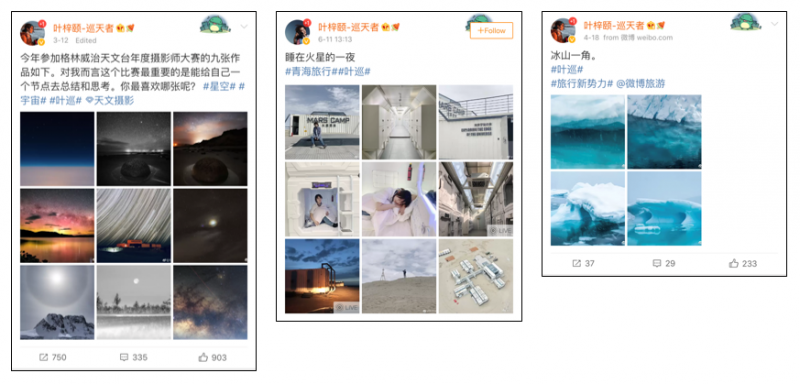 Of all social media platforms, Ye Ziyi is most active on Weibo
What are the main differences between WeChat and the other platforms that you use in your work?
WeChat public account subscribers are more vertical, and more patient with content. The platform is more suitable for in-depth content. The stickiness of WeChat fans is the highest, too.
How much freedom do you usually have over your content – do the brands you work with ever set rules or guidelines about what you have to post about?
I have relatively high standards for my own content. I'm also quite picky about the brands I work with, so I have a high level of freedom. There are some clients (for example, last year I worked with Canon and Vacheron Constantin) that want me to make all of my expedition plans, and then go out to photograph. The brands will place some limits on the content, but they also respect my opinion.
How much do you interact with your followers?
I have two fan groups on WeChat, and together there are nearly 500 people. I'll interact within these groups. On Weibo, when users comment something and repost my content, if they're an active fan, then I'll respond. If they're always active, then sometimes I'll follow them back. Offline events are another really good way to interact with fans, and a lot of people will attend.


Ye Ziyi's April 2019 Douyin video has 299,000 views on Weibo
What is the best way that a client can help you do your work? How do you prefer to work with your clients, when it comes to arranging a trip, your time there, and the content you create?
If there's a brand or tourism office that I'm working with, I can go to a lot of places that normal travelers wouldn't be able to visit or photograph. And I'll also be able to very quickly find out a place's best food and most interesting places, which saves time on the itinerary. But the drawback is that it's not very flexible, and many itineraries are too full. For photography, for example, if the weather is bad, and there's no time to come back another time when the light is better. Because when I go somewhere myself to photograph, I'll give myself at least two days, to wait for the right weather or to see a wild animal etc.
What are your all-time favorite places you've visited as a KOL?
The North and South Poles, and South America.