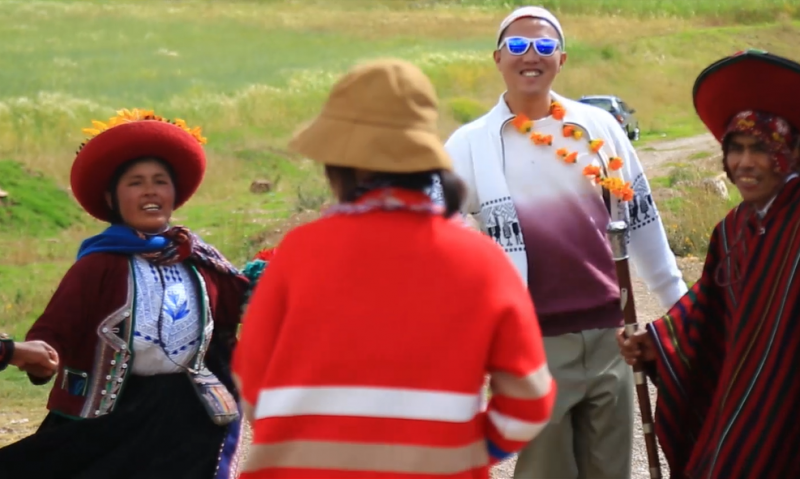 KOL J-fever on a two-week video-shooting trip around Peru in 2018, organized and filmed by Dragon Trail
Working with Chinese KOLs – or key opinion leaders – can increase exposure, social media follower numbers, and sales. But before organizing a fam trip or paid-content promotion, there are some essential rules you need to consider to ensure the partnership is a successful one.
DO communicate in advance
One of the most essential pieces of advice for a successful KOL collaboration is to give very clear instructions about what you want and to communicate well in advance about your expectations, the travel itinerary, and any limitations or requirements for portraying your brand. Advance planning and clear communication not only helps you to avoid any problems later on (for example, if the KOL fails to mention or photograph something you particularly wanted to promote), but can also help get optimum results. Top travel KOL Xiao Mo has shared an example of a museum that was able to open one hour early for her and her partner A-Hou to photograph thanks to advance planning, resulting in work that both the KOLs and client were particularly happy with.
DON'T rush them
Avoid putting KOLs on a rushed and superficial tour, as this will limit their ability to create good quality work that will inspire their followers. Professional photography – and even more so, video – takes time, so make sure the fam trip schedule allows for this.
DO promote good deals
If you're planning to run a paid-content campaign for a sales promotion, make sure that what you're paying the KOLs to promote is really a good deal. If consumers discover that they can actually find a cheaper price through an OTA, for example, then your campaign results are likely to be disappointing. It could also damage the reputation of the KOL if it's an account that people follow specifically for good travel deals.
DON'T write off WeChat
KOL follower numbers and post views are normally much higher on Weibo than on WeChat, but these numbers don't give the full picture. A post view on Weibo happens when someone is just scrolling through their feed – on WeChat, it means they've actively opened the article to read it. True engagement and follower loyalty are higher on WeChat, and this is one of the reasons that sales promotions should focus on this platform. For fam trip KOL campaigns, it's still great to get the exposure that Weibo provides, but complementing this with longer, more in-depth content on WeChat will reach your most engaged and most interested audience.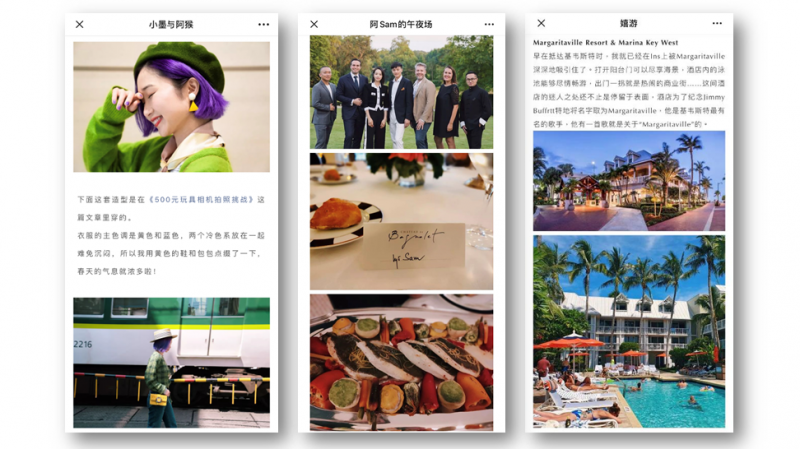 In-depth KOL travel content on WeChat. Sam (center) averages around 60,000 views per post – higher than most official travel brand accounts, including national tourism boards
DO consider what you want to promote
When planning a KOL campaign, choosing the KOLs you want to work with, and organizing a fam trip, having a very clear idea of what you want to promote will get you the best results. This includes deciding who your target audience is, and what parts of your city, country, property, venue, and/or services you want to get the word out about.
DON'T cramp their style
While there may be some rules and boundaries that you need to communicate to the KOLs before a fam trip, you also need to allow them to experience, photograph, and/or film the destination in their own way, based on what inspires them the most, as this is most likely to deliver a win-win result. KOLs all have their own style and viewpoint, and this is creativity is one of the reasons you can benefit from working with them.
For more information, watch our December 2019 webinar on KOL marketing for tourism.
Dragon Trail has significant experience working with KOLs on both fam trips and paid-content promotions. We can help you choose KOLs from our database of more than 400, post call-outs for KOLs on our always-on KOL recruitment platform, organize paid-content campaigns, and accompany on fam trips with our video production team. Please contact us to discuss how we can help you work with travel KOLs to meet your marketing goals in China.