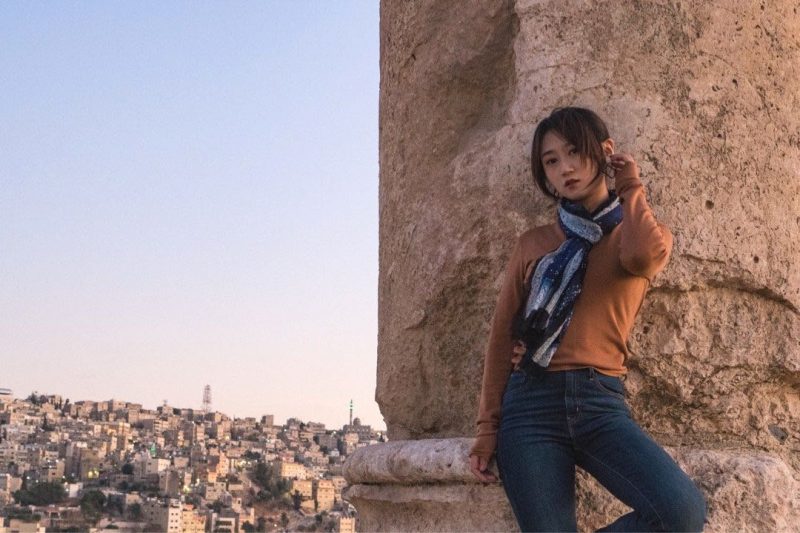 2019 Travel Influencer of the Year, Ye Ziyi on a fam trip to Jordan
KOLs – or key opinion leaders – are often identified as an essential component of marketing to China. Find out how travel brands can successfully collaborate with Chinese KOLs, what you should expect from KOL campaigns, and how to pick the right KOL or KOLs to work with.
What is a travel KOL?
KOL means "key opinion leader," and although different people and articles online may use this terms to talk about various kinds of influencers, our definition is a travel-focused micro-influencer. They will have anywhere between 10,000 to several million social media followers, especially depending on which platforms they're most active (Weibo follower numbers are usually much higher than WeChat, for example). These KOLs specifically work in travel, so they are trusted, expert sources in their field.
You will also see tourism brands working with celebrities, such as actor Huang Xiaoming with South Australia, or pop star Jackson Yee with Denmark. Celebrities have much larger fan bases than KOLs, and they can get you huge engagement rates on Weibo and viewership numbers on WeChat. But they are going to be much more expensive than KOLs, and they do not specialize in travel, so their fans aren't necessarily your target consumers – they may just be people who love that star but don't actually travel abroad.
Another category of influencers is a wanghong, or online celebrity. These are people who have a large following online because of their engaging personalities, and they are often very good at selling things because people love to watch them. One example is Thomas, a German expat in Shanghai known as Afu by his fans. He's famous for his short comedy skits, imitating his Shanghainese wife and in-laws. He has no special expertise in travel (beyond that of any average expat), but he worked with Norwegian Cruise Line to shoot an episode of his show on board one of their cruises from Shanghai in 2017.

You may have heard of KOCs (key opinion consumers) or KOBs (key opinion businesses). These, like KOLs, are simply online entities with large footprints, that can help spread your message. Some travel KOLs may actually be KOCs in the sense that they got their start by writing online travel diaries and reviews as consumers, and later on started to do this professionally.
Dragon Trail provides marketing services with two categories of travel KOL: The first is an individual or couple who publish engaging travel content and are best for increasing exposure. The second are either individuals or media channels with official accounts on WeChat, through which you can publish paid content to promote specific deals or increase follower numbers. These are often accounts that specialize in recommending travel deals and discounts. They will have fewer followers than the exposure-style KOLs, but a very loyal following that can deliver quantifiable results in a short period of time.
How can KOLs benefit you?
Working with travel KOLs can help you to achieve a variety of different goals. First, travel KOLs likely have a larger or at least a different following on social media than a tourism organization or business will, so working with them will expose you to a much wider audience than relying only on marketing from your own channels. Because of this, the KOLs can help you to grow your follower base – either actively, but sharing your account's QR code (this may require an additional fee), or as an indirect result of posting about you and raising interest in your destination or brand. Travel KOLs can also help to promote you to specific market segments, such as family travelers, skiers, foodies, and many other niche categories.
If you need additional photo and video content for tourism marketing, especially content that's tailored to the Chinese market, a KOL fam trip is a great way to do that. You can agree with KOLs in advance that part of their work with you will include providing you with a set of high-res images and the rights to use them, or you could arrange for a photographer to accompany the KOLs in order to take professional photos and/or video. Dragon Trail can provide these services.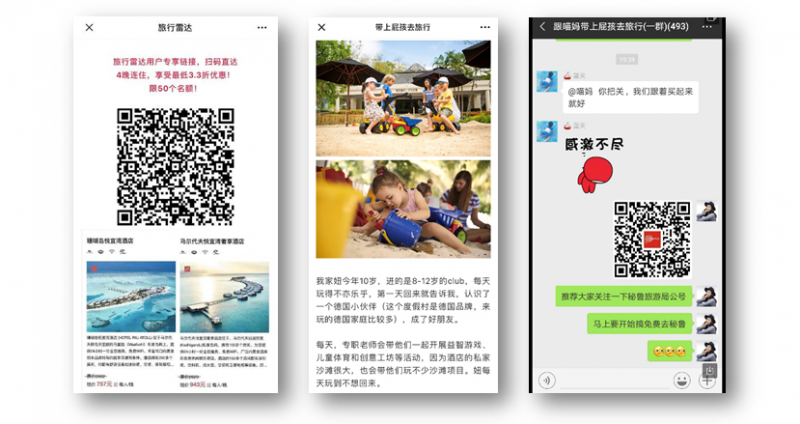 Paid-content KOL promotions on WeChat: (Left to right) Sharing a QR code for a discounted rate, an article about a resort from a family travel-focused account, and a KOL encouraging members of a 493-person group chat to follow an NTO account
Paid-content KOL promotions can help to drive direct sales (or sales through an OTA, if you're not set up to sell directly to Chinese clients), and promote campaigns and events such as sales, giveaways, pop-up stores, and competitions. Paid-content promotions also drive follower growth for your social media account, with significant results. As an example, one Dragon Trail hotel client gained 15,800 new followers for their WeChat account as a result of four KOL sales campaigns in 2019.
How do you choose a KOL or KOLs to work with?
Choosing a KOL or KOLs is all about the goals of your campaign. Dragon Trail has a database of more than 400 travel KOLs and can provide a shortlist of suggested candidates, but you'll need to answer some questions first:
– Is the goal of your KOL marketing exposure (a fam trip) or to promote a specific sales campaign or event (paid content posts)?
– Which social media platforms do you want the KOL marketing to cover? Paid content campaigns are generally WeChat-only. Fam trips nearly always include Weibo and WeChat. Make sure you're clear about which additional platforms are important to you – including video platforms, Chinese travel websites, or other social media like Xiaohongshu or even Instagram – so that you pick KOLs with a presence there.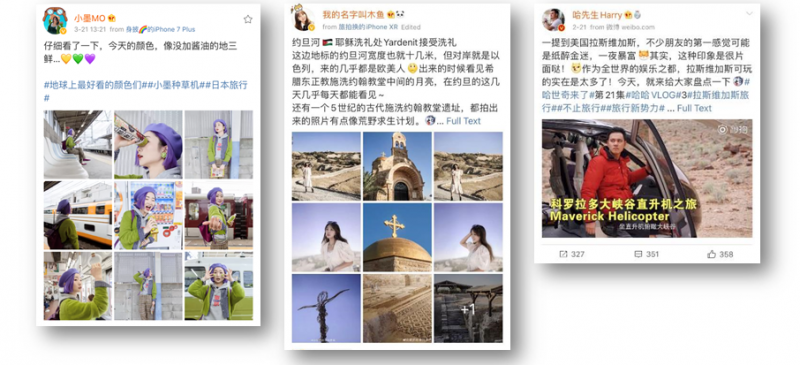 Weibo posts from travel KOLs in (left to right) Japan, Jordan, and Las Vegas, USA
– What kind of content do you want? This includes photography, video, and written content. With the popularity of online video content, many KOLs can now produce short videos, but this is something to confirm in advance. Some KOLs who specialize in video content won't write longer articles for WeChat or travel review websites, and some who specialize in long-form articles and written travel guides won't create video content.
– What target audience(s) do you want to reach? There are KOLs who focus on family travel, adventure travel, food, hotels, self-driving, skiing, diving, fashion, archeology, couples' travel – and the list goes on. Think about what image you want to portray and which market segments you want to reach, and we can help you to find KOLs who fit the profile. It can be worth inviting KOLs with different styles to the same fam trip, as they will be able to put their own spin on it and help you to reach multiple audiences at the same time.
What are the costs for travel KOLs?
Generally speaking, the cost for a fam trip KOL campaign is to cover all costs of the trip, including flights, visas (if necessary), and all expenses in the destination. Some high-level KOLs may charge an additional fee. There are also services that may require extra payment: If you want to shoot a video with the KOLs, they will need compensation for the extra time and work. Some KOLs may also charge for a professional photo package. Most exposure-style KOLs will not share your social media account's QR code or otherwise encourage their followers to follow you, but this can sometimes be an added service for a fee of RMB5,000-30,0000. Consider your budget prior to selecting KOLs. To cut down on costs, you may be able to find a KOL who is based in or traveling in your destination already – this is something Dragon Trail's always-on H5 KOL recruitment platform can help with.
For paid content posts, costs range RMB10,000-30,000 per post, and correspond to the number of followers the account has, which also average 10,000-30,000.
What can you expect from a KOL campaign?
For fam trips, KOLs will post on Weibo once or twice a day during the trip, or around eight posts per week. This will then be followed by a longer piece of content after the trip, such as a long-form article on WeChat, and/or a video. This coverage is standard, but should still be confirmed before the fam trip, and any additional platforms or content agreed to then.
For paid content, KOLs, will post the article once from their official account on WeChat, and also share the article later on with their followers in private chat groups (these groups can be as large as 500 members each).
For more information, watch our December 2019 webinar on KOL marketing for tourism.
Dragon Trail has significant experience working with KOLs on both fam trips and paid-content promotions. We can help you choose KOLs from our database of more than 400, post call-outs for KOLs on our always-on KOL recruitment platform, organize paid-content campaigns, and accompany on fam trips with our video production team. Please contact us to discuss how we can help you work with travel KOLs to meet your marketing goals in China.