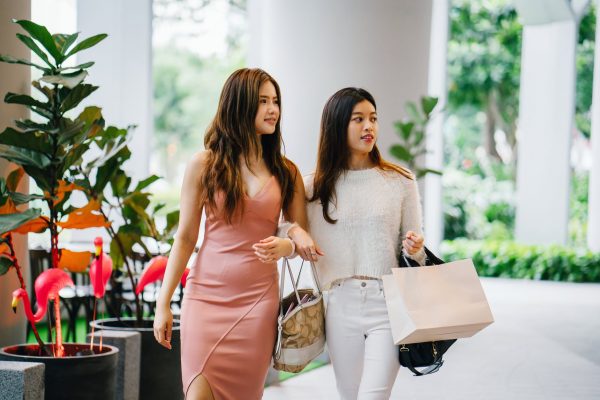 Shopping is one of the most important activities for Chinese tourists overseas. While different reports and surveys identify shopping as anywhere from 25-40% of Chinese travel budgets, there is consensus that Chinese tourists spend a higher percentage of their travel budgets, and more money in real terms, than tourists from other countries. Chinese are also the top overseas shopping spenders in the US, Europe, and Australia, among other countries and regions. But with the growth of independent travel, development of digital tools, and shift in emphasis from shopping and sightseeing to culture and experiences, retailers have to keep up if they want to continue attracting Chinese shoppers. Here are nine tips to make sure you're ready for today's Chinese shoppers.
1. Think Local
Souvenirs and local specialties are the items that Chinese tourists are most likely to purchase abroad. But Chinese tourists won't want to buy a souvenir that says "Made in China" on the back, so focusing on locally made crafts, local specialties, and local brands is the way to go. Even for cosmetics, clothing, or other items, Chinese travelers prefer to purchase brands in their country of origin – buying Burberry in the UK, for example. There's also growing interest in smaller local brands and designers, especially among younger Chinese travelers and in Europe.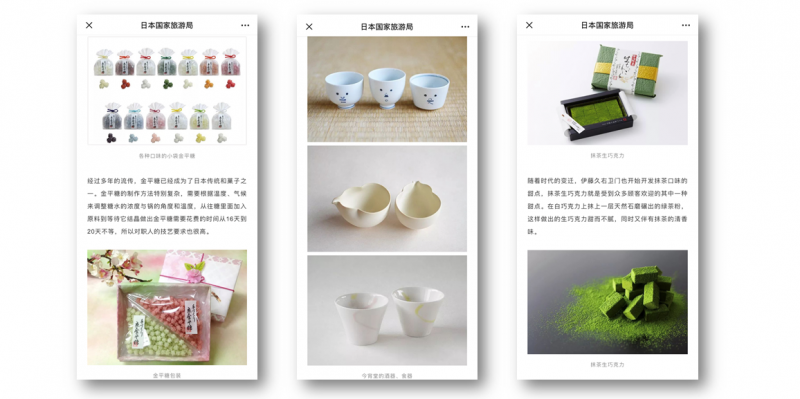 An August 2019 WeChat post by the Japan National Tourism Board promoted shopping for unique, local items that would make good gifts and souvenirs
2. Accept Chinese Payments
Before UnionPay cards became widely accepted around the world, Chinese shoppers would need to travel with suitcases full of cash. Those days already seem very long ago, and accepting UnionPay cards is now really the minimum you can do to encourage and facilitate Chinese shopping. A majority of Chinese outbound tourists are already using mobile payments – Alipay and WeChat Pay – for shopping, and more will expect these services in the future. We would warn against expecting a surge in Chinese shoppers as soon as you get set up to accept these payments, especially as they're more and more common, but what they will do is increase buying power, as you won't have to worry about any problems reading UnionPay card chips, or the RMB100,000 overseas spending limit on Chinese bank cards.
Click here for our guide to Chinese mobile payments
3. Increase Digital Touchpoints
According to WTCF's 2018 report on Chinese outbound tourism, nearly 60% of Chinese tourists make a shopping list before traveling. Anecdotally, Chinese are likely to arrive a shop with a photo of what they want on their phones, ready to show the shop assistant. This goes especially for digitally savvy younger travelers, who are likely to first experience a brand online before visiting a physical store. What all of this means is that you need to connect with travelers digitally, early and often. This can start with B2C marketing including Chinese social media and KOL campaigns, as well as working together with local tourism boards. Once the traveler is in destination, the Alipay app will help them to see nearby businesses that accept Alipay, as well as information on promotions. WeChat and Weibo also both offer overseas geo-targeted advertising, which can work especially well to let tourists know about special shopping events or promotions happening nearby.
Click here for our guide to WeChat advertising
4. Make Customers Comfortable
No matter their age or how they travel, "All Chinese tourists are happy to get some hot water, European specialities or little giveaways," advises Maren Hartung, Head of Strategic Corporate Management at Kaytrip/KaiYuan, one of the leading Chinese travel agencies in Europe. For VIP clients, retailers should provide extra services like private rooms, extended opening hours, and delivery to their hotels. Having Chinese-speaking service will make older customers – who are less likely to speak English – more comfortable and well looked after. All of these amenities and services should give Chinese shoppers a positive experience, and make them much more likely to come back on a repeat visit, and recommend you to friends, family, and colleagues, as well as online. For Sanjiv Singh, Managing Director in Germany for Value Retail outlets, even accepting Chinese mobile payments is much more about making Chinese feel comfortable and happy rather than encouraging them to spend more. Not offering mobile payments, he says, is like not offering toilets. On that note, Hartung says that "offering toilets is actually very efficient to increase sales turnover and drive tourists into a store"!
5. Make Shopping an Experience
As a retailer, you need to think about what will make a tourist want to shop while traveling and not just buy at home, online, or at another store. This is especially relevant for younger shoppers, who prefer e-commerce. One way to attract young Chinese consumers into a physical shop is by making shopping an enjoyable or special experience. This includes some of the same advice in the above point about making shopping comfortable, including refreshments and private rooms. It can also involve events, such as getting a Chinese KOL to do a product launch for their fans. Pop-up stores are popular in China for their photo opportunities, and can attract not only increased shoppers, but also lots of coverage/word of mouth marketing on Chinese social media. Louis Vuitton's 2019 pop-up exhibition in Los Angeles, for example, has been the topic of many posts on the trendy Chinese app Xiaohongshu/Little Red Book.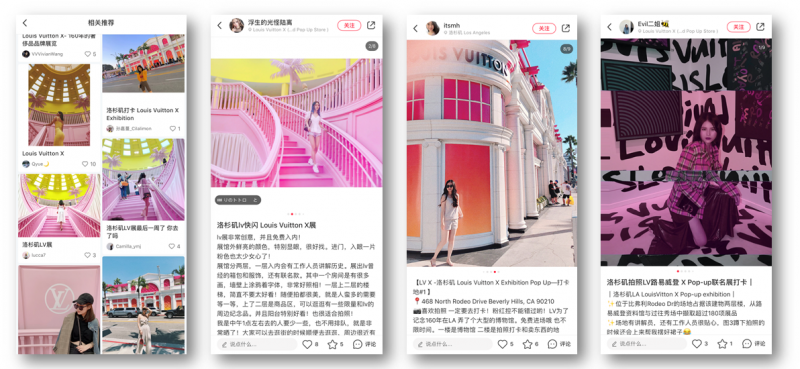 Louis Vuitton's 2019 pop-up exhibition in Los Angeles has captured the attention of Chinese consumers on social media platform Xiaohongshu/Little Red Book
6. Be Exclusive and Unique
The price difference between buying foreign brands in China compared to overseas is not as big as it used to be, e-commerce is huge and convenient, and we are left questioning how to convince Chinese tourists to not simply buy an item at home. You can address this through events, as well as through the retail items themselves. Offer single-store, single-country, and limited-time promotions, so that customers feel compelled to buy here and now. For young Chinese, shopping is increasingly about showing off your personal style and taste, and offering customized and personalized items plays into this. Consider Cambridge Satchel Company's monogramming promotion over the Chinese National Day holiday, or Atelier Cologne's free personalized cases, which are promoted with Chinese signage in airport duty free shops.
7. Don't Forget About B2B
Although independent travel is on the rise, B2B marketing is still important, especially in Europe and for the luxury market. In destinations with a shrinking pool of coach tours – like the US – retailers may decide to shift their strategy to working with high-end travel advisors and agencies that only service HNWI clients, for the best results. Retailers can work together with agencies and tour operators, as well as individual tour guides. You can run seminars for local tour guides to introduce them to your store, outlet, and/or brand, as well as participate in bigger retail and brands conferences like the semi-annual one organized by KayTrip in Europe. Contacting and building up a network of tour guides is best done through an agency or tax refund provider, as they have large networks. Although shopping on group tours is an issue that can be sensitive and is evolving – forced shopping is officially illegal according to China's Tourism Law – Chinese tour guides will expect cash commissions from retailers, of up to 12%.
You can use your personal networks and/or dedicated B2B social media channels to regularly update tour leaders and guides on things like offers, services, news, opening hours, and contact details. Destinations can also support local retailers by including information on shopping as part of their training and communications for the Chinese travel trade.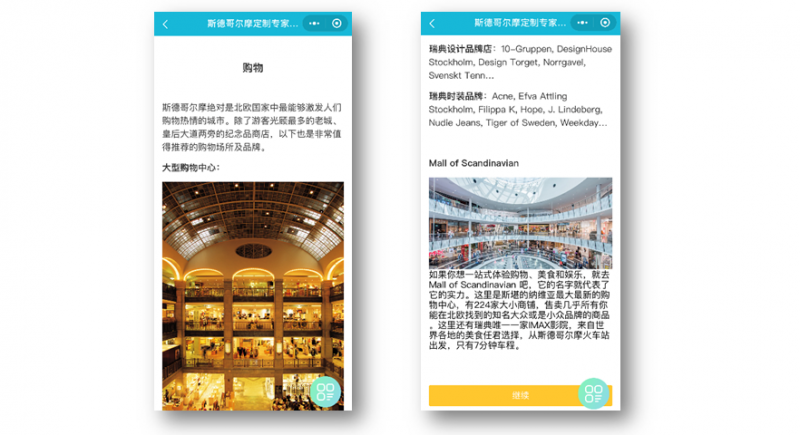 Visit Sweden's China Travel Academy (CTA) WeChat-based travel agent training program includes a module on shopping in Stockholm
8. Integrate Shopping and Tourism
Another way to set shopping abroad from shopping at home or e-commerce is to use your marketing to link together shopping with the tourism experience. Destinations should provide recommendations for local products in their marketing, as well as suggest itineraries that include shopping. Likewise, retailers can recommend tourist activities and build partnerships with attractions – El Corte Ingles offers a travel guide to Spain on its WeChat account; Bicester Village recommends local travel experiences, like Blenheim Palace; Galeries Lafayette ties their collections and designers to French destinations and culture in their Chinese social media. Department stores also often market themselves not just as places to shop, but as tourist destinations with important links to a city's or country's history – we see this on WeChat from Bloomingdales, Harrods, El Corte Ingles, and Galeries Lafayette, among others. Any shop that can tell a story about itself and why it's a "must-see" destination will have an advantage.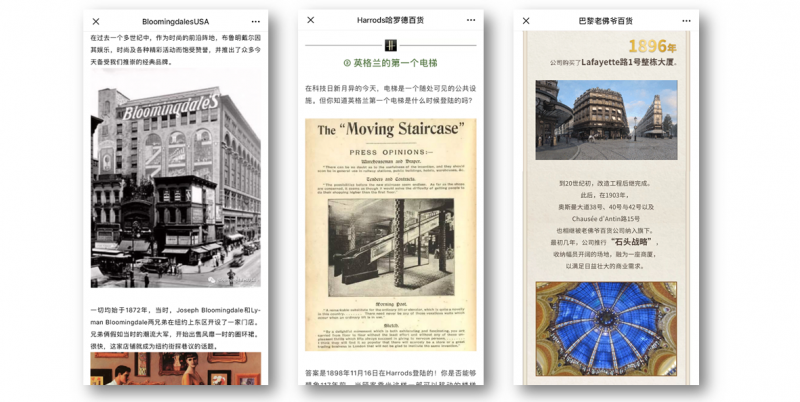 Iconic department stores like (left to right) Bloomingdales, Harrods, and Galeries Lafayette all feature information about their history on their WeChat profiles
9. Celebrate Chinese Holidays
Chinese holidays – especially the peak travel seasons around October's National Day and Chinese New Year – provide good opportunities for events and limited editions, as well as gifts to entice and cater to the Chinese market. At Mid-Autumn Festival, for example, Chinese people give mooncakes to family members, as well as to clients and other people with whom they want to build and/or maintain a good relationship. More than just a pastry, mooncakes are a gift to honor important relationships. The cakes themselves, as well as their packaging, can be customized with your brand, and given to Chinese clients – especially VIP clients – to surprise them, show your respect for and understanding of Chinese culture, and build your reputation in the Chinese market.
Click here for our guide to the annual Chinese holiday calendar