Success on social media in China involves more than just posting good content. Especially with its closed, peer-to-peer sharing system, WeChat can be an especially challenging platform for growing followers, brand awareness, and content reach organically. Advertising and other media buy can help speed up these processes to attract new followers to your account, as well as to drive sales.
In this guide to advertising on China's leading social media platform, WeChat, we'll introduce the three types of WeChat ad formats, requirements, pricing, and targeting options for WeChat advertising, and suggestions for how to supplement advertising with paid influencer promotions.
WeChat Ad Formats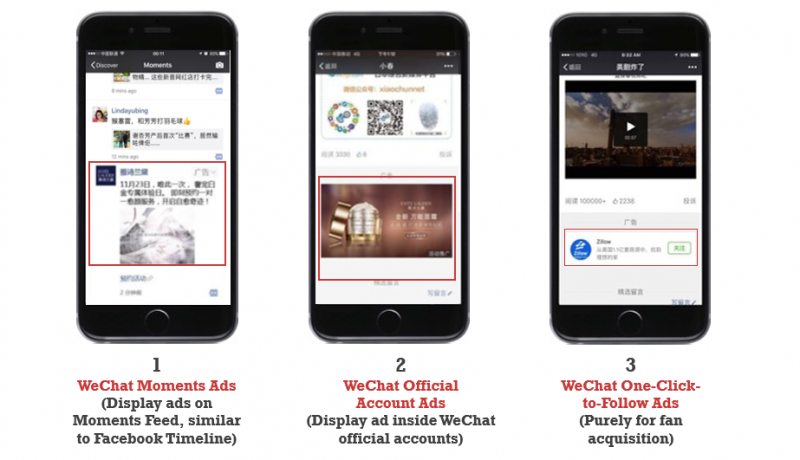 1. Moments Ads
This kind of advertising places content into a user's WeChat Moments feed. This is the social sharing part of WeChat, similar to the Facebook Timeline. 84% of WeChat users browse Moments multiple times per day – it is the most popular activity on WeChat.
Ads include your account name and link, copy, creative – either a photo or video – a link to the promotion landing page on WeChat, and a social button that users can click to like or comment on a post. As of 2019, users can also tag their friends to share advertising content on WeChat. Advertising is also marked as such, with a small 'ad' marker in the top right corner.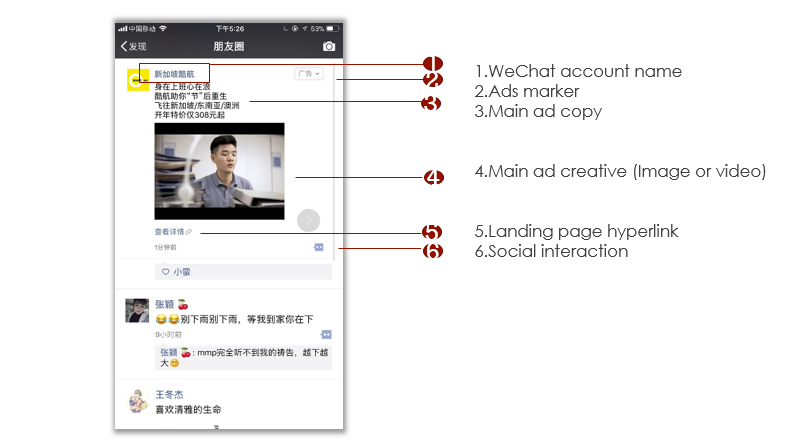 Moments ads can be used effectively for different purposes, including promoting an offer or product, driving followers to a WeChat account, or promoting a video. Short video is already extremely popular in China, with over 78% of all Chinese internet users watching short videos online, and short video content is used more and more frequently by travel brands on WeChat as well. That said, promoting video content in WeChat Moments is more expensive than other kinds of ad content.
Moments ads can be extremely targeted to certain groups of users. When purchasing advertising, you will be able to choose target demographics based on gender, age, education, and marital status, as well as interests, location, phone operating system, phone cost, user behavior (e.g., have they interacted with your official account before?), and other specifics.
2. Official Account Ads
WeChat official account ads are banner ads placed at the end of an article posted by another official account (not your own). These kind of display ads are best for driving traffic to a specific campaign, such as a coupon or an app download. While you cannot choose the specific account where your ads will be shown, you do get to pick the account type, in order to target the right kind of readership – account types include travel/tourism, luxury, entertainment, and fashion, among many other categories.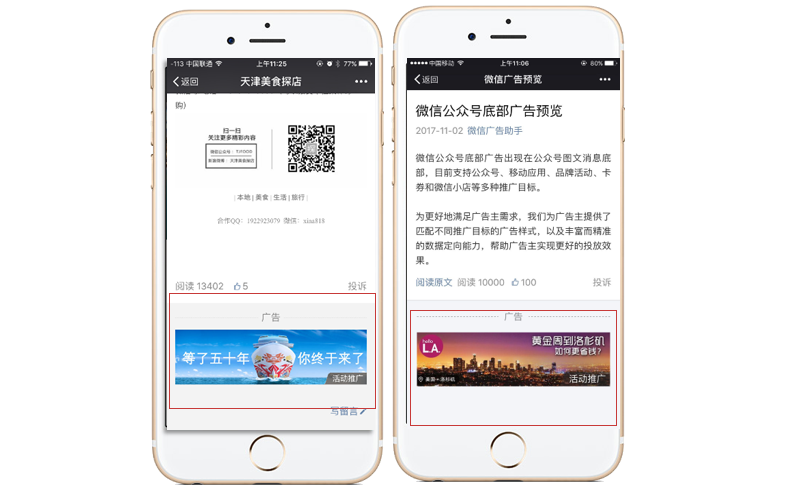 3. One-Click-to-Follow Ads
The purpose of these ads is to drive fan acquisition. Like official account ads, they are also banner ads displayed at the bottom of content published by a different official account. This ad format is best for organizations and companies that want to engage in more branding on WeChat and encourage long-term engagement. By clicking on different parts of the ad, users can either immediately follow your account, or they can click through to see your official account's profile page, where they will be able to read your account description, and see the last three articles that you published. From there, they can decide whether they want to start following you.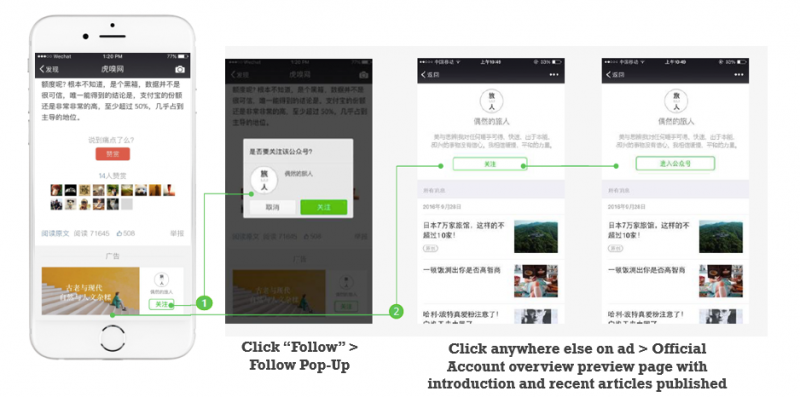 WeChat Ads: Pricing
For any of the three WeChat ad formats, the minimum spend for an advertising campaign is US$10,000.
For Moments ads, there is set pricing for CPM (cost per thousand views), and this changes depending on the location of the users you are targeting. WeChat splits users into three city tiers: 1) Beijing and Shanghai; 2) other major cities; 3) other, non-core cities. (Click here to read our article on China's city tiers and outbound travel from lower-tier cities.) CPM pricing for Moments ads with photos range from RMB50-150, and RMB60-180 for ads with videos. The minimum spend for a Moments ad campaign featuring video is US$30,000.
For official account ads and one-click-to-follow ads, the pricing is based on real-time CPC (cost per click) bidding. The average CPC for both ad formats is US$0.25-0.50. For one-click-to-follow ads, the average cost per new follower is US$4.
WeChat Ads: Requirements
For both Moments ads and one-click-to-follow ads, advertisers on WeChat will need to have a verified, official account. All overseas accounts on WeChat will need to be verified anyway, and there is little point to running a WeChat ad campaign if you don't have a WeChat official account that users can visit, so these requirements should not create any concerns for the potential WeChat advertiser. Read our guide on how to register for an official account on WeChat here.
Influencer Marketing on WeChat
Advertising is one way to promote your brand and/or product on WeChat, but we would also recommend working with influencer accounts to help with brand awareness, sales campaigns, or a mix of the two. Studies have shown that Chinese consumers are much more accepting of and receptive to influencer marketing than other nationalities, and this kind of media buy can help to spread your message to a targeted audience in a different way.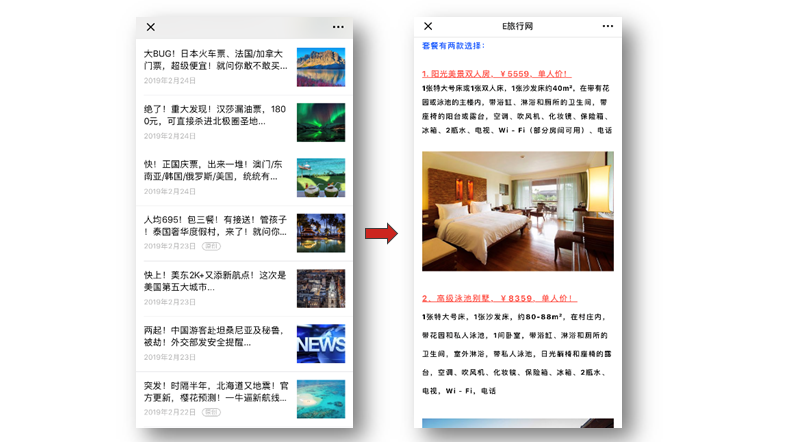 Sales promotion on a WeChat travel deals influencer account
When we talk about influencer marketing or KOLs for travel brands, probably the first thing that comes to mind is an individual travel blogger who takes beautiful photos around the world. But this is just one kind of account that gets referred to as a "KOL" account on Chinese social media, and it is best suited to destination marketing, or other travel businesses or organizations that simply want to raise brand awareness. The other kind of "KOL" is much more sales-focused, and includes official accounts run by either teams or individuals, which post specifically about deals. These accounts might post content relating to travel deals in general, including things like airfare and hotel room promotions, or they might look at travel from a certain angle – such as family travel. Going with this example, these "KOL" accounts can be used not just to promote a specific deal, but also to raise brand awareness within the family tourism market segment. Sales-focused influencer accounts will charge a fixed fee per post, and do not work on a commission basis, even if they are helping you to sell a particular travel product.
Watch our recorded April 2019 webinar on digital advertising in China to learn more.
Need more help and information on WeChat advertising and influencer marketing? Dragon Trail provides media buy services, including helping you to put together packages, liaise with companies (including WeChat, Ctrip, Baidu, Weibo, Mafengwo, and many others), pair you with the right influencer accounts, and advise you on which platforms, ad formats, and KOL partners will give you the highest ROI based on your brand's goals. Please contact us at communications@dragontrail.com to discuss how we can assist you.