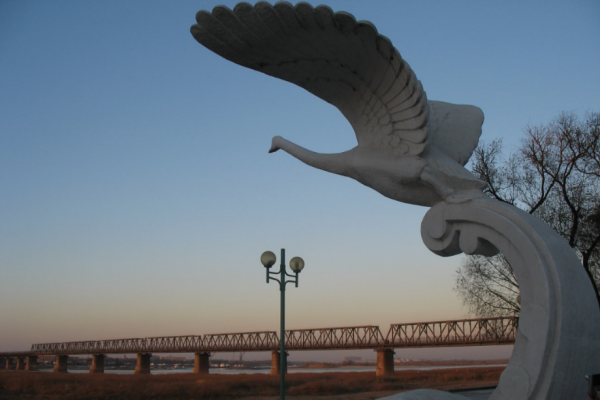 Harbin, the capital of China's northeastern Heilongjiang Province, was ranked 7th for Chinese cities with the highest per capita spending on outbound tourism in H1 2018 (Photo by Sienna Parulis-Cook)
Up until very recently, Chinese outbound tourists generally came from the country's biggest, most prosperous, first-tier cities: Beijing, Shanghai, and Guangzhou. But smaller, lower-tier cities are now already accounting for half of Chinese arrivals in Europe, and are forecast to drive the future growth of Chinese outbound tourism, with cities like Xi'an experiencing growth rates of 360% for outbound travel.
This rise in tourism from lower-tier cities comes thanks to economic development – including the trend for Chinese companies to move outside of major cities – as well as a proliferation of outbound flights from smaller airports, and visa centers and other travel services opening around China.
But which cities and areas of China should be of particular interest to tourism marketers, how does tourism from lower-tier cities differ from first-tier markets, and how should you adapt your destination's or business' marketing strategy to reach them?
Where are lower-tier city tourists coming from?
In China, cities are classified into tiers based on their size, population, economic prosperity and political importance. In April 2018, 15 "new first-tier cities" were officially designated, including Chengdu, Hangzhou and Xi'an. But even Baike Baidu (China's version of Wikipedia) lists these separately from the established first-tier cities of Beijing, Shanghai, Guangzhou and Shenzhen. We've classified the "new first-tier cities" as 1.5-tier cities in our table below. Official second-tier cities include Dalian, Kunming and Wenzhou; and third-tier cities include Tangshan, Sanya and Zhuhai.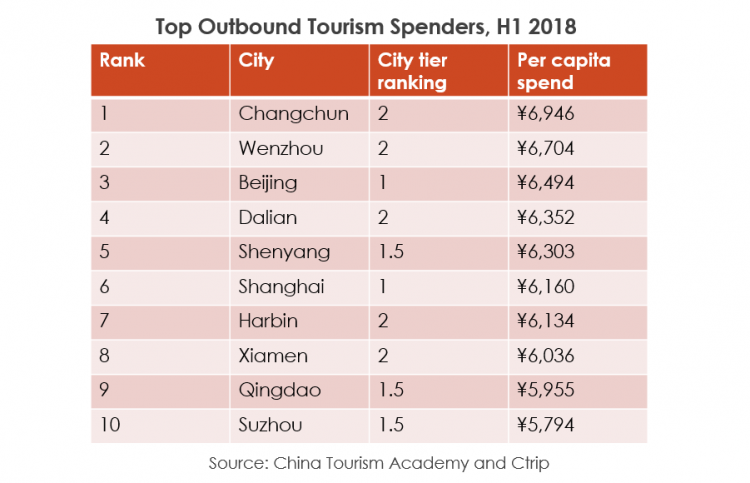 With the exception of a few notable cities like Chengdu and Xi'an, the biggest tourism source markets are generally located all along China's eastern coast. Recent data on the top 10 cities for outbound tourism spending in H1 2018 included two first-tier cities (Beijing and Shanghai); three "new first-tier" cities (Shenyang, Qingdao and Suzhou); and five second-tier cities (Changchun, Wenzhou, Dalian, Harbin and Xiamen). Stretching from the far north of China to the south, these are generally all located along the coast.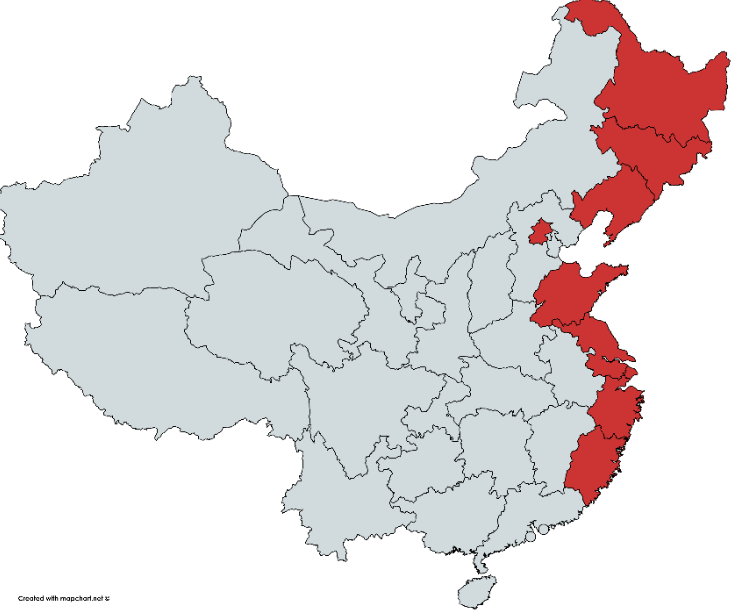 Mainland Chinese provinces with the top 10 highest-spending cities on outbound tourism per capita in H1 2018
How are they different from first-tier city travelers?
Tourists from lower-tier cities are less likely to be experienced travelers, so in many ways, their behavior will be similar to what we saw in the past from first-tier cities: A pattern of visiting nearby Asian destinations before attempting long-haul travel, a higher likelihood of traveling as part of a tour group and having lower foreign language skills, and more reliance on travel agents and even offline booking. To service this market, OTA giant Ctrip is opening physical stores in lower-tier cities.
But unlike the first-tier city tourists who pioneered outbound travel over the past two decades, the new lower-tier city travel market should mature more rapidly. For example, they're currently moving to FIT at a faster rate than travelers from first-tier cities. These newer travelers are also connected on mobile and have a lot more digital tools at their disposal. Apps in China that have seen huge growth in the past year, including video app Douyin and lifestyle and travel brand Meituan, have a particularly strong user base in lower-tier cities.
The good news for retailers is that while there's an overall decline in shopping by Chinese travelers, lower-tier city travelers are actually spending more on retail than tourists from first-tier cities. As less experienced travelers, they still see shopping abroad as a novel experience and are more likely to buy gifts for those at home. With this in mind, overseas retailers may want to move their marketing efforts to lower-tier city travelers for maximum ROI.
Finally, while experience, convenient online tools, and easier visa processes are reducing the overall booking time for Chinese travelers, those from lower-tier cities tend to book further in advance of their first-tier compatriots.
How can you attract them?
Regardless of city tiers, there are two major factors that have a profound impact on the growth of Chinese tourism to any destination: Flight connections and ease of visa application. New flight routes and/or visa reform have led to surges in Chinese tourists to destinations from Israel to Serbia to Morocco.
With lower-tier cities leading airport growth in terms of passenger numbers, getting a flight connection between your destination and a lower-tier city is one very helpful step. This has been key to Thailand's growth of inbound Chinese tourism in recent years. European airlines have found it hard to compete with Chinese carriers in second-tier cities, but despite the suspension of certain routes, such as Lufthansa's Shenyang-Frankfurt flight, or United's services to Hangzhou, new routes are still being added. Just looking at the UK, between May and July 2018, China Southern Airlines started Wuhan-Heathrow and Sanya-Heathrow flights, and Air China launched a Chengdu-Gatwick route.
If your country requires visas for Chinese citizens, also requiring them to apply in person at a consulate or embassy in a first-tier city can be a major barrier for lower-tier city residents, who will likely opt for more convenient destinations. Switzerland, Germany, the UK and New Zealand all have visa centers in Chengdu; Spain has a visa office in Xi'an; and Japan has a visa office in Harbin. This is not an exhaustive list, but rather a few examples to illustrate how countries around the world are making it easier for residents of lower-tier Chinese cities to apply for visas.
In terms of marketing, the tendency of lower-tier city residents to book more group tours and book through travel agents means that B2B relations are especially relevant. While organizing a roadshow to visit all of the important lower-tier cities around China is logistically difficult and will require a significant investment of time and money, digital tools can help transcend these geographical challenges. Dragon Trail's CTA Live WeChat mini-program, for example, acts as an online roadshow, connecting travel brands with a database of over 30,000 Chinese travel agents all around the country to deliver training online. Please get in touch with us directly to find out more about ways we can help connect you to Chinese travel agents in lower-tier cities.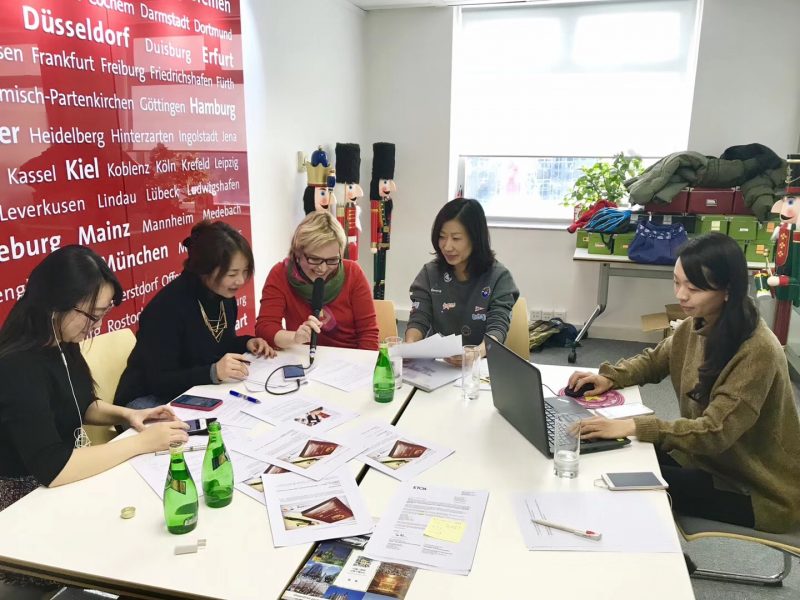 It's easier to reach Chinese travel agents all around the country through a WeChat-based CTA Live roadshow, a Dragon Trail solution used by the German National Tourism Board (pictured), among others
For marketing content, keep in mind that this group of travelers is likely less experienced, so may want more basic, introductory information. They also have lower-foreign language skills, making it all the more important to provide in-destination information in Chinese. Their earlier booking patterns means you'll want to start seasonal campaigns a bit earlier for these demographics, as well. But as lower-tier city travelers are likely to catch up quickly, especially younger generations – and first-tier cities are still important source markets – we wouldn't recommend overhauling your whole marketing strategy to try to cater specifically to second-tier cities.
It is worth thinking about the kinds of digital platforms you use to reach lower-tier cities, and to have a good understanding of the demographics for different apps and websites. These are always changing, but, for instance, short video app Kuaishou has a higher adoption rate in lower-tier cities, whereas Miaopai is more popular in first-tier cities. Meituan is also a good brand to watch, as they've made major gains in domestic hotel bookings over the last year, are working hard to get into the international travel space, and have a strong user base in lower-tier cities.
But should you market to them?
Of course, it's worth asking if you should think about a lower-tier city marketing strategy at all, especially if you're a long-haul destination. For now, lower-tier travelers are most likely to travel within Asia, especially to destinations with direct flight connections. But they are already heading further afield to Europe, North America and Oceania, and we would expect this market to develop and mature at an accelerated rate. Particularly niche destinations that are only just getting started with Chinese tourism marketing can still focus on major cities for the time being, but any established destination for Chinese tourism should take the lower-tier city market seriously for long-term development.