From May-June 2017, Serbia became Europe's fastest growing destination for Chinese visitors, with a stunning 166.6% year-on-year growth rate. Although this can mainly be attributed that Serbia is the first country in Europe (after San Marino) to offer visa-free entry to Chinese visitors, there are other factors worth considering, too.
According to Nielsen's 2017 Outbound Chinese Tourism and Consumption Trends report, among the top five factors that Chinese tourists consider when choosing an overseas travel destination, second is safety (47%), third is ease of visa procedures (45%) and fourth is friendliness of locals to tourists (35%). In all three of these important factors, Serbia scores very high in the minds of Chinese travelers.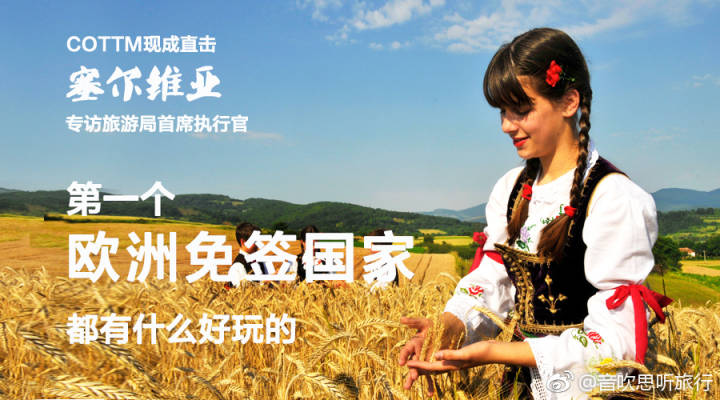 "The first visa-free European country" states a promotional image from the Serbian tourism board
Visas
The first plans for Serbia to start attracting more Chinese tourists were formulated back in 2011, but at the time, difficult visa policies put the project on hold. Then in January 2017, Serbia became the first country in East and Central Europe to abolish visas entirely for Chinese travelers. In many ways, it is really the first European country to allow visa-free travel for Chinese citizens, and is described as such on Chinese travel review websites – although San Marino has offered visa-free access since 1985, this tiny country can only be accessed via Italy, which does require a Schengen visa.
According to Aneta Uskokovic, Market Manager for the Serbian tourism board, the country received 50,000 Chinese tourists in 2017, and arrivals are increasing very fast, with a 250% increase in Q1 of 2018. This is a huge jump from the 12,000 in 2011, but it's worth noting that 43,000 Chinese visited Serbia in 2016, so the increase is not purely dependent on the change in visa policy.
Flights
The pairing of new direct flights and relaxed visa policies has been the magic combination to increasing Chinese tourism in niche destinations like Israel, and Hainan Airlines started its twice-weekly Beijing-Belgrade route on September 15, 2017. This flight stops first in Prague, and though it was reported at the time of its launch that a direct flight might be coming in the summer of 2018, nothing has been announced as yet.
Tourist attractions
According to the aforementioned Nielsen study, the most important factor for both Chinese (56%) and non-Chinese (57%) travelers when choosing a destination is 'beauty and uniqueness of tourist attractions.' As a niche destination, Serbia has appeal for Chinese travelers who have already visited more typical European tourist sites and are looking for something new. Although Chinese tourism centers around Belgrade, "Chinese travelers are keener to see how the locals live and delve deeper in local experiences," says Uskokovic. Attractions include local restaurants, fortresses, monasteries, natural settings and hot springs, she notes, and many Chinese tourists will combine their visit to Serbia with other Balkan regions that have also relaxed their visa policies, such as Bosnia and Montenegro.
There is a strong political and historical element to Chinese tourism to Serbia, and this is clear from checking the country's top-rated attractions on Chinese outbound travel review site Qyer. All of the top five attractions are in Belgrade, starting with the Kalemagdan Fortress, then the Church of St. Silva, then Knez Mikailova Street. In fourth place is the Chinese Embassy. But this is not because Chinese visitors are getting into trouble in Serbia and need help at the embassy – it's actually the site of the former Chinese embassy, which was bombed by US-led NATO forces in 1999. Although the US has maintained that the bombing was a mistake, it led to huge anti-US protests in China at the time, and is still remembered by many. Now, Belgrade has established a Chinese cultural center at the location, and there is a small commemorative plaque in Serbian and Chinese, thanking China for its friendship. Visitors on Qyer wrote about being very moved by the visit, and many leave flowers for the three Chinese journalists who were killed.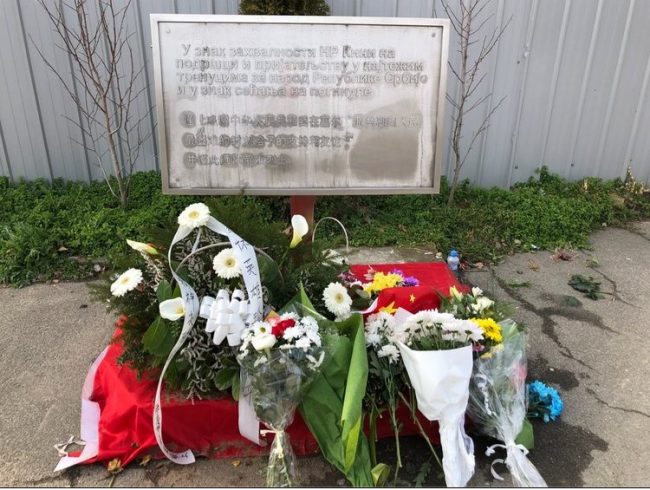 Plaque commemorating the 1999 bombing of the Chinese embassy in Belgrade (photo from Qyer.com)

For the older generation, Serbia has appeal as a 'red tourism' destination, and Belgrade's Museum of Yugoslav History is particularly popular with older visitors – something one Qyer user actually complained about, suggesting that the museum is of little interest to young people! In addition to displays on the country's history, the museum is also home to former president Josip Broz Tito's mausoleum.
Friendly relations
There is a strong perception of Serbia as friendly and safe among Chinese visitors, and political relations between the two countries are one factor that influences this. Uskokovic explains that, "Serbia and China have a long relationship, and the local community is happy about Chinese travelers. China is heavily investing in infrastructure in Serbia, so people have a positive image about China." There have been numerous official visits on both sides, and Xi Jinping went to Belgrade in 2016.
More than just official relations, there seems to be a genuinely positive perception of Serbia and its people in China. On travel review site Mafengwo's forum, when one woman asked about the safety of traveling on her own to Serbia, another female traveler replied that Eastern Europe in general is safer than Western Europe, and that Serbia is "one of the safest countries in Europe." Another Mafengwo user called Serbia "Europe's friendliest country," and said that while local people might be curious about seeing a Chinese person, they are friendly and helpful. Many users also noted that young Serbians have a high level of English.
Marketing
So far, Serbia has focused more on B2B marketing to attract Chinese travelers. Uskokovic says that the tourism board is working with China's major OTAs to provide more information about this less well-known destination in China, and that many of the visitors so far have booked through travel agents. Dragon Trail met Uskokovic at COTTM, a major B2B outbound travel exhibition in Beijing, where she says the tourism board is focusing its efforts because of the Beijing-Belgrade flights.
However, Uskokovic said that more B2C marketing may be coming, and that they are aware of the rise in independent travel, especially for younger Chinese. While there is no official WeChat account for Serbian tourism, there is a very active Weibo account with over 39,000 followers, and posts on food, nature, churches and monasteries. The account has also recently shared several posts with photos and videos by popular travel blogger 'Rainbow faction' (彩虹帮二当家), who has 270,000 followers and has written extensively about her travels in Southeastern Europe.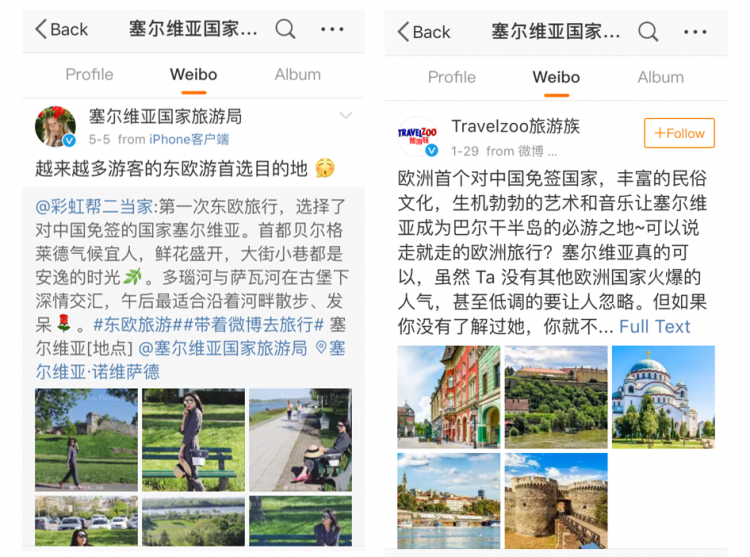 Content re-posted on the Serbian tourism board's Weibo account. Both the post by travel blogger 'Rainbow faction' and Travel Zoo mention that Serbia is visa-free in the first sentence.
An unexpected hotspot, Serbia has become Europe's fastest growing destination for Chinese tourism thanks to a winning combination of its unique visa-free status for a European country, new and potentially expanding air connectivity, and a very positive national image in the eyes of many Chinese. It's not a model that all countries will be able to follow, but offers good insights into the factors that can influence the growth of Chinese tourism.