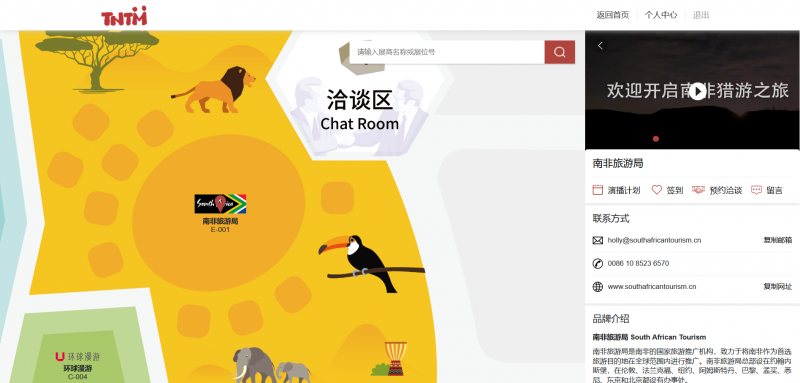 South African Tourism's pavilion and exhibitor hub on TNTM
August 21, 2019 – South African Tourism China has joined The Next Travel Market (TNTM) as an official destination partner, to help the South African tourism trade improve market access in China.
The Next Travel Market (TNTM) is an online B2B marketplace for buyers and sellers of outbound travel from China, open to 250 pre-qualified hosted buyers and more than 35,000 trade agent visitors. It is the first of its kind digital roadshow connecting Chinese buyers to global travel brands. An always-on platform, TNTM is available to use on PC, or via WeChat on mobile devices. Its features include digital exhibitor hubs, live webinars, and private chat-rooms for pre-scheduled meetings with buyers.

TNTM can be used on mobile devices through a WeChat mini-program, as well as on computers
South African Tourism has established a presence on TNTM to provide a year-round complement to the tourism board's annual China roadshow. Partners of South African Tourism can join the tourism board's pavilion at TNTM, benefiting from a preferential exhibitor rate and a guarantee of at least 20 pre-qualified hosted buyer appointments for the first 10 signed-up exhibitors.
South Africa was one of the leading destination countries in Africa for Chinese visitors in 2018, and the no. 1 African destination outside of North Africa, welcoming 11% of Chinese visitors to the continent. A niche destination for Chinese tourism, Africa shows huge potential for growth, especially among high-end travelers.
Learn more about TNTM here, or contact us directly at TNTM@dragontrail.com to find out how the platform can support you and your partners to reach and do business with the Chinese travel trade.