The COTRI Market Report – Spring 2019 analyzes the past year of Chinese outbound tourism, including data on Chinese arrivals around the world; updates on visa regulations and new flight routes; industry interviews; and special reports on young travelers, medical tourism, Ctrip reports, Africa, and Tourism Years.
Here are five insights from the report. The full CMR Spring 2019 is available from the COTRI website.
1. Winners and Losers of 2018
Comparing Chinese arrival numbers for 2018 with those from 2017, we see particularly strong growth from Africa, Latin America, Southeastern Europe, Turkey, and Southeast Asia. Northern European countries Norway and Sweden didn't fare as well – in part because potential tourists headed to World Cup host Russia instead. Exotic island destinations like the Maldives and the Seychelles also saw declining or flat numbers. COTRI Analytics cites a 14% decrease in Chinese tourism to the US, even worse than the 5.7% decline reported by the National Travel and Tourism Office, or the 10.1% identified by Forbes – the CMR points to rising US visa rejections as the key factor.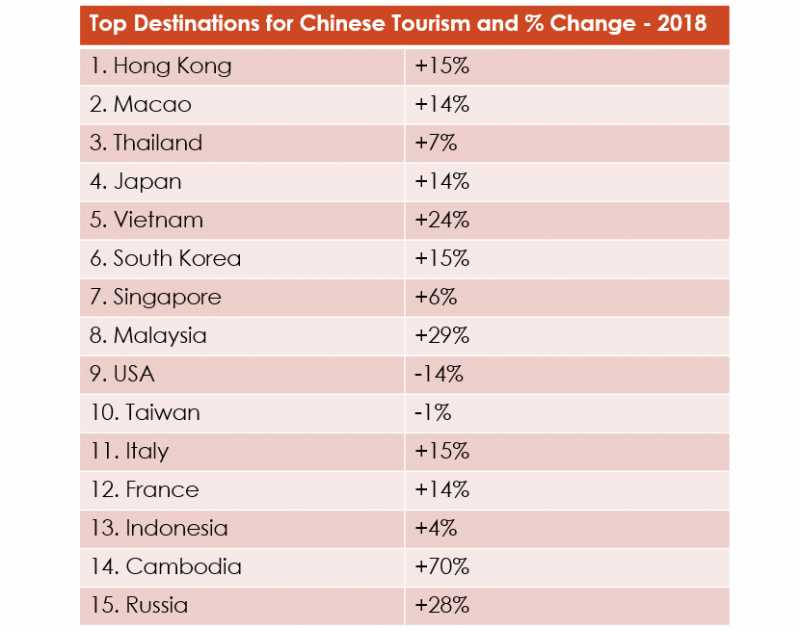 Source: COTRI Analytics
2. The Age Spectrum Is Widening
According to COTRI Analytics, over one-third of Chinese outbound travelers in 2018 were under the age of 30. 18% were born in the 1990s, 13% in the 2000s, and 5% in the 2010s. Chinese under the age of 30 see travel as a necessity rather than a luxury, and are willing to undertake complex and fragmented FIT trip planning/booking to show off their individuality and capability. At the same time, Ctrip data shows that outbound trips by Chinese aged 55 and above increased by 30% in 2018, with older travelers visiting 74 countries and territories.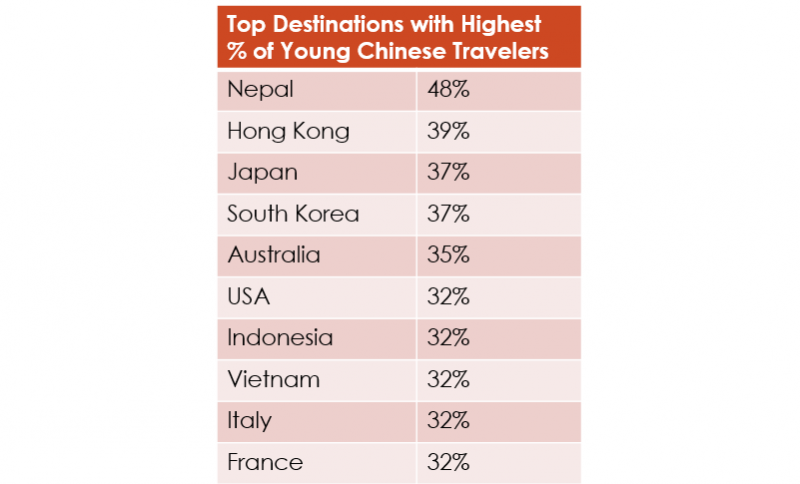 Source: COTRI Analytics
3. There's a Generation Gap in Travel Inspiration
In terms of inspiration sources for travel, based on Qyer.com data, Chinese born in the 1990s showed similar results to those born in the 1980s. But Chinese born in the 2000s were much more likely to be influenced by reality TV shows (36% vs. 21% for the post-90s generation), TV & film (75% vs. 50%), and idols & KOLs (21% vs. 11%). While Chinese generations are generally broken into decades or even periods of five years, these results show that "millennial" and "gen-z" categories are indeed relevant in a Chinese context.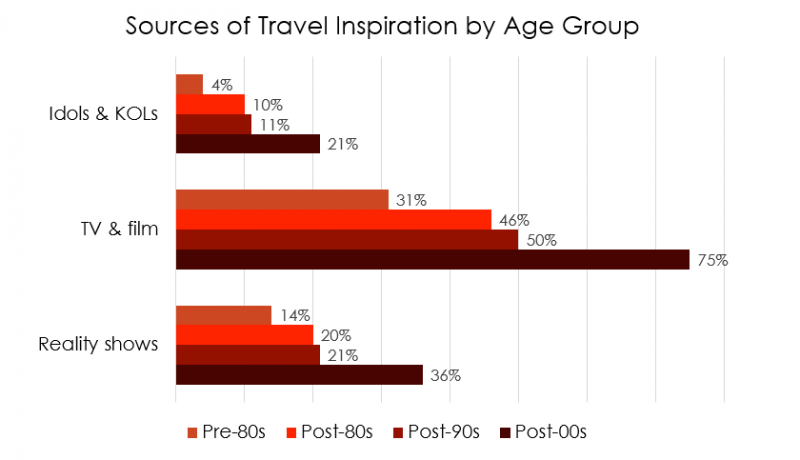 Source: Qyer
4. Africa Is the Continent to Watch
Although only 1% of Chinese outbound trips were to Africa in 2018, COTRI's special report on the continent shows that it's one to watch. The 14% increase in Chinese visitors in 2018 (a total of 910,000 arrivals) was fueled by particularly strong growth for northern African countries Egypt (+30%), Morocco (+67%), and Tunisia (+52%). 29% of Chinese trips to Africa are taken by newlywed couples, 28% by families, and 14% by solo travelers.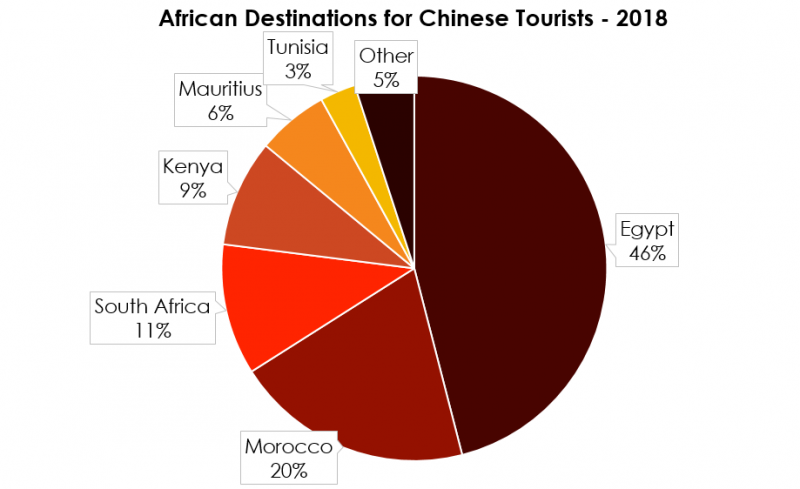 Source: COTRI Analytics
Click here to watch COTRI x Dragon Trail's China Outbound Tourism Pulse video on Africa
5. Tourism Years Don't Live Up to Their Names
From 2012 to 2019, there have been 15 official "Tourism Years" between China and different countries or regions of the world. But COTRI points out these events' "almost complete disconnect with periods of strong growth of Chinese visitations," illustrating this point convincingly with 10 different graphs showing arrivals numbers from countries that have had these Tourism Years. Visa reform is much more effective at producing spikes in Chinese visitor numbers – a phenomenon we can observe in countries including Morocco, Serbia, and Russia.