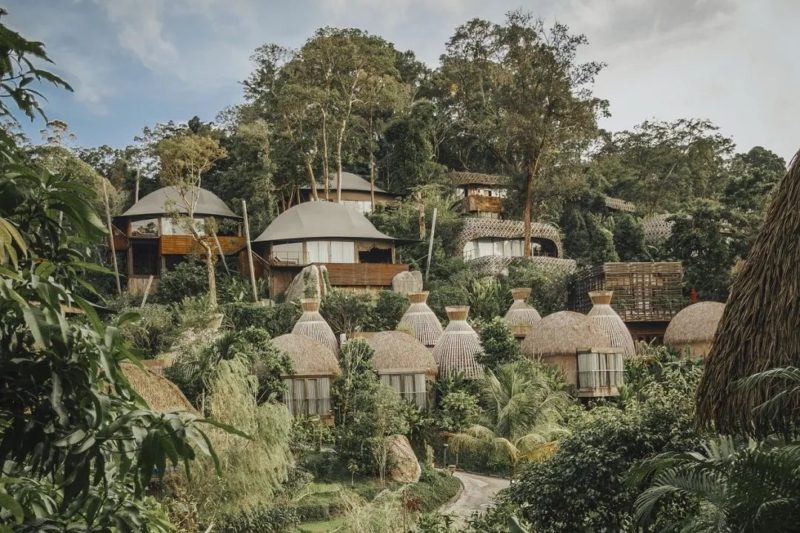 Keemala, Phuket is part of SLH's Considerate Collection
Chinese travelers want to choose sustainable travel options, but what does responsible tourism really entail, and what's just "greenwashing"? Small Luxury Hotels of the World's Considerate Collection raises the bar and sets new standards for sustainability in the hospitality and tourism industry.
Improving the sustainability of the travel industry is a necessity for long-term development, and highly desirable for Chinese consumers. According to Booking.com's 2019 Sustainable Tourism Development Report, 87% of Chinese travelers believe that people need to take action and choose sustainable tourism, compared to 72% of overall global travelers. 94% of Chinese travelers said they planned to choose environmentally friendly accommodation in 2020, compared to 73% of global travelers.
But what exactly does responsible or sustainable tourism entail? Small Luxury Hotels of the World has defined it in a set of three core pillars for their Considerate Collection: "Actively sustainable luxury hotels" that create new standards for a hotel's impact on the local environment, culture, and community. The initiative, launched in October 2021, raises guests' awareness about how the hospitality industry can improve its sustainability while still delivering a luxury experience.
The Considerate Collection debuts with 26 pioneering properties in 16 countries in Africa, Asia, the Caribbean, Central America, Europe and the Indian Ocean. Each has been chosen for its alignment with the UN's Sustainability Development Goals and the Global Sustainable Tourism Council (GSTC) framework, with certification or independent review by the GSTC. Additional SLH member hotels, including properties in China, are currently going through the GSTC certification process and will be announced as members of the Considerate Collection in the near future.
As part of their efforts to define and promote sustainable tourism on a global scale, GSTC works with China specifically as part of the China Sustainable Travel Alliance, an initiative launched by WWF in 2020. With participation from major players in the Chinese tourism industry including the Trip.com Group and CAISSA Tourism, the China Sustainable Tourism Alliance aims to combat the illegal wildlife trade, and reduce plastic and food waste in the tourism sector. To learn more about GSTC's work and the China Sustainable Travel Alliance, check out our 2020 webinar on sustainable tourism from China in the post-COVID era.
In China, Dragon Trail has helped to publicize and promote SLH's Considerate Collection on social media platforms WeChat, Weibo, and Xiaohongshu, with detailed information available on the hotel group's Chinese website.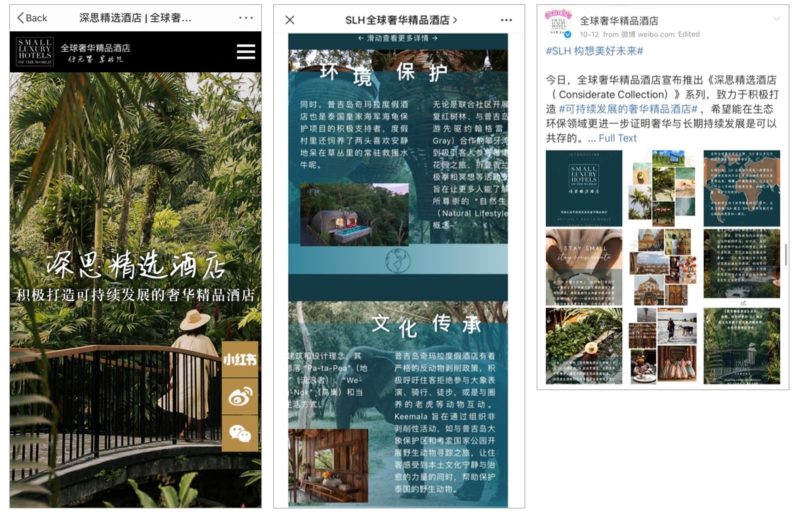 Information about the Considerate Collection on SLH's Chinese website, WeChat, and Weibo accounts
On WeChat, SLH introduced five of the Southeast Asian Considerate Collection properties in detail, with an interactive layout guiding readers to learn more about the hotels' commitments to the local environment, local culture, and local community. For example, Keemala in Phuket is actively involved in mangrove restoration and sea turtle conservation, and provides education for guests to dissuade them from visiting any attraction that exploits animals, while arranging alternatives such as visits to the Phuket Elephant Sanctuary. Gangtey Lodge in Bhutan conducts annual tree-planting exercises and serves Bhutanese cuisine made with ingredients foraged from local forests or grown in the garden of the monastery next door.
"The pandemic has brought sustainability to the forefront for the younger Chinese generation. Issues like climate change and green energy are forcing Generation Z to reflect on their values and purpose. Living zero-waste, minimalist lifestyles have gained traction in online forums and among Chinese netizens, particularly young and affluent ones who see sustainability as a top criterion for purchasing," says Mark Wong, Senior Vice President, Asia Pacific for SLH.
SLH's leadership in setting and abiding by rigorous standards, working with reputable global partners, and educating guests about what sustainable tourism really means provides a positive example for the global tourism industry. The efforts put into creating and publicizing the Considerate Collection to guests in China and around the world goes beyond "greenwashing" and has real potential to raise consumer expectations and demands when it comes to sustainable travel.
Click here to learn more about Dragon Trail's B2C digital marketing services, or get in touch to find out how we can help promote your brand across Chinese social media channels and through web development.