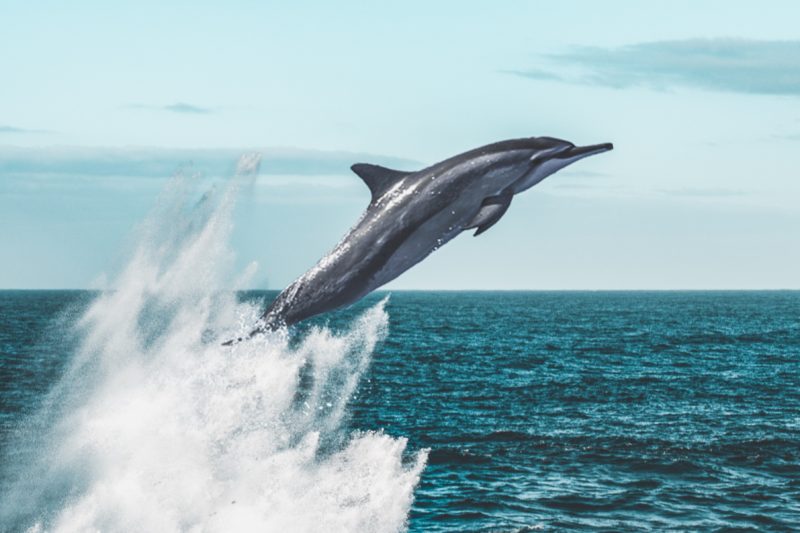 While COVID-19 poses a staggering challenge to the global travel industry, it does give us a pause and an opportunity to think about what we want tourism to look like, and what changes need to be made to ensure that when tourism returns, it does so in a way that has a positive impact and not a negative one on local environments, wildlife and communities – and will ultimately provide a better experience for the tourists as well. With these questions in mind, we brought together speakers from World Animal Protection China, the Trip.com Group, and the Global Sustainable Tourism Council, for a webinar on sustainable tourism from China.
What we learned from the webinar is that there are actually significant reasons for optimism coming from the Chinese market. The pandemic has even created key opportunities and had positive impacts on consumer awareness and behavior that can have long-term, beneficial outcomes. Read on for six reasons to be positive about the future of Chinese tourism, including expert advice on what destinations and businesses can be doing now to promote sustainability.

Watch the October 2020 webinar on sustainable tourism from China here
1. Dispersal has become a requirement
COVID-19 restrictions in China have set the stage for improvements in traffic flow that will help to avoid overtourism, improve the visitor experience, and reduce the impact of crowds on a destination or attraction. "We've never been able to implement large-scale traffic control in the past," said Trip.com Group COO Schubert Lou, explaining how national restrictions on attraction capacity as a health and safety measure has made advance, online reservations standard for the Chinese domestic market. This change could have long-term consequences. "While we're doing prevention, we're setting up additional steps to help us control the flow of traffic, which could potentially be something we could use for sustainability down the road," said Lou.
Additionally, COVID-19 has increased Chinese consumer demand for dispersal in travel. Confined to domestic travel, many are looking for new places they haven't visited before, as well as more remote destinations to avoid crowds. As China's leading OTA, the Trip.com Group is playing a major role in recommending new destinations to meet these demands. This can not only relieve pressure on certain tourism hotspots, but also help to support tourism businesses and local economies more equitably.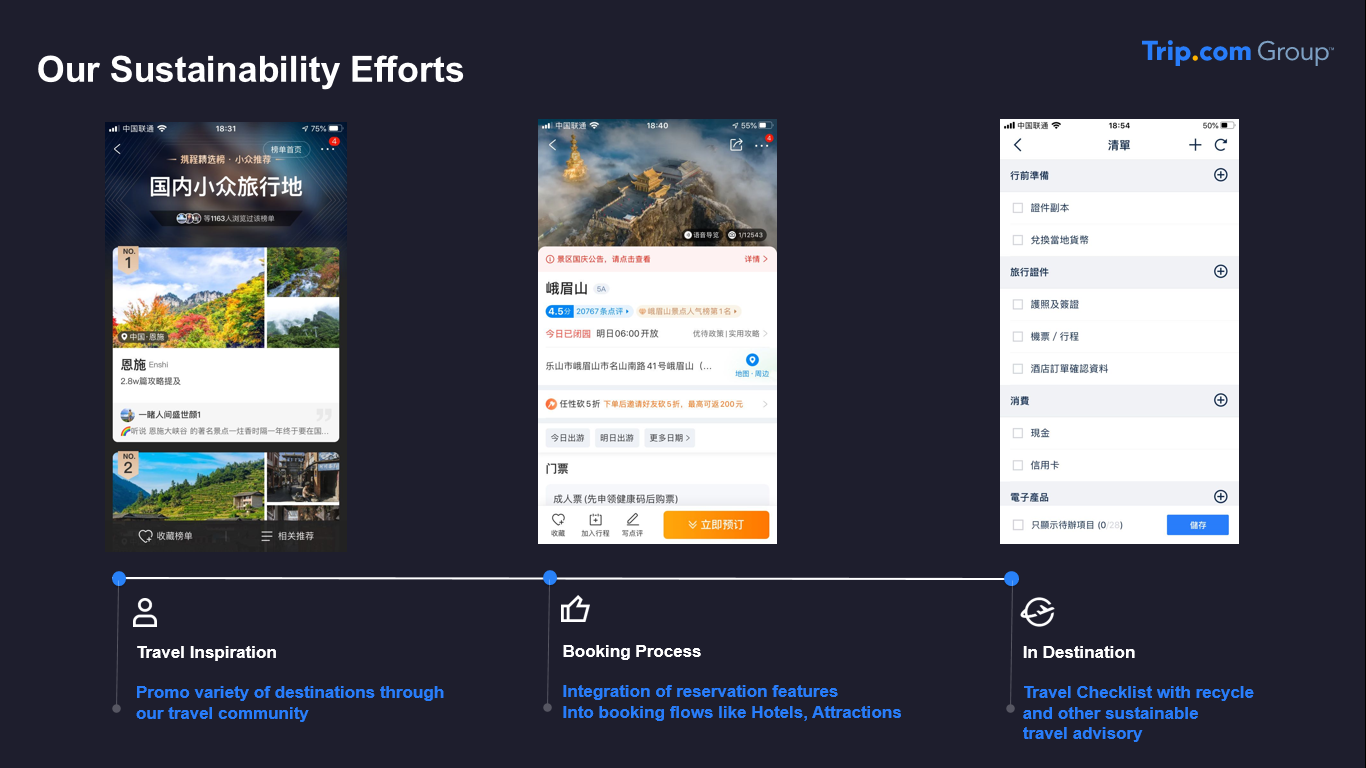 2. Travel planning has changed
The requirement for advance reservations at tourist sights in China is already something that consumers have become used to, said Lou, and they are now actively looking up rules and regulations before visiting a destination. The Trip.com Group is also providing customers with a pre-arrival checklist that lets travelers know not just about pandemic prevention rules, but also includes reminders about things like recycling and litter. General Manager of the Global Sustainable Tourism Council (GSTC) Roi Ariel also noted that travelers in APAC are now looking for more details about travel, and this is an opportunity to provide information on sustainability and responsible behavior.
What is the applicability for Chinese outbound tourism? Lou urges destinations to come up with a list of their own criteria, and then work with major travel platforms to distribute this information to visitors. With travelers now expecting and actively looking for information on rules and requirements, it's an ideal opportunity for education and more easily enforcing local regulations.
3. The dangers of the wild animal trade have been fully exposed
Since 2005, the "Wildlife. Not Entertainers." program from World Animal Protection has been working to phase out the use of wildlife for tourism entertainment such as elephant rides, dolphin shows, and photos with tigers. This kind of tourism not only subjects up to 550,000 wild animals around the world to poor living conditions, but it also drives the wildlife trade that threatens ecosystems and risks future pandemics. "The demand for and exploitation of wild animals exposes us to diseases like COVID-19, putting us all at risk," said Zheng Yu, Campaign Manager at World Animal Protection China. 60% of emerging infectious diseases are zoonotic – meaning they come from animals, she explained, and 70% of these originate from wild animals. "Close interaction with wildlife might have both safety risks and public health risks."
Ariel also brought up the risks of zoonotic diseases as just one of the threats of the illegal wildlife trade, alongside negative impacts on global biodiversity. The COVID-19 crisis has already resulted in the suspension of wildlife sales in China, as well as more support for and stricter enforcement on laws banning the illegal wildlife trade, said Ariel.
Strengthened laws against the wild animal trade will help prevent future pandemics, and also promote sustainable and wildlife-friendly tourism, where travelers get to see wild animals from a distance, in their natural habitats and expressing natural behaviors.
4. Consumer preferences are changing
Even before COVID-19, attitudes were shifting, thanks in part to long-term education efforts of global organizations such as World Animal Protection. Zheng maintains that tourists go to attractions that exploit animals because they love to see animals up close, but don't know the impact. Public awareness campaigns in China have had noticeable effects, with significant decline in the percentage of Chinese tourists who ride elephants in Thailand over the last several years. Demand for wildlife tourism that is harmful to animals has especially dropped among Chinese millennials, who are the main force of China's outbound tourism consumption, with high purchasing and decision-making power. According to a World Animal Protection survey from 2019, over 80% of Chinese millennials say they would be willing to pay more for a wildlife-friendly attraction.
China is part of a global market trend towards sustainability – Ariel shared findings from a 2019 Booking.com report that found that 70% of all travelers would be more likely to book accommodation knowing it's eco-friendly. This demand is driving positive change within the industry.
This then makes ecologically sustainable tourism more economically sustainable, too. "Close interaction, like animal shows, is out of date today," said Zheng, when we asked her how attractions and destinations that traditionally make money from wild animal exploitation can be convinced to change. "They may need to know that the future market is changing."
This more hands-off, animal-friendly tourism is also more people-friendly. Zheng explained that attractions like elephant rides invest little into staff training, and pay low wages. More responsible, observation-only attractions require more training, thus benefiting local communities.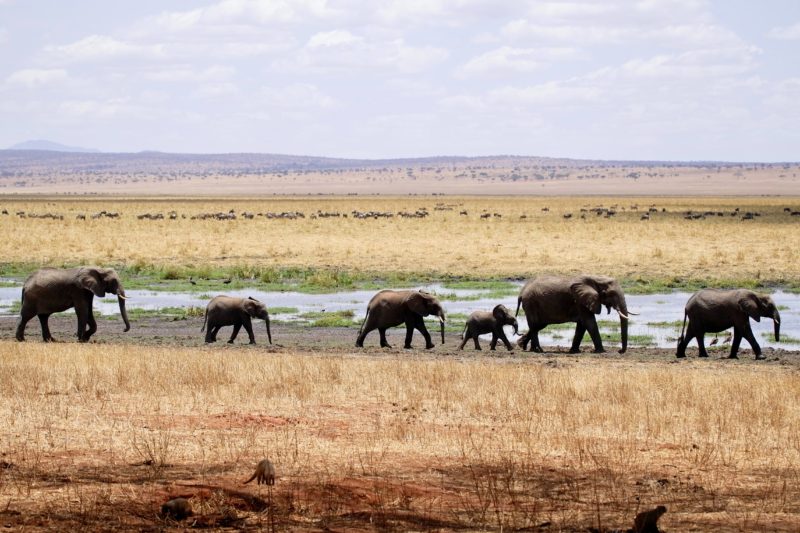 5. The industry is stepping up
Not only are tourists changing, but travel businesses, too. This includes individual action – such as the Trip.com's checklists to remind customers about issues like single-use items – and a lot of cooperation. 260 brands are part of World Animal Protection's "Wildlife. Not Entertainment." campaign. Their Coalition for Ethical Wildlife Tourism (CEWT) includes many major travel brands such as Qyer and Airbnb. In September 2020, WWF launched the China Sustainable Tourism Alliance, with members including Caissa, the Trip.com Group, TUI China, and many others, to focus on issues of wildlife protection, plastic pollution, and food waste.
Meanwhile, organizations like GSTC are also helping to promote sustainable tourism by establishing industry benchmarks and helping travel businesses and destinations understand just what "sustainable tourism" really means. On this, Ariel is emphatic that it is not a specific type of tourism, or eco-tourism. "Any business, anything, anyone that is involved in the tourism industry has a role to play and can influence everyone by applying the sustainability practices," he said.
So what actions can tourism businesses and destinations take now? The pause in global travel begs destinations to consider how to combat overtourism in the future by using more advanced systems to manage visitor flow, and by promoting the development of less-visited destinations. It's also an opportunity to clarify rules and regulations, and what could be improved, and make sure that these are clearly communicated and implemented when the tourists return.
6. There are positive signs from the Chinese government
Campaigns, laws, and attitudes at home in China are likely to have the biggest impact on people's behavior that carries over to their international travel. Different examples of this were brought up by each speaker:
– Zheng said she believes that the recent suspension of the wild animal trade and ongoing revision of China's Wildlife Protection Law will help increase public knowledge, and make people more likely to accept and understand the need for animal protection.
– Lou brought up stringent recycling rules and campaigns that have been rolled out in Chinese cities over the past year. These have impacted not just the disposal of household waste, but attractions as well, with visitors guided to dispose of their waste in the right way. "The public has been educated, and this will carry over to outbound," he said.
– Ariel gave examples of how all three of the China Sustainable Tourism Alliance's focus areas – wildlife, plastic pollution, and food waste – are supported by Chinese government policies, such as ongoing campaigns to reduce food waste and control the animal trade, and a 2020 ban on single-use plastic straws.
When it comes to sustainable tourism, the stakes are very high: Failure to transition to a more sustainable model could ruin popular destinations, exacerbate income inequality, threaten ecosystems, and even cause the next pandemic – among other risks. So it is imperative that the tourism industry creates and enforces standards, considers new ways of doing things and new ways of measuring "success" that go beyond just visitor numbers, and continues to support governmental and organizational efforts that are effectively changing consumer awareness and demand for the better.