Since the start of 2017, Dragon Trail Interactive has been compiling weekly data on the 20 best performing WeChat public accounts for overseas tourism boards at the national, regional and city level. From Chinese New Year (28 January), data on airlines and cruise lines was also added.
While there are a great number of domestic and foreign tourism organizations with an active presence on WeChat, it is difficult to truly understand and analyze the results of these social media efforts without a set of objective industry benchmarks. These new rankings reveal what strategies are working best when it comes to running a popular WeChat account, with particularly important insights for the travel industry.
Approximately 73 percent of Chinese outbound travelers regard social media as the key channel to researching and gathering information about traveling, and of all the different social media in China, WeChat leads the way – half of its 899 million monthly users spend over 90 minutes a day on the platform.
Account categories and overall results
There are two different ways that organizations and companies can run their WeChat accounts: One is a subscription account, which allows for daily posts. The other is a service account, which has more functions for users, but only allows a maximum of four content posts every month – companies with service accounts tend to publish a weekly newsletter with four or five different articles. Airlines and cruise lines are more likely to have service accounts, as they are more sales-driven, while National Tourism Organizations (NTOs) and Destination Marketing Organizations (DMOs) all focus on content through subscription accounts.
Airlines receive the most traffic of the four categories included in the data, with the best performing Air Asia's weekly article receiving over 100,000 page views for seven out of the eight weeks tracked (Air Asia did not publish any articles during the Chinese New Year period), though the numbers are much smaller for other airlines. Cruise lines received around 2,000-10,000 views per post, with less variation among them. NTOs were similar, usually in the thousands but rarely over 10,000 page views. There was much more variation for DMOs, with many struggling to get 1,000 views per week, but other destinations – such as Hong Kong – regularly getting over 10,000 views.
For detailed Q1 2017 statistics, scroll to the end of the article.
What makes for successful accounts?
In all of the four categories, there was little variation among the top performers, with the same accounts dominating the top spots for the whole of Q1. For NTOs, the Tourism Authority of Thailand – Beijing Office (the Tourism Authority of Thailand has five different WeChat accounts managed by regional offices) had the most post views in total, with some competition from Destination Canada (disclaimer – Dragon Trail manages this account) and the Japan National Tourism Organization. Hong Kong was at the top of the DMO list nearly every week. Air Asia topped the airline rankings, and Royal Caribbean was the number one cruise line for eight out of nine weeks.
What is the secret to these accounts' success? For NTOs and DMOs, it's mostly about content, as well as frequency. While Thailand's posts might not get the most views individually (the average number of post views was 6,410, lower than for Australia, New Zealand, Tunisia, USA, Japan or Canada), they post more than any other NTO, with eight posts every week.
Imagery
With an average of four or five posts a week, Canada doesn't post as often as Thailand does, but its content gets a higher number of views. Here, imagery is very important, as the most popular posts all promoted Canada's natural beauty – one included images of the Northern Lights, another was a reposted National Geographic article on must-go destinations in Canada, and the other most viewed post was an announcement about free entry to Canadian national parks to mark the country's 150th anniversary. A study conducted by Kantar Media revealed that all of the top 100 most popular articles on WeChat contained images, videos or even music, with none being text only. Destination Canada picked up on the importance of visuals early on, and was one of the first (NTOs) to focus on video-marketing.
Australia is another destination that posts less but whose posts get a high number of views. Showcasing images of cute Australian animals seems to be one of Tourism Australia's core content strategies for the three month period that we have tracked the account – one article on the different varieties of Australian kangaroos gained over 28,000 page views, making it the most popular article of the week among NTOs. The success of Tourism Australia's post views is also due to a recent weekly engagement campaign, which sees readers answering questions about the weekly article to win small prizes.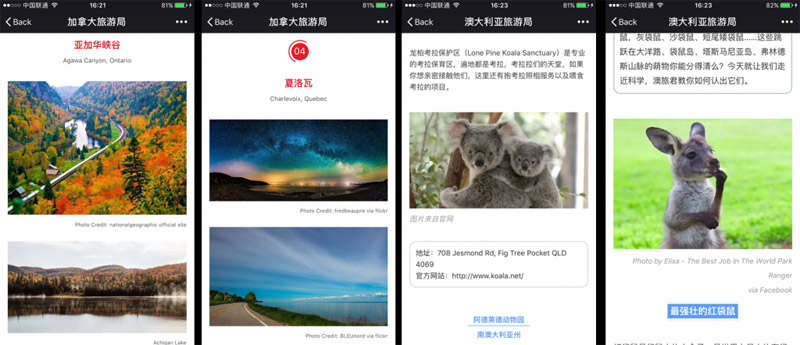 Another example of using image-driven content to attract views, DMO Tourism Tasmania had the most-read article of the week from the 20th to the 26th of March, with 10,000 page views, when they posted about the unusual natural phenomenon of bioluminescence at Preservation Bay in Tasmania, which gave rise to a spectacular glittering of the ocean.
The most-read NTO post of the quarter came from Japan in early February, recommending the best places to watch the sakura (cherry blossoms). The article got nearly 45,000 views, when NTO articles get an average of 10,000-20,000 views. Here, the content was visually beautiful, tied into an activity that is also popular in China, and allowed enough lead time for tourists to plan a trip to Japan for cherry blossom season.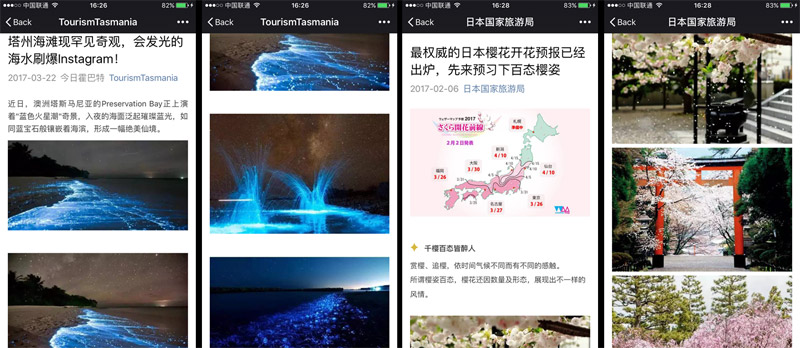 Practicality
For DMOs, Hong Kong achieved the number one spot for nine out of the 12 weeks, and was in second place for two of the other three periods. One explanation for this is Hong Kong's established popularity as a Chinese tourist destination and its proximity to China. This contrasts with other popular accounts that post much more content but are far away, like Dubai and Los Angeles (disclaimer: Dragon Trail manages this account), and also with Macao, which is geographically close but less popular among tourists – the city received only 16.96 million Chinese visitors in 2016, as opposed to 35.44 million to Hong Kong, according to their respective national tourism board. In terms of WeChat content, Hong Kong tended to produce practical, activity-related posts like a list of Chinese New Year activities published at the beginning of January, an article on attractions for children (as recommended by a popular film star), and a guide to the city's best street art.
News about visas was another popular topic. In late March, New Zealand published the most-read article of the week with nearly 40,000 page views – the headline read: "A five year multiple entry visa has arrived, come and travel to New Zealand". The Tunisian National Tourist Office made it into the top 20 ranking (9th place) just once, with an article announcing visa-free entry, which garnered over 11,000 views.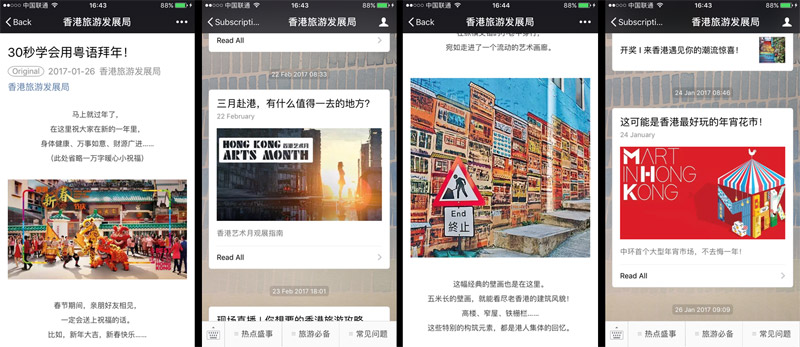 Celebrity
The effect of Key Opinion Leaders (KOLs) is well established in Chinese outbound tourism marketing. Hong Kong's recommendations for activities to do with children came with a celebrity endorsement from movie star Wang Minde. The week of 20-26 March, Royal Caribbean International published the most read article among cruise lines, announcing the appointment of Taiwanese artist Lin Zhiying as their new brand ambassador. One of New Zealand's most popular posts (week of 16-22 January) was an article called "Follow Me from New Zealand to a Lifetime Together", featuring KOL Xiao Lujiang in New Zealand landscapes, leading an unknown man by the hand.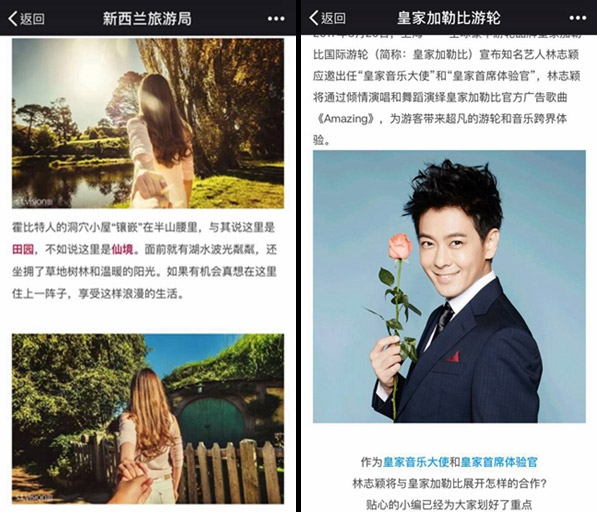 Romance
Posts with a romantic theme resonated well with the WeChat audience – though this topic may have come up more often during this period because of Valentine's Day. Thailand's most popular posts centred on the country as a wedding destination. One week, their most popular post showed nine different couples' weddings in Thailand, and the next week they published an article on underwater weddings. Dubai also reached the top ranking for DMOs the week that they posted about activities for couples. For airlines, British Airways rose to second place in terms of post views, and got a whopping 511 new followers, for its video about a long-distance relationship.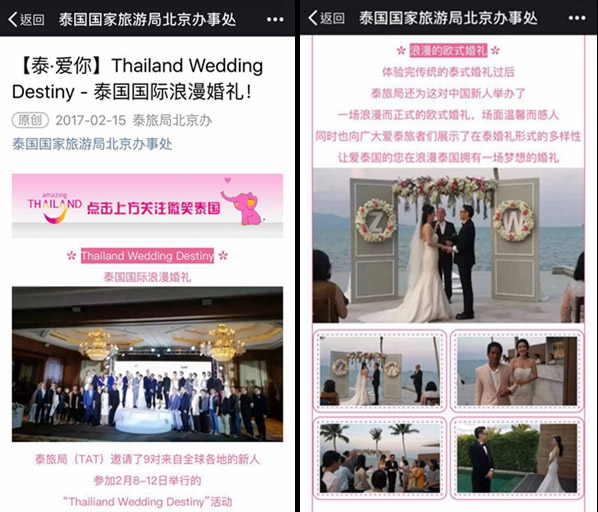 Deals
The British Airways video aside, airlines and cruise lines tend to be much more sales- and promotion-focused than the NTOs and DMOs. Their posts on discounts and deals normally receive most page views (for example, Air Asia's most popular article, with over 100,000 page views, was about 0 RMB tickets), although they also publish brand related content, information on new itineraries, tips such as how to sleep on the plane and articles about activities at destinations.
Apart from content, the popularity of airline and cruise accounts also relates to how well know the brands are and how early on they started to have an online presence – Royal Caribbean and Costa, the only two companies to get the number one spot in the last nine weeks, have operated in China for longer than other cruise companies, and they were also the earliest cruise lines to have a WeChat presence, which allowed them to accrue a strong following early on, before the platform became more crowded.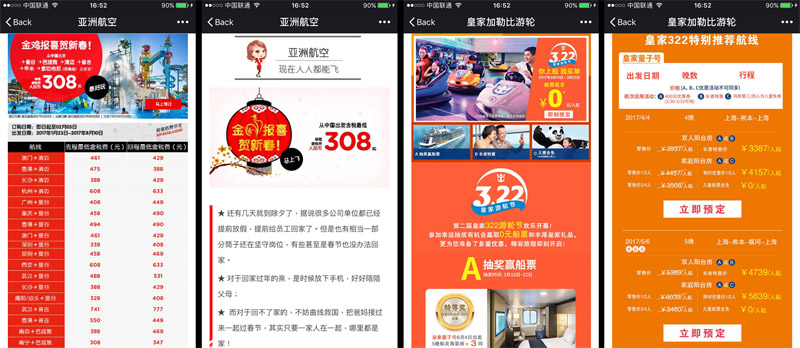 Though data collection and analysis on outbound travel-oriented WeChat accounts is only just getting started, some trends are already clear – these numbers, and understanding the kind of content that is driving them, provide valuable insights for those in the tourism industry who want to maximize the reach and impact of their Chinese social media content.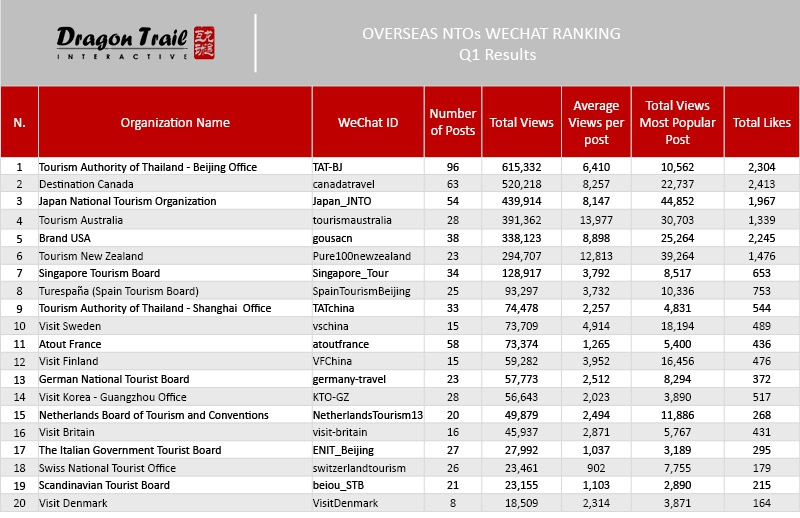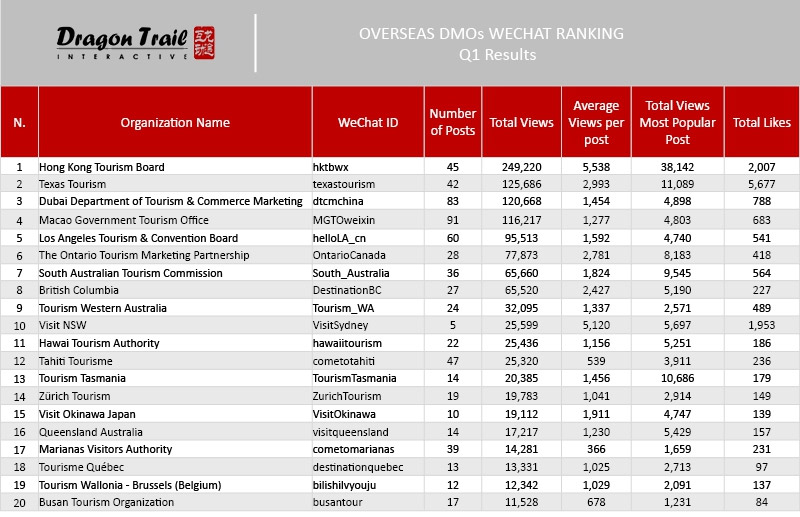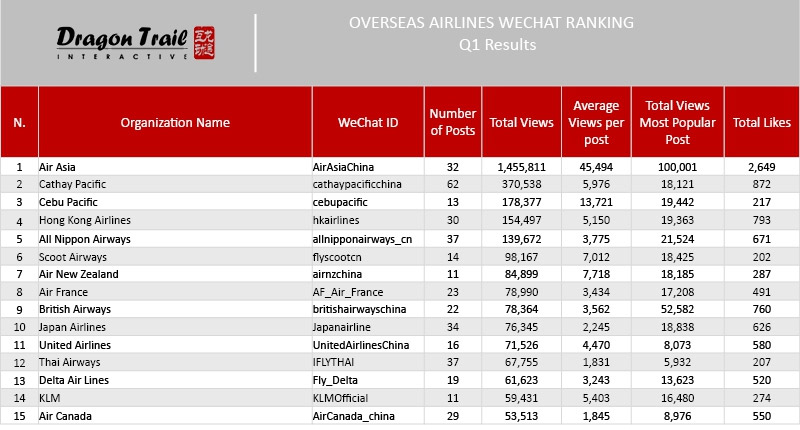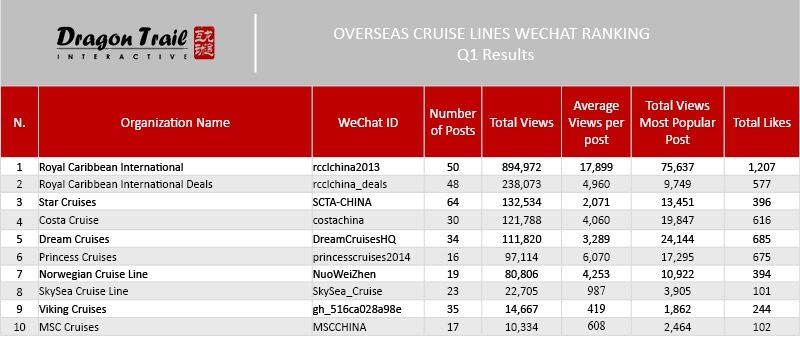 *Editors note: We have updated all WeChat ranking results to include all data tracked beyond the results published on a weekly basis"
Disclaimer: Dragon Trail Interactive also currently manages the WeChat accounts of Scoot Pte, Norwegian Cruise Line and Zurich Tourism.