Executive Summary
Dragon Trail Interactive's WeChat Rankings Report for Q1 2019 reveals the top travel brands and articles published on WeChat by national and regional tourism boards, airlines, cruise lines, museums & attractions, and international hotels. Many of the highest ranking accounts are unchanged from previous quarters, including Visit Japan, AirAsia, the Hong Kong Tourism Board, Dubai Tourism, and Royal Caribbean International. Some of the particularly successful accounts that showed gains in this quarter were regional US tourism boards – especially Travel South USA, non-Asian airlines like Air Canada, the national tourism boards of Thailand and Norway, the British Museum, and Melia International Hotels. Video – one of the most popular kinds of online content in China – is starting to feature more often in WeChat posts this quarter, with videos attracting significant views for Japanese airline accounts in particular, as well as Visit Norway and Viking Cruises.
NTOs

Japan didn't just maintain its no. 1 position in the first quarter of 2019 – it strengthened it, by a lot. The account got a total of 723,987 views, over two and a half times more than its top competitor, Thailand. It's also nearly 300,000 more views than Japan got in Q1 of 2018, when it also ranked in the top position, and over 250,000 more views than in Q4 of 2018.
What's driving the success? Japan did post more in Q1 2019 – 68 times, compared to 55 posts in Q1 2018, and 56 in Q4 2018. In 2017, Japan's cherry blossom guide got over 50,000 views on WeChat – this year, it was over 90,000. The account also published a large number of area guides, a few top posts on dining recommendations, and one popular article on essential Japanese words and phrases for travel.
Thailand, which has three WeChat accounts – for its Beijing, Chengdu, and Shanghai offices – dominated the WeChat rankings for national tourism boards as well this quarter, in 2nd, 5th, and 7th places, respectively. The country has been aggressively promoting itself to Chinese tourists since the fallout from last summer's boat accident in Phuket, with several competitions to win free trips and hotel stays in Thailand, and lots of posts on various festivals, from Muay Thai to jazz. The Thailand accounts did not post significantly more – in fact, the Beijing office posted exactly the same number of times (96) as in Q1 2018, so either the competitions are drawing a lot of attention, or some of the posts are being promoted – or both.
Ranked in 6th place, but 3rd for average number of post views is Norway, which received over 62,000 views for its "Iconic Norway" film, posted at the start of January. Norway has ranked well since last year, when its king and queen visited China, and the first-ever direct flights between the two countries were announced. Those are planned to launch later this year.
Destination Canada dropped from 3rd place in Q4 2018 to 13th place this quarter, as the account stopped posting altogether from the end of 2018, during a tense diplomatic period stemming from the arrest of Huawei's CFO in Vancouver. The account did start to post again later in the last quarter, but is still not as active as it used to be. An even bigger descent, though, is Brand USA, which ranked comfortably in 10th place at this time last year, but is all the way at no. 27 in Q1 2019, with only seven posts throughout the whole quarter.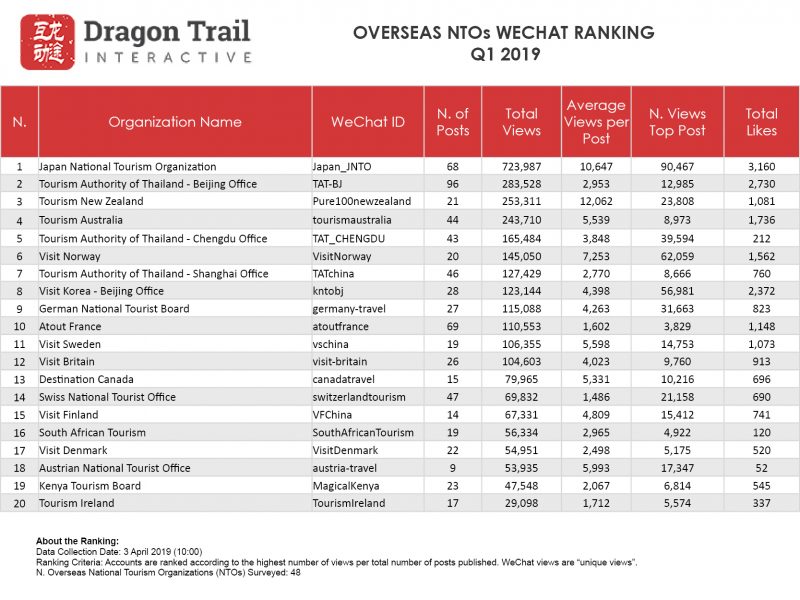 DMOs

The US national tourism board account may have dropped off the WeChat radar in Q1 2019, but US DMOs continued to make a strong showing, with seven out of the top 20 accounts for the quarter, and a big gains for Travel South, which is in the top five accounts for the first time since we started publishing quarterly WeChat Rankings Reports two years ago. Like their NTO, Canadian DMOs also paused and/or decreased their WeChat activity at the start of 2019, but British Columbia and Vancouver still ranked 11th and 12th, respectively. It was also a good quarter for Australian DMOs, with South Australia holding onto the 4th place position it achieved in Q4 2018, and Visit NSW posting the second most-viewed WeChat article by a DMO – an article about the Vivid Sydney festival, where followers post comments for a chance to win a set of signed photos from Chinese actor Zhu Yilong.
At the top of the DMO rankings, as usual, were Hong Kong, Dubai, and Macao, all posting very similar article content to what we generally see from these accounts.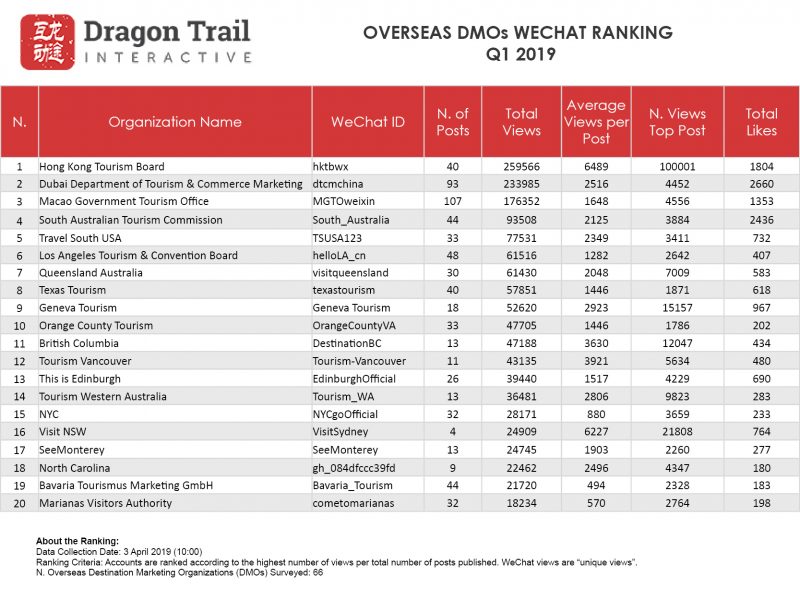 Airlines

The strongest showing for a Canadian travel brand on WeChat this quarter came from Air Canada, which ranked in 9th place – the best performance from a non-Asian airline, and a notable improvement from 13th place in 2018. Air Canada's top articles for the quarter were promotions for discounted fares. Overall, it was a particularly good quarter for non-Asian airlines, with KLM, Air New Zealand, Emirates Airlines, and Air France also in the top 15.
Looking at the top three accounts, AirAsia was the standout as usual, with All Nippon Airways in 2nd place, and Cebu Pacific in 3rd, which is not a change from the overall 2018 rankings. However, All Nippon Airways had nearly double the number of article views as it did in Q1 2018 – the airline has been very strong in the WeChat rankings for quite some time.
Video seems to be becoming more popular as a medium in WeChat posts, and March 2019 saw several videos in the weekly top posts, from both Japan Airlines and All Nippon Airways.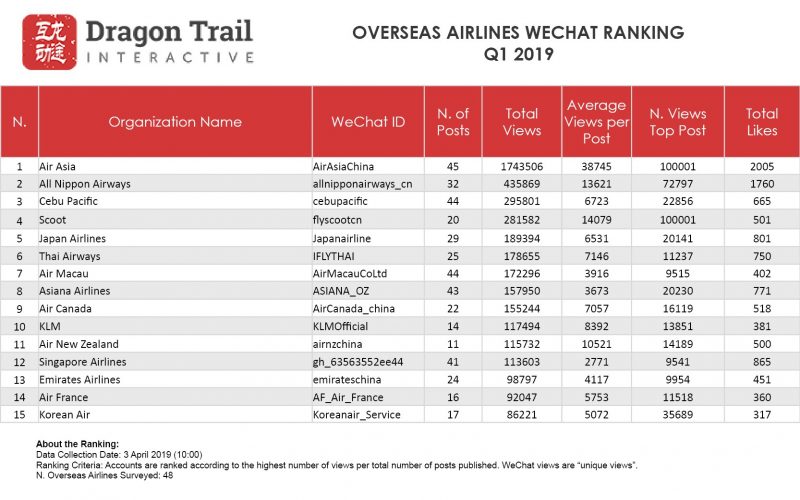 Cruise Lines

In cruise lines, Viking Cruises remains one of the most exciting brands to watch – apart from standard promotional fares and informational posts about its European river cruise routes, Viking also release a video and a mini-program in Q1 2019. The account had an average of 11,572 views per post in Q1 2019 – this has been climbing steadily from 4,744 in Q1 2018 to 9,513 in Q4 2018, and shows no signs of decreasing. Other top accounts Royal Caribbean International and Dream Cruises also saw notable increases in total views and average views comparing Q1 2019 with the same period in 2018. Royal Caribbean's average article views did drop by around 3,000 compared to the previous quarter, though they are now starting to promote their soon-to-be-launched Chinese cruise ship, Spectrum of the Seas.
Royal Caribbean International's most-viewed post for the quarter was a buy-one-get-one-half-off promotion in March, with 65,265 views. For Viking Cruises, their top post was a Chinese New Year promotion at the end of January, with 31,115 views.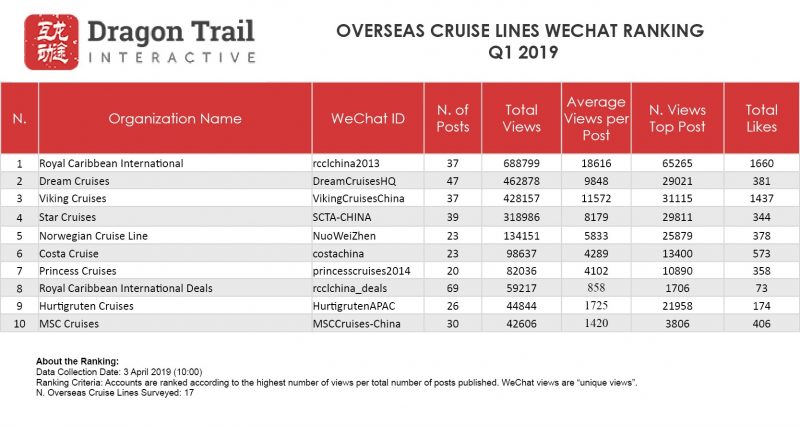 Museums & Attractions
Apart from the two Hong Kong theme parks that seem locked at the top of the museums and attractions rankings, Q1 2019 saw a diverse collection of art museums around the world, including the US, UK, Australia, and France. Four out of the top 10 were in the US, and two were in Paris, but it's London's British Museum that really stood out, rising to third place for total post views, and second place for average post views.
The British Museum built up its digital branding in the second half of 2018, with a Tmall shop and new website, and had started to climb up the WeChat Rankings, but Q1 really sped up this process. The museum got nearly 3,000 more views per post, on average than in 2018, and more than 4,000 more average views per post than the next art museum on the list, NYC's MoMA. The museum's top post was on women in the arts, with 12,651 views, followed by an article on 280 years of the museum's history, with 10,700.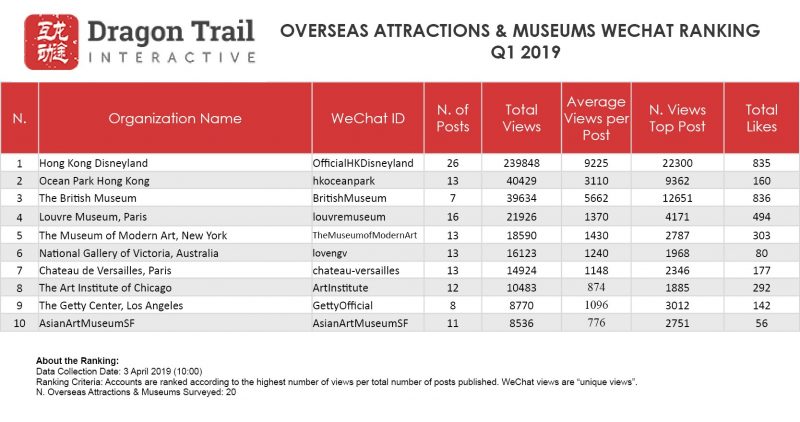 Hotels

An issue with the hotel rankings is that despite the fact that the accounts we track are for international brands, their content mostly focuses on domestic properties, making this category less relevant for outbound travel than the others. Melia Hotels International may be changing this, with popular articles on their properties in London and across the world taking them into third place for the quarter, with the second highest average post views – although Melia, Marriott, and Hilton's average post views were all in the 7,000s. Melia International also had the second most-viewed article by a hotel for the quarter, announcing a 25% discount for Melia Rewards members (32,211). Marriott published the most-viewed hotel article, with 83,315 views for the launch of the new Marriott Bonvoy loyalty program.