Digital word of mouth is very important when it comes to attracting Chinese tourists, and the first step to approaching this market should be to find out what Chinese travelers are saying about you online. Destinations, attractions and other travel businesses will no doubt already be monitoring their online reputation on Western review channels such as TripAdvisor, but understanding the Chinese market requires also keeping up to date with the platforms where Chinese visitors are most likely to review and comment.
What's in a name?
Before you get started, you'll need to know what Chinese people are calling you. This is fairly straightforward for a country or city, which will already have a name in Chinese that you can look up. But it can get trickier for attractions and businesses. If you do not have an official Chinese name, then Chinese visitors are going to make one up for you. Worse still, multiple visitors could make up multiple different names, making it difficult for you – or potential Chinese visitors – to search for and find information online. We suggest asking a Chinese person to create an official name for you to use on all Chinese-language marketing materials. Just be careful which characters you choose for your name, as even companies as prominent as Airbnb have been widely ridiculed for choosing the "wrong" Chinese name. Once you have a Chinese name, you should consider getting it trademarked in China, as according to Chinese law, the first person who registers a name becomes the lawful owner of that name in China. Even Apple lost a trademark dispute in 2016 over the name 'iPhone' because of this law
Translation
It's not just your name that will need to be translated. Your reviews by Chinese visitors are almost definitely going to be written in Chinese, so you will need someone on your team who can read Chinese. If you don't have the resources to hire a full-time Chinese-speaking staff member, we would recommend hiring a Chinese intern or freelancer – places with a large number of Chinese university students will be at an advantage here. If all else fails, Google Chrome does have a translation function for webpages, which won't generate a perfect translation, but should help to give you a general idea of what people are writing.
Websites
Chinese who are living or have lived abroad will be more likely to use Western websites such as TripAdvisor or Google, in which case you are probably already seeing their reviews. But China has its own selection of review sites that are much more commonly used, and with which you will need to become familiar.
Ctrip
Ctrip is China's largest OTA, and the second-largest OTA in the world. It has 1.4 million registered users, and lists over 670,000 international hotels. You'll find reviews of hotels, attractions, cruises and travel packages.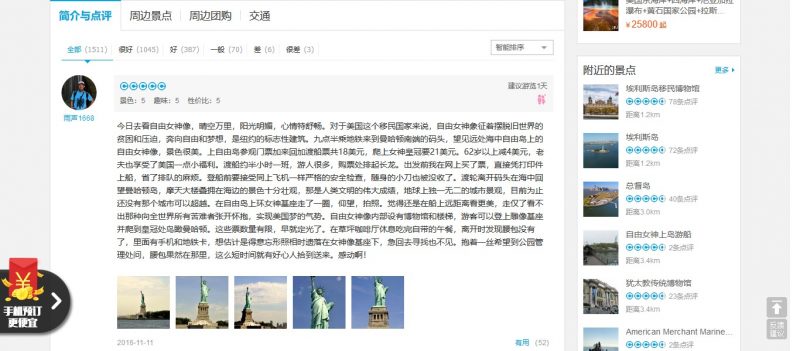 Reviews for the Statue of Liberty on Ctrip
Baidu
Search engine Baidu has a 76% market share in China (April, 2017), so simply searching for yourself here should turn up valuable information about what information Chinese people will find about you first, and about your Chinese SEO performance. Baidu has a travel-specific site with close to 2 million reviews. Baidu's forum can also be a helpful place to find out what questions and discussions are being posted about a destination.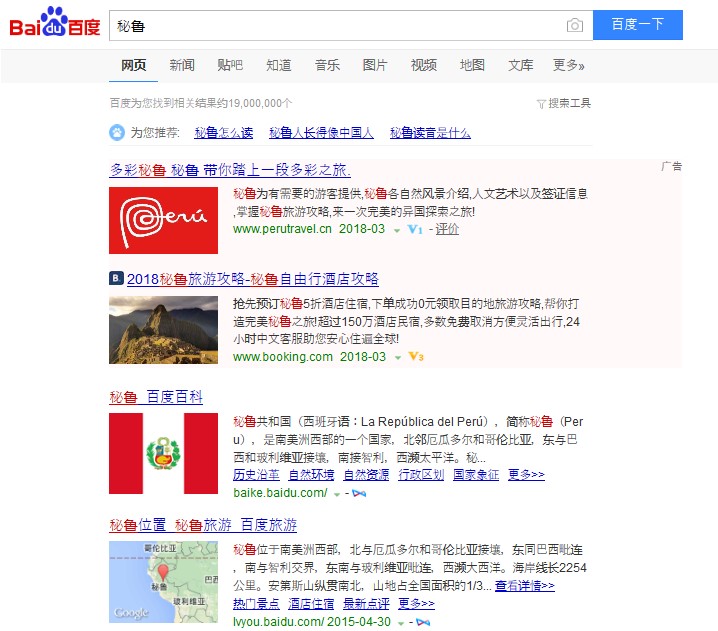 Baidu search results for 'Peru'
Mafengwo and Qyer
These are two very popular travel review sites, with Qyer focusing exclusively on the outbound travel market, and Mafengwo comprising both domestic and international travel. They both offer travel guides, apps, and also act as OTAs. 60% of users for both platforms are Chinese millennials, who mainly travel as FITs. Users on both sites can review attractions, and Qyer offers free downloads of professionally written Chinese-language guidebooks. Users can also post their travel diaries and photos. You can look up locations on these sites to find out which attractions and other venues are most popular with Chinese visitors, and easily find listings and reviews.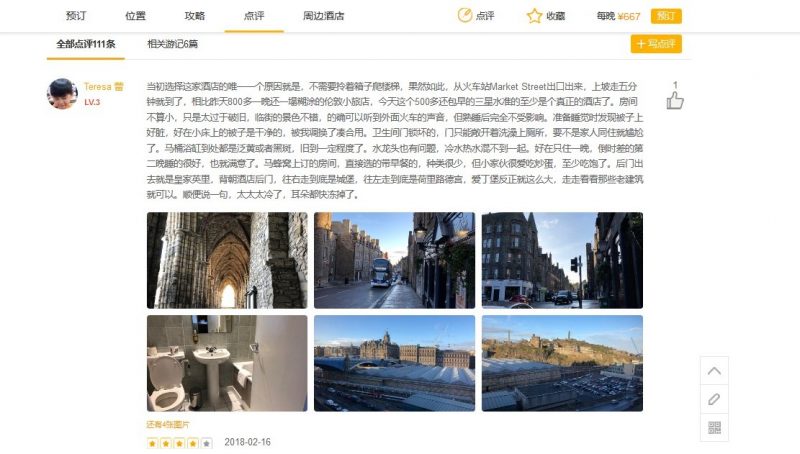 Review on Mafengwo for The Jury's Inn hotel, Edinburgh
Dianping
Originally used primarily as a restaurant review site domestically, Dianping has expanded its scope significantly both geographically and in content. The site has you search by city, and then within each city you can find listing information and reviews for hotels, restaurants, tourist attractions, shopping and other services. Users can also book hotels directly through Dianping's website. There are listings for an expanding list of cities all around the world.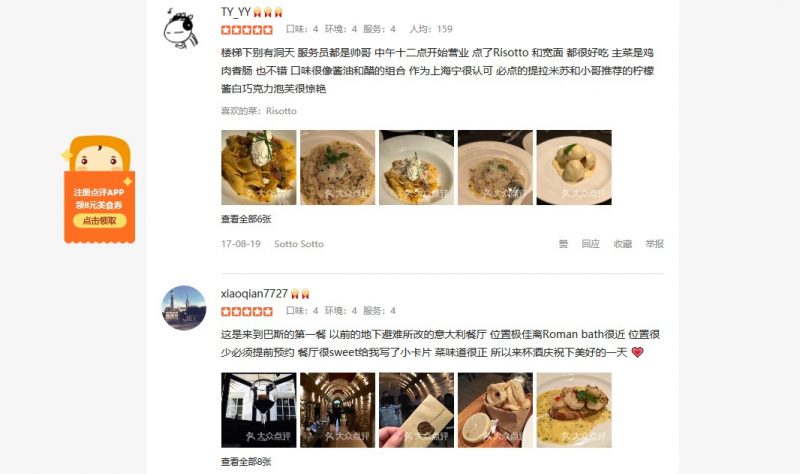 Reviews on Dianping for Sotto Sotto, an Italian restaurant in Bath, UK
TripAdvisor China (Mao Tu Ying)
TripAdvisor does have a Chinese-language site (https://www.tripadvisor.cn/), and the brand is also known as 'Mao Tu Ying' in Chinese. Just like the English-language platform, there are listings and reviews for hotels, restaurants, attractions and entertainment around the world, as well as travel guides.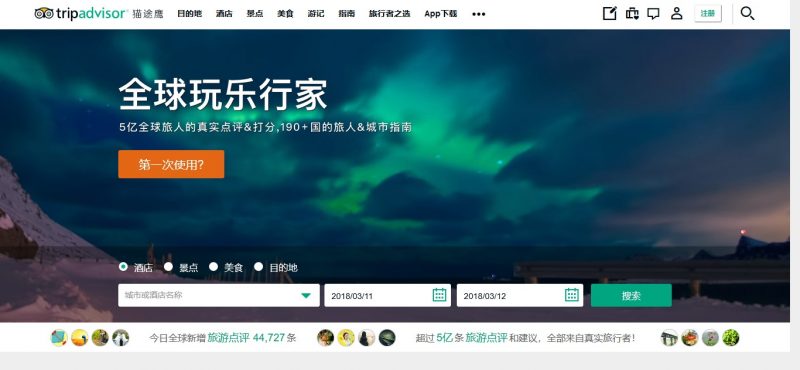 Responding to reviews
After reading reviews of your destination or business, you can reply to these online either to thank users for their comments or reply to criticism. As with Western review sites, showing that you are paying attention to what guests are writing about you and open to constructive criticism is helpful for cultivating a positive and trustworthy reputation. You can also respond offline by taking criticism on board and using both positive and negative comments to understand how your product could be adjusted to better meet the needs of Chinese visitors.
Generating positive word of mouth
Whether you want to build on a good reputation, create an online presence in China or balance out potentially negative reviews from the past, you'll want to encourage future Chinese visitors to leave more reviews online. You can do this by asking Chinese guests to leave you a review – just showing that you care about their opinion and that you are aware of Chinese review sites will already be a good step to showing your respect for and commitment to Chinese visitors. It's important to help enable these reviews by offering free Wi-Fi and/or displaying QR codes that Chinese guests can easily scan to connect with your WeChat account or Chinese listing on a review site – you also have a good opportunity here both offline and online to popularize your new Chinese name, if you have just adopted one. Once you are aware of positive reviews that have been left by Chinese travelers, you can use these in your Chinese marketing materials as well. See our article on leveraging word of mouth to promote your destination or business to a Chinese audience for more information.