Which topics in travel marketing are resonating best with Chinese consumers on WeChat? Analyzing the first half of 2019 using Dragon Trail's WeChat Rankings for travel brands, we've identified the most popular themes, both across industry verticals and specific to certain sectors. This information provides insights into consumer preferences, and can help travel brands to create the most effective content marketing strategy to attract Chinese tourists.
Food, flowers, and family travel were the standout themes of H1 2018. In comparison, 2019 has seen less flower-related content at the top of the weekly WeChat Rankings. Instead, romance has taken the lead, and celebrity content has helped propel some destination accounts to new heights. Restaurant recommendations are still reliable, while wildlife- and nature-related content, and TV references also stood out. A major shift in 2019 has been the prevalence of short videos and GIFs in WeChat content, which is becoming a must for tourism marketing.
Romance
Romance has been employed across all travel-related categories that Dragon Trail tracks on WeChat in 2019, though it's been a standout topic since at least 2017.
The year started with Valentine's Day, the theme of leading articles from Norwegian Cruise Line, AirAsia, Hong Kong Disneyland, Ocean Park, the Louvre Museum, Melia Hotels, and Shangri-la Hotels, among others. Handy for marketers is the fact that China has its own "Valentine's Days" – the first is on May 20, a date which sounds like "I love you" in Mandarin. The week of 5/20, Star Cruises, AirAsia, Hong Kong Disneyland, Ocean Park, Hyatt, and Shangri-la Hotels all posted related content. The second "Chinese Valentine's Day" is a lunar holiday that takes place in the late summer. This year, it falls on August 7, and we expect a similar amount of related marketing. These top Valentine's-related posts are mostly all promotional, with special packages and deals for couples. But the occasions could be used for content marketing, too – as the Louvre did with their Valentine's Day post, and destinations could consider publishing romantic guides around these times of year.
High-profile weddings have proved to be valuable marketing opportunities for many years already. In 2012, actress Yao Chen got married in Queenstown, New Zealand, sharing the experience with her 66 million Weibo followers and promoting New Zealand's image as a romantic destination. Taiwanese pop star Jay Chou put Yorkshire, England on the map for Chinese tourists when he got married there in 2015, and Ady Ahn's 2017 wedding in Hawaii had a PR value of US$7.2 million. The summer of 2019 has had two major overseas celebrity weddings so far – actors Tang Yixin and Zhang Ruoyun tied the knot in Ireland in June, and Tourism Ireland's related post about weddings in Ireland got over 28,000 views and took the account to 2nd place in the national tourism board rankings for the week. The previous week, Air France got over 12,000 views for its article on celebrity pianist Lang Lang's wedding at Versailles.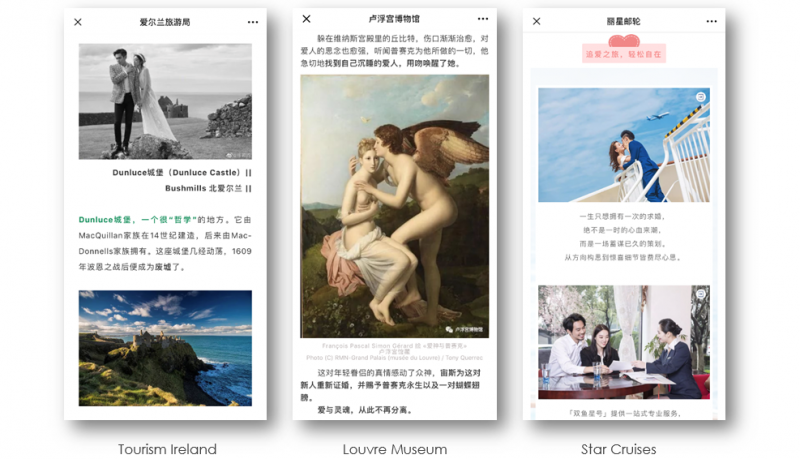 Even without a specific occasion, romantic-themed content can be popular – this year, Star Cruises earned over 35,000 views for a post on getting engaged on board, and Dubai topped the rankings the week of 10-16 June, when they posted a guide to most romantic things to do in Dubai. In the first week of July, the Tourism Authority of Thailand's Shanghai office got more than 100,000 views for its guide to Thailand as a romantic destination, and the British Museum and Louvre Museum had the most-viewed museum content for the week with articles on LGBT relationships and kissing, respectively.
Read more about wedding and romance tourism for the Chinese market here.
Celebrities
In addition to celebrity weddings, other content featuring Chinese stars also works particularly well to draw attention to a destination and its WeChat account.
Working with celebrities has been a strategy embraced throughout Australia in 2019. Since last year, actor Huang Xiaoming has been brand ambassador for South Australia Tourism, and helped the DMO to reach 3rd place in the WeChat Rankings for the last week of January. Visit NSW had its best week ever on WeChat at the end of March, with more than 21,800 views for an article promoting the Vivid Sydney Festival with a giveaway of photos signed by actor Zhu Yi Long. Tourism Australia ranked in 2nd place the week of 11-17 March, when the tourism board posted about a music video filmed by Nicholas Tse in Australia.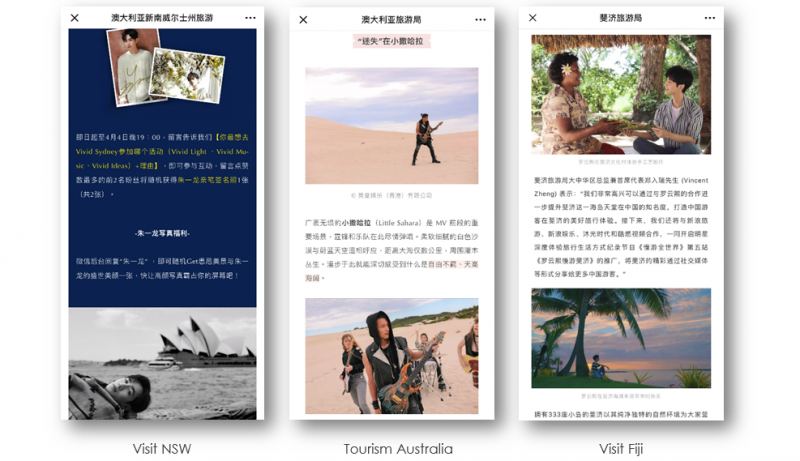 Visit Fiji has been a dark horse in 2019 – while not an account that has featured among the top national tourism boards in years past, they ranked 16th in Q2 2019, with the 6th highest average article views. Brand ambassador, actor/singer Leo Luo features regularly in their content, and is certainly the driving force behind these results.
Nature and Wildlife

Imagery of beautiful landscapes has always been a winning theme for travel destinations on WeChat, and this is the core of New Zealand's strategy – the national tourism board that consistently gets the highest average views per article.
This spring, various North American destinations also showed off their natural beauty. Travel South USA's most-viewed post of Q2 was a guide to Great Smoky Mountains National Park; for Los Angeles, their most-viewed post was an article on waterfalls and canyons. British Columbia also had one of its best weeks for the quarter with the article, "Vancouver, the greenest city in the world".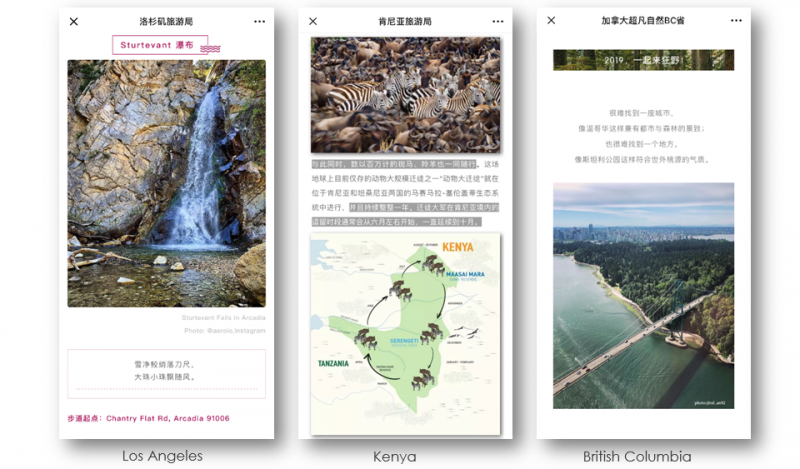 Video content showing wildlife was popular as well. Australia was in the top three NTO WeChat accounts two weeks in a row for video content of kangaroos, and then cownose rays. Kenya made it to the top three NTO accounts for the first time in over a year, and got nearly 23,450 views for their post on the Maasai Mara animal migration.
TV and Movies
TV and movies have a significant impact on Chinese tourists' choice of destination, and travel brands are picking up on this in their WeChat marketing.
The final season of Game of Thrones got 550 million views on Tencent Video, and tourism marketers took advantage of this Chinese fan base. Tourism Austria's article "Where does the wine that Game of Thrones' nobility drink every day come from?" tenuously linked the TV show to Austrian wine production. The British Museum got close to 4,000 views for its article on museum pieces that look like they could come from Game of Thrones.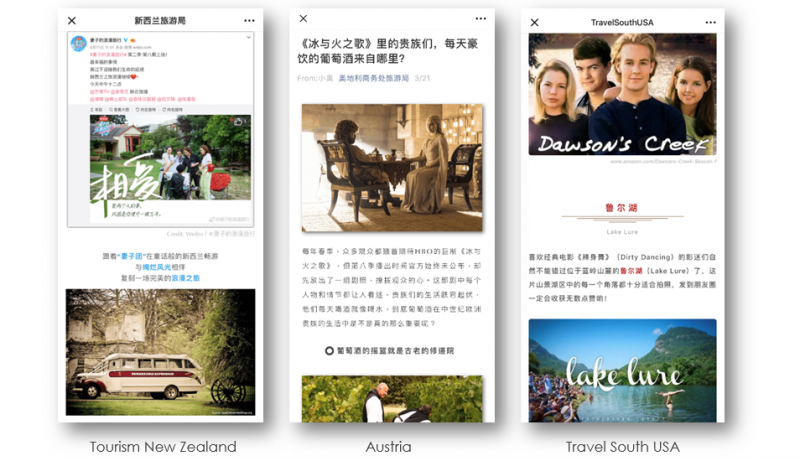 Outside of Game of Thrones, Visit Britain had one of its best weeks of 2019 so far with an article recommending British TV shows in early March. The same week, Travel South USA ranked 3rd among DMOs, publishing an article on North Carolina shooting locations for American TV shows and movies. And during the week of 29 April-5 May, Tourism New Zealand posted about Viva Romance 2, a Chinese TV show filmed in New Zealand.
Museum Personalities
Museum content generally introduces new exhibits, or looks at certain timely themes in the permanent collection – for example, the British Museum's "Women in the Arts" post for International Women's Day. A different theme that's proved popular in the first half of 2019 is introducing readers to museum staff. The V&A's very first post was made up of a series of short videos of their director. The Asian Art Museum got over 3,000 views for its May post on honors given to the museum's director. Earlier in the year, MoMa was the top-ranked museum of the week for an article on what it's like to be a curator.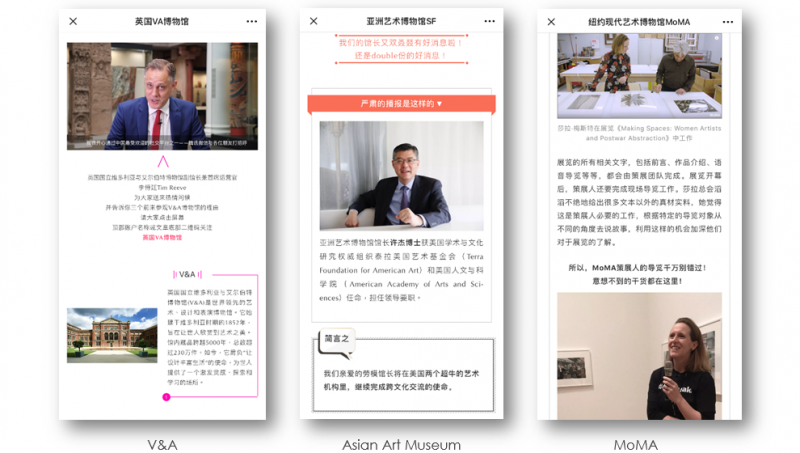 Food
While perhaps not as prominent for WeChat travel marketing as it was in H1 2018, food is still a popular attraction for Chinese tourists, and a reliable theme for destinations. Macau has continued a restaurant recommendation article series that has been going since last year, and other leading DMO accounts Hong Kong and Dubai, as well as NTO Visit Japan, also regularly recommend local restaurants. Food is also a popular theme and selling point for hotel brands, cruises, and occasionally airlines.
Video and GIFs
In 2018, travel brands posted video content from time to time – Kenya's April 2018 video, which took the account to the 1st place ranking for the week, stands out. But in 2019, it's now the norm for top WeChat posts to feature some kind of short videos or GIFs. For tourism marketing to China, video assets are quickly shifting from a bonus feature to a necessity, and we see this across every industry vertical.
For destinations, in addition to the wildlife videos from Australia and Kenya, there was also Visit Norway's 8-minute video in the second week of January, which got over 62,000 views, and put Norway at the top of the rankings that week.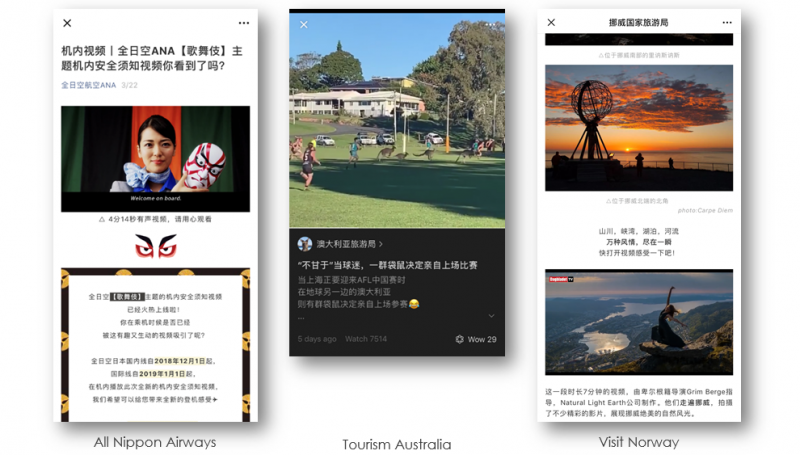 Viking Cruises and Marriott Bonvoy both launched promotional videos on WeChat in Q1, and Japan Airlines and All Nippon Airways got around 20,000 and 15,000 views for their March videos, respectively. Marriott's top performing article of H1 2019, the announcement of Marriott Bonvoy, included a short video and three GIFs. Even museums are posting video content – the Louvre's tribute to architect I. M. Pei included short clips to show off different angles of the museum's iconic glass pyramid, and the V&A made its WeChat debut with a series of four short videos.
Dragon Trail's consumer marketing services include opening and managing WeChat accounts and other Chinese social media platforms, video production, website creation and hosting, online campaigns, and more. Please see our Services page or contact us at communications@dragontrail.com for more information on how we can help you to reach Chinese travelers online.
Icons on cover image made by Freepik from www.flaticon.com