International hotel brands' digital marketing in China since the end of January provides valuable lessons in effective crisis communications and how to cultivate brand loyalty and develop new revenue sources during an epidemic. With COVID-19 now spreading globally, understanding these successful strategies from China can help the hospitality industry around the world. We've identified six major themes addressed by international hotel brands on Chinese social media since the start of the crisis period through mid-March.
Hotels in Crisis
With domestic group tourism banned from January 24, outbound group tourism banned from January 27, and major travel restrictions within and outside of China, the country's entire tourism market and industry have faced staggering challenges due to the outbreak of COVID-19.
In Horwath HTL's mid-February survey of the Chinese hotel industry, around 80% of respondents predicted losses of more than 15%, and around 70% were very pessimistic about occupancy and income.
In Travel Daily's early March report of the Chinese travel industry, 70% of hoteliers reported sales declines of at least 20%. In the online travel sector, hotels were the area of business most negatively impacted by the coronavirus outbreak, according to the report.
Facing these enormous challenges, how have international hotel brands adjusted their digital marketing on Chinese social media platforms? Our analysis is based on Dragon Trail's weekly rankings for international tourism brands on leading Chinese social media channels WeChat and Weibo.
1) Cancellation Policies
At the start of February, the initial crisis-related content on WeChat and Weibo from hotels focused first and foremost on cancellation policies. Hilton, Shangri-La, and Hyatt, among others, all offered free cancellation or changes for any reservation within China, or overseas bookings made by guests who would be traveling from China. Reader comments on these posts were extremely grateful and positive. Updates to cancellation policies have been ongoing ever since.
2) Corporate Social Responsibility
As soon as they had published their cancellation policies, hotel brands communicated online about what they were doing to join in the fight against the novel coronavirus. Moving into mid-February, Hilton, Wyndham Hotels, Marriott, and Shangri-la all posted about charitable actions, including hosting front-line medical staff at their Hubei Province properties, and delivering food to hospital staff across the country.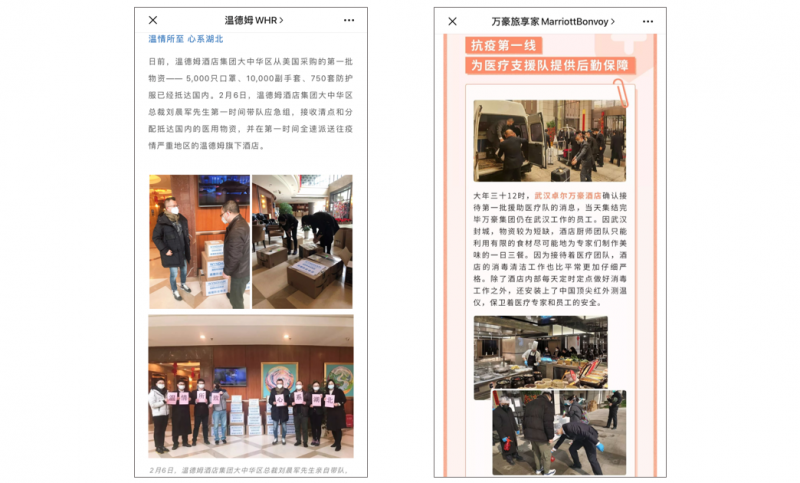 Hotels in Hubei Province provided donations and accommodation for medical staff. Pictured: Wyndham Hotels (left), Marriott Bonvoy (right)
3) Hygiene Procedures
In the midst of a public health crisis, consumers are extremely concerned about hygiene standards, and international hotel chains reassured guests and visitors with extensive information on their procedures.
On 26 February, Shangri-la published a detailed WeChat post showing rigorous cleaning procedures throughout the hotel: At reception, lobby areas, staff transportation vehicles, guest rooms, elevators, laundry, and air vents. The article included information and photos of the protective clothing worn by cleaning staff, rules for staff hygiene, and hygiene procedures and controls for food delivery drivers.
On 5 March, Hyatt stressed the hygiene of their restaurants and food preparation in particular, with photos from their properties to illustrate hygiene certification, training, cleaning, and monitoring procedures around the country.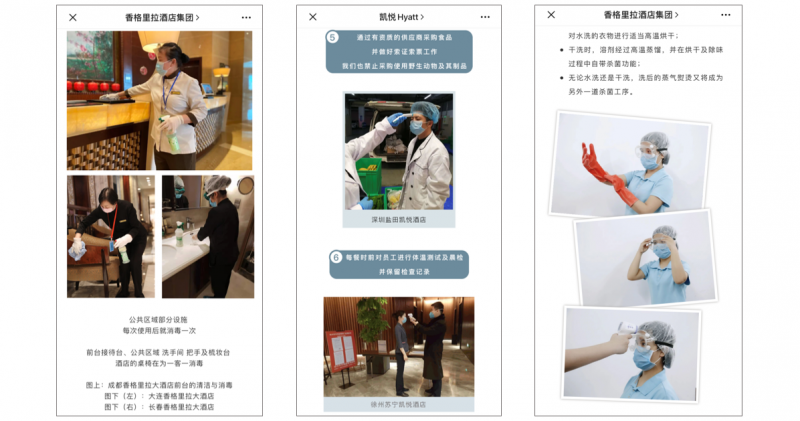 Hotel groups like Shangri-la (left and right) and Wyndham (center) used WeChat to assure clients of rigorous hygiene standards and procedures for facilities and services
4) Maintaining Loyalty
In the middle and end of February, international hotel groups addressed their members to ensure loyalty and future business. Hyatt announced membership and points expiry extensions on 19 February, with Marriott and Hilton following suit the next week.
5) Salvaging Revenue
Facing major declines in room stays and patronage of F&B venues, hotels are turning to new areas to help prevent a total collapse in revenue. The first is one of the few areas of the Chinese economy that's actually thrived throughout the coronavirus crisis: food delivery.
On 17 February, Shangri-la Hotels announced on WeChat that they were offering food delivery in 14 cities, with information on the hotels and restaurants, food options and promotions, and all of the health and safety checks throughout the preparation and delivery process. The service has also been promoted through their Weibo account and by Chinese travel media.
At the beginning of March, the Intercontinental Hotel Group took to social media to promote its food delivery service, available in more than 20 cities throughout China. The article stressed food hygiene first and foremost, and then moved on to what kinds of cuisine and dishes were available.
Hilton Hotels publicized food delivery and takeaway options in a 12 March WeChat post, with an article featuring dishes from their hotels in Beijing, Guangzhou, and Chengdu, and a list of more than 45 Hilton properties, which delivery service to use to order, and contact information. Some properties are working with food delivery services like Ele.me, Meituan, and WeChat Mall, while for others, customers need to pick up orders themselves.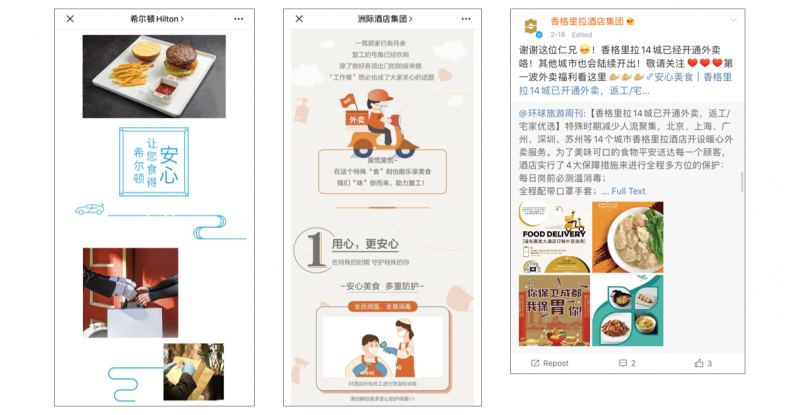 Food delivery services are a valuable revenue source for the financially hard-hit hospitality industry. Pictured (left to right): Food delivery promotions from Hilton, Intercontinental, and Shangri-la
What's interesting about these WeChat posts is their high view rate. With 24,100 views, Shangri-la's article got 31.3% more views than its top WeChat article published in the entirety of 2019. Intercontinental's food delivery post reading rate was 13.3% higher than anything the hotel group published last year. Hilton's article views weren't comparable with the account's top 2019 article, but the post did get nearly three times Hilton's average views per WeChat article. While food delivery has increased in China these days, and online screen time is up, too, it's also likely that cash-strapped hotels may be investing in WeChat advertising to get these promotions served to a larger audience.
Food delivery services aren't the only way that hotels can make money during this period of depressed travel demand. On March 12, Shangri-la Hotels published a WeChat post on professional laundry services. With a short video, article, and photos, as well as links and contact information for hotels around the country, the post stressed their high hygiene standards and disinfecting capabilities of their laundry facilities – presumably under-used during this period of low occupancy. Laundry promotions are offered for household linens and bedding as well as clothes, and door-to-door pick-up and delivery services are offered within 3km of the hotel for an additional fee.
6) Nurturing Relationships and Reaching New Audiences
Starting from the middle of February and increasing since then, hotels are engaging with housebound Chinese consumers with content on fitness, cooking, and even partying.
Views of online fitness videos and downloads of fitness apps have surged during the long self-isolation period that started from Chinese New Year, and hotels have picked up on this. On 19 February, Melia Hotels posted an article on WeChat introducing simple yoga routines, with short videos created by their Bali staff, with a QR code at the end to follow the Bali property's official account. It got 13,900 views, which is well above average, based on the hotel account's 2019 performance. Intercontinental shared short videos of fitness exercises on WeChat at the end of February. Hilton has been regularly posting videos on Weibo since the end of February, featuring gym staff from the hotel properties demonstrating exercises that you can easily do at home.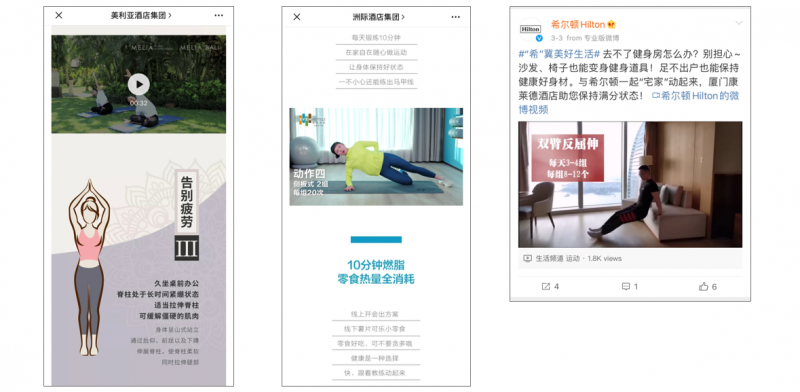 Online fitness classes have surged in popularity since Chinese started isolating at home. Pictured (left to right): Short videos from Melia Hotels Bali, Intercontinental Hotels, and Hilton Hotels
But a much bigger phenomenon is hotel cooking classes. The long quarantine period in China has spurred a rise in home cooking, and instructional videos and illustrated recipes allow hotels to connect with new audiences and show off their chefs' skills.
Intercontinental Hotel Group has been posting short videos of recipes on Weibo since mid-February, with competitions for followers to tag IHG's account in posts with photos of their own cooking to win hotel vouchers. They ranked in the top three hotel Weibo accounts three weeks in a row because of this, and have also shared some of the videos on WeChat.
On February 28, Melia Hotels' WeChat account shared a recipe for seafood paella from the head chef at one of their Shanghai hotels, with gifs to illustrate each step of the process, and a prize offered if followers shared their photos or videos of making the dish. The article got 13,400 views, and a significant number of comments.
Alternating days with their fitness videos, Hilton has been sharing instructional cooking videos throughout the month of March, averaging around 1,500 views per video – though the 8 March dessert tutorial from the Conrad Tianjin racked up 6,400 views.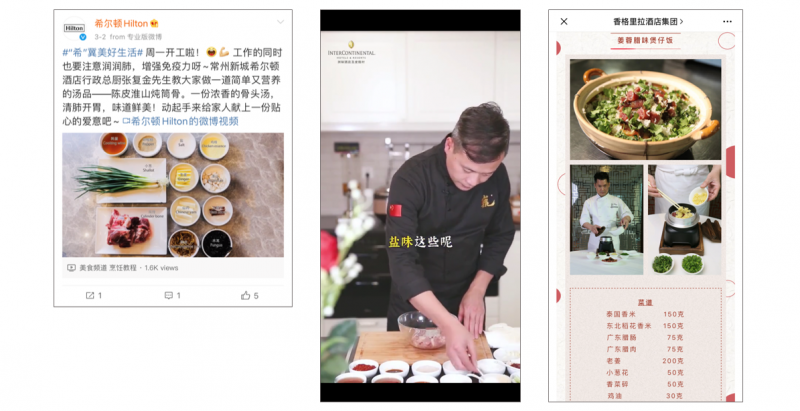 Hotels across China have started online cooking classes, with short videos and recipes. Pictured (left to right): Hilton, Intercontinental, and Shangri-la
From 26 February, Marriott launched a four-week series of online Cantonese cooking classes from their chefs. The classes are filmed at four different Guangzhou hotels, and broadcast live over Taobao. During the live broadcast, viewers have the chance to win prizes, as well as to buy discounted vouchers to eat at the hotel. Following the live session, the video is embedded in a WeChat post, together with ingredients lists and simple instructions for other dishes. The live broadcasts are promoted heavily on both WeChat and Weibo, with high engagement.
From March 4, Shangri-la Hotels have also launched a live cooking class series on Taobao, which they are promoting on Weibo. The hotel group's WeChat account has been sharing recipes with short instructional videos weekly in March.
Finally, clubbing has gone online in China since February, with DJs live streaming sets that listeners can dance to at home, and at least one hotel has joined the trend. On 18 March, W Shanghai the Bund threw an online party, with three DJs over two hours. Like the Marriott cooking classes, the live party was also broadcast through Taobao, and user interaction was encouraged with a giveaway of room discount vouchers.
Takeaways for Global Hospitality
The coronavirus pandemic poses serious threats to many areas of the economy, and as COVID-19 now spreads into new global regions, we can take some of the most successful strategies we've seen in China for hotel marketing as a model not just for hotels, but restaurants, gyms, and other businesses. These strategies include clearly communicating cancellation policies, maintaining ties with members and loyalty card holders, proactively demonstrating hygiene procedures, thinking creatively about alternative revenue sources, and using online tools to broaden a client base eager to visit once we enter the recovery period.
Learn more about what hotel brands can do during the COVID-19 crisis in our free webinar on 15 April. Click here to register.