Starting in the spring of 2020, we've noticed a new trend taking off for social media marketing by international tourism brands in China: Emoji-themed posts. They attract high engagement on WeChat and Weibo, and they've been used successfully by destinations, airlines, and cruise lines.
Emojis are important especially for Weibo marketing, to break up text and add an element of fun and color. But the trend in 2020 is now to make emojis the central theme of the post, and there are many ways to do this. We've chosen some of the highest performing emoji-themed posts on Weibo and WeChat by international tourism brands to illustrate the trend and how to incorporate it into your B2C Chinese marketing content.
Dubai Tourism

The first of these new emoji-themed posts that we noticed in 2020 was a WeChat article in early April by Dubai Tourism, which received 15.5% more views than average for the account in Q2. This post illustrated Dubai attractions with emojis – readers guessed the answer, then tapped the white space below the emojis to reveal the landmark. For example, the combination of an emoji for the world + the "top" emoji + a building, represented the world's highest building: the Burj Khalifa.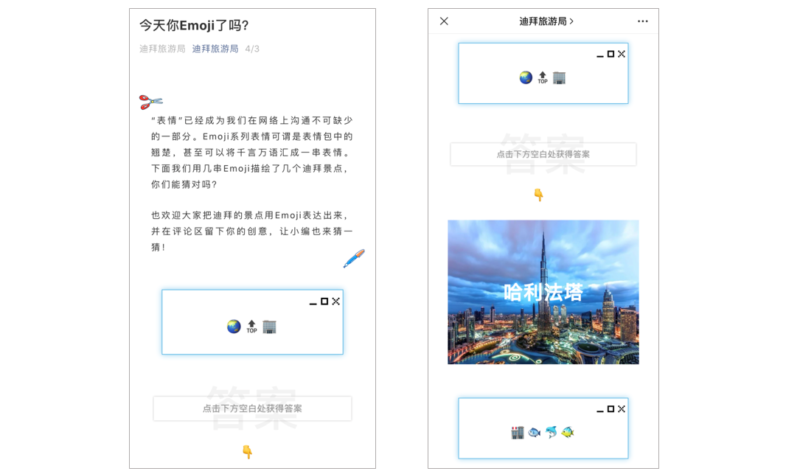 Dubai's attractions were illustrated using emojis, such as "world + top + building" = the Burj Khalifa
Cathay Pacific
Cathay Pacific's mid-July "World Emoji Day" post illustrated destinations that the airline flies to, using emojis. Again, readers first guessed, then tapped the screen below to reveal the answer. A combination that included a mountain, sushi, shopping bags, and a train illustrated "Tokyo", and a bicycle, tulip, and painter next to sunflower and night sky emojis equaled "Amsterdam". The post got more than 36,000 views, 71% higher than Cathay Pacific's average in Q2.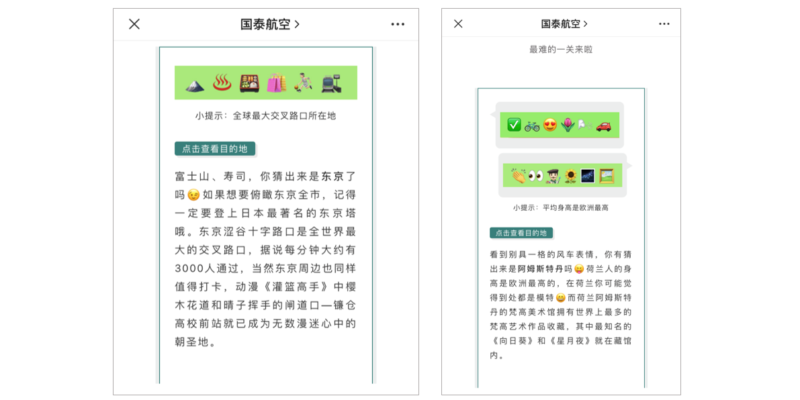 Cathay Pacific used emojis to represent cities the airline flies to around the world, such as Tokyo and Amsterdam
Tourism Authority of Thailand – Shanghai Office
With 62% more views than the account's Q2 average, the Tourism Authority of Thailand's "World Emoji Day" WeChat post illustrated activities in Thailand through emojis, with the same tap-to-reveal mechanism as similar WeChat posts. For example, a couple plus the Thai flag plus a diving mask plus a couple of fish, turned out to be a suggestion about diving in Thailand. A giveaway asked readers to "translate" a slogan about travel to Thailand, which had been written using emojis as illustrations.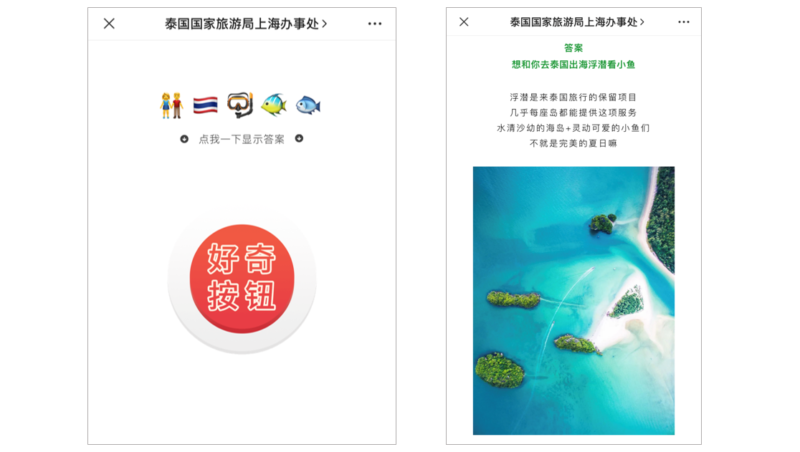 The Tourism Authority of Thailand illustrated things to do in Thailand using emojis
AirAsia
AirAsia took a different and more mentally challenging approach to the emoji WeChat post, which included a big giveaway and high engagement. The late May post used emojis to create the sound of the names of destinations, which readers would guess, then tap the screen to see if they were right. For example, a chicken (ji) plus a dragon (long) plus a roller coaster (here, the emoji was used to mean the word for "slope/hillside", po). Jilongpo is the Chinese name for Kuala Lumpur. The airline gave the answers for four of the destinations, then asked readers to solve an additional 17 emoji-phonetics puzzles (all for AirAsia flight destinations) to enter a competition to win a free plane ticket. The post got nearly 54,000 views, which was 45% higher than AirAsia's Q2 average. In the past months, this engaging post has racked up almost 10,000 additional views.

AirAsia used emojis to phonetically spell out place names in Chinese
Royal Caribbean International
Royal Caribbean ran an emoji-challenge giveaway on Weibo at the end of July, using emojis to illustrate five of the cruise line's on-board facilities, and asking followers to guess the answers correctly to enter the competition. The challenge wasn't easy, combining both the partial phonetics of emojis and what they illustrated. What was the answer to a compass (zhinanzhen) plus a chicken (ji) plus a basketball (lanqiu, or just qiu for "ball")? Nanjiqiu, the Chinese name for the ship's "Sky Pad" ride. But the facility illustrated with five emojis for different sports was simply the sports center. Weibo users commented that the challenge was difficult and took them some time to solve. 15 people entered the competition.
Switzerland Tourism
To celebrate Switzerland's National Day on 29 July, the tourism board posted an emoji challenge and giveaway on Weibo that required a fairly large English-language vocabulary. The NTO wrote out a sentence using emojis, based on the first letter of the English name of the item in each illustration. So an ice cream cone was "I", a doughnut was "D" etc. More than 200 people entered the competition by posting the solution on Weibo: "I NEED SWITZERLAND."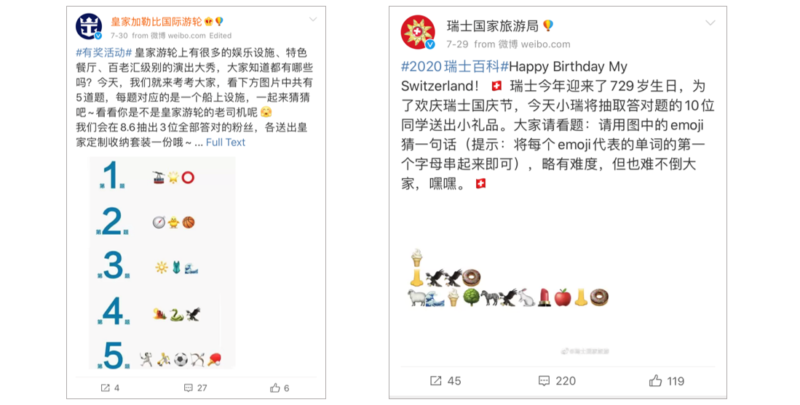 Late-July emoji challenges on Weibo from Royal Caribbean and Switzerland Tourism
Bringing above-average reading rates and mostly quite high interactivity from followers, emoji-themed posts have proved a good way to engage Chinese consumers on social media this year, by offering a fun activity that can be used to promote your product or brand, and easily linked to a giveaway.
Weibo and WeChat account management are just one of the B2C marketing services offered by Dragon Trail Interactive to help you reach Chinese consumers. Please check our services page for more information, and get in touch with us directly to discuss how we can help you with your social media strategy for the Chinese market.