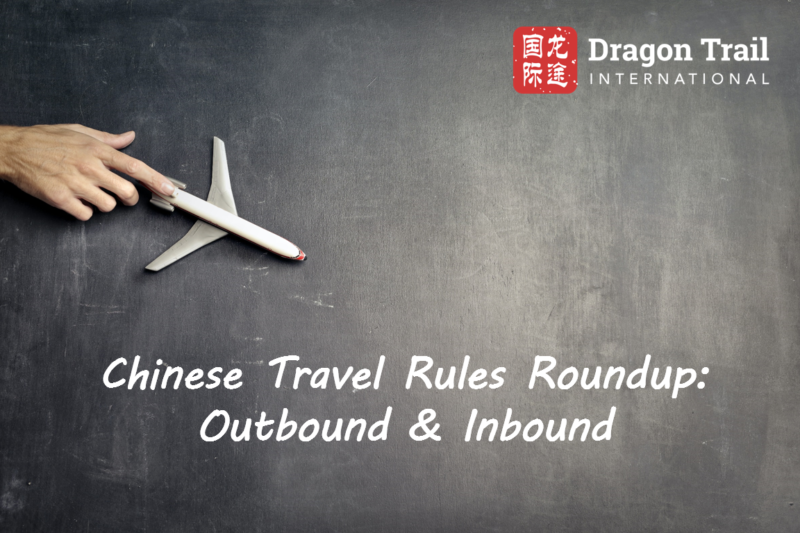 First published: 22 March, 2021
Last updated: 10 August, 2023
To help keep the travel industry up to date and informed, we're tracking all the latest developments and regulations regarding travel into and out of mainland China. This post will be regularly updated with any new or changing policies.
Have we missed something? Please feel free to send questions or comments to communications@dragontrail.com
For more updates, sign up for Dragon Trail's monthly newsletter, and follow us on social media:
– LinkedIn
– Twitter
– Facebook
All Dragon Trail clients receive an extensive Market Intelligence Report on China travel and digital news at the start of each month. Click here to learn more about the services we provide to help you effectively reach and engage with the Chinese consumer market and trade.
Inbound
– From 8 January 2023, China no longer requires any quarantine for international arrivals. Passengers must have a negative COVID test result from within 48 hours of departure, and complete a China Customs health self-declaration online, via website, WeChat mini-program, or app. Inbound travelers to China will no longer need to apply for a green health code from the Chinese embassy in the country of departure.
– From 29 April 2023, all travelers to China from any point of departure will be able to take an antigen test, rather than a PCR test. Tests should be taken within 48 hours of departure, but airlines will no longer be required to check test results before allowing passengers to check in or board.
– From 15 March 2023: Foreigners can apply for any kind of visa – including tourism visas – to China. Visas to enter China which were issued before 28 March 2020 and have not yet expired, will become valid once again.
– From 31 March 2023: Foreigners can now travel to China as part of group tours, and buy travel packages (minimum flight + hotel) to travel to/in China.
Outbound

– China's National Immigration Administration resumed normal passport application processing on 8 January 2023, including passports needed for the purpose of tourism and VFR travel. Previously, new passports and passport renewals were for "essential" reasons (including business travel and study) only.
– On 20 January, it was announced that sale of outbound group and package travel (from a minimum of a flight + hotel package) could resume, for travel on or after 6 February 2023. To begin with, this policy is only for travel to 20 countries: Thailand, Indonesia, Cambodia, Maldives, Sri Lanka, Philippines, Malaysia, Singapore, Laos, UAE, Egypt, Kenya, South Africa, Russia, Switzerland, Hungary, New Zealand, Fiji, Cuba, and Argentina. Previously, the sale of outbound group and package travel was banned by China's Ministry of Culture and Tourism, starting from 27 January, 2020.
– The Ministry of Culture and Tourism released a second list of countries for group and package travel on 10 March, with travel permitted from 15 March. The countries are: Nepal, Brunei, Vietnam, Mongolia, Iran, Jordan, Tanzania, Namibia, Mauritius, Zimbabwe, Uganda, Zambia, Senegal, Kazakhstan, Uzbekistan, Georgia, Azerbaijan, Armenia, Serbia, Croatia, France, Greece, Spain, Iceland, Albania, Italy, Denmark, Portugal, Slovenia, Vanuatu, Tonga, Samoa, Brazil, Chile, Uruguay, Panama, Dominica, El Salvador, Dominican Republic, and the Bahamas.
– On 10 August 2023, an additional 78 countries were added to the list where travel agents are allowed to sell group tours and package travel: Oman, Pakistan, Bahrain, South Korea, Qatar, Lebanon, Bangladesh, Myanmar, Japan, Turkey, Israel, India, Algeria, Ethiopia, Benin, Botswana, Equatorial Guinea, Cape Verde, Ghana, Cameroon, Côte d'Ivoire, Rwanda, Madagascar, Malawi, Mali, Morocco, Mozambique, Seychelles, Sao Tome and Principe, Tunisia, Ireland, Estonia, Andorra, Austria, Belarus, Bulgaria, North Macedonia, Belgium, Bosnia and Herzegovina, Poland, Germany, Finland, Netherlands, Montenegro, Czech Republic, Latvia, Lithuania, Liechtenstein, Luxembourg, Romania, Malta, Monaco, Norway, Sweden, Cyprus, Slovakia, United Kingdom, Antigua and Barbuda, Barbados, Grenada, Costa Rica, United States, Mexico, Trinidad and Tobago, Jamaica, Peru, Ecuador, Colombia, Guyana, Suriname, Venezuela, Australia, Papua New Guinea, Cook Islands, Federated States of Micronesia, Commonwealth of the Northern Mariana Islands, French Polynesia, French New Caledonia. At 138 countries in total, compared to 130 at the start of 2019, Chinese outbound group travel can be seen as fully restored, despite the absence of several countries (notably Canada) from this last list.
–  Mainland China's border with Hong Kong reopened on 8 January 2023, with high-speed train services resuming on 15 January. As of 6 February, the mainland-Hong Kong-Macau border has been reopened completely, back to how it was before the pandemic.
– With China reopening for outbound travel, a number of countries around the world decided to impose restrictions on travelers from China in January 2023. Countries requiring negative COVID tests from within 48 hours of departure for visitors from China included: Australia, EU countries, India, Israel, Japan, Qatar, South Korea, UK, and USA. Japan and South Korea limited the airports into which flights from mainland China could land. Morocco banned travelers from China altogether.
These additional requirements for travelers from China were all phased out by the spring of 2023:
– India dropped its pre-departure testing requirement for travelers from China on 13 February 2023.
– From mid-February 2023, South Korea and China are now both issuing visas to each other's citizens. Earlier in the year, South Korea had suspended issuing short-term visas to Chinese citizens, and in response, China stopped issuing short-term visas to Korean citizens. Searches for Korean visas on OTA Fliggy increased 1,179% within a few days of the change. COVID testing on arrival to South Korea ended 1 March, with pre-departure COVID testing scrapped from 11 March.
– On 17 February 2023, the EU announced it would phase out COVID testing for passengers from China, starting by ending pre-departure testing from the end of February, and ending random screenings in March.
– Israel ended pre-departure testing requirements for travelers from China on 28 February.
– Japan canceled pre-departure testing requirements for travelers from China from 1 March.
– The US dropped its COVID testing requirements for travelers from China from 10 March.
– Australia ended its testing requirements for travelers from China from 11 March.
– Canada ended testing requirements for travelers from China from 17 March.
– The UK ended testing requirements for travelers from China on 5 April.
Flights
On 11 November 2022, China's circuit breaker policy, which had suspended flights as a consequence for having positive cases on board a previous flight, was lifted entirely.
By the end of July 2023, international flight volume had recovered to 46.9% of 2019's levels. Recovery is uneven depending on destination. For example, flight capacity between China and the UK is now fully recovered, but on the other end of the spectrum, there are still only 24 flights a week between China and the US as of 10 August 2023 — just 6.5% of the pre-pandemic volume. (See a snapshot of international flight connectivity for 17-23 July here.)