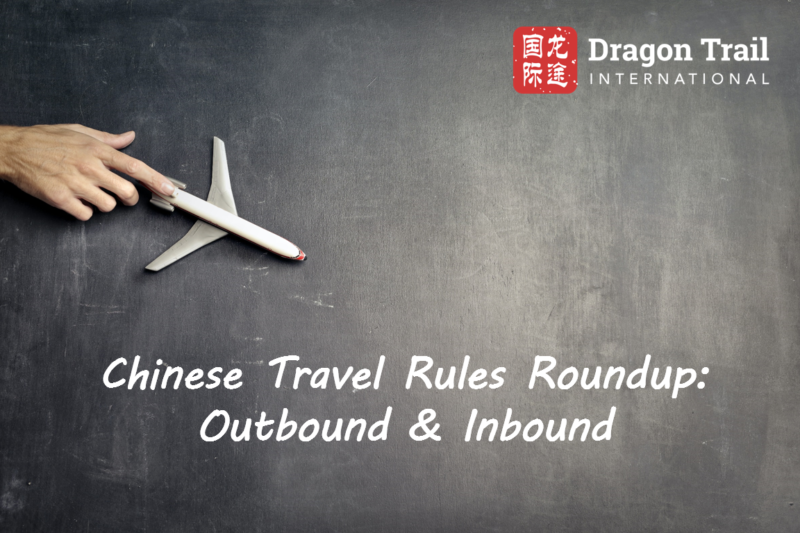 First published: 22 March, 2021
Last updated: 29 September, 2021
To help keep the travel industry up to date and informed, we're tracking all the latest developments and regulations regarding travel into and out of mainland China. This post will be regularly updated with any new or changing policies.
Have we missed something? Please feel free to send questions or comments to communications@dragontrail.com
Outbound

– China's Ministry of Culture and Tourism required Chinese travel agents to stop the sale of outbound group and package travel (from a minimum of a flight + hotel package) from 27 January, 2020. This ban was reiterated in a press conference on 29 September, 2021.
– Earlier in September 2021, the Civil Aviation Authority of China (CAAC) advised against international travel over the Mid-Autumn Festival and October National Day holiday period (source). This reiterates the last announcement by the Ministry of Foreign Affairs, on 25 May, 2021, reminding Chinese citizens that they should not leave the country for any non-essential reason. (Source)
– On 6 August, 2021 a spokesperson from China's National Immigration Administration said that the issue or renewal of passports would only be prioritized for Chinese studying or working abroad, and those without the urgent need to travel internationally should postpone any plans to do so. (Source)
– An increasing number of countries around the world are now open to Chinese tourists. Many do not require any quarantine-on-arrival, and most (but not all) require a negative PCR test. Notably, after suspending entry for Chinese tourists in February 2020, the US will allow fully vaccinated Chinese visitors from November, 2021, accepting both the Sinopharm and Sinovac vaccines.
– Macau is the only destination outside of mainland China to which Chinese citizens can travel for leisure, with no quarantine on arrival or return. Adjustments to this policy are made regularly, based on if there are any outbreaks of COVID-19 in mainland China – if there are, then travelers who have recently been in those areas are required to quarantine when they arrive in Macau. Travelers to Macau are allowed in through the Individual Visitor Scheme, so group tourism from mainland China is not operating yet as of September 2021.
– As of September 2021, residents of mainland China can now visit Hong Kong without any quarantine on arrival, with the exception of those traveling from areas classified as medium- or high-risk. Daily arrivals will be limited to 2,000 (1,000 each from two designated entry points), and all travelers are required to presented a negative PCR test.
– Now that Singapore has decided to abandon a zero-tolerance COVID-19 strategy and instead ease global travel restrictions while relying on vaccines to counteract the most serious impact of the virus, long-awaited plans for the Singapore-Hong Kong travel bubble have officially been abandoned.
Inbound
– Anyone arriving in mainland China from any overseas destination, with the exception of Macau, is required to undergo 14 days of hotel quarantine. This is often followed by 7 days of at-home quarantine, followed by 7 days of health monitoring – the "14+7+7 model", implemented in January 2021.
– Passengers to China must also present negative PCR and antibody tests.
– In August, entry rules were relaxed very slightly for Hong Kong residents traveling to Shenzhen. They are now "only" required to quarantine for 14 days instead of 21, with the last seven days spent at home – if they live alone or have accommodation where they can be totally alone for those seven days. (Source)
– From August 2021, travelers arriving from Malaysia, Iran, Nigeria, Cambodia, Botswana, Zambia, and Mali are required to quarantine for 21 days before traveling to China, followed by quarantine-on-arrival in China (source). These are even stricter measures than in late February, when travelers from a number of African and Middle Eastern countries designated as "high risk" were required to complete 14 days of quarantine before traveling to China, followed by the 14+7+7 quarantine model after arrival. (Source)
– By 28 September 2020, all foreigners with a valid Chinese residence permits for work, personal matters, and reunion were allowed to return to China without the need to apply for a new visa. Later in the year and into 2021, certain nationalities were banned entirely, included foreign passport holders from Canada, Belgium, France, Russia, the Philippines, India, Italy, Bangladesh, the UK, Ukraine, and Ethiopia. (Source)
– From 15 March 2021, the above bans have been lifted, and there are eased visa requirements for citizens of 80 countries, including no longer needing to present PCR or antibody test results. The caveat is that those travelers must be inoculated against COVID-19 with a Chinese vaccine manufactured in China. (Source + additional details)
– In good news for those receiving non-Chinese vaccines, as of of 20 April, China has begun to accept foreign vaccines as part of the application process to enter China. US vaccination records that show the traveler has received a full course of Pfizer, Moderna, or Johnson & Johnson vaccines are currently being accepted by the Chinese Embassy in the US. Two types of negative coronavirus test results are still required. (Source)
Vaccinations

On 16 September, China's National Health Commission announced that the country has fully vaccinated one billion people, with 2.16 vaccine doses administered. This means that over 70% of the country's population is now vaccinated against COVID-19 (source). As of July, over 90% of Beijing's adult population (and over 80% of the total population) had been fully vaccinated (source).
Infectious disease experts in China have stated that the population will be 80% vaccinated by the end of the year, allowing borders to reopen from early 2022.
Destinations outside of China are mixed in whether they recognize WHO-approved Chinese vaccines, which could impact future outbound travel if travelers are required to be fully vaccinated. Countries including the US and Finland accept all WHO-approved vaccines, but others such as France and Canada do not, meaning that Chinese visitors would either need to quarantine on arrival, or might not be able to enter at all.
International Travel Health Certificate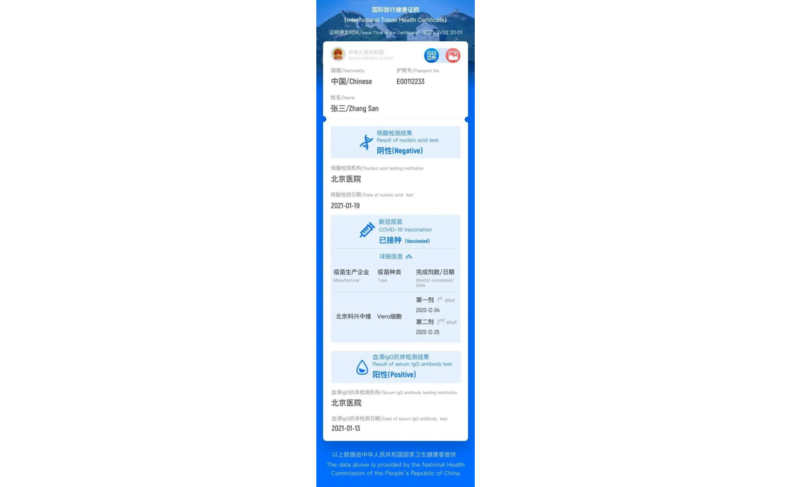 Available through a WeChat mini-program from 8 March, China's digital International Travel Health Certificate stores information on PCR and antibody test results, as well as vaccination history. While this is widely seen as a positive development in terms of getting closer to the recovery of Chinese outbound tourism, agreements around accepting it for international travel will first need to be reached with foreign governments.
Flights
– Introduced in March 2020, China's "Five One" policy limited international air carriers to flying one route, once per week, with suspensions for carriers if any passengers tested positive for the coronavirus on arrival. This has been loosened for many airlines, with additional weekly flights added, but carriers are still being strictly reviewed. As of May 2021, the rules have been relaxed so that flights with more than five but fewer than 10 positive COVID-19 cases on board will be required to operate at reduced capacity for two weeks, as opposed to being fully suspended. Flights with 10 or more positive cases will still be suspended for two weeks.