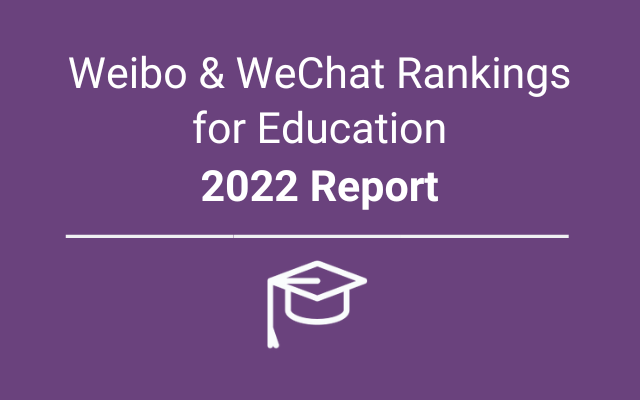 While not quite an annual report, Dragon Trail's 2022 Universities Rankings for WeChat and Weibo assess Chinese social media marketing by overseas universities for a period of more than seven months. Our analysis reveals the leading universities, countries, posts, and types of content for attracting views and engagement on China's two top social media platforms.
Methodology and Limitations
As with Dragon Trail's rankings for the tourism industry, WeChat accounts are ranked by total number of article views for the week, and Weibo accounts are ranked by total number of audience engagements (likes, reposts, and comments) for the week. Data is collected each Monday, for the previous week's Saturday-Friday.
To acknowledge the limitations of this report, our data set starts from the week of 21-27 May 2022, when we began tracking overseas universities' accounts. A full year of data would be needed to see annual patterns, trends, and events. For example, the data that we have reveals the popularity of content related to various international university ranking results, as well as graduation seasons, and information on applying with gaokao (China's university entrance exam) results. From 2023, we will be able to see if there are additional annual topics or events between January and May.
Secondly, Dragon Trail's initial list of universities was based on the QS World University Rankings 2022, and included 49 Weibo accounts and 30 WeChat accounts, from 13 countries and territories in Asia, Europe, Oceania, and North America. By the end of the year, we were tracking 53 Weibo accounts (41 of which were active in 2022) and 34 WeChat accounts (33 of which were active), and continue to add to the list.
Universities who would like to be added to the list should contact Dragon Trail directly at communications@dragontrail.com.
Top Takeaways
1) University rankings are very important to a Chinese audience, as evidenced by the high number of views and engagements for WeChat and Weibo content about the Times Higher Education Rankings, QS World University Rankings, and the Shanghai Ranking.
2) WeChat can serve as a valuable resource for prospective and current students to find information about admissions, academic programs, and arrangements for arriving or returning to campus.
3) Universities can effectively use Weibo live streaming for informational sessions, lecture series, events such as graduation, and virtual tours.
4) Graduation ceremonies provide excellent opportunities for universities to engage with students and parents, laying groundwork for future alumni relations. Offering live streamed or video footage from graduation brings the event to those who cannot travel, while students can provide rich photographic and written content at graduation times to share on social media. Stand out examples include 2022 WeChat posts by the University of Glasgow, as well as the DMO, Forever Edinburgh (see their graduation-themed post here).
5) Weibo offers examples of how university and destination marketing can overlap, with beautiful photos from around campus, and live streaming that promotes the university and its location at the same time, with the help of local Chinese students.
WeChat Rankings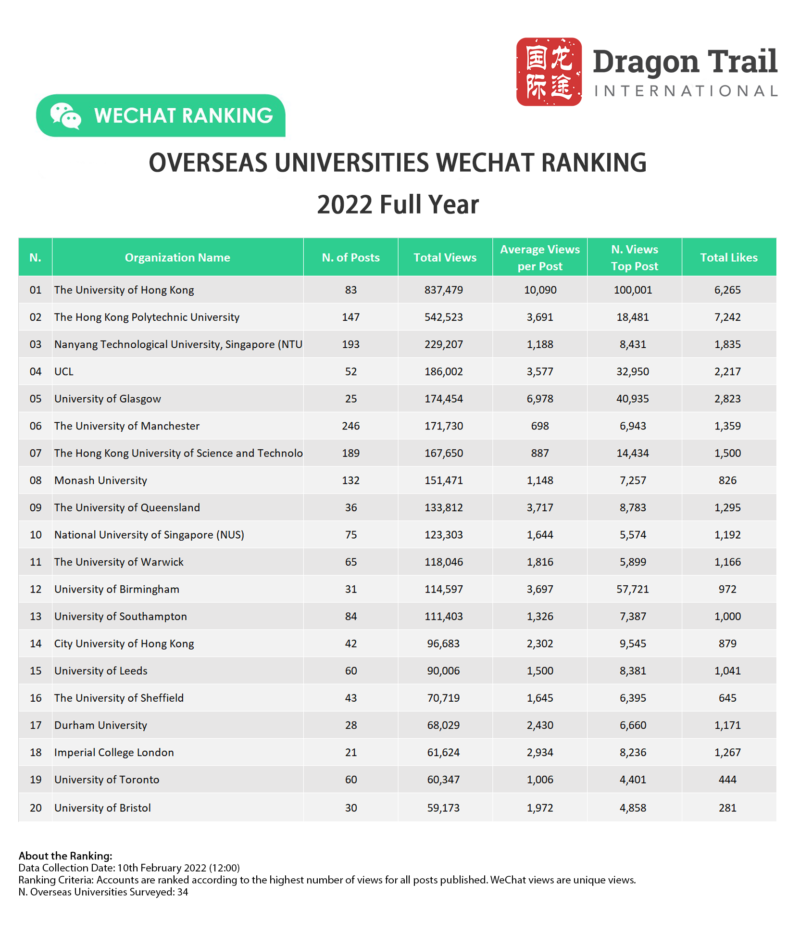 The University of Hong Kong leads the WeChat Rankings with the highest number of total content views. The university also had the highest average views per post, at 10,090. The top posts were generally all informational, including the only university article to surpass 100k views: an October announcement that gaokao applications were open. Other top articles included online admissions sessions in October and November, as well as information about an HKU-Cambridge five-year degree, and an announcement that the university's president would donate half his salary to development projects, published in November. In December, HKU shared information on their 2023 summer research program, attracting more than 20k views.
The account with the next highest average views per post is the University of Glasgow. This is partly driven by the nearly 41k views received by a September article commemorating the life of Queen Elizabeth II. Other top content relates to campus life: a December graduation post featured dozens of photos and quotes submitted by students, while an October article addressed hate crimes and the school's anti-racism campaign.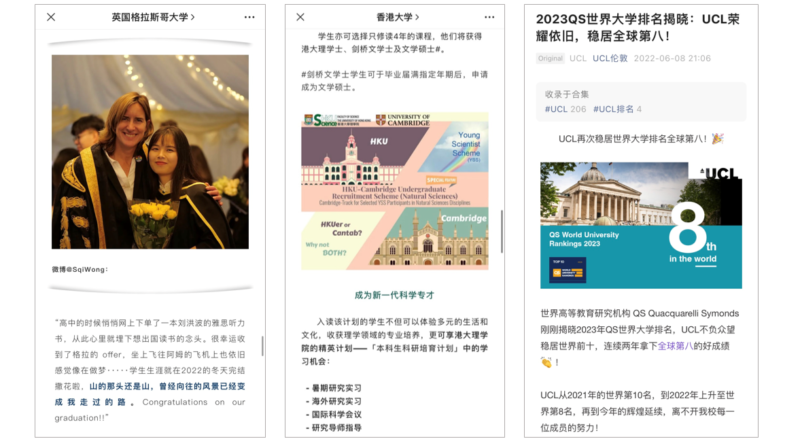 Some of the most-viewed university WeChat content of 2022 (left to right): Graduation at the University of Glasgow, Hong Kong University x Cambridge University degree program; UCL's QS World University ranking
With the third highest average views per post, the University of Queensland attracted attention for informational content including December and September posts on arrangements for the 2023 school year, and a June article on applying with gaokao results.
For most universities, their most popular content related to university rankings – including the Times Higher Education Rankings, QS World University Rankings, and the Shanghai Ranking. Other top content in 2022 included the University of Birmingham's 122nd anniversary, and a video of UCL's head of school speaking Chinese.
Weibo Rankings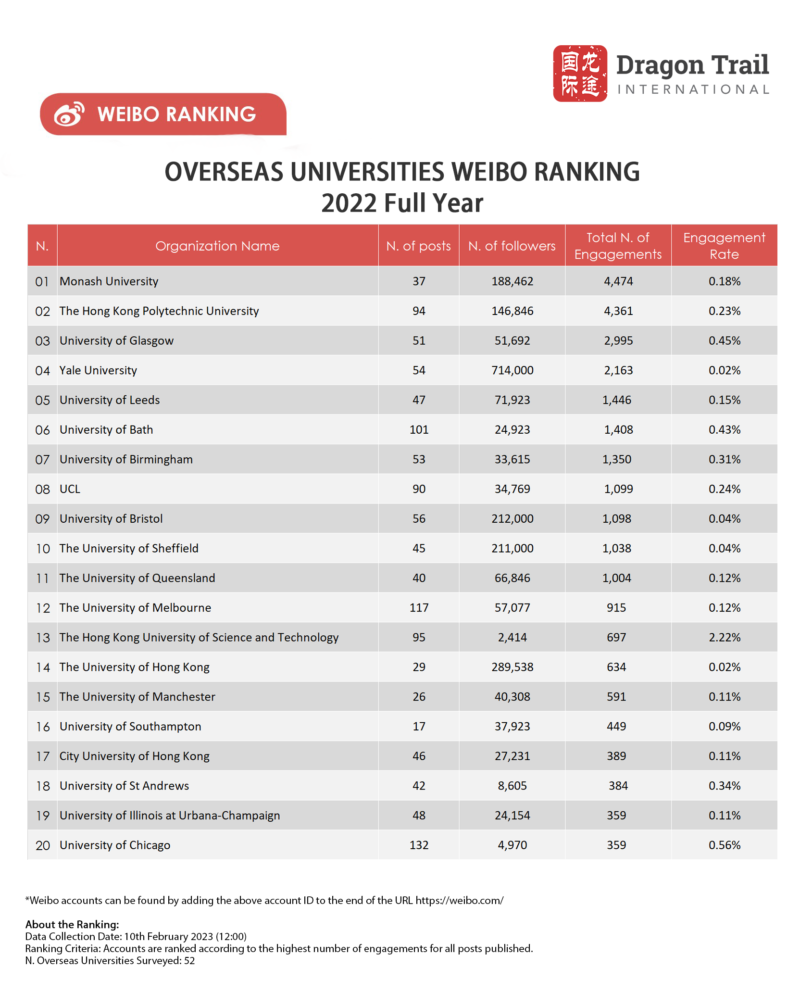 Two universities in particular stand out for engagement on Weibo: Monash University, and the Hong Kong Polytechnic University. Monash University's most liked posts featured short video content, and many also focused on rankings and the university's pharmaceutical studies. Hong Kong Poly U attracted views with standout speakers for university events, particularly a graduation address by world famous pulmonologist Zhong Nanshan, and the university's 85th anniversary event featuring gold medal-winning Olympic diver Guo Jingjing. The university also held online lectures with Westlake University in Hangzhou, and Hong Kong's newly opened Palace Museum.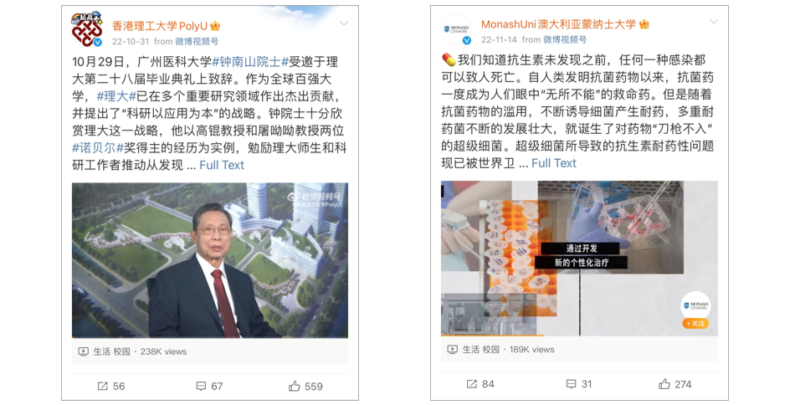 Zhong Nanshan's graduation address to Hong Kong Polytechnic University (left), and Monash University video on pharmaceutical studies
Live streaming sessions tend to attract the most comments, as viewers interact in real time. These included an informational session from Monash University, a talk on Hong Kong's Palace Museum hosted by Hong Kong Poly U, the University of Birmingham's December graduation live stream, and a University of Bath live stream from the Bath Christmas Market. The latter is a good example of how universities and DMOs could work together to promote the university and its location at the same time, with the help of local Chinese students.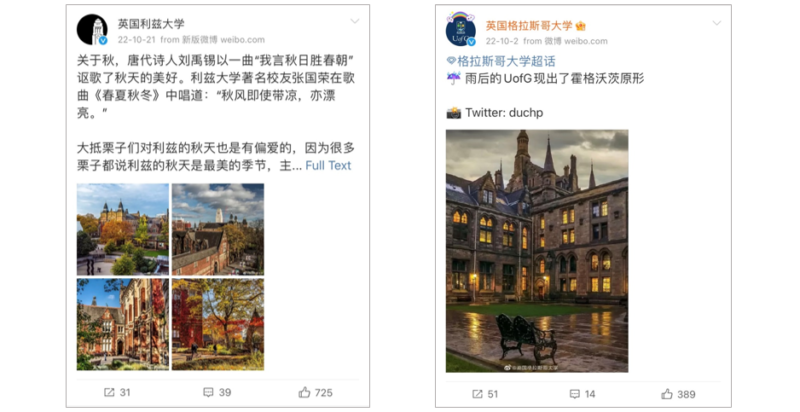 Popular photos of campus from the University of Leeds and University of Glasgow
Additionally, thinking about the crossover between destination and university marketing, two out of the three university Weibo posts with the most likes were simply beautiful photos of campus. Leeds received nearly 700 likes for photos of autumn on campus, paired with a Tang dynasty poem, and Glasgow got 374 likes for a photo of a university building in the rain.