Dragon Trail's WeChat Rankings Report for 2021 examines and analyzes the performance of six categories of travel brands on WeChat: national tourism organizations (NTOs), destination marketing organizations (DMOs, referring to regional and municipal tourism boards), airlines, cruise lines, museums and attractions, and hotels. After nearly two years, the impact of the pandemic for tourism marketing is obvious, with reduced content and declining reading rates in most categories. However, the continued growth of average views per post in the NTO category, as well as some particularly adaptable and stand-out accounts in this and other categories, shows that Chinese travelers are still ready to engage with travel brands on WeChat.
Reading Rates and Content Volume
Content from international tourism-related WeChat accounts has seen a marked decline since the start of the pandemic, with fewer active accounts, and many active accounts scaling back the amount of posts they create for Chinese audiences. The exception to this is hotel accounts, which have stayed very consistent in terms of publishing schedules over the years – but this category is different to the others because most of the international hotels on the list do have domestic Chinese properties that they can continue to promote.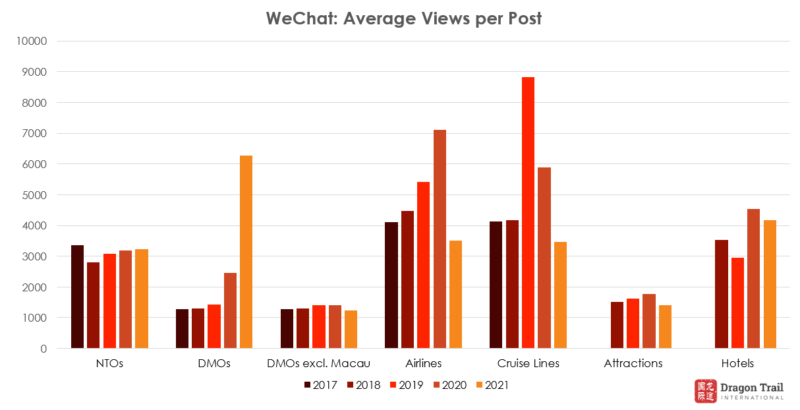 The performance of international tourism-related WeChat content in terms of viewership is mixed, but not necessarily negative. NTO content actually saw a slight increase in average views per post in 2021 compared to the previous year – moreover, views per post in this category have grown consistently for the last three years, with no pandemic-related decline. Average views per post for DMOs appear to have taken off dramatically, but this is solely because of the extremely high reading rates for content published and heavily promoted by the Macao Government Tourism Organization. Without Macau in the picture, we see that views of DMO content declined slightly in 2021 but has stayed fairly stable over the past five years. Attractions also saw a small decrease in average views per article in 2021. While views for hotel content were down year-on-year, they are still significantly higher than they were pre-pandemic.
The major declines in viewership are in the airline and cruise line categories. Given that the volume of international flights to and from China stands at just over 2% of pre-pandemic levels, this is hardly surprising. For cruise lines, most have also been unable to offer a product to the Chinese market these last two years, which no amount of discounts and live streaming sessions can make up for.
NTOs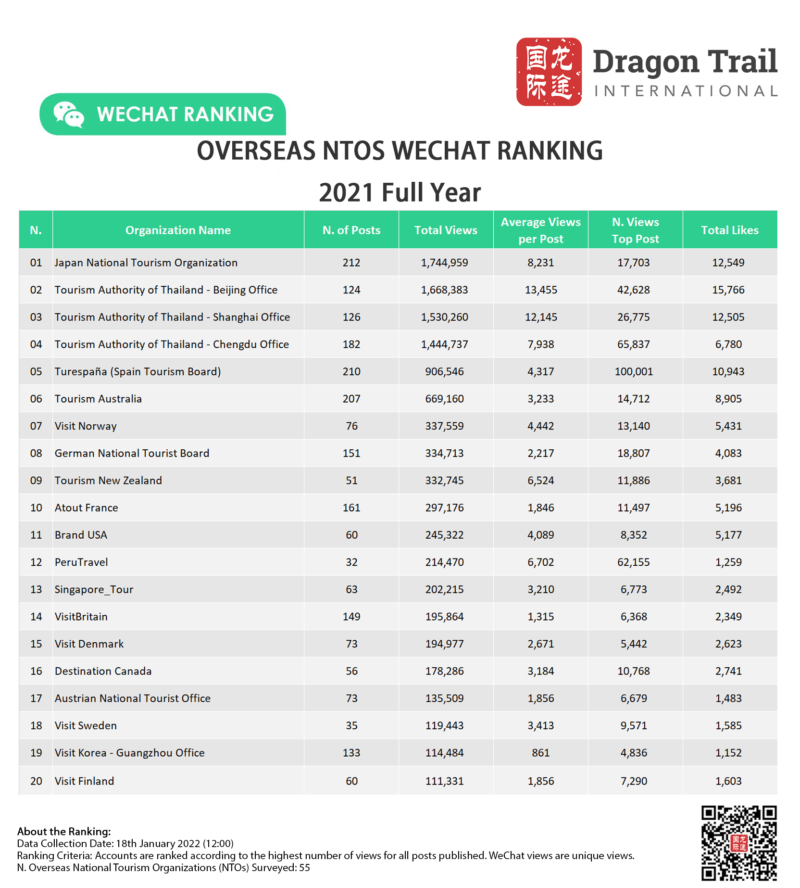 Despite the almost total lack of international travel beyond (or even within) Greater China in 2021, national tourism boards continued to attract readers to their WeChat accounts. Ranked in first place for total article views is the Japan National Tourism Organization, which has taken the top spot every year since 2018. Rather than dramatically adjust its content strategy, Japan stuck to the same kinds of articles that have always brought it success; in the last quarter of the year, we saw multiple articles on food, design, autumn scenery, and hot springs.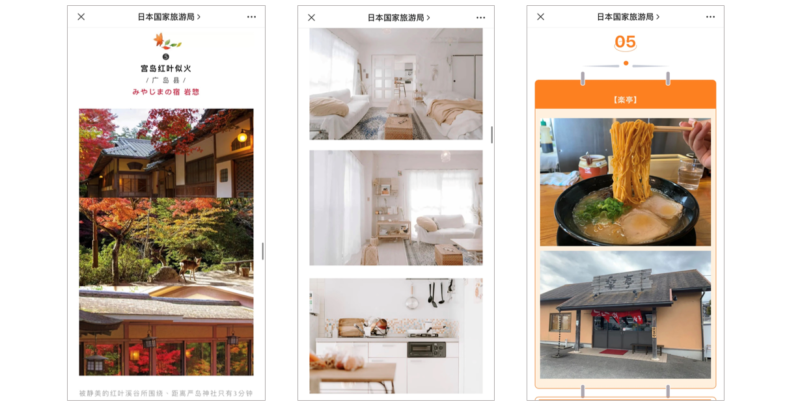 Japan stayed at the top of the rankings for another year, with classic content on topics like food, design, seasonal beauty, and hot springs
Rising from 13th to 5th place in 2021 compared to 2020 is Turespaña, the Spanish national tourism board. With particularly popular posts about the Sagrada Familia, Spanish national day, literature, and a travel photo competition, Turespaña was actually the 2nd highest-ranking NTO by total article views in the last quarter of the year.
Also rising in the annual rankings this year was Peru, which came in 12th for the year, up from 15th in 2020 – the best performance ever for a Latin American WeChat account. Peru ended the year on a particularly strong note with an interactive digital coloring book post that's received 83.7k views to date.
With its three accounts and the highest average views per post, the Tourism Authority of Thailand has continued to do well on WeChat. By the end of the year, Thailand's accounts were promoting the country's reopening to vaccinated visitors and visas on arrival, though unfortunately those policies had been scrapped by late December.
Click here for 2021's top 10 WeChat posts by NTOs
DMOs
The DMO category includes one serious outlier: Macau. Not only is this the only destination that has been open to mainland Chinese tourists without quarantine on return during the past year, but it also posted more than eight times the average for a DMO account, and received 83.2% of all of the DMO content views in 2021. This is even more extreme than in 2020, when Macau's articles got just over half of all DMO content views. Macau's most-viewed articles tend to be informational posts about testing and adjustments to its arrivals policy, though the end of the year also saw the promotion of the Macau Food Festival and Grand Prix.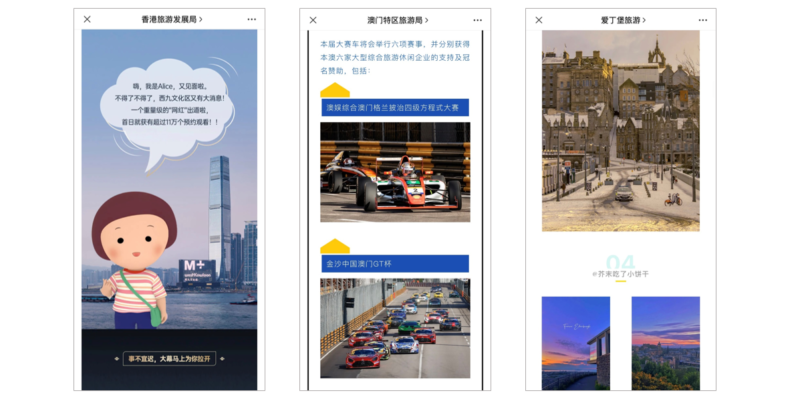 Top DMO posts at the end of 2021 included Hong Kong's promotion of West Kowloon, events in Macau like the Grand Prix, and UGC-driven content from Forever Edinburgh
Hong Kong was expected to be the second destination opened to mainland tourism without quarantine on return in December 2021, though the arrival of the Omicron variant has delayed this yet again. The SAR aggressively promoted the newly developed West Kowloon district at the end of the year, establishing it as a must-visit destination for culture and cuisine when the border reopens.
While Edinburgh ranks in 5th place for the year by total article views, this belies some of the extraordinary success the account has had, publishing all top four of the most-read DMO articles of the year, two of which were in Q4.
Click here for 2021's top 10 WeChat posts by DMOs
Airlines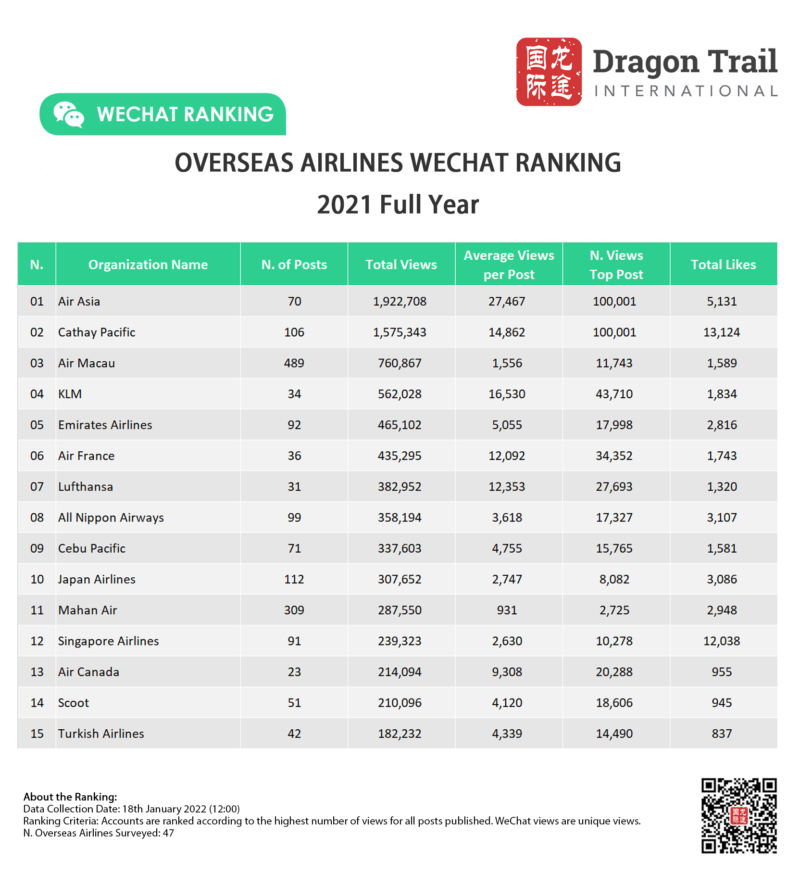 Views of airline content on WeChat surged in 2020 as travelers checked for the latest news about cancellations, refunds, and subsequent reestablishment of routes, but 2021 has been a quieter year. While there was some hope in Q4, with a Scoot article about the reopening of Australia and AirAsia announcing the reopening of Sabah, much of the most popular content was about flights canceled as a result of imported COVID cases. Top flight cancellation articles were published by KLM, Air France, Emirates, Scoot, and Lufthansa, but cancellations are certainly not limited to these airlines. In the meantime, Cathay Pacific has continued its promotion of flights for students, tapping into the only significant market segment of Chinese travelers flying outbound in 2021.
Cruise Lines
While cruise line activity on the seas and on WeChat has been depressed in 2021, there are a couple of bright spots. One is Viking Cruises, which partnered with China Merchants to launch a domestic luxury cruise ship – China Merchants Yidun – in the autumn of 2021. Viking then shifted its marketing to focus exclusively on this product in the last quarter of the year, with sales promotions, KOL partnerships, and features on the cruise routes and on-board experience.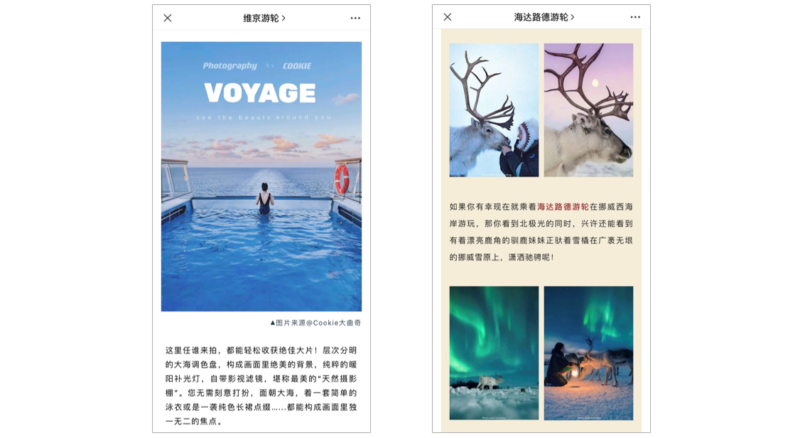 Cruise content highlights from the end of 2021 on WeChat included the new China Merchants Yidun ship – a joint venture with Viking Cruises – and posts about the Arctic and Antarctic from Hurtigruten
Also rising in popularity in Q4 was adventure cruise operator Hurtigruten, which published numerous articles about the Antarctic and Arctic. Hurtigruten's most popular posts of the last quarter were about Norway's coastal cities, and a somewhat Christmas-themed article on reindeer and caribou.
Museums and Attractions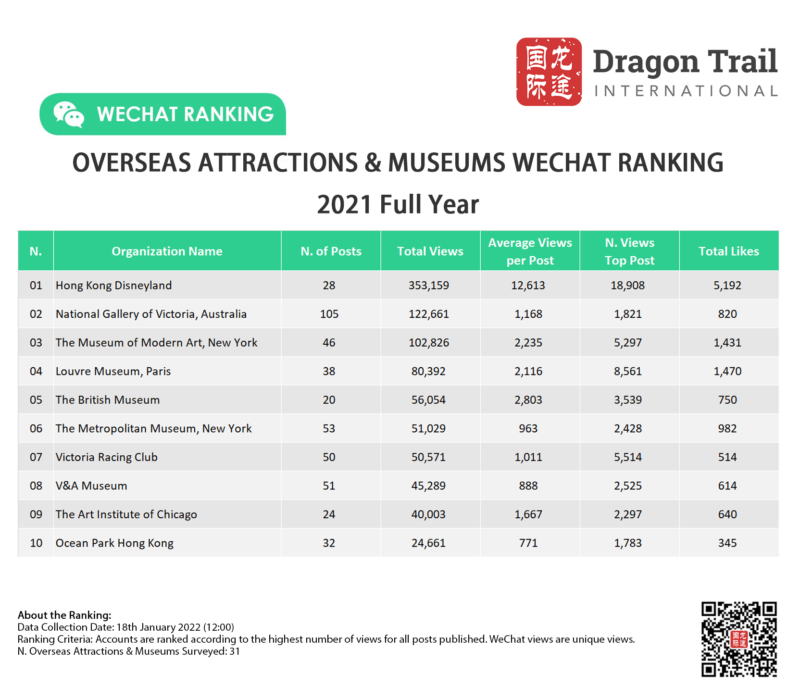 As always, Hong Kong Disneyland remains by far the most popular overseas attraction on WeChat, publishing bright photos, short videos, and interactive posts throughout the year. This contrasts with Ocean Park Hong Kong, which saw average views per post drop considerably from 2020, ranking in 10th place for 2021 compared to 5th the year before and 3rd in 2019.
At the end of the year, the British Museum attracted the 2nd highest average views per post, behind Hong Kong Disneyland, with several articles on an exhibition about ancient Peru. The National Gallery of Victoria remained very active promoting new exhibitions, while the Museum of Modern Art in New York published several popular artist profiles.
Click here for 2021's top 10 WeChat posts by museums
Hotels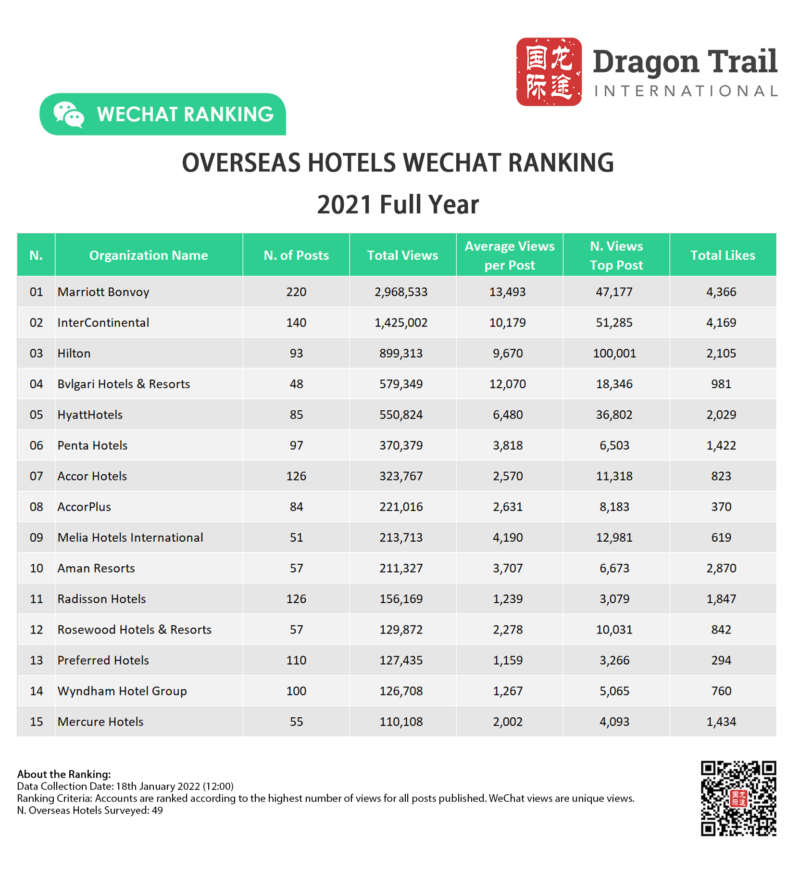 With a slight dip in readership compared to 2020, hotels still fared well on WeChat in 2021 and significantly surpassed average views per post from pre-pandemic. Popular content included members' promotions, special rates or amenities aimed at families, holidays such as Christmas, New Year, and Halloween, and the 11/11 and 12/12 shopping festivals.